Nate Britt will thrive at UNC right away
November, 29, 2011
11/29/11
8:48
PM ET
UNC coach Roy Williams knows a thing or two about point guards and junior
Nate Britt
(Washington, D.C./Gonzaga) will be the next in a long line of dynamic Tar Heels floor generals. Kendall Marshall is at Chapel Hill now, ESPNU 100 PG
Marcus Paige
(Marion, Iowa/Linn-Mar) is signed on for next year and Britt is waiting in the wings.
[+] Enlarge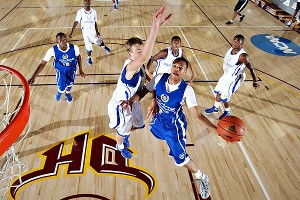 Kelly Kline/Getty ImagesJunior PG Nate Britt committed to UNC over Arizona, Georgetown, Maryland and Villanova.
Whether or not Paige is still there when he arrives, Britt will thrive. Together, the duo of Paige and Britt will work well because neither has to have the ball in their hands. In fact, Paige can slide over and play the off guard, which he often played for his AAU team, while Iowa signee
Mike Gesell
played the point.
If Paige is gone, Britt can definitely run the show right away for the Tar Heels. He is a battle-tested floor general who competes in the WCAC, one of the most difficult leagues in the nation. The left-hander can beat opponents by scoring big numbers or impact the game by finding his teammates, pushing the tempo and defending.
To continue reading this article you must be an Insider
Insider
ABOUT THIS BLOG

C.L. Brown
Brown joined ESPN.com in 2013. He spent 13 years at the Louisville Courier-Journal and along the way covered Indiana and Louisville. Now, he's set up shop on Tobacco Road. Follow C.L. on Twitter: @clbrownespn.
UNC_Basketball UNC Basketball
Today's Inside Carolina Basketball podcast w/ Roy Williams & @JonesAngell: http://t.co/yxNzOqB6Fm #UNCBBall
about 13 hours ago

UNC_Basketball UNC Basketball
Photo gallery from the season-ending loss to Wisconsin: http://t.co/hWl0f8UV7v #uncbball @TarHeel_Photo http://t.co/NdXKLPthFs
about 21 hours ago

UNC_Basketball UNC Basketball
Final 2014-15 stats for the Tar Heels: http://t.co/Koo827hrCy #UNCBBall
about 22 hours ago

GoHeelsTV GoHeelsTV
Roy Williams, Justin Jackson & Marcus Paige press conference following Sweet 16 loss to Wisconsin. http://t.co/qzdDgfMwAT #UNCBBall
about 22 hours ago

UNC_Basketball UNC Basketball
Fuel: Adam Lucas on moving forward from the season-ending loss to Wisconsin http://t.co/78CWKRpMU1
about 22 hours ago

UNC_Basketball UNC Basketball
Box score from the loss to Wisconsin: http://t.co/67MCbxFShK #UNCBBall
about 22 hours ago

UNC_Basketball UNC Basketball
Recap of Wisconsin's 79-72 win over Carolina in L.A.: http://t.co/t0Uqg54I3n #UNCBBall http://t.co/O7VwMnb8Yf
about 22 hours ago

UNC_Basketball UNC Basketball
UNC's four turnovers were its second-fewest ever in an NCAA Tournament game & fewest ever in an NCAA Tourney loss.
about 23 hours ago

JonesAngell Jones Angell
Coach Williams and players after loss to Wisconsin https://t.co/xmzPxXSKF8 via @audioBoom
about 23 hours ago

GoHeelsTV GoHeelsTV
The #UNCBBall season comes to a close with a hard-fought loss to Wisconsin in the Sweet 16, 79-72.Game Highlights: http://t.co/ndPYTZVKka
about 23 hours ago

UNC_Basketball UNC Basketball
FINAL: Wisconsin beats UNC, 79-72
1 day ago

UNC_Basketball UNC Basketball
Kaminsky hits both. UW leads, 77-72.
1 day ago

UNC_Basketball UNC Basketball
Kaminsky to the line for UW with 16.1 seconds left and Badgers leading, 75-72.
1 day ago

UNC_Basketball UNC Basketball
Berry hits both. 75-72.
1 day ago

UNC_Basketball UNC Basketball
Berry heading to the line with UNC trailing by 5 with 16.7 seconds left.
1 day ago

UNC_Basketball UNC Basketball
Wisconsin leads 75-70 with 23 seconds left.
1 day ago

UNC_Basketball UNC Basketball
Another three by Paige makes it 71-70 Badgers with 54.1 seconds left. Carolina takes its last timeout.
1 day ago

UNC_Basketball UNC Basketball
Wisconsin scores to make it 71-67 with 1:03 left in regulation. Timeout UNC.
1 day ago

UNC_Basketball UNC Basketball
Paige drills a 3 to pull UNC within a basket at 69-67 with 1:39 left. Timeout Carolina.
1 day ago

UNC_Basketball UNC Basketball
Final media timeout comes at 2:49. Wisconsin leads, 68-64.
1 day ago

UNC_Basketball UNC Basketball
Carolina has missed 6 of its last 8 shots.
1 day ago

UNC_Basketball UNC Basketball
Wisconsin on a 9-0 run, takes a 65-60 lead with 5:11 to go. Timeout UNC.
1 day ago

UNC_Basketball UNC Basketball
Media timeout at 7:43. Carolina leads, 57-56. Both teams are shooting 56.3% this half. UNC is 52.3% for the game.
1 day ago

UNC_Basketball UNC Basketball
Fourth foul on Brice Johnson with 8:48 to go. Meeks (who has 3) replaces him. UNC leads, 55-54.
1 day ago

UNC_Basketball UNC Basketball
Injury timeout for Frank Kaminsky of Wisconsin. UNC leading, 53-46, with 11:11 to go.
1 day ago

UNC_Basketball UNC Basketball
UNC has its biggest lead at 51-44.
1 day ago

WayneElli22 Wayne Ellington
Let's go TAR HEELS! Me and @eddavis32 tuned in from Toronto http://t.co/K6N7932adt
1 day ago

UNC_Basketball UNC Basketball
Tar Heels take a 49-44 lead on a three by Joel Berry II. Timeout Wisconsin with 12:45 left.
1 day ago

UNC_Basketball UNC Basketball
Media timeout at 15:43. Tar Heels lead, 43-40.
1 day ago

UNC_Basketball UNC Basketball
The third foul on Meeks comes 1:03 into the second half.
1 day ago

jadamlucas Adam Lucas
Rapid first half reactions as @UNC_Basketball takes a 33-31 halftime lead: http://t.co/mNLpxA3qua
1 day ago

jadamlucas Adam Lucas
Star studded @UNC_Basketball night at Staples Center. That's @ericmontross, @rickfox and Antawn Jamison. http://t.co/AI4wky3kkx
1 day ago

UNC_Basketball UNC Basketball
Only five combined turnovers in the first half, two by Carolina.
1 day ago

UNC_Basketball UNC Basketball
All 10 Tar Heels who played in the first half scored at least one point, led by Johnson's 8 and Jackson's 6.
1 day ago

UNC_Basketball UNC Basketball
Sam Dekker has a game-high 15 points so far on 6 of 8 shooting. Other Badgers are shooting 5 of 22.
1 day ago

UNC_Basketball UNC Basketball
UNC shot 50% in the first half to Wisconsin's 37%. The Tar Heels also hit 4 of 7 three-pointers to UW's 3 of 10.
1 day ago

UNC_Basketball UNC Basketball
HALFTIME: UNC leads Wisconsin, 33-31
1 day ago

UNC_Basketball UNC Basketball
Four ties and four lead changes already tonight.
1 day ago

UNC_Basketball UNC Basketball
Final media timeout of the half (3:17). Tar Heels lead, 28-27.
1 day ago

UNC_Basketball UNC Basketball
Meeks just picked up his second foul in the last few seconds and will head to the bench.
1 day ago

UNC_Basketball UNC Basketball
Timeout at 7:42, and Carolina is leading 19-17. Seven Tar Heels have scored so far.
1 day ago

UNC_Basketball UNC Basketball
Slow shooting start for both teams: UNC is 5 for 13, UW is 4 for 14 (but is 3 for 7 on three-pointers).
1 day ago

UNC_Basketball UNC Basketball
Rick Fox also is in the Tar Heel fan section tonight.
1 day ago

UNC_Basketball UNC Basketball
Timeout at 11:49. Score is tied 11-all.
1 day ago

UNC_Basketball UNC Basketball
Wisconsin has an 8-2 rebounding edge already, including 4-0 on the offensive end.
1 day ago

UNC_Basketball UNC Basketball
Official timeout at 15:57: Wisconsin leads UNC, 6-4. Two dunks for Brice Johnson so far for Carolina, which is shooting 2 for 6.
1 day ago

UNC_Basketball UNC Basketball
Former #UNCBBall nat'l player of the year @Antawn_Jamison4 is in the crowd tonight behind the UNC bench.
1 day ago

JonesAngell Jones Angell
pregame conversation with Coach Williams part 2 https://t.co/3LWOFM4V6p via @audioBoom
1 day ago

GoHeelsTV GoHeelsTV
#UNCBBall is ready to tip in a few short minutes here at the Staples Center. #GoHeels #BeatWisconsin http://t.co/so54oGjiaJ
1 day ago

JonesAngell Jones Angell
pregame conversation with Coach Williams part 1 https://t.co/WlWX7EuJ83 via @audioBoom
1 day ago

UNC_Basketball UNC Basketball
UNC starters vs. Wisconsin: Paige, Jackson, Tokoto, Johnson, Meeks.
1 day ago

UNC_Basketball UNC Basketball
Kennedy Meeks is available and will play tonight. #UNCBBall
1 day ago

GoHeelsTV GoHeelsTV
#UNCBBall wrapped up shoot around at the Staples Center in preparation for tonight's game. #GoHeels #BeatWisconsin: https://t.co/J6MRfFYWyY
1 day ago

GoHeelsTV GoHeelsTV
#UNCBBall matches up with Wisconsin tonight in the #SweetSixteen. 7:47 PM EST on TBS. #GoHeels #MarchMadness: https://t.co/TYQRtmRPZL
1 day ago

UNC_Basketball UNC Basketball
Tar Heel legend and Hall of Famer @JamesWorthy42 joined the UNC team for breakfast today. #uncbball http://t.co/wm39y9n4jx
1 day ago

GoHeelsTV GoHeelsTV
Watch Roy Williams & C.B. McGrath (@cbmcgrath24) breakdown the #UNCBBall #SweetSixteen matchup vs Wisconsin: https://t.co/pXC0D6fMR1
1 day ago

UNC_Basketball UNC Basketball
Check out the official Tar Heel Tournament guide to get ready for tonight's game: http://t.co/C9eZzYB9bY #UNCBBall
1 day ago

UNC_Basketball UNC Basketball
Several links to get you ready for tonight's game vs. Wisconsin in the Rundown: http://t.co/dj1e8X9aG9 #UNCBBall http://t.co/mGetPrG2FJ
1 day ago

UNC_Basketball UNC Basketball
Today's Inside Carolina Basketball podcast w/ Roy Williams & @JonesAngell: http://t.co/yxNzOqjvNO #UNCBBall
1 day ago

GoHeelsTV GoHeelsTV
Pre Wisconsin media press conferences from Staples Center. Roy Williams: https://t.co/QZroxtirVQ Players: https://t.co/HQ5blnFia5 #GoHeels
2 days ago

UNC_Basketball UNC Basketball
Photo gallery from today's open practice in Los Angeles: http://t.co/uVD1iGOigP #UNCBBall http://t.co/jVapa1Ym9x
2 days ago

UNC_Basketball UNC Basketball
Another view of Carolina's new shoes. @Jumpman23 #UNCBBall http://t.co/8NwqjUQLzX
2 days ago

UNC_Basketball UNC Basketball
#Repost tarheelphoto ・・・⁰First Look !!! New #sweet16 @jumpman23 for @unc_basketball #goheels https://t.co/CgyPCIjIX0
2 days ago

UNC_Basketball UNC Basketball
Know Your Opponent: Wisconsin http://t.co/zlxMhTpPLt #UNCBBall
2 days ago

UNC_Basketball UNC Basketball
Media work room at STAPLES Center getting ready for UNC interviews which begin at 4 pm Eastern (practice at 3) http://t.co/gGxoXWm1xW
2 days ago

UNC_Basketball UNC Basketball
Today's Inside Carolina Basketball podcast from L.A. w/ Roy Williams & @JonesAngell: http://t.co/yxNzOqB6Fm #UNCBBall
2 days ago

GoHeelsTV GoHeelsTV
Walk on the beach with #UNCBBall in Santa Monica as they enjoyed some fun in the California sun before practice: https://t.co/t4MnwOu5pZ
2 days ago

UNC_Basketball UNC Basketball
... How much swelling he has and how much discomfort he is in. Too soon to say what his status is for Thursday vs Wisconsin.
3 days ago

UNC_Basketball UNC Basketball
Kennedy Meeks went through part of UNC's 90-minute practice today - the non-contact part. How much he practices tomorrow depends on ...
3 days ago

UNC_Basketball UNC Basketball
The Tar Heels visited Santa Monica Pier before practice today in L.A. Photos: http://t.co/dG2PfVX2V6 #UNCBBall http://t.co/r81xlG2Qth
3 days ago

UNC_Basketball UNC Basketball
In LA the Tar Heels can walk to practice at USC http://t.co/VB1lpQSITL
3 days ago

UNC_Basketball UNC Basketball
Matt Bowers, Dodger fanatic and Tar Heel PR man, at famed Dodger Stadium at Chavez Ravine http://t.co/pAGbNDEsaw
3 days ago
BLOG ARCHIVE:
CATEGORIES: