July, 24, 2014
Jul 24
7:38
PM ET
Associated Press
CHAPEL HILL, N.C. -- North Carolina is inviting former scholarship athletes who left before completing coursework to return and earn their degrees.
Chancellor Carol Folt said the "Complete Carolina" program will be available for athletes who were in good academic standing when they left. Athletes would receive scholarships or financial support in line with their initial time at UNC, though at current-day costs for attendance.
The program will start the readmission process for the former athletes, whether they left early to enter a professional sports league or for personal reasons. It would then provide academic and career counseling along the way.
The athletic department will fund the program, which Folt called "a pledge for their lives."
"We hope we can get as many students attracted as possible," athletic director Bubba Cunningham said, "because we think it's the right thing to do."
Folt told UNC's board of trustees Thursday that the program will start receiving applications in September. She says the school has offered these opportunities informally for years but is now formalizing the program.
The school typically has around 800 student-athletes each year in 28 varsity sports. Athletic department spokesman Steve Kirschner said the school provided 300 1/4 scholarships -- combining full and partial aid -- to 465 athletes for the 2013-14 academic year.
Several schools have similar programs, with Kirschner citing Georgia Tech, Syracuse and Michigan. Ohio State began its program in 1994, while UNC's neighbor North Carolina State started its "Reconnect" program in 2008.
Indiana recently unveiled an athlete bill of rights that included a program paying for the tuition plus books and fees for an undergraduate degree for any scholarship athlete who was eligible at least two seasons.
July, 24, 2014
Jul 24
10:00
AM ET
North Carolina Tar Heels
junior
J.P. Tokoto
, whose effortless athleticism in the open court has often drawn comparisons to
Vince Carter
, eyed freshman
Joel Berry
, the only defender separating him from the rim on a fast break.
It was just a meaningless basket in a long line of summer pickup games, but Tokoto has been known to embarrass defenders, thanks to his hang time. Berry was well aware of this when he went up to contest the shot.
"I'm thinking, 'This little freshman, I'm just going to finish over the top,' " Tokoto said. "The next thing I know, I'm catching like a forearm to my chest and he's up in the air with me."
Berry served notice. A new breed has arrived in Chapel Hill. They're not backing down, even during an insignificant pickup game.
"It was just a shock," said Tokoto, who used his status as an upperclassman to call a foul, even though he admitted it probably wasn't one.
It's kind of hard to build a reputation for being tough as a team with all those All-Americans wearing baby blue. The Tar Heels have long been perceived as leaning toward finesse well before Roy Williams' tenure began. But Carolina's freshman class of Berry,
Theo Pinson
and
Justin Jackson
could alter that this season.
The trio arrived on campus with the kind of hunger -- better yet, heart -- that has been missing in Chapel Hill for some time.
When's the last time a Carolina team was defined by its toughness? The 2009 national championship team? Maybe, but more often than not, the teams were defined by players who played like a bunch of nice guys who didn't have a lot of fight.
Junior guard
Marcus Paige
doesn't believe lack of fight will be a problem this season. He likes what he sees from the freshmen so far.
"The thing I like about them most is they all have a real tough competitive edge, you can even tell in pickup games and in drills -- especially Joel," Paige said. "He's such a fiery competitor, and having that on the team is going to help. Because not everyone has it, let's be honest. Everyone wants to win, but not everyone is super-fiery and competitive and I think all three of them have that and to go with their talent, it's going to push our team to make it better."
It all starts with position battles. Williams could very well use a starting lineup of all returnees with
Nate Britt
at point guard, Paige at shooting guard, and round it out with Tokoto,
Brice Johnson
and
Kennedy Meeks
.
But Berry will push Britt for playing time, giving Williams the option to use Paige, who led the team in scoring last season, off the ball.
Pinson, at 6-foot-6, and Jackson, at 6-8, could make a strong case to leave Paige at point guard and make Williams think about starting a big lineup with a freshman shooting guard.
"We don't have that many natural 2s so I know that between the point guards and the freshmen coming in, there will be a lot of rotations and different looks from those two positions," Britt said.
Tokoto has seniority at small forward, but could also end up being challenged by Pinson and Jackson, who both might be better 3-point shooters.
Paige called Jackson a "complete offensive player," but what the trio could bring defensively has the veterans excited. Tokoto said Berry brings "physicality" that will be useful against bigger guards in the conference. Pinson has the length and quickness to guard three positions. Jackson is big enough to defend a power forward, but would likely create a mismatch for an opponent on the other end.
"They're exactly what we need basketball-wise and talent-wise," Paige said.
And toughness-wise, too.
July, 21, 2014
Jul 21
10:00
AM ET
North Carolina coach Roy Williams watched
Nate Britt
struggle with shooting during his freshman season. When he broke down the mechanics of Britt's left-handed shot, he noticed an obvious hitch in his form and it actually made Williams think about the tape he watched of Britt while the guard was being recruited.
Williams said Nate Britt Sr. recorded drills of his 11-year-old son coming off imaginary picks that were cones placed on the ground.
"When he'd come off one way he'd shoot left-handed," Williams said. "And when he'd come off the other way he'd shoot right-handed and it looked great."
Williams called Britt's father with the "crazy idea" of Nate switching hands and Britt's father said he was actually thinking the same thing. Thus began Nate's journey.
[+] Enlarge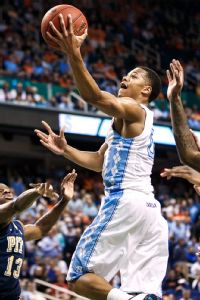 Jeremy McKnight/Icon SM"Everyone who has seen me play with both [hands] doesn't feel like it's a big deal," Nate Britt said.
Plenty of players adjust their shooting mechanics during the course of their college career, but very few could even consider the option of changing hands.
Britt has had people call him crazy for alternating hands while shooting throughout his playing career.
"Everyone who has seen me play with both doesn't feel like it's a big deal," he said.
Britt writes left-handed and considers himself a southpaw although when it comes to sports he said "anything with a stick or a club" he plays right-handed. So he doesn't consider his ambidextrous whims to be that much of a challenge.
"I feel the same," Britt said. "I think I do feel like the right hand felt more natural even from when I first picked up a basketball my natural instinct was to shoot with my right hand."
Around the ninth grade Britt said he decided to shoot exclusively with his left hand with the thought that concentrating on one hand would help him improve. But that wasn't the case last season.
Britt shot just 36.7 percent from the floor and made just 3 of 12 3-pointers for the Tar Heels. Aside from the stats, Williams was concerned with the "significant hitch" in Britt's form. Once he left his feet he had a tendency to twist his entire lower torso. He also fell into the habit of shooting with his left hand positioned more on the side of the ball than underneath it.
"We showed it to him on tape but still sometimes you can't change it," Williams said.
Ironically, Williams doesn't want Britt to change at the free throw line. He'll continue to shoot those left-handed since his shot doesn't have the same glitch when he stays on the ground. Britt shot 79 percent from the free throw line last season, which ranked second behind
Marcus Paige
on the team.
Britt hopes he can join Paige to give the Tar Heels another 3-point threat. He said shooting right-handed has given him more range because his right hand is stronger than his left. Paige, who's probably worked out with Britt more than any other player on the team, already believes the change is for the better.
"His right hand shot is so smooth and he gets it off a lot more effortlessly," Paige said.
Britt averaged nearly 21 minutes per game last season and started 16 games -- including the first nine games while
Leslie McDonald
and P.J. Hairston awaited ruling on their eligibility.
Britt's playing time as a sophomore could be largely determined by how well he can contribute offensively, with freshman guard Joel Berry and wings Theo Pinson and
Justin Jackson
ready to contribute immediately. The trio gives Williams plenty of backcourt options that the Tar Heels simply didn't have last season.
Britt said he was not concerned about being lost in the rotation. And his new shot is the reason why he doesn't have to be.
"He feels good about it now -- it's a much smoother stroke, it's got better spin, more consistent arc to me," Williams said. "It is strange. I've never had anybody suggest (changing hands) by any means, but looks to me like it's working. That's the best way to say it."
July, 21, 2014
Jul 21
9:45
AM ET
By the time Florida's
Chris Walker
was cleared to play last season, it was difficult for the freshman to have any sort of real impact. Walker played in just 18 games and didn't even average five minutes.
He's
still
being projected as a lottery pick for the 2015 NBA draft.
That's why he's all wrong for this particular list of sophomores to watch. Much time is spent following the most talented players and their journey to the pros; consider this equal time tracking the players most likely to develop while staying around a few seasons.
These 12 sophomores should make big improvements from their freshmen seasons -- just not substantial enough to leap right to the NBA. The players were all ranked in the top 100 of the 2013 class by RecruitingNation, but played less than 10 minutes per game as freshmen. (The one exception was
Marc Loving
, who averaged 10.9 minutes.) Most important, these players will likely all be back as juniors:
[+] Enlarge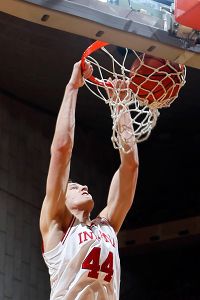 Brian Spurlock/USA TODAY SportsAfter transferring from Indiana, 6-foot-11 center Luke Fischer will be eligible to play Dec. 14.
Luke Fischer, forward/center, Marquette.
First-year coach Steve Wojciechowski must be plenty glad Fischer got homesick after just 13 games at Indiana and decided to transfer. Fischer will be eligible in December, which can't come soon enough for the Golden Eagles, who lost their top three rebounders and lack the size that the 6-foot-11 Fischer brings.
Tre'Shaun Fletcher, guard/forward, Colorado.
Fletcher suffered a knee injury and missed 14 games as a freshman. When healthy last season, he proved to be a reliable reserve and his role should expand next season.
Conner Frankamp, guard, Kansas.
The Jayhawks are looking for the stability at point guard they never seemed to get last season. Frankamp could provide it, not to mention add another shooter to the lineup. He'll have his chance to start at point if he can beat out
Frank Mason
and Devonte Graham.
Anton Gill, guard, Louisville.
Gill's offensive skills weren't questioned, but as strictly a shooting guard, he wasn't versatile enough to work his way into the backcourt rotation. He still figures to be coming off the bench, with
Terry Rozier
and
Chris Jones
starting, but Gill will make an impact this season.
Isaiah Hicks, forward, North Carolina.
Hicks appeared in every game as a freshman for the Tar Heels, but mainly played out of position at small forward. This season he should be returning to power forward, where he should establish himself as the Heels' top frontcourt reserve.
Kuran Iverson, forward, Memphis.
At this point, he may be best known for being related to Allen Iverson. That claim to fame should change next season, when the Tigers no longer have such a guard-centric lineup. Iverson could help make the wings the strongest position on the team.
Matt Jones, guard, Duke.
Coach Mike Krzyzewski believed in him enough to start him four times, but Jones has to rediscover his confidence after shooting just 29 percent from the floor. If he doesn't, he could find himself buried in a roster that just got a lot deeper with the incoming freshman class.
Marcus Lee, forward, Kentucky.
Lee showed how effective he could be with his 10-point, eight-rebound performance in just 15 minutes in the Elite Eight game against Michigan. But his toughest competition is arguably the Wildcats' crowded frontcourt. It's hard to envision how he'll get enough playing time to stand out.
Marc Loving, forward, Ohio State.
LaQuinton Ross
' decision to turn pro left the Buckeyes sorely lacking in scorers. Here's where Loving will have a chance to make a big leap from his freshman season average of 4.4 points. He'll likely find himself in the starting lineup after appearing in all 35 games last season but starting none.
Elliott Pitts, guard, Arizona.
Even with the departure of Nick Johnson, the Wildcats will still have a crowded backcourt. Pitts proved to be a 3-point threat from off the bench last season, shooting 39 percent from deep. That and his 6-foot-5 frame could help him crack the rotation more next season.
Tyler Roberson, forward, Syracuse.
Playing behind
C.J. Fair
and Jerami Grant meant Roberson had to wait his turn. His lone start last season came when Grant was injured. But after averaging 2.2 points in 8.1 minutes per game, Roberson will be needed to help the Orange solve their scoring woes.
Ish Wainright, guard/forward, Baylor.
The Bears lost three of their top four scorers, including 3-point sharpshooter
Brady Heslip
. Wainright doesn't have the same range that Heslip had, but his size and length bring versatility to the lineup. At 6-foot-5, he can play multiple positions and has the potential to be a lockdown defender.
July, 16, 2014
Jul 16
9:00
AM ET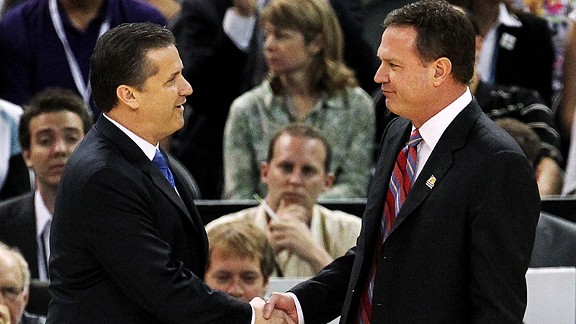 John Sleezer/Kansas City Star/Getty ImagesWith perhaps 10 future first-round picks on their 2014-15 rosters, John Calipari and Bill Self could do worse.
John Calipari has assembled quite a roster with the return of
Willie Cauley-Stein
and the Harrison twins. In fact, there are nine potential first-rounders on the Wildcats, making UK the runaway leader for the program with the most NBA talent.
However, it's not quite as simple to figure out who ranks immediately behind Kentucky.
Want to know where the NBA scouts will be this season? Here's a checklist of the top dozen teams for 2014-15 in terms of NBA
July, 10, 2014
Jul 10
7:42
PM ET
Finally, it seems
North Carolina Tar Heels
guard
Marcus Paige
will enter a season where things are exactly how he expects them to be.
That didn't happen when he signed out of high school. Paige thought he'd play backup to Kendall Marshall at point guard and slowly make the transition to the college game. Instead Marshall bolted for the NBA, which sent Paige into the starting lineup from the opening tip.
It didn't happen as a sophomore. P.J. Hairston figured to be the Tar Heels go-to scorer on the floor, but was never reinstated after receiving impermissible benefits. That forced Paige to take over the scoring burden.
[+] Enlarge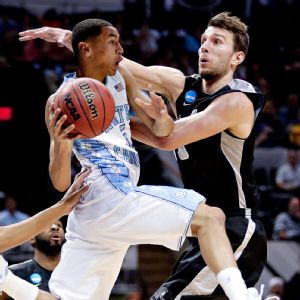 AP Photo/Eric GayMarcus Paige, who led the Tar Heels with 19 points, hit some big shots down the stretch against Providence.
For the nine games
Leslie McDonald
was ineligible, Paige was the Heels' only 3-point threat. For the entire season, he was the only player UNC fans felt comfortable seeing at the free throw line.
"There were some things that happened in the offseason that obviously shook up our team a little bit -- a lot of bit -- and just kind of changed the whole dynamic of leadership, of scoring options all that stuff," Paige said. "This year we haven't any of that. Our roster has been set. Everybody is good to go. It's been a lot more relaxing from that standpoint. I'm more at ease with what's going on."
Entering his junior season, Paige is burden-free. And that may actually mean he does less next season as the Tar Heels accomplish more.
Paige became the first player to lead the Heels in both scoring (17.5) and assists (4.2) since Jeff McInnis (16.5 ppg, 5.5 apg) in 1995-96. But with the offensive weapons added to the roster, he doesn't think he'll have to score as much next season.
"Our scoring will be more balanced this year, there's guys that are ready to make leaps, especially offensively," Paige said.
Starting with sophomore center
Kennedy Meeks
, who has dropped nearly 50 pounds from where he arrived on campus and is down to 271. Meeks' conditioning will allow him to stay on the court longer. He showed snapshots of his potential last season including his 13-point, 12 rebounds and seven assists in the win over Louisville.
Paige pointed to forwards
Brice Johnson
and
J.P. Tokoto
as having bigger roles and he said the freshmen trio of Joel Berry, Theo Pinson and
Justin Jackson
were all talented scorers as well. He said it should amount to the Heels not having as much trouble scoring in halfcourt as they did last season.
"I expect to shoot a higher percentage from the floor and from the 3-point line," Paige said. "I shouldn't have to take as many tough shots as I had to take last year at times to try to create points. We struggled to score a lot in the half court last year against tough defensive teams. I think I won't have to do that as much."
But for the times he will have the ball and the Heels need a basket, Paige said he's been working this summer on scoring in isolation and creating his own shot.
Paige doesn't expect a repeat of last season's tendency to have quiet starts offensively before erupting in the second half.
"Coach [Steve] Robinson told me to set the tone with my intensity and my aggressiveness and if they have to scale me back they'll do that," Paige said. "That's kind of the mindset I'm going to have going in, but I wouldn't expect to average 20 [points] a game or anything this year because we're too talented for that."
Paige could again find himself playing off the ball for portions of the game with either sophomore
Nate Britt
or Berry running point. He could also see a lineup when he is at point guard and joined by the 6-foot-6 Pinson or 6-foot-8 Jackson at shooting guard.
That's the kind of versatility that gives Paige high hopes for the coming season.
"I don't think there's any team that I'm looking at like, 'We can't beat them,' or 'we don't have the talent to matchup with them,'" Paige said. "We'll definitely have our tests with our schedule, but I think that will help us out and I think we're a legitimate Final Four contender if we can put all our pieces together."
Paige was asked about the ESPN.com college basketball coach poll that ranked UNC's Roy Williams 16
th
: "That's kind of ridiculous honestly. There's no chance that's remotely close. I may be biased, but, no way."
July, 10, 2014
Jul 10
11:12
AM ET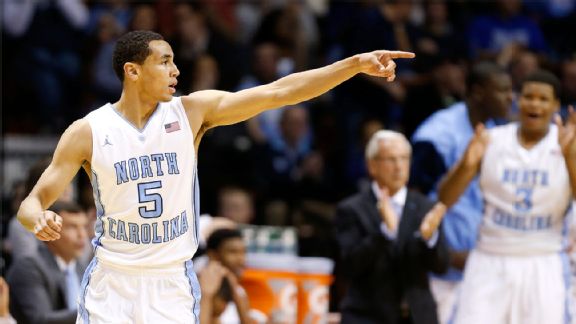 AP Photo/Michael DwyerNorth Carolina point guard Marcus Paige averaged 17.5 points and 4.2 assists a game last season.
No position is more critical to a team's success than point guard. Want proof? All you had to do is watch what
Shabazz Napier
did in March as he led UConn to an unlikely national title. Louisville had
Peyton Siva
a couple of seasons ago, and Jim Calhoun had
Kemba Walker
in 2010.
The position isn't what it used to be, with a new breed of scoring point guards emerging the past few years. However, there is still no shortage of quality depth at the position.
Here are a dozen of the top point guards in college hoops for 2014-15.
---

1. Marcus Paige, North Carolina Tar Heels
He was forced to play a significant amount of time off the ball last season due to the absence of
P.J. Hairston
, and he could be put in a similar situation this year with the addition of talented freshman point guard
Joel Berry
. Paige can play either backcourt spot, but he's more effective with the ball in his hands.
---

2. Emmanuel Mudiay, Southern Methodist Mustangs
Larry Brown somehow beat Kentucky and Kansas for the strong, athletic and talented point guard, whose greatest asset is his ability to get into the paint and finish.
To continue reading this article you must be an Insider
July, 9, 2014
Jul 9
10:00
AM ET
Control the boards, control the outcome.
It's not always that simple, but it's that simple.
Connecticut was barely in the positive in rebounding margin (plus-0.4) for the overall season, but outrebounded both Florida and Kentucky in the Final Four en route to its fourth national championship.
As we look ahead to the 2014-15 season, here are a few potential chairmen of the boards:
Teams to watch
Texas
The Longhorns ranked 10th last season in rebounding margin, averaging seven more boards per game than their opponents. Not only do they return their entire roster, including leading rebounders
Cameron Ridley
(8.2 RPG) and
Jonathan Holmes
(7.2 RPG), but they add 7-footer
Myles Turner
to the mix. Turner was ranked No. 2 in the 2014 class by RecruitingNation.
Rebounding should easily be the strength of the team because seemingly everyone in the rotation contributes. Reserve forward
Connor Lammert
averaged 5.2 rebounds. Even 6-foot-2 guard
Demarcus Holland
averaged 4.7 boards.
Nearly 45 percent of reserve center
Prince Ibeh
's rebounds were on the offensive end; he helped Texas rank third nationally in offensive rebounds (15.0 per game).
North Carolina
Rebounding is an unspoken barometer in Chapel Hill. In the four seasons Carolina averaged fewer than 40 rebounds per game under coach Roy Williams, it has been bounced from the NCAA tournament in the first weekend, including last season. Conversely, in six of the seven seasons the Tar Heels averaged more than 40 boards, they advanced at least to the Elite Eight and claimed national titles in 2005 and 2009.
Neither forward
Brice Johnson
nor center
Kennedy Meeks
averaged 20 minutes of playing time last season, yet each averaged 6.1 rebounds. Both are likely starters this season and should see their rebound totals expand with their added playing time.
Small forward
J.P. Tokoto
, who averaged 5.8 boards last season, leads a group of talented wings that includes freshmen
Theo Pinson
and
Justin Jackson
, who should help the Heels get back above 40.
Kentucky
Add the Wildcats to the short list of teams that lost their top rebounder from last season yet should be better at rebounding. Julius Randle's 10.4 rebounds per game accounted for a quarter of the Cats' per-game total. Now that Randle is rebounding for Kobe Bryant and the Los Angeles Lakers, two freshmen -- forward
Trey Lyles
and center
Karl Towns Jr.
-- should more than account for his absence. Lyles and Towns were both ranked in the top 10 by RecruitingNation.
Coach John Calipari will again have a frontcourt imposing in both its size and depth. UK won't lose much going from starter to reserve with 7-foot center
Willie Cauley-Stein
(the leading returning rebounder at 6.1 boards last season), 6-10
Dakari Johnson
, 6-9
Marcus Lee
and 6-8
Alex Poythress
.
Throw in their oversized backcourt of 6-6 guards
Andrew Harrison
and
Aaron Harrison
, and it's hard to imagine UK not getting every meaningful rebound.
SMU
Forward
Markus Kennedy
is clearly the best rebounder on the team, leading the Mustangs with 7.1 per game last season. Kennedy had 16 games with eight or more boards, and
Yanick Moreira
was the only other player who registered double-digit rebounds in a game. That, however, doesn't mean SMU is lacking. Because coach Larry Brown uses up to 11 players in his rotation, only Kennedy stood out. But the Mustangs are good as a team on the boards because they have so many contributors. They enjoyed a plus-4.8 advantage on the boards last season and return 81 percent of their rebounding.
Arizona
The Wildcats ranked in the top 20 in rebounding margin the past two seasons. They outrebounded opponents by 7.1 per game last season -- the largest margin of Sean Miller's tenure -- despite using a smaller lineup for virtually the entire second half of the season. Yes, Arizona lost leading rebounder Aaron Gordon (8.1 RPG) and guard Nick Johnson (4.0 RPG). But the Cats will regain forward
Brandon Ashley
, who suffered a foot injury and missed the final 16 games of last season. Sophomore
Rondae Hollis-Jefferson
, who averaged 5.7 rebounds last season, appears ready to assume a larger role now that Gordon is gone. And freshman forward
Stanley Johnson
aims to have an immediate impact.
Teams that might struggle
Nebraska
Expectations have risen for the Cornhuskers, and rightfully so after their first NCAA tournament appearance since 1998. In order to live up to their potential, though, they have to improve in the rebounding category. The Huskers ranked 256th nationally last season with a minus-1.9 rebounding margin.
Their tendency to go with a three-guard lineup often left them undersized, especially against opponents with girth. The one player bulky enough to throw his weight around, reserve forward
Leslee Smith
(6-8, 255 pounds), suffered a torn anterior cruciate ligament in his left knee last week and is out indefinitely.
Wisconsin
The Badgers were an average rebounding team -- just a plus-1.4 rebounding edge overall -- except for the games when their backcourt made it a priority. In their NCAA tournament win against the Baylor Bears, who ranked 12th nationally in rebounding margin, Wisconsin guards
Traevon Jackson
and
Josh Gasser
chipped in eight rebounds apiece as Wisconsin won the battle of the boards 39-33. The Badgers will need a more consistent effort next season. Increased playing time for sophomore forward
Nigel Hayes
should help, as will the ever-expanding game of center
Frank Kaminsky
, who led the team with an average of 6.3 rebounds last season.
July, 7, 2014
Jul 7
1:41
PM ET
ESPN.com news services
CHARLOTTE, N.C. -- Hornets rookie and former North Carolina star guard P.J. Hairston must appear in Durham County Court on misdemeanor charges of assault and battery following an altercation during a pickup basketball game.
Paul Sherwin, the public information officer for the Durham County Sheriff's Office, said Hairston, 21, was issued a summons on Monday but will not be arrested.
Hairston's court date is Aug. 8.
"If two people get into a fight in North Carolina and there is no serious injury and is not witnessed by an officer, our hands are tied," Sherwin said. "We don't charge people in [unwitnessed] fistfights. They have to file a report with the magistrate office."
Kentrell Barkley, a 6-foot-5, 190-pound rising senior at Northern Durham High School, says in court documents that Hairston "punched him twice in the head" during a heated basketball game Sunday at the Durham YMCA.
"We were playing open gym and I was running up the court and he hit me in the forehead with his fist," the 17-year-old Barkley told ESPN.com on Sunday. "I walked up to him and asked him what happened, and then he hit me again in the neck."
Hairston's agent, Juan Morrow, confirmed to ESPN that his client, selected 26th overall in last month's NBA draft, threw a punch at Barkley. However, Morrow said it was in retaliation.
"The pickup game got heated, the kid swung at P.J. and P.J. swung back," Morrow said. "P.J. did not go out and beat up a little kid like some people want to make it out to be."
July, 7, 2014
Jul 7
9:31
AM ET
ESPN.com news services
University of North Carolina officials have reportedly attempted to set up a meeting with former player Rashad McCants about allegations concerning academic fraud that he made on ESPN's "Outside the Lines."
UNC associate athletic director Vincent Ille confirmed to the Charlotte Observer that text messages and a certified letter were sent to McCants, but he had yet to respond.
"I learned today of public statements you have made that indicate your knowledge of potential NCAA rule violations involving the University of North Carolina," the UNC letter to McCants said, the Observer reported. "I would like to meet with you at your earliest convenience to discuss this in greater detail."
"Outside the Lines" reported on June 6 that McCants said that his tutors wrote his term papers, he rarely went to class for about half his time at UNC and he remained able to play largely because he took bogus classes designed to keep athletes academically eligible.
McCants has stood by his allegations and called on all former players from 2004-05 to release their academic transcripts, which would show whether they, too, took bogus African-American studies classes: "If you want to find the truth, the truth is there in the transcripts," McCants said.
July, 1, 2014
Jul 1
4:24
PM ET
Associated Press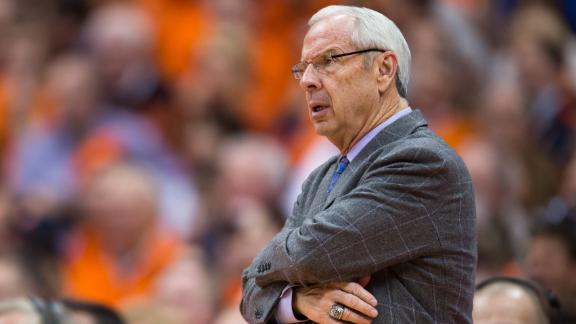 RALEIGH, N.C. -- The former North Carolina learning specialist who questioned the literacy level of Tar Heels athletes and said UNC had committed academic misconduct has filed a civil lawsuit against the school.
Mary Willingham resigned after the spring semester. But according to a lawsuit filed Monday in Wake County, she was demoted and the school retaliated against her after she raised concerns such as low reading levels for athletes and the existence of "paper classes" requiring only one research paper at semester's end -- which she says helped keep athletes eligible.
Willingham is seeking to be reinstated to her job and damages of at least $10,000. The lawsuit also names the University of North Carolina public system that oversees the Chapel Hill school as a defendant.
J. Heydt Philbeck, Willingham's Raleigh-based attorney, said school officials retaliated against her because she had "the courage ... to tell the truth both internally and externally about how some of the UNC-Chapel Hill athletes were being cheated essentially in the education that they were supposed to be receiving."
"It was troublesome for her and she let that be known," Philbeck said Tuesday evening. "It wasn't well received we contend by some officials at UNC-Chapel Hill."
Philbeck said the lawsuit also seeks to prevent further retaliation if she returns to the school.
In a statement, UNC vice chancellor of communications and public affairs Joel Curran said the school was aware of Willingham's lawsuit.
"We respect the right of any current or former employee to speak out on important university and national issues," Curran said. "We believe the facts will demonstrate that Ms. Willingham was treated fairly and appropriately while she was employed at Carolina."
June, 30, 2014
Jun 30
4:04
PM ET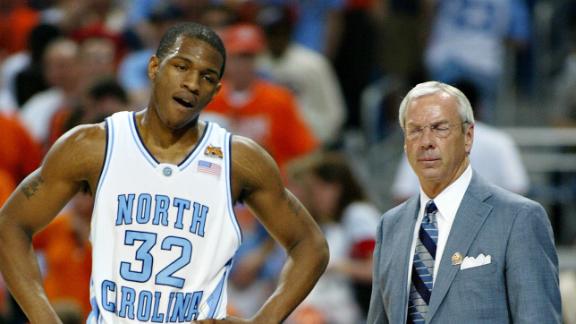 The NCAA has reopened its investigation into the academic scandal that has rocked North Carolina over the past three years.
"The University of North Carolina, Chapel Hill, was cited by the Division I Committee on Infractions in 2012 for violations in its athletics program, including academic misconduct," the NCAA said in a statement. "As with any case, the NCAA enforcement staff makes clear it will revisit the matter if additional information becomes available. After determining that additional people with information and others who were previously uncooperative might be willing to speak with the enforcement staff, the NCAA has reopened its investigation.
"The enforcement staff is exploring this new information to ensure an exhaustive investigation is conducted based on all available information. The NCAA will not comment further to protect the integrity of the investigation."
In 2012, the NCAA sanctioned the North Carolina football program with a postseason ban and scholarship losses after finding impermissible benefits and academic fraud under then-coach Butch Davis.
Since 2011, the university has conducted several reviews related to the academics scandal and provided the NCAA with updates. North Carolina announced in 2012 that it had found problems with 54 classes in the Department of African and Afro-American Studies (AFAM) taught from summer 2007 to summer 2011, including grade changes, forged faculty signatures on grade rolls and limited or no class time.
North Carolina forwarded the results of that investigation to the NCAA, which ruled the university did not break any rules related to the AFAM scandal.
In February, the university hired former federal prosecutor Kenneth Wainstein to conduct an independent investigation and instructed him to share relevant information directly with the NCAA.
June, 27, 2014
Jun 27
4:02
PM ET
Associated Press
[+] Enlarge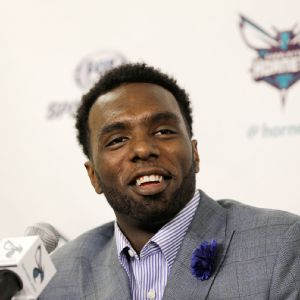 AP Photo/Chuck BurtonP.J. Hairston said he's ready to move forward with his career after "some bumps in the road that I had to overcome" after not playing for most of last season at North Carolina because of eligibility questions for receiving improper benefits.
CHARLOTTE, N.C. -- Charlotte Hornets shooting guard P.J. Hairston said he's learned from his past mistakes and believes his off-the-court problems are behind him.
Hairston, the 26th overall pick in the NBA draft, said Friday at introductory press conference that he "fully regrets everything that happened" around benefits and eligibility issues while playing at North Carolina.
Hairston said he's matured over the past year.
"I've some bumps in the road that I had to overcome and I feel like I've done that," Hairston said.
Hairston rose to prominence as a sophomore when he became a midseason addition to a four-guard starting lineup, becoming UNC's leading scorer and flirting with entering the NBA draft before opting to return to school.
But he never played again for the Tar Heels. He sat out the first 10 games last season while the school worked to resolve eligibility questions for receiving improper benefits, tied largely to the use of rental cars linked to Durham felon and party promoter Haydn Patrick "Fats" Thomas.
June, 27, 2014
Jun 27
11:36
AM ET
By
ESPN.com staff
| ESPN.com