October, 30, 2014
Oct 30
9:37
AM ET
October, 29, 2014
Oct 29
12:41
PM ET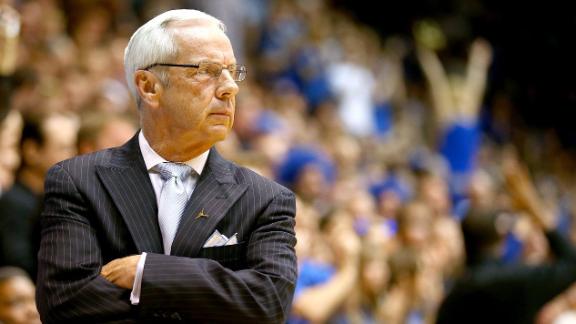 CHARLOTTE -- North Carolina coach Roy Williams said Wednesday that he is "worried sick" about the pending NCAA investigation into the school's academic scandal, and included in his worries are concerns about his own reputation.
An investigation led by former U.S. Department of Justice official Kenneth Wainstein found that more than 3,100 students -- 48 percent of them athletes -- took "paper classes" in the Afro-American studies department.
Wainstein exonerated Williams in the report, saying his actions were "inconsistent with being complicit with or really trying to promote the scheme," but the coach knows that will not clear his name in the court of public opinion.
"I'm very angry about that," Williams said in an exclusive interview with ESPN.com. "I try to keep away from the anger part of it. I know what we've done and what we didn't do, and I'm proud of what I've done and I'm proud of what I didn't do. I'm 64, so I'm not close to being ready to quit, but you also think, 'God, I don't want this to be what people remember about me.'"
Though NCAA investigators have begun conducting interviews, Williams said he has not yet been contacted.
"I assume they will," he said.
Williams insisted in an afternoon session with print media that he stands behind his ethics, and while he might be branded as naive, he doesn't think "you can go past that."
He also took issue when asked if, in retrospect he could have done more.
October, 28, 2014
Oct 28
10:19
AM ET
This week our first 2014-15 Top 25 Power Rankings debuted at ESPN.com, and if the votes cast by yours truly and my esteemed colleagues are any indication, the ACC is in for one incredible conference race. No fewer than four of the league's teams are in the top 10: Duke (No. 4), North Carolina (6), Louisville (7) and Virginia (9). Throw in Syracuse (we have the Orange at No. 23) and you have the makings of truly elite top tier.
Here are my best guesses on the chances of each of these teams winning at least a share of the regular-season league title. (Fun fact! The last four regular-season champions have won the ACC outright.)
Take this for what it's worth in October, but right now Duke appears to be first among near-equals.
---

ACC title chances:
1/2
Duke is the favorite, but Mike Krzyzewski's team is a particular kind of favorite. Basically, the Blue Devils project to have perhaps the widest range of likely outcomes of any team here.
This is just another way of saying a lot depends on Coach K's freshmen, and not just
October, 24, 2014
Oct 24
11:16
PM ET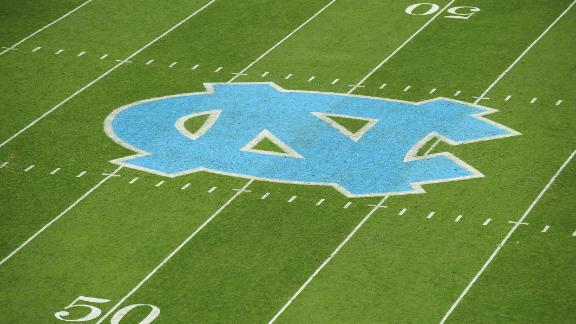 CHAPEL HILL, N.C. -- The specter of another NCAA probe has taken its toll on North Carolina coach Roy Williams.
"If this were my first 16 months of coaching, you wouldn't see a 17th month," Williams said. "It's been a pain in the rear end, but I believe in this university. Nobody knows what's going to happen with the NCAA, but I feel strongly, strongly that we did things the right way."
Williams anticipates hearing from the NCAA for a second straight season. Last year, it was an eligibility issue due to players Leslie McDonald and P.J. Hairston accepting impermissible benefits. This year, it could involve much more, following the release Wednesday of former U.S. Justice Department official Kenneth Wainstein's report on an academic fraud scandal that spanned from 1993 to 2011.
The investigation discovered more than 3,100 students -- 48 percent of whom were athletes -- benefited from "paper classes" in the African and Afro-American Studies department. Some athletes, including basketball players, were steered toward fake independent study classes to help boost their grade-point averages, which in some cases kept them eligible.
Williams spoke about the investigation for the first time since its release after the Tar Heels' 111-58 exhibition win over Fayetteville State on Friday night at the Dean Smith Center. Asked whether he was concerned that any wins would be vacated or banners taken down, he said, "Who knows?"
"I personally don't see anything there with men's basketball that somebody can immediately look at and say, 'This is going to happen or this is not going to happen,' so they have to make those decisions," Williams said.
October, 23, 2014
Oct 23
3:21
PM ET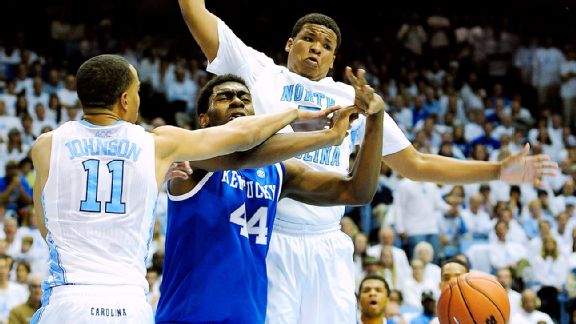 Grant Halverson/Getty ImagesKennedy Meeks and Brice Johnson both got their bodies into better game shape this offseason.
CHAPEL HILL, N.C. --
Kennedy Meeks
and
Brice Johnson
are quick to admit they were the brunt of the majority of Roy Williams' verbal lashings a year ago.
"We didn't run the court well enough," they both said.
Williams isn't one of those guys who welcomes change. He is traditional in his approach, and that was clear two seasons ago when he refused to go the small-ball route late in the season when it became painfully obvious that nothing else would work.
But the preference is to play with true big men, and that's why the emergence -- and consistency -- of both Meeks and Johnson is critical to the Tar Heels' success in 2014-15.
To continue reading this article you must be an Insider
October, 23, 2014
Oct 23
11:01
AM ET
ESPN.com news services
[+] Enlarge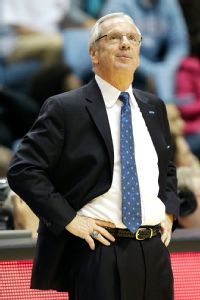 Ellen Ozier/USA TODAY SportsRoy Williams won 92 percent of his games at Allen Fieldhouse as coach at Kansas, a record success rate since surpassed by Bill Self.
It has been more than 11 years since Roy Williams set foot inside Allen Fieldhouse, and it's become abundantly clear in the seasons since just how he feels about North Carolina.
Despite all that time away from Kansas, however, the Tar Heels coach insists one thing has never waned: There's still no place like the Jayhawks' home.
On Monday, as Kansas stages "Celebrating 60 Years," Williams will be among the guests of honor when the Jayhawks fraternity gathers in recognition of six decades of basketball in the Phog. He will be joined by former coaches Ted Owens and Larry Brown, as well as current coach Bill Self, who conceived the event along with his wife, Cindy.
"I haven't actually been in Allen Fieldhouse since the last practice before we went to the Final Four in 2003," Williams told the Kansas City Star. "I've said this, and I really believe this from the bottom of my soul: I think it's the greatest home-court advantage in college basketball and maybe in any sport, whatsoever."
October, 22, 2014
Oct 22
1:08
PM ET
ESPN.com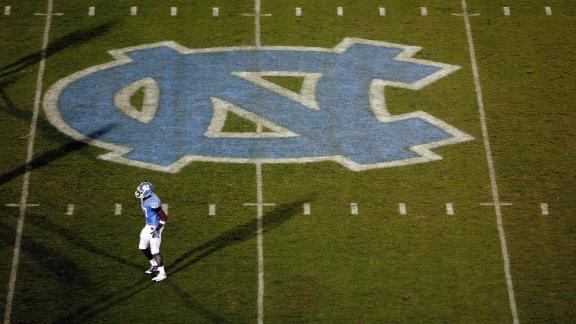 A report commissioned by the University of North Carolina says school academic advisers steered athletes into sham classes over an 18-year period but does not directly implicate coaches or athletic administrators in the scheme.
The report, released Wednesday, says academic advisers in North Carolina's athletic department colluded with a manager in the African and Afro-American Studies department for student-athletes to take classes to boost their GPAs and keep them eligible in their respective sports.
The classes, in place from 1993 to 2011, were overseen by Debby Crowder, the longtime manager in the African and Afro-American Studies department, and later by the department chairman. They allowed a student to write a paper of at least 10 pages rather than attend lectures or meet with professors. The papers were graded by Crowder, who was not a professor. They typically earned an A or B-plus grade.
The report, the third and most comprehensive produced in the matter, said some academic advisers in the school's Academic Support Program for Student Athletes had ties to Crowder and let her know how high a student's grade needed to be to maintain a 2.0 GPA to be eligible to play. It also said that those advisers pushed Crowder to make exceptions for athletes, including allowing them to enroll in classes after the registration period had ended.
The ASPSA is not part of the athletic department but is located in the same offices. The report says it clearly steered players to the sham classes.
When Crowder retired in 2009, Julius Nyang'oro, the former chairman of the African and Afro-American Studies department, was urged to maintain the program. He was forced to retire in 2012 and was charged with fraud for holding summer classes that didn't exist. Those charges were dropped when he agreed to cooperate with the investigation.
October, 16, 2014
Oct 16
2:15
PM ET
Kentucky was tabbed as the preseason No. 1 in the Coaches Poll for the second straight season, six months after losing in the national title game to Connecticut.
The USA Today Coaches Poll was released Thursday, with the Wildcats grabbing the No. 1 spot ahead of Arizona. The Sporting News' preseason magazine had Arizona as its top team.
The Associated Press Top 25 is expected to be released on Oct. 31.
Duke, Wisconsin and Kansas completed the top five. The Badgers lost to Kentucky in the Final Four last April at AT&T Stadium in North Texas, and on Thursday they were picked to win the Big Ten by the league's media.
Kentucky and Duke have long been projected to have two of the top incoming classes in the country, with Arizona holding one of the top returning teams.
North Carolina, with likely first-team all-American Marcus Paige back at the point, leads the second half of the top 10, followed by Final Four participant Florida, ACC regular-season and tournament champion Virginia, new ACC member Louisville and Texas. The Longhorns have one of the top newcomers in the country in center Myles Turner.
October, 15, 2014
Oct 15
2:32
PM ET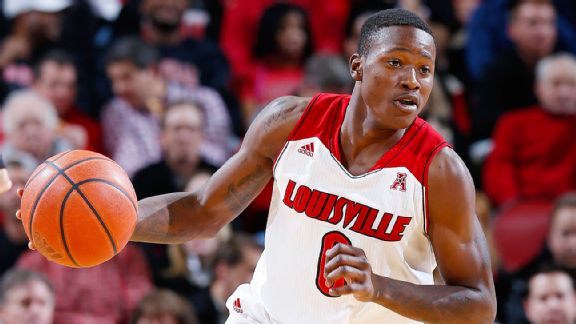 Joe Robbins/Getty Images
There is no arguing that big men will be the big men on campus this season, but what makes a good big man even better? An outside shooter who can keep defenses honest.
That's where these guys come in.
Now, these are not necessarily the best 3-point shooters in college basketball.
Repeat. These are not necessarily the best 3-point shooters in college basketball.
This, however, is what they are: the players who need to shoot well in order for their team to succeed.
Luke Hancock is gone, taking with him the lone reliable outside threat on last season's Cardinals team. As tough as Montrezl Harrell will be inside, someone has to stretch the defense to give him room to breathe. Rozier, who shot 41 percent from outside the arc in league games a season ago, is the best bet to be that someone.
October, 8, 2014
Oct 8
7:16
PM ET
CHAPEL HILL, N.C. -- Stilman White, last seen starting in the 2012 Elite Eight for an injured Kendall Marshall, missed the past two seasons while participating in a Mormon mission.
Unfortunately for the Tar Heels, White didn't miss out on any postseason success during his hiatus.
White, whose only two career starts have come in the Sweet 16 and Elite Eight, remains the lone Tar Heel to play in a game beyond the NCAA tournament's first weekend.
The Heels, for the first time during coach Roy Williams' tenure, have been bounced from the tournament's first weekend in consecutive seasons. But their recent history hasn't discouraged UNC players from openly talking about the Final Four this season.
"Obviously it hasn't come from the coaches like sitting down in a meeting, like we have to go to Indianapolis, get to the Final Four," Marcus Paige said. "But when we work out, we talk about it and we have that as a realistic goal, and I think we should. We'll maintain that as a realistic goal as long as we keep working the way we are."
Paige is a major reason their confidence is not limited by their postseason experience. The junior point guard, a national player of the year and All-America candidate, led the team in scoring (17.5 points per game) and assists (4.2) last season.
Carolina was limited offensively in 2013-14, but Paige will have more help this season. A three-man freshman class -- led by Justin Jackson and ranked No. 3 by ESPN RecruitingNation -- will help give Williams the depth and flexibility the Tar Heels lacked on the wing last season.