January, 24, 2015
Jan 24
6:20
PM ET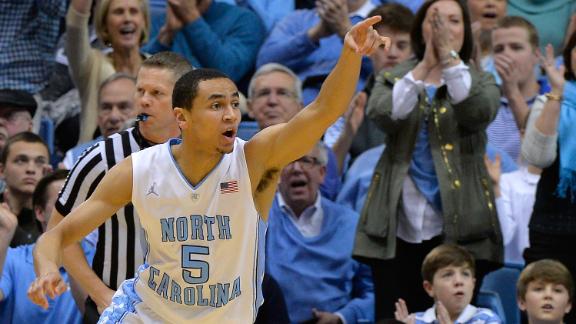 CHAPEL HILL, N.C. – Half-joking, half-serious, North Carolina coach Roy Williams asked his team not to make
Nate Britt
laugh too much after the sophomore guard received 15 stitches in his upper lip.
Britt needed to heal enough to be able to play against Florida State – and it wasn't determined until game time that he could go.
Don't laugh.
That's how bad the injury situation is for the Tar Heels, which is why until they get healthier, they can expect to have more games similar to Saturday's
78-74 victory
over Florida State, in which they just have to grind it out.
[+] Enlarge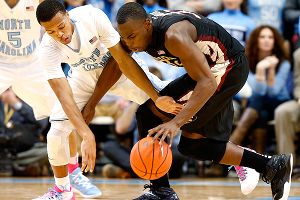 AP Photo/Ellen OzierNroth Carolina's Nate Britt is one of several Tar Heels who are playing hurt.
The Seminoles have struggled in Atlantic Coast Conference play, with their previous four losses coming by an average of 12 points. Several times during the second half, North Carolina seemed on the brink of breaking the game wide open but lacked the extra push needed to do so.
It's not a coincidence that it was the first time this season that four starters logged more than 30 minutes each. Injuries to freshmen
Theo Pinson
and
Joel Berry II
has put an added burden on the starters to play longer. As well-conditioned as the team is, the shortened bench has changed the way the Heels play.
"You're definitely more conscious about how you play and how aggressive you are, like [avoiding] silly fouls," said junior forward
J.P. Tokoto
. "If we had everybody healthy, I would definitely be more aggressive, go for a lot of steals. I'd have my hands in there more."
Tokoto is arguably Carolina's best on-ball defender. He kept NC State's leading scorer,
Trevor Lacey
, from getting into a rhythm early during the Heels' win over the Wolfpack on Jan. 14. But Tokoto's passive defensive approach to guarding Florida State's
Xavier Rathan-Mayes
resulted in the freshman scoring their first seven points en route to a career-high 35.
With reserves
Luke Davis
and
Stilman White
also injured, the Heels have had to rely on walk-ons and junior varsity players. Williams said defensive intensity was the toughest area to maintain while he's had to modify practices because of their shrinking roster.
"Sustained effort defensively," Williams said. "We're pretty good the first 10 seconds, then all of a sudden we get into rarified air we haven't been before in maintaining the defensive intensity and finishing it."
Britt sat out Friday's practice as a precaution. He said physically not going through some repetitions takes away a mental edge that he said he didn't regain until he took the court.
"For me not being able to do contact yesterday, in my mind, it's like maybe I'm not as prepared for the game as I need to be," Britt said. "Coach did a good job helping me understand everything that we were trying to do defensively while I was in practice without doing contact stuff. Once I got out there playing, I thought I was OK."
All is not OK for the Heels, though. It seems as if the injured list keeps growing.
Brice Johnson
, who had 18 points and 14 rebounds in 23 minutes, played through nagging back pain that he said wasn't related to his hard fall in the first half. Johnson stood up during timeout huddles and when he was out of the game on the bench, for fear of his back stiffening up.
Williams said reserve center
Joel James
, who logged just nine minutes, hurt his knee and could not re-enter the game late in the second half.
Berry is already ruled out for Monday's game against Syracuse, Williams said, although he will be re-evaluated before next Saturday's trip to Louisville.
As the injuries mount, Tokoto said he believes the Heels have developed more toughness.
"If you get challenged with something, you definitely take it to heart if you're a true competitor, and we've got a team full of them," Tokoto said. "I'd say everybody being injured, all those guys being out, that definitely could contribute to it, knowing that we have to play tougher, play smarter."
For the Heels, that's no longer a laughing matter.