September, 8, 2014
Sep 8
10:00
AM ET
Isaiah Hicks
' performance in the 2013 North Carolina 3A state championship game ranks among the state's best ever regardless of classification.
The game earned Hicks instant-legend status in the state's prep circles. It also punctuated all the accolades he received, like being named a McDonald's All American and the state's 2013 Gatorade Player of the Year.
His stat line that day -- 34 points, 30 rebounds -- helped power Oxford (N.C.) Webb High School to the title.
It also elevated the expectations last season for Hicks' at North Carolina.
[+] Enlarge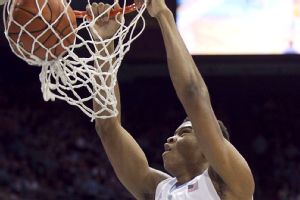 Robert Willett/Raleigh News & Observer/MCTSigns point to North Carolina's Isaiah Hicks making a much bigger impact this coming season.
His freshman-year transition to college hoops didn't turn out to be an easy one. His total points and total rebounds for the Tar Heels last season barely surpassed what he did in that state championship game.
Hicks' stat line from last season -- 42 points, 35 rebounds -- was modest considering he was one of seven Carolina players who appeared in every game.
But there is no need to wonder if the pundits got it wrong on Hicks. He could very well be the Heels' most improved player this season and start having the impact many envisioned he would have when he came out of high school.
The biggest difference for Hicks, arguably even more important than having a year of experience, is a move back to his natural position.
Last season, he was forced to attempt to play small forward for the Heels. He didn't have the skill set to do it, and it made for an awkward adjustment. Hicks lacked the instincts of a small forward and he couldn't hide it. He often spent the 7.3 minutes he averaged on the floor looking as if he were literally thinking through his responsibilities as opposed to anticipating his next moves.
Hicks told reporters in July that he didn't get frustrated last season playing out of position because he viewed it as a sacrifice for the team.
He won't be asked to make such a sacrifice this season.
The addition of freshmen wings
Theo Pinson
and
Justin Jackson
means Hicks will no longer be needed as a reserve at small forward. The departure of James Michael McAdoo means more playing time will be available at power forward.
Hicks played the post while he was putting up big numbers in high school. With
Brice Johnson
likely the front-runner to start at power forward, Hicks is poised to be the first off the bench to replace him.
That was the case during North Carolina's trip to the Bahamas last month, when Johnson tweaked his ankle and played just seven minutes in two games. Hicks led the Heels in scoring in each of those games with 11 and 19 points.
While it's a stretch to believe Hicks will lead the team in scoring when the games start to count, what those island games indicated is that Hicks will make himself a factor. He will be better-suited to defend the post than he was on the wing against quicker opponents. He runs the floor better than most power forwards. He doesn't need his play called to score -- Hicks can make a considerable living off rebounds and putbacks.
That likely won't earn him a legendary stat line. But it will make all remember why Hicks was a coveted recruit in the first place.