February, 25, 2015
Feb 25
12:22
AM ET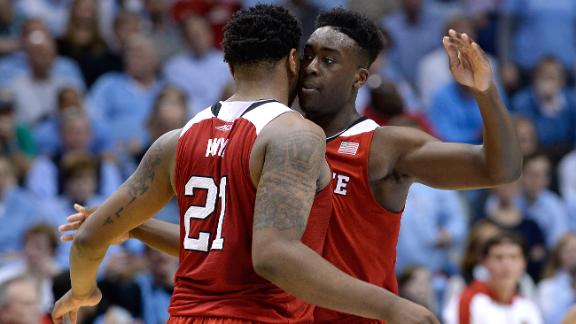 CHAPEL HILL, N.C. –
North Carolina State
sophomore point guard
Anthony "Cat" Barber
could have followed the order many others in college basketball have this season.
Step 1: Be a malcontent.
Step 2: Be suspended for that attitude.
Step 3: Eventually get dismissed from the program.
Instead, Barber took the path that led to maturity and development. It's partly why NC State coach Mark Gottfried was so proud he grabbed the Newport News, Virginia, native for a big embrace and told him how much he loved him after his team-high 15 points helped seal a
58-46 upset
of No. 15
North Carolina
. It's also why NC State's backcourt, with sharpshooters
Trevor Lacey
and
Ralston Turner
, has become a dangerous matchup for opponents.
"Sometimes, when you play a lot of young guys, they need time," Gottfried said. "… Now, he's [Barber] gone to another level. He's playing at another level."
Joe Lunardi's latest
Bracketology
had the Wolfpack among his "Last Four In" the NCAA tournament. Their first win in Chapel Hill, North Carolina, since 2003 doesn't solidify their bid if they go out and lose to
Boston College
on Saturday, but it certainly gives them solid footing for the moment.
[+] Enlarge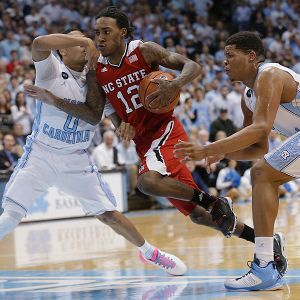 Gerry Broome/Associated PressAnthony Barber has emerged from a midseason lull to give NC State a spark as it tries to qualify for the NCAA tournament.
It's a far cry from the first time the Wolfpack played the rival Tar Heels on Jan. 14. Barber was struggling and seemed stuck in that conference-play rut. That's the time during which players such as
Duke
's Rasheed Sulaimon have acted out. The constructive criticism coaches use to motivate players sometimes serves as an irritant instead. Attitudes develop. Slights are internalized, if not manufactured. Cares are not given. Players are disciplined, sometimes even sent packing.
Barber hadn't reached that point, but there were signs that he was moving in that direction.
Gottfried was experimenting more and more with a lineup that put Lacey at point guard. Maybe it was just a backup plan in case Barber's inconsistency continued. Barber didn't start for the first time all season against
Notre Dame
on Jan. 25 and played a season-low 20 minutes off the bench against
Clemson
three days later.
What prevented him from lashing out?
The call that changed everything for Barber came Jan. 16, when he learned that 19-year-old Jamar Thomas, a friend who he considered a brother, was murdered. Barber wasn't exactly surprised by the news because Thomas was "floating down the wrong path."
"Once I kind of knew where he was going, I knew he would be locked up or the other," Barber said. "I wish it didn't happen like that, but it helped me to learn that life is too short and every day you just have to cherish it."
Barber knew he had to take advantage of his opportunity, thinking of his brother while getting back into the swing of the season.
So when a courtside fan shoved him in the back in a loss to
Miami
, he showed a mature restraint. And when he rejoined the starting lineup at
Georgia Tech
on Jan. 31, he exploded with a 23-point, seven-assist performance.
"I felt like [Thomas] would want me to come out and play the best basketball I can play," Barber said. "So with all that going on, me having a bad game, I just took under consideration and got back in the gym and said I'm just going to go forward and continue to work and come out stronger than I [have] ever been."
The Heels won't argue that point.
North Carolina coach Roy Williams said Barber "dominated" the game early -- including on the defensive end. As the primary defender on
Marcus Paige
-- UNC's leading scorer -- Barber held Paige to seven points on 3-of-8 shooting. But his true impact came on offense, where he was completely different from his five-point outing in the first meeting with UNC.
Barber has now led the team in scoring in four of their past six games, averaging 18 points over that span. His season average is 11.8 points per game.
"He's been their leading scorer for the past four or five games, so he's playing with more confidence and he's getting to the rim better," Paige said. "We needed to keep him out of the lane, but he was doing a good job of attacking us. He's always been capable, but now, he's just being more aggressive."
Learning to play slower has made a big difference. Barber is one of the fastest players in the nation with the ball in his hands but didn't know how to harness his speed. He was fast for no reason.
"Now he's not using his speed to get into trouble," Lacey said. "He's using it to get out of trouble. He's understanding that now."
Barber's awakening just might be keeping the Pack out of NCAA bubble trouble as well.