October, 29, 2014
Oct 29
4:15
PM ET
By
Victoria Matiash
| ESPN Insider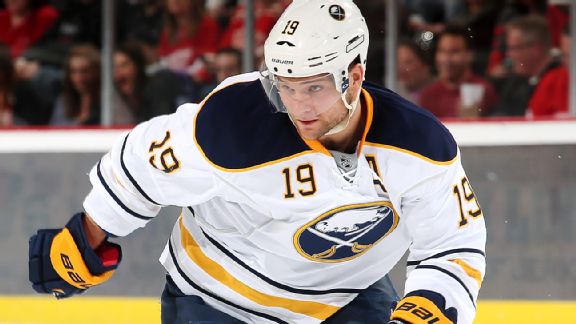 Dave Reginek/NHLI/Getty ImagesOff to a slow start in 2014-15, Cody Hodgson had 19 power-play points in 2013-14.
In this NHL age of great parity -- with a sufficient amount of talented skaters and netminders to go around -- it's a bit audacious to label any one team as "terrible." Like most generalizations, the tag reeks of myopic short-sightedness. Plus, it's mean.
But anyone who has caught the Buffalo Sabres in action this season can't be criticized for accusing them of playing terribly, because they are. In fact, "terrible" is one of the kinder descriptors you'll find following Tuesday's 4-0 loss to the Toronto Maple Leafs -- a middling NHL squad that looked to be stacked with ringers on this particular occasion -- where only excellent goaltending prevented a more humiliating outcome. The Sabres were outshout 37-10. Thirty-seven to ten. To offer additional perspective, Leafs winger Joffrey Lupul managed nine shots all on his own.
What's the general manager of on NHL club to do in this situation? Waiting it out for the tide to turn doesn't make sense here. While the Sabres have some good players on their current roster, there's a need for high-end talent. Stumbling until the draft, in hopes of having a decent shot at either Connor McDavid or Jack Eichel, is a crummy plan on its own. As several pundits point out, one young superstar won't be enough to inspire this club into eventual playoff contention.
GM Tim Murray has to pull the trigger on a trade or two -- and soon.