December, 30, 2014
12/30/14
4:37
PM ET
By
Victoria Matiash
| ESPN Insider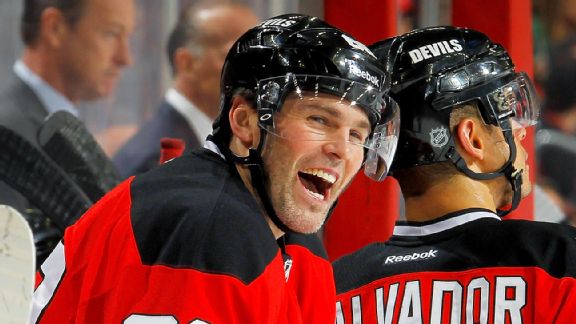 Jim McIsaac/Getty ImagesIt's possible we could see Jaromir Jagr wearing a different sweater before the end of this season.
"In the last 25 years, I've never been in this situation,"
Jaromir Jagr
told reporters
before Monday's game
. "I've never been on a team that was almost the worst in the NHL. It's new to me."
New
, and probably not a whole heckuva lotta fun. If that statement doesn't go far enough in suggesting Jagr is open to a trade from the
New Jersey Devils
, the veteran NHLer confirmed as much with this nugget.
"I have no problem with anything," Jagr said. "It's up to (Devils general manager) Lou (Lamoriello). He knows me. I know him. I've got no problem with (being traded). If he wants to move me, he will. If he doesn't, he doesn't. He knows I like it here, but it's all about whatever is best for the team."
There you have it. Now, the only determining factor is
whatever
is best for the Devils, and that will be determined in the next couple of months (if not sooner).
The club sits 14th in the Eastern Conference, 11 points out of eighth position and just a hair above the 15th-place
Buffalo Sabres
. Barring a miraculously successful run under the new coaching trio through January/February -- which Jagr still won't rule out -- the Devils will be looking to cut their losses ahead of the Mar. 2 trade deadline. There would be little point in holding on to a soon-to-be 43-year-old free agent, particularly since there would be plenty of interest Jagr.
Sure, the veteran forward may have lost a step in recent seasons, as he reminded us Tuesday while delightfully referring to himself in the third-person -- "I always forget I'm not the Jaromir Jagr
of 20 years ago
. I wanted to deke everybody. I've got to remind myself: 'Hey, slow down. Just shoot.' I cannot deke anymore." -- but he's still capable of contributing every night. There's already talk of interest in (re)-acquiring the future Hall-of-Famer on behalf of the
Pittsburgh Penguins
,
Washington Capitals
, and
Boston Bruins
. The reasonable $3.5-million salary cap hit only renders him more attractive.
Which brings us to the potential fantasy ramifications of such a move
To continue reading this article you must be an Insider