November, 5, 2014
Nov 5
4:57
PM ET
By
Victoria Matiash
| ESPN Insider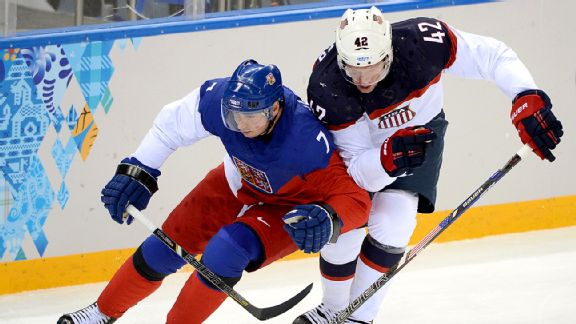 Chuck Meyers/Getty ImagesTomas Kaberle was out of the NHL in 2013-14 but played for the Czechs in the Sochi Olympics.
Twenty months (and counting) after playing his last regular-season National Hockey League game, Tomas Kaberle is looking to make a comeback. What's more intriguing is the 36-year-old defenseman may actually has a shot at earning an NHL roster spot.


With three blue-line regulars out injured or suspended -- and that's assuming Kevin Klein returns to the lineup in short order -- the New York Rangers have extended Kaberle a tryout invite.
At this premature stage, how this audition will unfold is anybody's guess, but the Rangers wouldn't bother extending the invitation if there wasn't some sense of possibility of a contract. Even once John Moore returns from suspension, the absences of Ryan McDonagh and Dan Boyle loom large. Dylan McIlrath -- universally acknowledged as a poor skater by NHL standards -- and Conor Allen haven't been consistently good enough since being called up, not for a team that considers itself a legitimate Stanley Cup contender. What happens if Dan Girardi or Marc Staal -- who are shouldering the lion's share of minutes these days -- gets hurt? Who does coach Alain Vigneault rely on to carry a heftier share? Allen? Fellow AHL regular Mike Kostka? And while McDonagh isn't due back for another three weeks or so, we remain unsure of when Boyle will be good to go following a broken hand.
Which brings us back to Kaberle. If the defenseman hasn't lost too much of a step, his veteran presence could serve the Rangers well in their time of need. It's a huge "if," of course, but such potential reincarnations can't be dismissed outright. Remember Petr Sykora three years ago? After a disastrously short stint with the Minnesota Wild (2009-10) and a ho-hum season in Europe (2010-11), Sykora attempted an NHL comeback via training camp tryout with the New Jersey Devils. Ballyhooed as washed-up and over the hill, the then 34-year-old forward wasn't given much of a chance. Sykora not only made the team, he notched 44 points in a full, 82-game season. Not bad for a player dubbed a "long shot" in the summer. (Coincidentally, Kaberle had a tryout with the Devils this preseason).
So if Kaberle is able to earn a contract with the Rangers, he might prove useful -- if only in spurts -- as a freebie fantasy addition.
To continue reading this article you must be an Insider