Ranking the GMs: Northeast Division
March, 13, 2012
3/13/12
2:42
PM ET
By
Alvin Chang
| ESPN Insider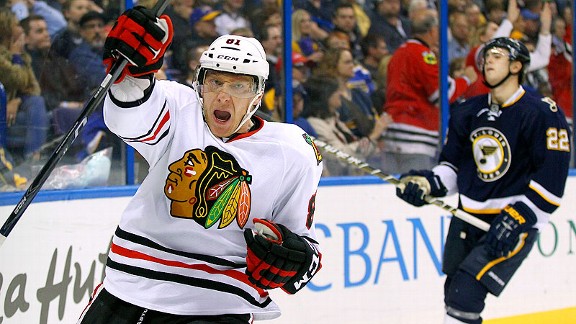 Dilip Vishwanat/Getty ImagesMarian Hossa is only one of many finds during the career of Canadiens GM Pierre Gauthier.
Last week we looked at the Atlantic GMs and this week we're focusing on the Northeast Division, which is an interesting case study on longtime GMs. Outside of
Boston Bruins
GM Peter Chiarelli, the other four guys have collectively participated in more than 50 drafts -- but they all got here in different ways, and it's reflected in their drafting success. The issue here, though, is sustainability.
Buffalo Sabres
GM Darcy Regier has been able to maintain success with one club since 1997 because he can find value without great draft position. Theoretically, it means a team can continue to be good without receding into the lottery to stock up on talent. There's a reason he's been with one team for so long.
In comparison,
Toronto Maple Leafs
GM Brian Burke can't, for the life of him, find value in the late rounds. But he sure knows what to do with those early first-rounders -- but those only come with a bad team. And
Ottawa Senators
GM Bryan Murray has found All-Stars with the mid-to-late first-rounders, which is harder than it sounds -- and extremely valuable when your team is flirting with the playoffs each year.
However, the guy who has made everyone else look bad is
Montreal Canadiens
GM Pierre Gauthier, statistically the best drafting GM of the past two decades. He had a little secret in the '90s that led to a ton of success -- but his peers are catching up, so he might need a new strategy to survive. Just to review, here are the ground rules:
1. We're not judging the GMs based simply on the quality of players they have drafted. Because a guy with four top-five picks will always fare better than someone who consistently drafts late in the first round. So, instead, we're looking at how well they've drafted relative to their draft position.
2. We know some GMs let their scouts make the final calls on draft day, but they still are responsible for the picks.
3. We're looking at drafts from 1990 to 2008. Recent drafts are discounted because the jury is out on the large majority of those picks.
4. Metrics are based on Tom Awad's
GVT
, which is an advanced stat that encompasses all aspects of the game.
With that in mind, let's dive into the Atlantic. The general managers are ranked in descending order.

5. Peter Chiarelli
Value added per pick:
-1.03 GVT/season
Drafts:
Boston Bruins (2007-present)
Top picks:
Joe Colborne
(No. 16),
Zach Hamill
(No. 8)
Chiarelli's low metrics are due to a small sample size, since he drafted only 12 players before 2009. So Colborne and Hamill aren't actually very good picks -- not yet at least -- but they're the only two guys who have done anything in the NHL. However, Chiarelli has two things going for him. First off, he took over a squad with a good amount of talent, thanks to predecessor Mike O'Connell who found great value in
David Krejci
(No. 63) and
Patrice Bergeron
(No. 45), so there wasn't a huge amount of pressure in finding quick help. Secondly, unlike other GMs who have strong squads, Chiarelli has actually had high draft picks to work with. He's had three top-10 picks, including the No. 2 overall pick in 2010 (
Tyler Seguin
), thanks to the
Phil Kessel
trade. Now, as long as the Bruins are good, that probably won't last and, to maintain success, he'll have to find solid NHLers in places where it's statistically unlikely.
---

4. Brian Burke
Value added per pick:
: -0.03 GVT/season
Drafts:
Toronto Maple Leafs (2009-present),
Anaheim Ducks
(2005-2008),
Vancouver Canucks
(1998-2003), Hartford Whalers (1992-1993)
Top picks:
Manny Legace
(No. 188),
Ryan Kesler
(No. 23),
Kevin Bieksa
(No. 151),
Henrik Sedin
(No. 3),
Daniel Sedin
(No. 2)
Burke has been a mediocre drafter at his four stops, mostly because he can't find good value in the late rounds. He hasn't found an above-average NHLer outside the first round other than Bieksa,
Marek Malik
(No. 72) and
Andrei Nikolishin
(No. 47) -- and that's out of 102 picks before 2008. However, what Burke does do is convert his first-round picks. It started with
Chris Pronger
(No. 2) in 1993, and then he landed both Sedins after some draft-day haggling. Add
Bobby Ryan
(No. 2) and Kesler to the list, and those are some pretty good players on his résumé. However, maintaining success requires GMs to find good players without good draft position, and Burke has shown he's not very good at that. In any case, the anti-numbers Burke may not care for these metrics-based rankings.
---

3. Bryan Murray
Value added per pick:
0.25 GVT/season
Drafts:
Ottawa Senators (2007-present), Anaheim Ducks (2002-03),
Florida Panthers
(1995-2000),
Detroit Red Wings
(1991-93)
Top picks:
Ryan Getzlaf
(No. 19),
Corey Perry
(No. 28),
Dan McGillis
(No. 238),
Jaroslav Spacek
(No. 117)
He's made 115 picks from 1990 to 2008, and there's good news and bad news. First the bad: Only 24 percent of his picks play 82 NHL games, which is mediocre. But that almost doesn't matter, because of how much value that 24 percent yields. We often overestimate the value of mid-to-late first-round picks, but in reality it's incredibly hard to find above-average players in those slots. However, in Murray's four stops, he drafted Getzlaf, Perry,
Erik Karlsson
(No. 15),
Radek Dvorak
(No. 10),
Anders Eriksson
(No. 22) and
Martin Lapointe
(No. 10). In addition, he's found some good value in the late rounds, nabbing McGillis, Spacek,
Mike Knuble
(No. 76),
Filip Kuba
(No. 192) and
Chris Osgood
(No. 54). He's statistically one of the better drafting GMs in the past 20 years, and he's been able to find star players with just one top-10 pick (No. 7, 2002,
Joffrey Lupul
) which is good news for the Senators, who need to find a way to get out of the mid-to-late lottery.
---

2. Darcy Regier