The case for selecting a center at No. 1
June, 12, 2012
6/12/12
10:48
AM ET
By
Alvin Chang
| ESPN Insider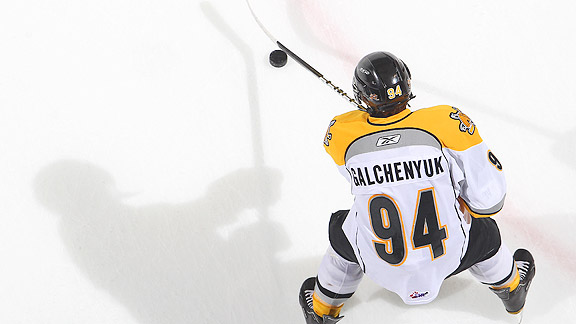 Claus Andersen/Getty ImagesAlex Galchenyuk could make a solid alternative at the top of the draft.
In 2010, scouts were split on who would be the better player:
Taylor Hall
or
Tyler Seguin
. Eventually, Hall went No. 1. But Seguin has had the better career thus far -- and he was supposed to be the one with the longer development curve.
Before that draft, I made
an argument
that Seguin should go No. 1 because he plays center, while Hall is a winger. So naturally, I have to revisit this idea since winger
Nail Yakupov
and defensemen
Ryan Murray
and
Mathew Dumba
seem to be getting all the love at the top of the draft -- and some elite centers aren't getting as much attention.
But first, I want to look at the way we treat defensemen and centers in the NHL. A few years ago, I talked to Sharks GM Doug Wilson, and something he said really stuck: "There are very few good defensemen, and very few centermen. If you have them, you want to keep them." Right after that, I talked to Wings GM Ken Holland who basically said the same thing, which wasn't a surprise since he's always said his philosophy is to build around centers and blueliners. Now, this isn't groundbreaking, yet the way they talked about centers and defensemen was the first time I realized it's similar to the way we talk about quarterbacks in football.
If you want a more recent example, Hockey Canada chief scout Kevin Prendergast makes an argument for Murray as the No. 1 pick because, as he tells the
Edmonton Journal
, "I think you have to draft a defenseman because nobody's going to give you one."
So people around the league really value defensemen and centers -- obviously not as much as the NFL does quarterbacks, but enough that position makes a significant difference.
But drafting a defenseman high in the draft would make me really nervous, no matter the player. They are huge risks. As noted in
a previous piece
, only about 25 percent of blueliners drafted in the top-five become anything close to elite-level players. Compare that to 40 percent for forwards.
So that means if you want a highly valuable, low-risk player, you want a center.
However, this year's top centers --
Filip Forsberg
,
Alex Galchenyuk
and
Mikhail Grigorenko
-- aren't getting too much attention. But if centers really are that valuable, and they really are low-risk, shouldn't the Oilers consider these guys if they want to maximize the value they get out of the pick?
Now, a lot of this depends on how you feel about Yakupov. If you think he's in another class compared to the centers, then position shouldn't matter. This high in the draft, you should never draft for need; you always want to draft the best available player. But if you think it's a toss-up -- or they're very close -- let's consider the following: