Why heavy NHL players are underrated
February, 16, 2011
2/16/11
10:48
AM ET
By
Alvin Chang
| ESPN Insider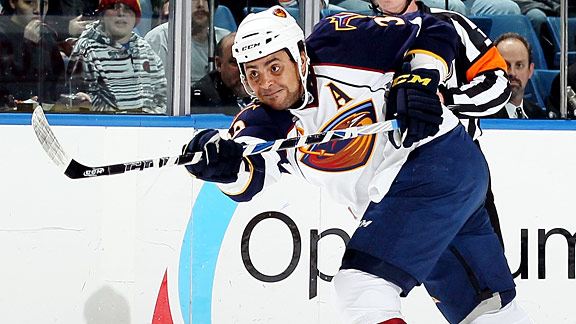 Jim McIsaac/Getty ImagesDustin Byfuglien was underrated by the NHL Central Scouting Bureau because of his size.
In early 2003, it seemed NHL scouts didn't know what to make of
Dustin Byfuglien
. On one hand, he had great size. But, on the other hand, he might've had too much size for his own good, tipping the scales at a reported 255 pounds. So the NHL Central Scouting Bureau tacked him on at the very end of its Midterm Rankings at No. 240.
In retrospect, Byfuglien -- a 2011 NHL All-Star -- obviously was underestimated. But it's heavier hockey players as a group that seem to slip a bit in a draft.
First, a little context: Hockey players are generally not heavy, so when a hefty prospect comes along, the sample size for those body types is fairly small. That said, "heavy" in hockey terms isn't really that heavy at all; compared with other sports, the variation in weight is relatively small, with most players hovering around 200 pounds.
So, although Byfuglien was an extreme outlier at 255 pounds, the heaviest 5 percent of prospects are only about 225 pounds and up -- and that 25 pounds makes a huge difference. And if we just look at that top 5 percent, those guys set themselves apart:
It's not as if NHL teams are not valuing big prospects. In fact, prospects heavier than 225 pounds are drafted an entire round ahead of everyone else. But even with this bias, NHL clubs still aren't selecting these guys high enough. More than half of them play 82 NHL games, which helps them outperform their draft slot far more often than their lighter counterparts.
And it's not as though that trend will be reversing any time soon. In the past 10 years, these heavy guys have been selected on average at pick No. 107, while everyone else has been selected on average at No. 127. (In comparison, the numbers for the past 20 years have been No. 95 versus No. 131.)
So, in short, heavy guys are underrated.
But not all of them; after all, five No. 1 overall picks since 1990 have been 225 pounds or heavier --
Joe Thornton
,
Eric Lindros
,
Ilya Kovalchuk
,
Alex Ovechkin
and
Erik Johnson
. And 64 first-rounders have been part of the 5 percent club, as well as 42 second-rounders.
However, even when we discount those big early-round guys, the performance gap is still quite evident: