Small-framed Rocco Grimaldi could be big
February, 22, 2011
2/22/11
3:38
PM ET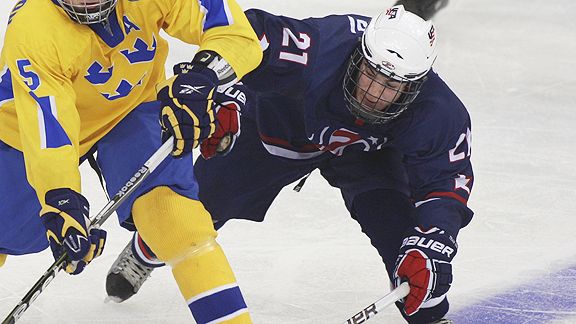 AP Photo/Sergei GritsFive-foot-six Rocco Grimaldi has talent, but size will always knock his draft stock.
The U.S. National Team Development Program ended up winning the Five Nations tournament in the Czech Republic back before
our first mock draft last week
. That gave our network of scouts a little longer to fine-tune their assessments of the top prospects in the field. Verbatim reports from the NHL talent scouts on hand at the tournament follow.
Rocco Grimaldi, USNTDP:
"The best player in the tournament in terms of getting things done -- not the best NHL prospect, but just very effective against kids in his age group."
Said one scout who scouted Rocco Grimaldi extensively: "He's ahead of
Brian Gionta
at the same stage in terms of skating and skills, but he doesn't know the game as well as Gionta does. Against draft-eligible kids he doesn't get pushed off the puck and he has a wide stance that gives him real balance. That also keeps him so low that he's hard to hit. When he has played against college players [with the USNTDP] it's a different story. Other [USNTDP players] struggle with the physical play against the older players too but you just can't see him growing enough or getting that much stronger that he'll be able to fight through it. He's not a jockey. He's more like a bowling ball."
The doubters will say that Grimaldi doesn't share the puck as much as he could, or should. They'll also always drag height into the equation. Those who are keenly interested though point to Gionta or
Tyler Ennis
in Buffalo as height-challenged guys that are effective in the league.
Coming out of the Five Nations, those scouts who didn't list him among their top prospects before weren't about to change their minds -- he could have lit up the tournament and they wouldn't have budged. But those who are open to a 5-foot-6 guy with great speed are grading him up at this point. The tournament might solidify his place in the No. 25-to-35 range.
Stockwatch: Up with a small-caliber bullet
---
Tyler Biggs, Jonathan Miller, USNTDP
: The question about both USNTDP players is plain -- in fact it's the flipside of the Grimaldi proposition.
One scout says: "Both are big enough, skate well enough and have decent skill sets ... but in terms of making things happen, they leave you wanting them to do more. They both look like they have a third-line game. Is that what you're looking at in the top 20? It shouldn't be. If [a team is] it might be a reflection of the [lack of depth] of the draft as much as the player's talent."
Miller has had a discipline problem or two in Ann Arbor. It has caused the stock of skilled kids (see
Kyle Palmieri
) to drop in the past and make them good value when they're available late in the first or in the second. Nonetheless, neither of these two is in the same bracket as Palmieri or, say,
Jeremy Morin
in terms of finishing. Biggs and Miller do a lot of things well and actually looked good enough at the Five Nations -- they just failed to show what they needed to if they wanted to move into the top 15. It seems to me that Biggs will go in the top 20 and Miller 25-to-40, unless they show something at the World U-18s that they haven't shown so far.
Stockwatch: Holding steady for both
---