May, 10, 2014
5/10/14
1:45
AM ET
INDIANAPOLIS -- There was a familiar face, one that had been absent around the
Indianapolis Colts
organization for nearly two months, inside the team's draft war room Friday night.
A picture made its way around Twitter, and in it stood a sharply dressed man in a dark colored suit standing next to coach Chuck Pagano.
Owner Jim Irsay was back in his familiar setting.

Irsay
"[It] was a shot of adrenalin," Pagano said. "He brings so much to the table and to the organization. He is the organization. He is the 'shoe.' To have Jim back in the building and back in the room with us today was pretty darn special."
Irsay had been in a rehabilitation facility getting treatment since March 17 after he was arrested the day before for allegedly operating a vehicle while intoxicated. He faces four felony counts of possession of a controlled substance. A sign that Irsay was out of the treatment facility was when the Colts Chief Operating Officer Pete Ward said he would give the pitch to the NFL owners about Indianapolis hosting the Super Bowl in 2018 during the league meeting in Atlanta later this month. Irsay was also up to his old habit of tweeting again on Thursday.
Irsay wasn't just sitting around watching during the draft. He quizzed general manager
Ryan Grigson
about potential players they might take with the No. 59 and 90 picks. He asked about alternative options if the players they were interested in weren't available and potential trades.
Being a part of the day-to-day activities is where Irsay, a former general manager of the Colts, feels comfortable.
The Colts selected Ohio State offensive lineman
Jack Mewhort
in the second round and Mississippi receiver
Donte Moncrief
in the third round.
"It was great," Grigson said. "He brings great energy, football wisdom, all the years of experience. He knows how to push my buttons in terms of when we're making a pick, seeing if I'm really feeling it. Same with Chuck. He looks you in the eye and wants to know about the player, wants to be able to feel that passion when you're making that pick and know that you really want that guy.
"He has a great feel for that kind of thing. He can tell when he's talking with you who you like and who you just kind of like or maybe just fills a need. He wants to know the plan. He wants to know if he's not there, what we're going to do."
It's uncertain how much longer Irsay will be around the team. Commissioner Roger Goodell said at the league's owners meeting in Orlando, Florida, in March that Irsay is subject to league discipline for his arrest but that he would wait "to understand the facts" before making a decision.
His initial hearing in March was postponed.
"We obviously will want to understand the facts before we take any steps as it relates to any potential discipline," Goodell said in March. "Obviously any policies or any laws that are broken, whether you're commissioner or owner or player or coach, those are subject to discipline."
But for one night, things were back to normal at the Colts facility on the west side of Indianapolis.
May, 9, 2014
5/09/14
10:02
PM ET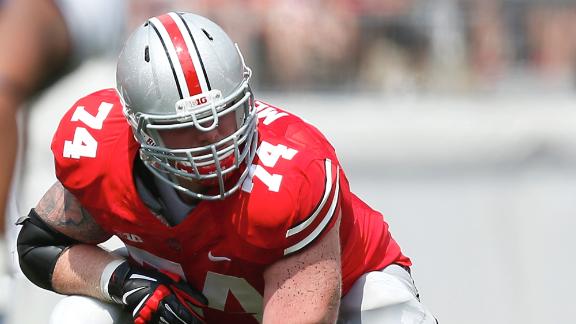 INDIANAPOLIS --
The pick:
Jack Mewhort
, offensive lineman, Ohio State
My take:
Mewhort is kind of a surprise pick when you consider the need for a safety and that there were still some quality receivers available at No. 59.
Mewhort would be considered a utility player if he played baseball. He's played every position along the offensive line. He was an All-American center, and Rivals.com had him as the second player at that position coming out of high school in Toledo, Ohio, in 2009. He played guard during the 2011 season at Ohio State, then switched to left tackle for his final two seasons with the Buckeyes. Mewhort started the final 39 games he played at Ohio State.
Mewhort's best chance to play with the Colts is likely at guard because they're set at tackle with
Anthony Castonzo
and
Gosder Cherilus
, who both had impressive 2013 seasons. Playing time at guard is up in the air.
Hugh Thornton
struggled during his rookie season, and
Donald Thomas
is coming back off a torn tendon in his quad and a torn biceps.
The ultimate goal is to protect quarterback
Andrew Luck
better. Luck has been sacked 73 times in his first two seasons.
Add one more to the résumé:
Tackle, guard and center aren't the only positions Mewhort can play. He's also capable of handling long-snapping duties. The Colts are set there, though, with
Matt Overton
. Overton made the Pro Bowl team last season. But Mewhort is capable of being the emergency long snapper.
What's next:
The Colts have the No. 90 overall pick. They'll have three picks in the final four rounds Saturday.
April, 17, 2014
4/17/14
2:30
PM ET
The
Washington Redskins
can host up to 30 players before the draft, but who they do doesn't always tell the entire story of their interest. And we don't really know how what visits mean for this regime: How many of these players will they ultimately select? Some teams draft maybe one or two players that they actually hosted.
That said, some things are telling. First I'm going to take a look at the offensive players mentioned. What stands out: They've looked at several tackles. That's no surprise, but I think the plan all along was to look harder at the draft for this spot than free agency (where they brought in only
Donald Penn
).
It's also true that in some cases the Redskins might not want to draft certain players, but would bring them in because they want a book on them for the future -- in case they get cut or become free agents down the road.
Anyway, take the visits for what they're worth but the positions they're looking at are noteworthy. These are players who either have visited, will visit or have talked to them about visiting. I've used reports from the Washington Post, myself, ESPN980, SiriusXM radio and 106.7. I also used some info from draft analysts for ESPN.com, CBS Sports and NFL.com. And in finishing this item, I came across a similar format on a site called
Pro Player Insiders
.
Here are the offensive players who either have visited or will:
T/G Jack Mewhort, Ohio State
Projection:
Third round
Comment:
Mewhort played left tackle and both guard spots in college and was a solid player. He's athletic, but lean at 6-foot-6, 308 pounds. He's a much better fit in a zone blocking system, an outside one at that, than anything else. Which, of course, the Redskins use. I don't think he's going to overpower any defender.
How he'd fit:
Mewhort would have to be viewed as the eventual starter at right tackle, but I'd be surprised if it happened right away. If he can't handle right tackle, he could always slide inside so if nothing else he'd find a way to be productive. However, he'd have to learn to consistently play lower if that were the case. It was an issue in college.
WR Cody Latimer, Indiana
Projection:
Mid-to-late rounds
Comment:
Coming off a 72-catch season. Has good size at 6-2, 215 pounds and excellent hands. But he's not a fast receiver and analysts worry about his ability to defeat athletic corners in the NFL.
How he'd fit:
Developmental receiver and depth.
OT Morgan Moses, Virginia
Projection:
Second round
Comment:
He has clear ability, but for a guy who projects this high he also seems to be a bit of a project. He has good size at 6-6, 314 pounds, but doesn't always bend his knees. The fact that Washington is looking at him suggests the Redskins want to upgrade right tackle and might do so with its first pick.
How he'd fit:
Despite faring better on the left side in college, he'd be the future starter at right tackle with Washington. Day 1 starter? Hard to see, but if you're a second-round pick you should be ready to start at some point that first season.
OT Cameron Fleming, Stanford
Projection:
Second round
Comment:
He's not considered a fast or agile tackle, so I wonder how he'd fit in with Washington. He's considered by analysts to be better as a drive blocker. But he did not receive high marks for his pass protection skills. Honestly, after reading more about him, I'm not sure why he's projected to this round.
How he'd fit:
I really don't know based on his fit with a zone scheme. Perhaps they view him more as a guard long-term than anything else.
WR Brandon Coleman, Rutgers
Projection:
Late rounds
Comment:
He attended Bishop McNamara in Forestville, Md. He's 6-6, which is great except that there aren't many receivers that size in the NFL. It can be tough to get in and out of breaks when you're that tall. But he'd make an inviting red zone target if nothing else, though it takes more than size to excel here. He caught 92 passes in college (20 for touchdowns).
How he'd fit:
Developmental guy. The Redskins could afford to bring him along slowly. Nothing wrong with that.
OT Antonio Richardson, Tennessee
Projection:
Second, possibly third round
Comment:
He has good size (6-5, 336) and long arms, two welcomed traits at tackle. Richardson received higher marks for his pass protection skills than anything. He's considered to have good enough quickness to handle the right side.
How he'd fit:
Eventual starter at right tackle. Day one? Tough to say, but has traits worth grooming.
RB Charles Sims, West Virginia
Projection:
Mid-to-late rounds
Comment:
He has excellent hands and quickness. Has good speed, though not a burner. Analysts consider him a better fit in a zone system (like the Redskins).
How he'd fit:
A third down pass-catcher. The Redskins have
Roy Helu
and
Chris Thompson
as possibilities here, but both have question marks.
April, 10, 2014
4/10/14
12:15
PM ET
Owners of the No. 32 and final pick in the first round of this year's draft by virtue of the team's first Super Bowl win, the
Seattle Seahawks
still can get a player who can help them defend their title in 2014.
Seattle could use another playmaking receiver, along with help at cornerback and defensive and offensive line to replace players who left in free agency.
ESPN draft analyst Todd McShay's
fourth 2014 NFL mock draft

is available at ESPN Insider, and his selection for the Seahawks should help fill the void at a positional need.