NFL Draft:

Donte Moncrief
May, 10, 2014
5/10/14
1:45
AM ET
INDIANAPOLIS -- There was a familiar face, one that had been absent around the
Indianapolis Colts
organization for nearly two months, inside the team's draft war room Friday night.
A picture made its way around Twitter, and in it stood a sharply dressed man in a dark colored suit standing next to coach Chuck Pagano.
Owner Jim Irsay was back in his familiar setting.

Irsay
"[It] was a shot of adrenalin," Pagano said. "He brings so much to the table and to the organization. He is the organization. He is the 'shoe.' To have Jim back in the building and back in the room with us today was pretty darn special."
Irsay had been in a rehabilitation facility getting treatment since March 17 after he was arrested the day before for allegedly operating a vehicle while intoxicated. He faces four felony counts of possession of a controlled substance. A sign that Irsay was out of the treatment facility was when the Colts Chief Operating Officer Pete Ward said he would give the pitch to the NFL owners about Indianapolis hosting the Super Bowl in 2018 during the league meeting in Atlanta later this month. Irsay was also up to his old habit of tweeting again on Thursday.
Irsay wasn't just sitting around watching during the draft. He quizzed general manager
Ryan Grigson
about potential players they might take with the No. 59 and 90 picks. He asked about alternative options if the players they were interested in weren't available and potential trades.
Being a part of the day-to-day activities is where Irsay, a former general manager of the Colts, feels comfortable.
The Colts selected Ohio State offensive lineman
Jack Mewhort
in the second round and Mississippi receiver
Donte Moncrief
in the third round.
"It was great," Grigson said. "He brings great energy, football wisdom, all the years of experience. He knows how to push my buttons in terms of when we're making a pick, seeing if I'm really feeling it. Same with Chuck. He looks you in the eye and wants to know about the player, wants to be able to feel that passion when you're making that pick and know that you really want that guy.
"He has a great feel for that kind of thing. He can tell when he's talking with you who you like and who you just kind of like or maybe just fills a need. He wants to know the plan. He wants to know if he's not there, what we're going to do."
It's uncertain how much longer Irsay will be around the team. Commissioner Roger Goodell said at the league's owners meeting in Orlando, Florida, in March that Irsay is subject to league discipline for his arrest but that he would wait "to understand the facts" before making a decision.
His initial hearing in March was postponed.
"We obviously will want to understand the facts before we take any steps as it relates to any potential discipline," Goodell said in March. "Obviously any policies or any laws that are broken, whether you're commissioner or owner or player or coach, those are subject to discipline."
But for one night, things were back to normal at the Colts facility on the west side of Indianapolis.
May, 9, 2014
5/09/14
11:53
PM ET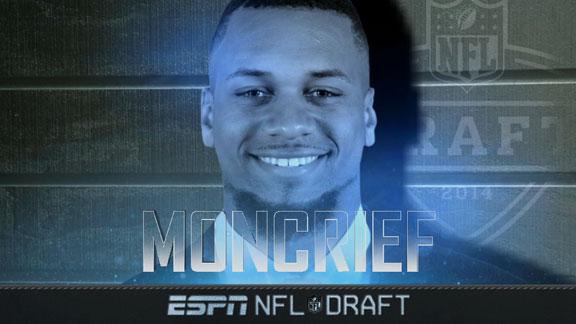 INDIANAPOLIS --
The pick:
Donte Moncrief
, receiver, Mississippi
My take:
The Colts are set at receiver next season with
T.Y. Hilton
,
Reggie Wayne
and
Hakeem Nicks
as their top three options, but they could have question marks there in 2015. Wayne and Nicks will both be free agents and it's uncertain how many more years the 35-year-old Wayne will continue to play.
Moncrief started all but one of the 37 games he played in at Mississippi. He had 59 receptions for a team-leading 938 yards last season.
The drafting of Moncrief means the Colts could end up releasing two of their three young receivers --
Da'Rick Rogers
,
Griff Whalen
or
LaVon Brazill
-- depending on how many wideouts they want to keep on the roster next season.
Another third-round gem:
Moncrief is the second receiver the Colts have selected in third round in the past three drafts. Hilton was taken with the No. 92 pick in 2012. And all Hilton has done is total 132 receptions for 1,944 yards and 12 touchdowns in his career.
What's next:
The Colts have three picks -- in the fifth, sixth and seventh -- in the final four rounds Saturday.
April, 7, 2014
4/07/14
1:35
PM ET
PITTSBURGH -- The signing of
Mike Mitchell
last month hasn't stopped the
Pittsburgh Steelers
from taking a closer look at one of the top safeties in the draft.
Calvin Pryor
is visiting the Steelers today, and the former Louisville star is a projected first-round pick. Pryor is also widely regarded as the second-best safety in the draft after Alabama's
Ha Ha Clinton-Dix
.
The 5-foot-11, 207-pound Pryor recorded 65 tackles and three interceptions last year and he is a hard hitter who is particularly strong in run support.
This is a curious visit at face value since Mitchell's signing makes it unlikely that the Steelers use their first-round pick on a safety. But with teams using five and six defensive backs in sub-packages with increasing frequency it makes sense that the Steelers are doing their homework on players who can help them in the secondary.
The Steelers are allowed to host 30 prospects for pre-draft visits.
Michigan State cornerback
Darqueze Dennard
, Notre Dame defensive end
Stephon Tuitt
, Baylor running back
Lache Seastrunk
, Ole Miss wide receiver
Donte Moncrief
, South Carolina wide receiver
Bruce Ellington
and Minnesota safety
Brock Vereen
visited the Steelers last week.