NFL Draft:

2014 Senior Bowl
January, 27, 2014
1/27/14
10:50
AM ET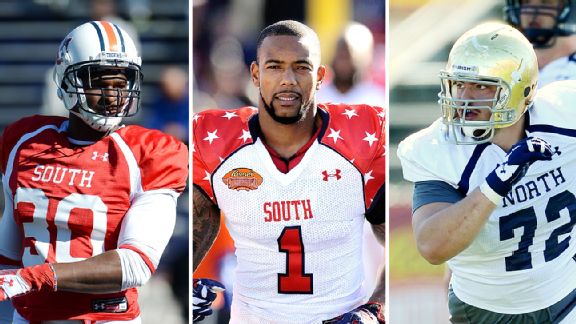 AP Photo, Getty Images, AP PhotoDee Ford, Keith McGill and Zack Martin all helped their draft stocks in Mobile last week.
In 2013, 10 players who participated in the Senior Bowl
became first-round picks
in the NFL draft. This year's field wasn't quite as talented. Only four or five players at the Senior Bowl practices and game in Mobile, Ala. last week will likely end up going on Day 1 of the 2014 draft.
That's partly because of the number of top players who declined to participate (including Oklahoma State CB
Justin Gilbert
, Ohio State RB
Carlos Hyde
, Buffalo LB
Khalil Mack
and Alabama LB
C.J. Mosley
) and others who were unable to perform because of injury (including UCLA LB
Anthony Barr
, Florida DT
Dominique Easley
, Michigan OT
Taylor Lewan
and LSU QB
Zach Mettenberger
).
However, several top prospects stood out, and a few began the week off the radar but really improved their draft stock -- along with a few others who disappointed with their play. Let's take a look at the notable performances from Senior Bowl week.
Cream of the crop
These players were the top five performers in Mobile last week, and all have the potential to be selected in the first round of the 2014 NFL draft.
1. Zack Martin, OT, Notre Dame
Martin took his game to another level as a senior at Notre Dame, and he was able to match that level at the Senior Bowl -- both in practices and in Saturday's game. The biggest question mark for Martin is his lack of ideal length to play the tackle position in the NFL (32¼-inch arms). But while that is definitely a concern (former Raiders' No. 2 pick
Robert Gallery
is one such cautionary tale), it isn't a deal-breaker.
Justin Pugh
has similarly short arms, but he was a first-round pick in 2013 and showed a lot of promise as a rookie for the Giants.
January, 23, 2014
1/23/14
10:35
PM ET
MOBILE, Ala. -- The Senior Bowl game isn't until Saturday, but the individual drills, group drills and team sessions in practices Monday through Thursday have already given us a very good idea of what the prospects here this week bring to the table.
Here is our take on the prospects whose skills separated them from the others in areas specific to their respective positions. Which QB has the strongest arm? Who is the fastest receiver? Consider these the prospect superlatives for the 2014 Senior Bowl.
To continue reading this article you must be an Insider
January, 22, 2014
1/22/14
7:55
PM ET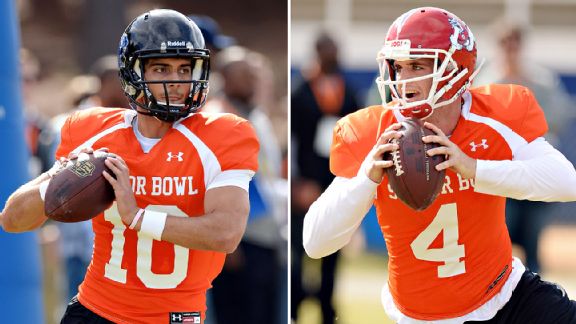 USA TODAY SportsJimmy Garoppolo and Derek Carr each have shown tantalizing flashes of talent at the Senior Bowl.
MOBILE, Ala. -- Quarterback play tends to be the focus of many NFL draft discussions, and the six at the 2014 Senior Bowl have certainly garnered their fair share of attention.
Some of these guys are relatively well-known commodities, and in the cases of Clemson's
Tajh Boyd
, Miami's
Stephen Morris
and Virginia Tech's
Logan Thomas
, their performances so far this week haven't significantly varied from what we expected coming in.
Boyd's best day of practice was Tuesday, when he wasn't great, but was more consistent throwing the ball than Morris and Thomas. But the bottom line with him is that he's a shorter QB who continues to struggle to see the field, go through his progressions and anticipate throws.
To continue reading this article you must be an Insider
January, 21, 2014
1/21/14
8:13
PM ET
MOBILE, Ala. -- The North and South teams both had two-hour practices Tuesday in preparation for the Senior Bowl, and several of the players who stood out did so for not necessarily having the most well-rounded games, but for showcasing talents and abilities that will make them coveted by NFL teams for specific roles.
Let's take a look at four guys who fit the description of being very strong in one area, along with NFL player comparisons and NFL team (and scheme) fits for each.
Dee Ford, Auburn Tigers
Role
: Pass-rushing specialist
NFL comparison
:
Jerry Hughes
,
Buffalo Bills
NFL fits
:
Chicago Bears
,
Tampa Bay Buccaneers
,
Dallas Cowboys
Ford played defensive end at Auburn, although it's likely that he'll make the transition to outside linebacker in a 3-4 defense. Regardless of what scheme he plays in, the one thing he's going to be able to do is serve as an edge rusher.
To continue reading this article you must be an Insider
January, 20, 2014
1/20/14
11:00
PM ET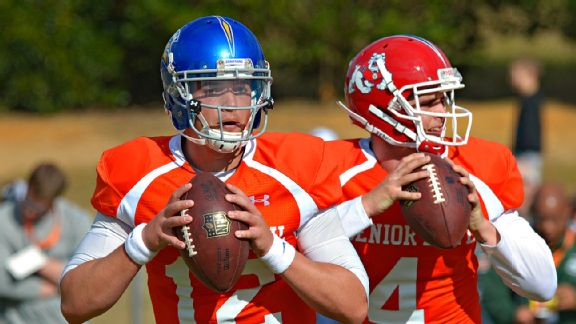 AP Photo/G.M. AndrewsCan David Fales and Derek Carr make the most out of their time in front of NFL scouts?
MOBILE, Ala. -- The first day of practices for both the North and South teams at the Senior Bowl kicked off on Monday, following the height and weight measurements for every player in attendance. Let's take a look at some of the prospects who stood out, and how the rise and fall of certain players and position groups could help shape the 2014 draft.
1.The 2014 QB draft class isn't as deep as we thought it would be
We'll preface this section by saying that it isn't intended to be a slam against the QB class as a whole or the six quarterbacks in attendance this week in Mobile. In fact, we are very interested in seeing more of what Eastern Illinois'
Jimmy Garoppolo
brings to the table following his strong start to the week. We're intrigued by the potential of Virginia Tech's
Logan Thomas
and Fresno State's
Derek Carr
, who had a very good day of practice (even though we've been concerned with some of what we've seen of him on tape – more on that in a bit).
But what at times during the 2013 college football season appeared to be a very deep crop of quarterbacks has begun to thin out considerably, which could present problems for NFL teams looking to draft a QB.
To continue reading this article you must be an Insider
January, 20, 2014
1/20/14
9:00
AM ET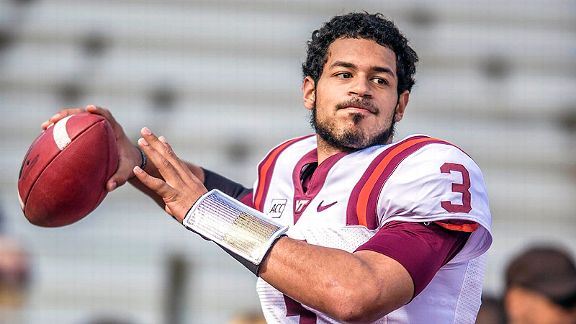 Ed Wolfstein/USA TODAY SportsLogan Thomas has prototypical size for a QB, but can he come up big at the Senior Bowl?
•
2014 Senior Bowl rosters
MOBILE, Ala. --
Teddy Bridgewater
,
Blake Bortles
and
Johnny Manziel
– the top three quarterback prospects in the 2014 class -- are all underclassmen, so they're not eligible to play in the Senior Bowl. However, six of the top nine senior quarterbacks will be in Mobile for this week's Senior Bowl.
Zach Mettenberger
and
Aaron Murray
were invited but knee injuries will prevent them from playing. AJ McCarron is the only highly rated senior to
decline an invitation
.
Here's a quick look at the positives, negatives and missions to accomplish for each of the six Senior Bowl quarterbacks:
Jimmy Garoppolo, Eastern Illinois; QB rank: 6th; Team: South
POSITIVES
: Good anticipation. Above-average touch and tempo. Elevated play in big games. Fast eyes and decisive. Good short-to-intermediate accuracy. Quick release and above-average arm strength when he transfers weight properly. Keeps eyes married to feet, so he keeps himself ready to pull the trigger at any moment. Strong work ethic. Humble. Very good football intelligence and football character. Lost only two games as a senior: at Northern Illinois (49-39) and in FCS quarterfinals to Towson (where he completed 76 percent for 321 yards with 2 TDs and no INTs). Also beat bowl-bound San Diego State by 21 points
NEGATIVES
: Level of competition. Smaller than ideal hand span (9 1/8 at East West Shrine). Needs to be more consistent with deep accuracy. Will take unnecessary chances.
WHAT CAN HE ACCOMPLISH THIS WEEK?
Erase any concerns regarding level of competition.
Logan Thomas, Virginia Tech; QB rank: 7th; Team: North
POSITIVES
: Prototypical build (6-foot-5 5/8, 256 pounds). Strong and durable. Mobile for size. Strong in pocket, tough to bring down. Ball explodes off hand. Can drive ball vertically with ease. Tough. Hard worker.
NEGATIVES
: Sloppy footwork. Erratic arm. Forces too many throws. Must take better care of football. Inconsistent eye discipline. Late on too many throws.
WHAT CAN HE ACCOMPLISH THIS WEEK?
All six quarterbacks will have new pro-style schemes to operate, they should have good pass protection, and there will be plenty of playmakers to use. Thomas needs to thrive with a level playing field.
Stephen Morris, Miami (Fla.); QB rank: 9th; Team: North
POSITIVES
: Quick release. NFL arm. Can squeeze ball into tight windows down the field. Can drive ball vertically. When healthy, shows escapability in pocket and above-average mobility. Resilient. Mentally and physically tough. Can throw accurately on the run to both sides. Hard worker.
NEGATIVES
: Lean frame. Durability issues. Inconsistent accuracy. Doesn't always sense backside pressure. Takes too many chances downfield. Too many turnovers.
WHAT CAN HE ACCOMPLISH THIS WEEK?
Fully healthy and with even playing field, Morris needs to show more consistency with footwork and ball placement as a passer.
To continue reading this article you must be an Insider
January, 17, 2014
1/17/14
7:15
PM ET
I can understand why some have expressed disappointment with the news that Alabama quarterback
AJ McCarron
is opting not to attend next week's Senior Bowl. Any time a senior receives an invitation and chooses not to go, that can be frustrating to NFL decision-makers. You want to see guys take advantage of the opportunity to go out there and compete.
That's particularly true in McCarron's case (more on that in a bit), and for the Senior Bowl itself, given its location in Mobile, Ala., his hometown, McCarron could have been the face of the game. He would have brought a lot more attention and focus to the game -- it would have been like having one of the Beatles there, essentially.
But here's the reality: He doesn't owe anyone at the Senior Bowl anything, and this needs to be a business decision for him. So while I join several NFL decision-makers in being disappointed that he's not there, I have to say that if I were counseling him on his pre-draft process, I'd probably tell him that it's not the best idea to participate.
To continue reading this article you must be an Insider