NFL Draft:

2014 East-West Shrine Game
January, 18, 2014
1/18/14
10:45
PM ET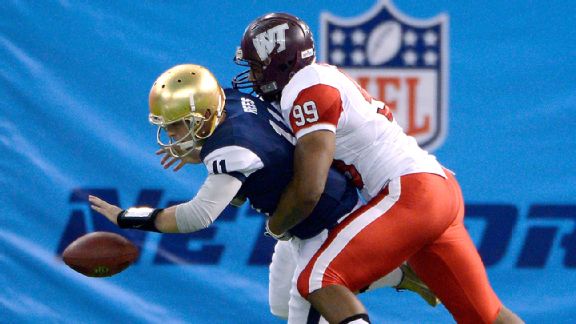 AP Photo/Phelan M. EbenhackEthan Westbrooks made an impression on Tommy Rees and the East-West Shrine Game.
ST. PETERSBURG, Fla. -- The 89th East-West Shrine game is officially in the books as the East beat the West 23-13, and an FCS prospect outplayed a Heisman finalist -- as he has all week.
Two quarterbacks on the East team, Eastern Illinois QB
Jimmy Garoppolo
and Northern Illinois QB
Jordan Lynch
, had two different types of games and a lot of it had to do with how they used their eyes.
Other than quick hitters, Garoppolo, who won the offensive MVP award, scanned the field and used his eyes to manipulate the coverage. He also kept his eyes downfield when the West flushed him out of the pocket.
January, 17, 2014
1/17/14
6:50
PM ET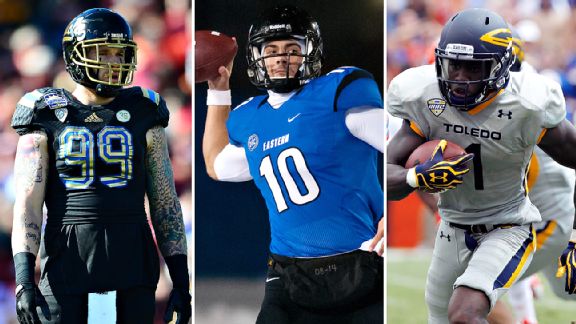 USA TODAY SportsCassius Marsh, Jimmy Garoppolo and Bernard Reedy have stood out during practices all week.
ST. PETERSBURG, Fla. -- It's been a fruitful week of practices at the 89th East-West Shrine Game and today offers an opportunity to review what I've seen the past four days.
Three quarterbacks stood out starting with Eastern Illinois'
Jimmy Garoppolo
. At 6-foot-2¼ and 225 pounds, Garoppolo has a good frame and he carries his weight well. The one negative when it comes to his measurements are his smaller hands. His quick release, eye discipline and accuracy were good throughout the week and on tape, which is why he projects as a Day 2 pick.
The other two quarterbacks worth mentioning are Ball State's
Keith Wenning
(6-2⅜, 219) and Cornell's
Jeff Mathews
(6-3⅜, 225). Both have the frame and arm strength to make an NFL roster. Wenning has the edge over Matthews because he has better pocket mobility and he was more accurate when forced to make plays on the move.
At receiver, Toldeo's
Bernard Reedy
showed good quickness before and after the catch, but it is important not to lose perspective here. He's 5-7⅝ and weighs 174 pounds. That's an inch shorter and 11 pounds lighter than Denver slot receiver Wes Welker.
Pitt State's
John Brown
is another receiver who stood out and he has adequate height at 5-10. The problem is Brown is light at 175 pounds and his hands measure just 8¼ inches, the smallest of all the receivers here.
Even though Valdosta State's
Seantavious Jones
(6-3⅛, 209) didn't have as strong a week on the field -- and body-caught too many passes for a player with his hand size -- his measurements will likely make him a more attractive option for NFL teams.
Out of all the non-FBS prospects here, Furman offensive guard
Dakota Dozier
surprised me the most -- starting with his measurements. Dozier is 6-3¾, weighs 312 pounds and has above-average length -- his arms measured 33¾ inches -- for the position. He showed good power as a run-blocker and balance during one-on-one pass protection drills.
On the defensive side of the ball, Purdue's
Bruce Gaston
(6-2⅛, 316-pound) and Louisiana Tech's
Justin Ellis
(6-1⅜, 351) are intriguing nose tackle prospects with above-average athletic ability for their size. There is also a lot to like about the way Gaston used his hands this week.
While Wisconsin's
Beau Allen
isn't as agile at 6-2½ and 333 pounds, he has the weight, low center of gravity and toughness to develop into an effective interior run stopper.
At 6-2⅞, inside linebacker
Max Bullough
weighed in at a heavy 265 pounds. Michigan State suspended Bullough for violating team rules and
held him out of the Rose Bowl
so Bullough's weight raised concerns about whether or not he had kept up with his conditioning.
He has always had limitations in space and he didn't run quite as well as expected based on his tape, but the weight didn't appear to affect him in terms of endurance. There's also a lot to like about the way he played the ball in coverage this week.
Finally, it's impossible for one evaluator to keep an eye on every position group but here are 15 prospects that stood out as I made my rounds this week.
1.
Jimmy Garoppolo
, QB, Eastern Illinois
2.
Cassius Marsh
, DE, UCLA
3.
Bernard Reedy
, WR, Toledo
4.
Bruce Gaston
, DT, Purdue
5.
Dakota Dozier
, guard, Furman
6.
Justin Ellis
, NT, Louisiana Tech
7.
Zach Bauman
, RB, Northern Arizona
8.
Keith Wenning
, QB, Ball State
9.
James Stone
, center/guard, Tennessee
10.
Rashaad Reynolds
, CB, Oregon State
11.
John Brown
, WR, Pitt State
12.
Jordan Najvar
, TE, Baylor
13.
Josh Mauro
, DE, Stanford
14.
Tyler Starr
, OLB, South Dakota
15.
Jemea Thomas
, CB, Georgia Tech
To continue reading this article you must be an Insider
January, 16, 2014
1/16/14
11:45
PM ET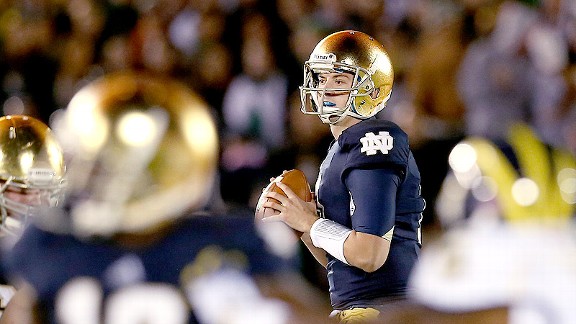 Jonathan Daniel/Getty ImagesTommy Rees struggled with the wind on Day 4 of practice at the East-West Shrine Game.
ST. PETERSBURG, Fla. -- Both teams practiced in helmets and in anticipation of the light practice, most scouts had headed home. The slower pace and lack of contact aside, attending these practices offered another opportunity to gain more insight into the quarterbacks, receivers and defensive backs.
Gusting winds affected the quarterbacks as the East signal-callers struggled to drop the ball into the bucket in the red zone. Eastern Illinois'
Jimmy Garoppolo
(6-2¼ 225) and Northern Illinois'
Jordan Lynch
(6-0⅜ 220) put too much air under the ball, resulting in their passes floating out of bounds.
Cornell's
Jeff Mathews
(6-3⅜ 220) appeared to overcompensate by driving the ball. The problem is he failed to loft it over 5-foot-9⅜, 191-pound Georgia Tech safety
Jemea Thomas
, who has big hands for his frame and came down with the pick.
To continue reading this article you must be an Insider
January, 15, 2014
1/15/14
9:00
PM ET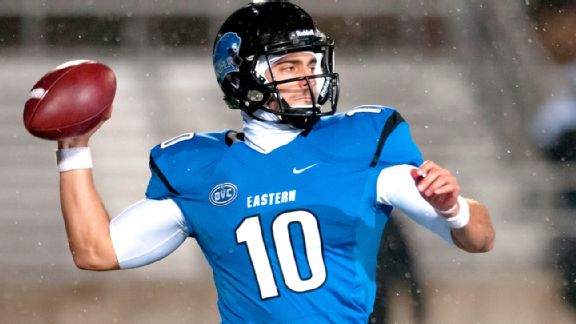 Bradley Leeb/USA TODAY SportsEastern Illinois QB Jimmy Garoppolo has played well during East-West Shrine Game practices.
ST. PETERSBURG, Fla. -- As we have each of the first two days, let's start with the quarterbacks. Eastern Illinois'
Jimmy Garoppolo
had the best day of the three. At 6-foot-2¼ and 225 pounds, he showcased his quick release getting the ball out to the receiver in a hurry. He also did a nice job of getting through his progressions and finding the open man.
Meanwhile, 6-3⅜, 225-pound Jeff Matthews out of Cornell failed to build on Monday's strong performance. He threw off his back foot and short hopped his intended receiver coming out of the end zone. Plus, the ball came out of his hand awkwardly on more than one occasion. Wet conditions might have played a role, but he didn't spin the ball nearly as well as Garoppolo, and Matthews has 10⅜-inch hands.
It hasn't been a great week for Northern Illinois'
Jordan Lynch
. Lynch measured 6-0⅜, and his hands measured just 8¾ inches. He carries his 220 pounds well, and he's clearly a scrambling threat, but his accuracy has been erratic and he's looked uncomfortable in the pocket.
To continue reading this article you must be an Insider
January, 14, 2014
1/14/14
11:45
PM ET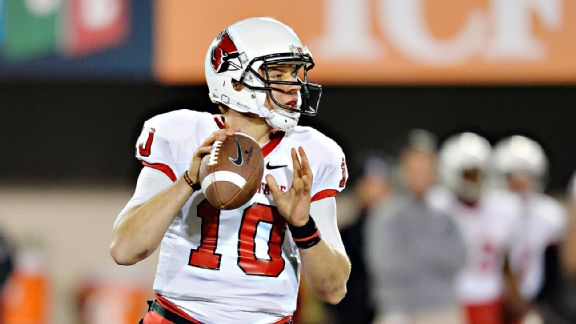 Brian Kersey/Getty ImagesBall State's Keith Wenning has continued to impress during East-West Shrine Game practice.
ST. PETERSBURG, Fla. -- Rain forced the East to practice inside and, unfortunately, denied those players an opportunity to show NFL evaluators what they can do. It was a frustrating development for scouts who traveled down here to get a look, but it's important to keep things in perspective. Player safety trumps us getting another quality look.
The weather cleared in time for the West to practice in full pads, and the wet field gave teams that play in poor weather such as Buffalo and Chicago a chance to see how prospects handled the conditions.
Weather aside, starting with the quarterbacks, there was plenty to take away from today's West team practice.
To continue reading this article you must be an Insider
January, 13, 2014
1/13/14
11:45
PM ET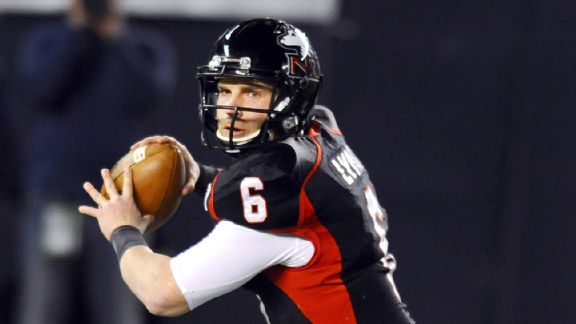 Christopher Hanewinckel/USA TODAY SportsHeisman Trophy finalist and Northern Illinois QB Jordan Lynch showed his skills -- and an erratic arm.
ST. PETERSBURG, Fla. -- Practices for the 89th East-West Shrine Game kicked off today and there were several NFL talent evaluators looking for a player -- or players -- who can help their team the way running back Zac Stacy, who played for the East last January, helped the Rams in 2013.
East head coach Jerry Glanville and West head coach Romeo Crennel approached their first practices in different ways. The East practiced in full pads and featured plenty of contact in the earlier practice, while the West practiced in helmets and stressed installation of schemes over physicality in the second practice of the day.
There were more mistakes in the first practice, but evaluators prefer Glanville's approach because they understand players are trying to pick up what they are being asked to do, so the scouts expect mistakes.
To continue reading this article you must be an Insider