MNF Review: Cincy's impact rookies
September, 17, 2013
9/17/13
12:45
PM ET
Cincinnati got important contributions from its first two picks in the 2013 draft in its win over AFC North rival Pittsburgh. Here's a look at the impact they made plus an evaluation of two draft-eligible backs and two draft-eligible tight ends who can play similar roles in the NFL.
Bernard scores twice
Second-round pick RB
Giovani Bernard
(North Carolina) carried the ball eight times and caught one pass Monday night, but he made the most of those touches, as he scored both of Cincinnati's touchdowns -- rushing for one and receiving one. Bernard isn't like former Bengals running back
Corey Dillon
between the tackles, and Cincinnati leaned on
BenJarvus Green-Ellis
when it wanted to protect its lead with the power running game. At 5-foot-8 and 202 pounds, Bernard doesn't have the kind of muscle mass and brute strength suited to the power game, yet he ran well between the tackles because he's built low to the ground and he drives through contact. He also makes quick reads and accelerates as soon as he sees a seam. That acceleration translates to explosive finishing power, and he did a nice job of powering through contact on the touchdown run.
Bernard's short-area burst whether he's running in a straight line or moving laterally may be his greatest strength. He's smooth when changing directions and when changing speeds whether he cuts back against the grain or bounces outside after pressing the line of scrimmage. He also showed his ability to reach his top-end speed quickly when he gets the ball in space on his touchdown catch.
Here are a couple of 2014 back prospects who compare favorably to Bernard, though there are no cookie cutters when it comes to NFL prospects.
Arizona RB Ka'Deem Carey
Carey comes with baggage. Arizona
suspended him
for the season opener against Northern Arizona. His decision-making off the field is reason for concern. Like Bernard, he's not a powerhouse who's going to consistently drag defenders for extra yards. At 5-10 and 197 pounds, he's leaner than Bernard at this point, but Carey, too, is a hard-nosed competitor who runs hard and finishes better than you'd expect for a back with his frame.
[+] Enlarge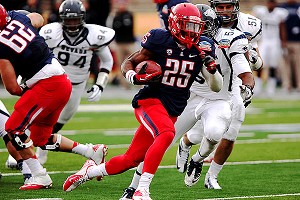 AP Photo/Eric DraperArizona RB Ka'Deem Carey has a skill-set comparable to Bengals rookie RB Giovanni Bernard.
Carey doesn't appear to have the second gear to run away from NFL pursuit when he gets a seam, but he's quicker than fast and his short-area burst is impressive on tape. His ability to stick his foot in the ground and accelerate once he locates a seam makes him a perfect fit for a zone-heavy scheme like the one the Redskins run. He's also dangerous in space, where he can make defenders miss.
Finally, Bernard caught more passes and showed that he can be an impact return man at North Carolina, while Carey hasn't played as a big a role as a receiver and made a minimal impact as a return man at Arizona. However, Carey has the potential to be a more productive receiver in the NFL than he has been in college. He can separate from man coverage, he catches the ball well and he can produce after the catch.
Tennessee RB Rajion Neal
Neal graded out as a Day 3 pick compared to Carey, who graded out as a Day 2 pick in the preseason. Here's why. He entered the 2012 season with 229 career carries, so his résumé isn't as accomplished as Bernard's or Carey's. And in 2013, he's coming off an underwhelming performance against Oregon. While he's the biggest back (5-11, 212 pounds) of the three and he, too, finishes his runs, he still doesn't have great power. He tends to run with a narrow base, making it easier for defenders to knock him off balance and get him to the ground. It's better to be aggressive than indecisive, but he can show more patience at times.
Still, Neal doesn't just lower his head and run straight ahead. In fact, his lateral quickness and start-stop ability are impressive. He can make defenders miss in the hole and break defenders' ankles in space. He's also a sprinter for the Tennessee track team and shows good though not elite top-end speed on tape.
Neal isn't a proven return man, either, but he has experience lining up at receiver and can make an immediate impact in the passing game. He's an above-average route-runner for the position, he can adjust to passes thrown outside his frame and, like the other two, he can produce after the catch. There's room for improvement when it comes to pass protection, but he has the toughness and enough size to progress in this area.
Eifert makes his mark
Cincinnati's first round pick, TE
Tyler Eifert
(Notre Dame), only caught three passes Monday night, so the stats aren't great. But he played a pivotal role catching a 61-yard pass that set the table for Bernard's touchdown run, and he extended the Bengals' drive at the end of the first half with a third-down catch.