2011 Draft Profiles: A.J. Green
July, 14, 2010
7/14/10
10:11
AM ET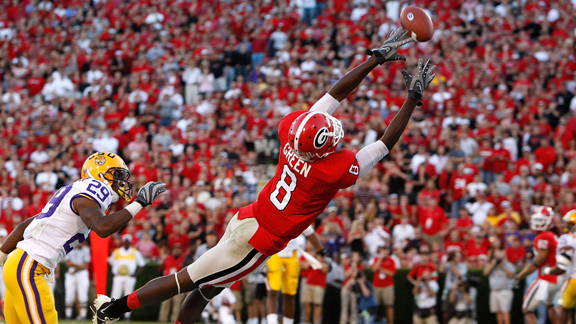 Getty ImagesA.J. Green can go up and get balls that others simply cannot.
When first-time head coach
Mike Tice
set off on his maiden voyage with the
Minnesota Vikings
in 2002 -- a trip that, pardon the pun, ultimately involved more hull-patching than plundering -- one of his moves was the development of a concept he called "The Randy Ratio."
Like most football concepts based on appeasement, it failed.
The idea was this: to satisfy Randy Moss' need for the football (and because he was pretty good about catching anything thrown his way), the Vikings would try to toss him the ball on 40 percent of pass plays. But, as
the New York Times noted a year later
:

"This approach backfired because the offense was not balanced enough. Defenses double-teamed Moss, pressured a patchwork offensive line and forced [Daunte] Culpepper into turnovers."
That, and studies show that publicly announcing your intents regarding play selection can have a tendency to aid your opponent in preparation.
A.J. Green
, the 6-foot-4, 207-pound wide receiver entering his junior year for the
Georgia Bulldogs
, has been compared to
Randy Moss
for years, and he's just 21. Really. Consider that when Green was 16, Sports Illustrated compared him to Moss
in a story
in which Green said, "Everybody's always said I'm just like him."
Sort of.
Green, who is a spitting image of Moss physically -- same height, nearly identical weight -- has routinely faced double-teams since he arrived in Athens, but he's learned at a younger age than Moss that worrying about his proper ratio won't do much.