NFL Draft Profile: Jerrod Johnson
July, 23, 2010
7/23/10
10:24
AM ET
By
LaRue Cook
| ESPN Insider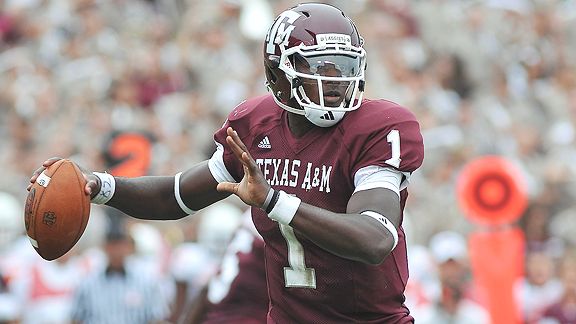 Getty ImagesJohnson says he belongs on the same level as guys like Jake Locker and Andrew Luck.
He may be the most intriguing receiver prospect in this class because just when you think he doesn't have enough speed or elusiveness to play receiver at the college level, he shows flashes that make you believe he might be able to. In all likelihood though, this fantastic athlete is probably destined for the tight end position and he'd be a darn good one.


That's what Scouts, Inc., had to say about
Jerrod Johnson
entering his senior season at Humble (Texas) High. No mention of pocket presence, poise or accuracy. Nope. The No. 1 athlete in the Class of 2006 was destined to block and catch the occasional pass at the college level.
Then something happened.
Thrust into the quarterback role as a senior, Johnson went out and amassed 1,800 yards in his final high school season -- while also starring in both baseball and basketball. But several top Division I football programs continued to tell him the only position he could play right away was receiver.
Five single-season passing records later, and the Texas A&M senior is arguably -- although it's not much of one -- the best quarterback in the Big 12. After some spotty work under center as a freshman, the 6-5, 243-pound dual-threat took over as the Aggies signal caller in his second game as a sophomore, and he'll make his 24th consecutive start in the 2010 opener against Stephen F. Austin on Sept. 4.
"Stephen McGee was the starter my sophomore year, and I played maybe two downs randomly at tight end," says Johnson, who holds A&M career records for most touchdown throws (51) and most 300-yard passing games (seven). "But it was Coach (Mike) Sherman's first season, and he made it clear to all of us that we would get our shot."
Former A&M coach Dennis Franchione recruited Johnson and knew he had a quarterback on his hands from Day 1. "He didn't get to play QB as a junior in high school because they had a good one already in place," says Franchione, who got a verbal from Johnson as a sophomore, largely because Johnson's late father played receiver and defensive back for the Aggies. "Then we had him in our camp over the summer before he was a senior; we were still looking at seven or eight other QBs, but I told our QB coach, 'We've already got the best guy.'"
Still, Johnson's 4.5 40-yard speed could only carry him so far, and Franchione put the redshirt on him. "I knew he needed time. But I also knew this was going to happen -- that he'd eventually be considered one of the top quarterbacks in the country," says Franchione, who resigned following Johnson's second season on campus. "In my opinion, he's done a lot with his ability to run, but I think he's as much a pocket-passer as anyone in this class."