Draft Buzz: Armstead surprises
February, 24, 2013
2/24/13
1:58
AM ET
INDIANAPOLIS -- The thing that stood out was the athleticism of the offensive lineman. It's better than anything I've ever seen here at the combine. I think it has to do with college teams spreading their offenses out, whether in the passing game or the running game. You just see so few bad bodies compared to what you used to see five, 10 years ago.
What stood out were the 40 times. Six guys ran sub-5.0 40-yard dashes. Two guys broke the all-time offensive line record for 40-yard dash times at the combine.
Terron Armstead
, an OT from Arkansas-Pine Bluff, ran a 4.71 and OT
Lane Johnson
from Oklahoma ran a 4.72.
Armstead has been able to improve his draft stock as much as any player in the predraft process. It was great to see him run the way he did today, but the 40-yard-dash time isn't the thing that's going to get him drafted earlier. He played at the Shrine Game, and he had a good showing at the Senior Bowl against top-flight competition.
Then, he comes to Indy, and he's just shy of 6-feet-5 at 6-4¾, 306 pounds with 34-inch arms and an 81⅝-inch wingspan. He's in phenomenal shape, and he just ran the fastest 40-yard dash in the history of the combine at his position. Even with those long arms and that wingspan, he was able to put up 31 reps on the bench press, which was six reps more than the five-year average of 25 for OTs. He has the size, speed, athleticism and upper-body power, and it correlates to what you see on the field. He's a perfect example of a small-school player taking advantage of the process.
[+] Enlarge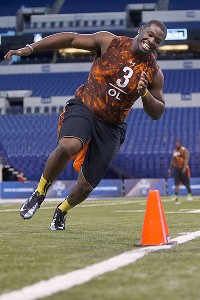 AP Photo/Ben LiebenbergArkansas-Pine Bluff OT Terron Armstead made a name for himself during his workouts.
You can watch all the tape you want, you can dominate small-school competition, but evaluators will still wonder, "What can he do against good competition?"
All of what he did Saturday at the combine validates what an evaluator sees on tape. When you pair that with what he did in the all-star practices and games, he's answered a lot of questions. We've had him ranked as the seventh offensive tackle. Now, you go back to the tape and the combine confirms what you have seen. His combine performance verifies what we've seen on tape.
Oklahoma OT Lane Johnson ran the 40 in .01 of a second slower than Armstead. It doesn't matter much. There's no difference in 40 times. Some people think there's a correlation, but there isn't. Johnson is a great athlete with explosive speed and plenty of potential.
We knew coming in Johnson would be one of the better performers along the offensive line, and he backed it up. You need to remember this guy is 6-foot-6, 303 pounds and has 35¼ inch and 83⅝-inch wingspan. He had 28 bench press reps, which is three shy of Armstead's total, but you have to remember that this guy was playing QB at Kilgore College just a couple of years ago and was a tight end after that. His long arms make that bench press difficult, and to me, he did well for a guy who is his size and still developing.
Plus, you love to see hip explosion in an offensive lineman. It's important against bull-rushers to generate power in a short area as a run-blocker. His vertical jump of 37 inches shows that he has a lot of ability in that area.
He's kind of come out of nowhere. Kids who come out of junior college sometimes have issues or problems, but Johnson wasn't recruited, and by going to junior college, he made a business decision. Johnson is smart. He was an academic All-Big 12 in 2011 and 2012. He's made five position switches -- from QB to TE to DE to RT to LT -- in the past five years. He's a versatile athlete and has the ability to be a great football player. Johnson's performance doesn't change his position -- we have him as the No. 3 tackle -- but it confirms what we've thought about him. It makes it easier to take a risk on a player like Johnson, who doesn't have much experience.
Texas A&M's
Luke Joeckel
is a candidate to go No. 1. Central Michigan's
Eric Fisher
could go in the top five as well, and Johnson is third. It won't surprise us a bit if you see these guys go in the first 15 picks. To go along with the supply of good offensive tackles, you have the demand.


Cooper, Warmack impress
As for the guards, we had
Jonathan Cooper
from North Carolina and
Chance Warmack
from Alabama. It was reported that Warmack tweaked a muscle in his leg running the 40, and he ran a 5.49. He didn't do the bench press. While he was doing the position drills with the tweaked muscle, he still looked really smooth and balanced and under control. There's nothing he can do here that would hurt his draft stock.
Cooper had one of the more impressive workouts today. While Chance is bigger, country-strong and has good mobility for his size, Cooper's a freak in terms of his ability to get out in space and run. He looks like an H-back and has explosive upper-body power and body control. We saw that in all of his drills on Saturday. He ran a good 40 time of 5.07, and his bench press was 35 reps, nine more than the five-year average for guards.
Another player who looked good at guard was Oregon's
Kyle Long
, Howie's son and Chris' brother. At 6-foot-6, 313 pounds, Kyle has somewhat short arms at 33⅜ inches, but he does have massive hands with a length of 11 inches. He ran the third fastest 40 at 4.94 seconds.
He looked good in drills, especially with his movement skills. At the Senior Bowl, people were excited about his potential. He was never really a full-time starter at Oregon, but he finished the season strong. There's a big upside with him, but he didn't have the week everyone expected at the Senior Bowl because of his foot injury. So, it was good for him to get back out and show what he could do in front of the NFL teams and confirm his previous measurables and that he's the athlete we thought he was.
Tight end class shows depth
The more and more we studied the tape, the more we realize that this is a very deep group. There's not a ton of separation among the top guys, six of whom we think will go in the first two days of the draft. Stanford's
Zach Ertz
and Notre Dame's
Tyler Eifert
are the top two with San Diego State's
Gavin Escobar
not far behind. There's a little bit of a gap there. Then, there's Florida's
Jordan Reed
, Cincinnati's
Travis Kelce
and Rice's Vance McDonald. I think all are good enough to go off the board in the first two rounds, but they should all certainly be off the board in the first two days.
You could add Michigan State's
Dion Sims
and
Chris Gragg
from Arkansas to that. Gragg may have worked his way into Day 2 after the performance he had on Saturday. We have him as the eighth best TE in this class, but he had the most surprising, explosive performance of all the tight ends on Saturday. Gragg ran a 4.50 40 -- the fastest of all tight ends. Gragg has decent size -- an Aaron Hernandez type. Gragg could play that role in which he's a backup or third tight end.
Adding to his stellar 40 was a 37-inch vertical and a 10-foot-5 broad jump, which was nine inches better than the five-year average for TEs. So, while he's the eighth-best tight end in the class, he had the best workout of any tight end. He could work his way into a late-Day 2 pick and, at worst, a fourth-round pick.
Kelce did not work out, which was a little disappointing. He was supposed to run a good time but didn't run. Ertz had a good day all around, running in the low-4.7s in the 40 at 6-foot-5, 249 pounds. He had one of the better tight end bench press rep scores with 24. I thought he was overshadowed by Eifert.
Depending on who you ask, there are varying opinions on which of the two is the best tight end. If you took a poll, it would probably come out even at this point. So, of the two who are jockeying for position as the top TE in this class, Eifert won the day. It doesn't mean he'll be the first TE drafted, and if he is, it doesn't mean he's going to be the better NFL player. But for what it's worth, he had the better Saturday. At 6-foot-5.5, 250 pounds, he's slightly bigger and longer. He ran an unofficial 4.6 in the 40 and had an impressive 35-inch vertical leap.
I was a little disappointed in Escobar's 40 time. From his tape, I thought he'd run a little better than his unofficial 4.85. But his hands. From what we saw on tape, he has exceptional hands. From what I saw on Saturday, I don't think he dropped a pass all day. Of the six game tapes I studied of Escobar, there was one questionable drop that he had to extend for. He caught everything else. But to lock down the No. 3 tight end spot in this class, teams are going to want to see him run a better time at his pro day.
Reed, on the other hand, is not all that big and is a former QB still developing at a new position. He's a more raw version of Hernandez: athletic, but not as polished as Hernandez was coming out of Florida. Reed only had 16 reps on the bench, but he's never going to be asked to be an inline blocker. There were a couple promising things for Reed, as he was the most athletic of all the tight ends. He has big 10-inch hands and unofficially ran a 4.66 in the 40, which would rank him among the top TEs.