Smith headed for the top 10 overall?
March, 14, 2013
Mar 14
5:17
PM ET
West Virginia held its pro day Thursday, and despite all the positive buzz surrounding Mountaineers WR
Tavon Austin
(more on that later), it was QB
Geno Smith
who was the main attraction.
Smith came into the scripted, 62-pass session -- which also included some additional throws at the request of NFL teams -- put together by former NFL QB Chris Weinke looking to back up a solid showing at the NFL combine, and he did just that.
One of the first things that jumped out at me was the velocity and accuracy Smith showed on intermediate throws, which is something you see consistently on tape. He looked perfect on seam routes, throwing with low trajectory and good zip, and putting the ball right on the money.
As impressive as that was, what stood out most was Smith's improvement in terms of velocity and consistent accuracy on throws to the boundary (deep outs, 18-yard comebacks, vertical routes). He wasn't absolutely perfect in that area, but I saw a significant improvement over the eight game tapes I've studied from 2012.
[+] Enlarge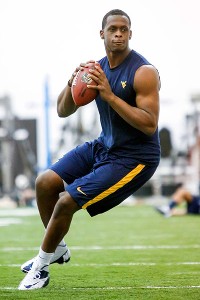 AP Photo/David SmithGeno Smith's pro day went as as expected. Now, more important tests await.
One noticeable difference as I studied Smith's footwork and mechanics during the workout was his more erect posture in the pocket. His upper body was more upright, not as hunched-over as I've seen on tape, which allowed him to rotate his hips more effectively and get more zip on balls outside the numbers.
That hunched stance on tape forced Smith to waste motion and energy to straighen his torso and get the ball over the top, which prevented him from transferring his weight and rotating his hips properly. Those factors clearly affected his consistency and accuracy on deeper throws, but the change resulted in a big improvement.
This isn't a Tim Tebow-like overhaul of his entire delivery, but rather the kind of slight tweak and added polish that all quarterbacks who transition succesfully to the NFL undergo. And because he was able to make that change so quickly and so easily, you have to belive it's something he can sustain.
Teams see that kind of desire to improve and become a better overall quarterback, and it makes Smith a better NFL prospect.
Smith also showed the quick feet and compact delivery I expected to see, showcasing his smooth throwing motion. He gets the ball out in a hurry, is very accurate when throwing over the middle of the field and looked good on shorter throws, as well. He also displayed the ability to throw when moved off-platform and with different arm angles.
There is some work to be done in terms of being more mechanically sound and relaxed with his feet in the pocket, but Smith has the frame (6-foot-2⅜, 217 pounds), size potential, mobility, arm, short-to-intermediate accuracy and drive/work ethic to be a good NFL starter.
Smith has now aced the first two tests of the predraft process, and now his ultimate draft position will be determined by how he performs in private workouts and interview sessions with NFL teams that bring him into their facilities.
The first goal of those sessions is to get him out of his scripted comfort zone when working out, to see how Smith handles throws specific to a team's offense and being asked to react when things are mixed up.
The second is to watch film with him, to have an installation session that requires him to ingest and regurgitate a portion of the playbook, then get him on the whiteboard to see how well he retains and processes the information. Basically, to test his football IQ.
What he shows in those areas will go a long way toward determining his ultimate draft fate. I have a late-first-round grade on Smith, but based on conversations with people around the league it seems more and more likely that he won't make it out of the top 10 overall picks.
Arizona (No. 7) and Buffalo (No. 8) both have a primary need at quarterback. Bills GM Buddy Nix was in attendance Thursday, and Smith already has a workout scheduled with the team in the coming days.
To continue reading this article you must be an Insider