Weidl: Oregon-Stanford preview
November, 7, 2013
11/07/13
11:30
AM ET
Historically teams that have had success slowing down Oregon's high paced offense have had the ability to control the line of scrimmage and create disruption in the backfield. Looking back at last years' tape of the Cardinal upset of the Ducks reveals a similar formula.
Stanford was not only able to control the line of scrimmage but they did a great job of being physical to protect the edges against the outside run, while also playing with discipline on the backside to keep close tabs on dual-threat QB
Marcus Mariota
within the zone read.
The Cardinal defensive line suffered a big blow when they lost DE
Ben Gardner
for the season to
a torn pectoral muscle
against Oregon State. Replacing a player like Gardner, who was a defensive captain, is never easy to overcome. However, the good news is that the Cardinal have quality depth in this unit headlined by DE
Josh Mauro
(6-foot-6, 282) and will be getting an added boost with DE
Henry Anderson
(6-6, 295) who has been out since September with a knee injury.
Stanford should once again have an advantage up front against a Ducks offensive line that lacks inline power as a unit and is predicated on positional blocking within their zone scheme. The strength of the Cardinal base 3-4 front comes from the linebackers. OLBs
Trent Murphy
,
James Vaughters
and reserve
Kevin Anderson
are stout and disciplined when setting the edges. While in the middle ILBs
Shayne Skov
and
A.J. Tarpley
are instinctive, reliable tacklers and play with non-stop motors. In particular, Skov is noticeably more agile this year on tape after now being two years removed from his ACL injury.
As a whole Oregon has excellent speed in their backfield with Mariota and RBs
Byron Marshall
,
Thomas Tyner
and
De'Anthony Thomas
, who should be near 100 percent after having a bye week to rest an ailing ankle injury.
Where this group has exposed defenses for big plays has been on the perimeter. That said, expect Stanford defensive coordinator Derek Mason to once again target on protecting the edges. Murphy's and Vaughters' ability to hold the point should be able to either funnel the Oregon runners back inside or force them more laterally than they initially would like, which will provide time for an aggressive Cardinal secondary time to fill downhill.
Oddly enough, where the Ducks found most of the success on the ground last year was in between the tackles. Oregon was able to spread the Cardinal defense horizontally with multiple receiver looks and create running lanes on the inside. While they popped a few runs, they were unable to hit the home run thanks in large part to the safety tandem of
Jordan Richards
and
Ed Reynolds
, who took quality angles and did a nice job of breaking down.
Mason's strategy makes sense while he is sacrificing some gap integrity on the interior he his preventing the chunk yardage plays on the perimeter, on which the Ducks offense is predicated. In addition, the more he can force the Oregon offense to piece together long drives the odds of his defense creating a turnover goes up.
[+] Enlarge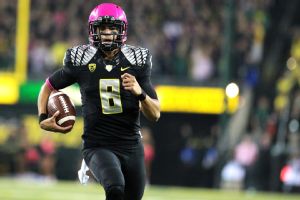 Scott Olmos/USA TODAY SportsMarcus Mariota is trouble for any defense if he gets into the open field.
The biggest difference coming into this year's contest when the Ducks have the ball will be the improved play of Mariota. Last year the Cardinal defense was able to rattle the first-year starter by disguising looks and hounding him with pressure. This forced Mariota to panic at times which lead to erratic accuracy and decision making.
This likely won't be the case this time. On tape Mariota is bigger, stronger, quickened his release and is much improved as an intermediate passer. While Mariota still will vacate the pocket too quickly at times, he is playing with much better poise under duress this year as well.
Stanford has been solid defending the underneath throws this season. The Cardinal linebackers are showing very good awareness in underneath coverage while Richards, Reynolds and nickel back
Usua Amanam
, who is a tough and underrated element to this defense, have been effective breaking on the throws and corralling receivers after the catch. This should help keep the Ducks' quick hitters to their backs and athletic receiving corps -- led by
Josh Huff
,
Bralon Addison
and
Keanon Lowe
-- relatively in check.
Where Mariota and his perimeter athletes can do some damage is outside the hashes in the intermediate to vertical passing game. CBs
Alex Carter
and
Wayne Lyons
have been the liability to this defense. In particular, Carter is tough against the run and can be physical at the line of scrimmage jamming receivers, however he lacks ideal instincts and has some tightness in coverage. He has been the victim of several big plays on tape including against Washington and Oregon State, who were able to isolate him.
Watch for Oregon offensive coordinator Scott Frost to get Addison or Huff in one-on-one matchups with Carter and take some shots on early downs when the Cardinal defense is expecting run.
The Ducks will have their hands full in pass protection. The Cardinal are getting strong production with their pass rush led by Murphy and Vaughters who should be tough draws for left tackle
Tyler Johnstone
and right tackle
Jake Fisher
off the edges. In addition, Mason has done a great job of disguising fronts, masking launch points and dialing up plenty of twists and delayed blitzes.
On the flip side, while Stanford should be able to generate pressure they must do so with extra discipline this week. They have generally done a great job of maintaining rush lanes and securing sacks when given the opportunity, but the Stanford coaching staff must emphasize this area even more this week. The reason being Mariota not only has the mobility but he has added weight and is physically stronger this year to ward off tackles. If they allow Mariota to consistently gain the perimeter and extend plays it will be a long night, as he is one of the best at putting stress on a back end in this scenarios with his dual-threat capabilities.
Stanford offense vs. Oregon defense
It's no secret the Ducks' No. 1 priority this week will be stopping the Cardinal on the ground. Stanford has multiple ways of running the football including spreading the field and using the zone read with RB
Tyler Gaffney
,
Anthony Wilkerson
and QB
Kevin Hogan
. Along with a wildcat package and reverses to WRs Kelsey Young and the explosive Ty Montgomery to keep opposing defenses off-balance.
[+] Enlarge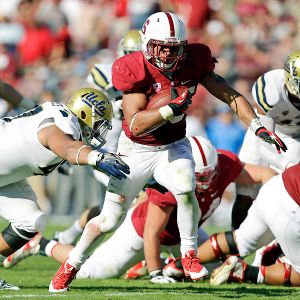 AP Photo/Marcio Jose SanchezWhen the Cardinal get into their heavy sets, Tyler Gaffney runs behind an extra pair of linemen.
However, they are most effective running the ball when getting into heavy personnel and packing it in tight. Up front the offensive line is a big and physical unit with adequate athleticism. Where they gain an advantage on defenses is by using reserve OT's
Kyle Murphy
(6-7, 295) and OG
Joshua Garnett
(6-5, 318) as tight ends. These two have done a nice job of sealing the edges on the front side and walling defenders as backside blockers. It should also be noted that FB
Ryan Hewitt
(6-4, 246) is unheralded within the Cardinal run game as he lines up in multiple positions. He has done a nice job of identifying and covering up targets as a lead blocker.
The Ducks will force the Cardinal to earn their yards on the ground. From a personnel stand point, the Ducks have the best defensive line they have had in the Chip Kelly-Mark Helfrich era. Where this unit really excels is at DE -- the 5-technique -- within their base 3-4 front.
Taylor Hart
(6-6, 287),
DeForest Buckner
(6-7, 286) and
Arik Armstead
(6-8, 296) all have size, strength and most important the length to hold up as a space eaters on the edges. While DE/OLB
Tony Washington
(6-3, 245) is a step down from
Dion Jordan
in terms of athleticism, Washington has held up adequately in a hybrid role on the outside.
Ultimately the Ducks ability to hold their ground in the trenches will determine the success or failure they have in slowing the Cardinal down on the ground. MLB
Rodney Hardrick
(6-1, 231), SLB
Boseko Lokombo
(6-3, 232) and WLB
Derrick Malone
(6-2, 221) lack the instincts and point-of-attack skills as last year's group that including
Kiko Alonso
and Michael Clay. Collectively they have above-average range, especially Malone who has an exceptional closing burst. It will be critical the Oregon front line hold their ground and provide room for this unit to maneuver because the more they are forced to take on blocks in a phone booth the less effective they become as a group.
If the Ducks can find a way to put the Cardinal behind the chains on early downs the pendulum swings heavily in Oregon's favor. On tape, Hogan has been up and down. There is a lot to like about his stature, competitive edge and mobility. However, he lacks fluidity with his footwork and delivery and has shown spotty accuracy as a thrower at times. This magnifies when under duress which could play a factor in third and medium to long situations on Thursday night.
Oregon's defensive coordinator Nick Aliotti has been a very aggressive play caller in dialing up pressures on third downs. He creates a lot of exotic looks by crowding the line of scrimmage, standing up and moving around defenders pre-snap to create confusion and mask where the pressure is coming from.
Two weeks ago, Aliotti brought at least five or more defenders on nearly every third down in the first half against UCLA while locking up in man coverage in the back end. However, after being burnt on several occasions by UCLA QB
Brett Hundley
's mobility or quick throws to beat the pressure, Aliotti made a halftime adjustment to play coverage in the second half. This worked to Oregon's advantage as the Ducks defense did not allow a second-half point while forcing Hundley in to a momentum changing interception in the third quarter.
Expect Aliotti to get back to his aggressive ways this week. While Hogan has flashes adequate mobility he is not nearly as a dynamic runner as Hundley. More importantly though, aside from Montgomery, the Cardinal receiving corps is lacks a wide variety of playmakers and struggled to create separation against the Oregon State secondary two weeks ago. This does not bode well as the Ducks will present a more talented secondary led by talented cornerback duo in
Ifo Ekpre-Olomu
and
Terrance Mitchell
along with safety
Avery Patterson
who flashes playmaking instincts of his own.