NFL Draft:

New York Giants
May, 10, 2014
5/10/14
9:00
AM ET
EAST RUTHERFORD, N.J. -- The fast and furious action in the second and third rounds of the NFL draft Friday night didn't leave us much time to delve into the
New York Giants
' second-round pick, but
Weston Richburg
is worth some Saturday morning delving. So let's delve, shall we?
Richburg was the 43rd pick in this year's draft, and there is little doubt he'll be expected to compete for (and likely win) the starting center's job this spring and summer. His top competition right now is free-agent addition
J.D. Walton
, who hasn't played since September of 2012 due to an ankle injury.
[+] Enlarge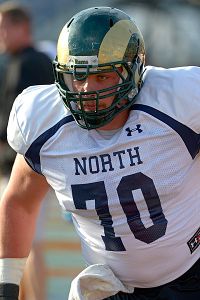 AP Photo/G.M. Andrews"He can pull, he can block the zone schemes and he makes all the calls," Giants coach Tom Coughlin said of second-round pick Weston Richburg.
"He can pull, he can block the zone schemes and he makes all the calls," Giants coach Tom Coughlin said. "The center position here for us is one of responsibility in terms of dictating to the rest of the offensive line exactly how the scheme is going to go. This guy will fit right in in terms of that."
Coughlin and GM Jerry Reese both said the center's responsibility for handling line and protection calls will increase under new offensive coordinator Ben McAdoo. Giants VP of player evaluation Marc Ross said Richburg scored an impressive 31 on the Wonderlic test and impressed the Giants in his combine interview with his intelligence. The idea that they're excited about Richburg as a potential starter says less about Walton, who himself was a not-too-shabby 80th overall pick in the 2010 draft and would have projected as the Giants' starting center if they hadn't addressed the position in the draft, than it does about Richburg himself.
The decision-makers raved about Richburg's athleticism, which apparently also will be an asset in the new McAdoo offense, and his durability. Coughlin couldn't wait to tell the story of how Richburg broke his right hand in 2012 and played the final game snapping with his left hand while his right was in a club cast.
"Yeah, that's something I take a lot of pride in," a proud Richburg said when asked about that story. "You don't see a lot of guys who can do that."
The Giants' execs pointed out that Richburg was a team captain who didn't miss any games in college. Richburg said it was important to him to be the first center taken in the draft (as he was). And in general, there's nothing not to like about the guy at this point. Even if the Giants really were comfortable with the idea of Walton as their starting center, they recognized that they needed to re-stock with top talent on the offensive line. Richburg helps them do that, and at a position where there may be an opportunity to start right away.
"Last year, we had a couple of injuries early on the offensive line and it was pretty devastating," Reese said, accurately. "We had to bring in some guys that struggled some at those positions, so we're trying to make sure we have enough depth at every position. This guy will help provide that for us."
The Giants have overhauled the interior of their offensive line, which was extinction-level bad in 2013. Left guard
Kevin Boothe
signed with the Raiders, right guard
David Diehl
retired and they released center
David Baas
. They signed free agent
Geoff Schwartz
to start at left guard, Walton for center and
John Jerry
for a reserve role, and they're hoping
Chris Snee
can make a healthy return from hip surgery at right guard. Richburg is the latest move in their effort to make sure they don't get caught short with underprepared guys at those spots if injuries happen again.
May, 8, 2014
5/08/14
11:45
PM ET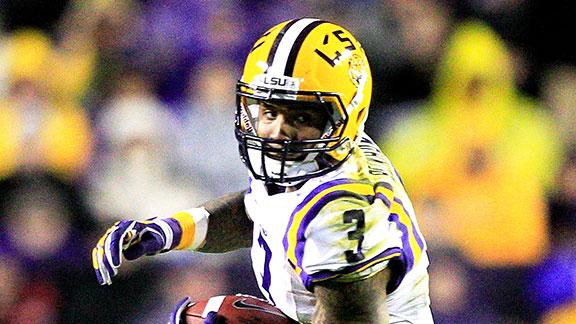 EAST RUTHERFORD, N.J. -- Jerry Reese is a scout, and not afraid to admit it. The
New York Giants
GM has a scouting background, and even in the era of advanced analytics he remains an unabashed fan of the profession's role in NFL roster-building. Last week, Reese called the draft "game day for the scouts" and said it's "fun to see them rewarded with players they feel like are good players."
A fine sentiment. Scouts work extremely long, hard hours, live on the road away from their families and should be rewarded. But when you're the GM, charged with the dispersal of your franchise's most precious resources, it has to be about more than rewarding the scouts.
It was clear after the Giants picked
Odell Beckham Jr.
with the No. 12 pick in the draft Thursday night, that they had fallen in love. They loved their interview with him at the combine. They loved his speed. They loved that he can return kicks and punts.
[+] Enlarge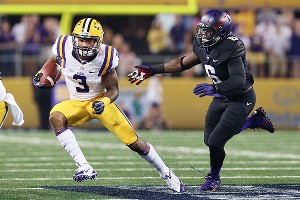 Matthew Emmons/USA TODAY SportsOdell Beckham Jr. caught 59 passes for 1,152 yards and 8 touchdowns last season for LSU.
"You're getting a guy who can score touchdowns in three different ways for you," Reese raved. "No way we were going to pass him up."
The Giants never lack conviction. The issue is whether this is the right way to handle the draft, and specifically a pick as high as No. 12. If you're going to lock in on one player you love, and there's "no way" you're going to pass him up, then you're not really maximizing the value of your resource.
If your draft strategy is to scout players and pick the one you love the best, then your entire draft rests on the development of that player into a great one. If you miss, it's a total miss, with nothing to mitigate it. This is the problem with the Giants' recent drafts -- not just that they've consistently missed in the third round and later (and a few critical times in the second), but that they haven't done enough to protect themselves against poor evaluation. They almost never maneuver to amass more picks and play the percentages. They lock in on a guy they and their scouts like and they take him, believing he'll be great, totally hanging themselves out to dry if he's not.
So Beckham may well become a transcendent, No. 1-type wide receiver, worthy of the No. 12 pick. But the way the board went, they could have gotten him or a comparable player later. The draft is deep with wide receivers, and only one more was taken in the 15 picks that followed theirs.
The Giants would tell you they didn't think there were comparable players, that this was their guy and they're sold on him. And it's perfectly understandable that a scout who loves scouts and scouting would choose to run his draft that way. It's just not the best way to maximize the value of your draft picks. When you fall in love with a player, you take on too much risk. You need to be right, or you're left with nothing.
April, 24, 2014
4/24/14
12:15
PM ET
The NFL draft is now just two weeks away, and the
New York Giants
hold the No. 12 pick in the first round. In spite of a free-agent signing spree that landed them 15 new players at various positions, the Giants still have a lot of short-term and long-term needs they could address in the first round. They could plausibly pick an offensive lineman, a wide receiver, a tight end or a defensive lineman and fill a need right away.
Todd McShay's
latest mock draft is out today

, and he's got a brand-new name in that No. 12 slot for the Giants.
April, 17, 2014
4/17/14
12:15
PM ET
A 7-9 record in 2013 earned the
New York Giants
the No. 12 pick in next month's NFL draft. After an offseason that has seen them sign 15 outside free agents, they still have needs at tight end, wide receiver and on the offensive line, one of which could reasonably be addressed with that pick. It also wouldn't be out of character to see them add a defensive lineman if that's who they felt the best player was at No. 12.
ESPN draft analyst Mel Kiper's latest mock draft

is up today here on ESPN.com. It's two rounds long this time, and you have to have Insider access to read it. His picks for the Giants are aimed at finding some help for quarterback
Eli Manning
.
To continue reading this article you must be an Insider
April, 10, 2014
4/10/14
12:15
PM ET
The
New York Giants
hold the No. 12 pick in the first round of this year's NFL draft after their 7-9 season in 2013. Even after signing 14 outside free agents and re-signing 10 of their own, the Giants have a variety of specific needs and an overall need to improve the quality of the depth of their roster. You could reasonably make a case for them to draft an offensive lineman, a defensive lineman, a wide receiver or even a tight end with that first pick.
Todd McShay's
fourth mock draft of 2014

is out today. It's an Insider post, but it stretches two rounds. His choice for the Giants in the first may not be the exciting pick for which Giants fans are hoping.
To continue reading this article you must be an Insider
April, 3, 2014
4/03/14
12:15
PM ET
The
New York Giants
hold the No. 12 pick in the 2014 NFL draft following their 7-9 season. The Giants have been the NFL's most active team so far in free agency, signing a total of 13 free agents, including 13 from outside their own organization. They have filled a lot of holes, but that doesn't mean they are without needs both immediate and long-term.
Mel Kiper's
fourth 2014 NFL mock draft

is out today. If you're an Insider, you have access to the three-round mock and will see that his first-round pick for the Giants fills a glaring present-day hole with a pick that could bring long-term benefits as well.
To continue reading this article you must be an Insider
March, 13, 2014
3/13/14
2:00
PM ET
Now, this is more like it. After assigning the
New York Giants
an inside linebacker at the No. 12 overall pick in his first two mock drafts of 2014, ESPN draft analyst Mel Kiper Jr. has altered
his most recent mock

and now has the Giants selecting North Carolina tight end
Eric Ebron
.

Even if the Giants had taken a linebacker in the first round since 1984 (which they have not), the re-signing of
Jon Beason
makes a pick of Alabama's
C.J. Mosley
unlikely. Ebron, however, makes a ton of sense.
The free-agent market at tight end is underwhelming, and the Giants have been getting by for too long with one-year stopgap solutions at tight end. That bit them in 2013, when
Brandon Myers
flopped, and it's time to address the position for the long-term. Ebron is, by all accounts, an instant difference-maker and a freakish athlete who could enable the Giants to do things at the tight end position they haven't been able to do since the heyday of
Jeremy Shockey
.
Eli Manning
needs weapons on offense, and Ebron would give him a versatile one.
I could see the Giants going any number of ways in the first round. They could take an offensive lineman, a cornerback, a wide receiver or a defensive lineman, and it would be tough to rip the pick. They are rebuilding a roster in decay, and they have tons of long-term needs. But Ebron would be an exciting and appropriate pick at No. 12.
March, 13, 2014
3/13/14
10:30
AM ET
The
New York Giants
had to scramble from an 0-6 start to finish 7-9 in 2013, and they entered the offseason with significant needs all over the roster. They have addressed the offensive line to a certain extent early in free agency, bringing in left guard
Geoff Schwartz
and center
J.D. Walton
. They also have added running back
Rashad Jennings
and re-signed linebacker
Jon Beason
.

But there is more to do on both sides of the ball as the Giants work on getting younger and re-stocking the pipeline for the long term at key positions. No matter what they end up doing for the rest of free agency, the draft will offer them an opportunity to continue that project. And if they fill immediate needs on the offensive and defensive lines with their free agency moves, they'll be able to take the best player available, regardless of position, in the first round.
That could mean another offensive lineman such as Michigan's
Taylor Lewan
, so great are their overall needs there. It could mean a pass-catching weapon for
Eli Manning
, such as tight end
Eric Ebron
or wide receiver
Mike Evans
. It could mean a cornerback such as
Justin Gilbert
, a defensive tackle such as
Aaron Donald
or some other defensive piece. The Giants could go any number of ways in the first round of the draft, and none would constitute a glaring mistake.
Mel Kiper's
latest mock draft

.
March, 6, 2014
3/06/14
11:00
AM ET
Todd McShay's third NFL mock draft for 2014 is out on ESPN Insider today.
Much is going to change on this roster, but as it stands today, the Giants really need just about everything. They could lose guys like
Linval Joseph
and
Justin Tuck
off their defensive line and all three levels of their defense can use a shot in the arm.
The same is true on offense, where they are currently weak at every spot with the exception of quarterback. And are we even so sure that they are truly "strong" at quarterback right now?
Whom does McShay have the Giants drafting at No. 12?
Let's take a look
:
To continue reading this article you must be an Insider
February, 6, 2014
2/06/14
12:00
PM ET
By
ESPN Insider
| ESPN Insider
In their first mock drafts, Todd McShay and Mel Kiper each picked Alabama LB
C.J. Mosley
for the Giants.
Todd McShay's Mock 1.0: Mosley, OLB, Alabama
Mel Kiper's Mock 1.0: Mosley, OLB, Alabama
Has there been a change for their second mocks? Here's the latest projection from each of our experts.
To continue reading this article you must be an Insider
January, 15, 2014
1/15/14
12:00
PM ET
The New York Giants' 7-9 season earned them the No. 12 pick in the 2014 NFL draft, and their roster has enough holes on it that they could use that pick in a variety of ways.
The No. 1 priority for the Giants, though, needs to be the offensive line, where they were shaky to begin with in 2013 before falling apart completely because of injuries. Taking a top tackle such as Michigan's
Taylor Lewan
or Auburn's
Greg Robinson
at that spot would deepen their talent base on the line and allow them to move 2013 first-round pick
Justin Pugh
inside to guard, where he could be a dominant player.
However, if New York decides it can address its interior-line needs in the second and third rounds (or in free agency), the Giants could look to add a receiving weapon at No. 12 -- someone such as Clemson wideout
Sammy Watkins
or USC wideout
Marqise Lee
, should either player fall that far, or a dynamic tight end such as North Carolina's
Eric Ebron
.
To continue reading this article you must be an Insider
December, 18, 2013
12/18/13
12:21
PM ET
By
ESPN Insider
| ESPN Insider
An offensive line like a turnstile, a struggling star receiver, a backfield corps that couldn't stay healthy -- it all added up to a frustrating season for the Giants that included some truly lopsided losses. While his play has been more erratic than usual in 2013,
Eli Manning
should at least provide hope that a quick recovery may be possible … but only if the G-men can address a plethora of needs this offseason. An unexpected high draft pick should at least help in that regard.
But who do the Giants target with a pick that currently projects as No. 11 overall, based on the current standings?
Todd McShay released his
first 2014 mock draft
Wednesday, and in doing so identified the biggest areas of need for the Giants. The most urgent: offensive guard, tight end, center and running back. So what direction do the G-men turn?
Here's who McShay believes will provide the best fit for New York with the No. 11 overall pick.
To continue reading this article you must be an Insider