NFL Draft:

New England Patriots
May, 10, 2014
5/10/14
1:09
AM ET
FOXBOROUGH, Mass. --
New England Patriots
quarterback
Tom Brady
shows no signs of decline, but the team isn't taking any chances. Hence the selection of Eastern Illinois'
Jimmy Garoppolo
in the second round of the NFL draft (62nd overall), one of the more surprising league-wide picks.
[+] Enlarge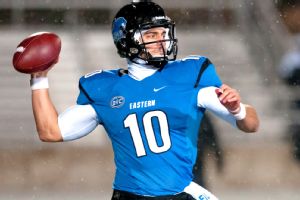 Bradley Leeb/USA TODAY Sports"The situation we have at quarterback, I think that we felt as an organization that we needed to address that to some degree in the future," Patriots coach Bill Belichick said of drafting Jimmy Garoppolo.
"The situation we have at quarterback, I think that we felt as an organization that we needed to address that to some degree in the future. I think you're better off being early rather than late at that position," coach Bill Belichick said late Friday night.
It was a straightforward acknowledgement from a coach who often prefers to avoid them. "Life after Brady" has been bantered about only on sports talk radio in the region, but this is the first time the Patriots have publicly said it is part of their mindset as well.
Brady will be 37 this upcoming season, but is still playing at an extremely high level and is signed through 2017. Because of this, and also the presence of No. 2 quarterback
Ryan Mallett
-- who is under contract through the 2014 season -- debate was already raging locally Friday night as to whether the Patriots wasted such a high draft pick on a player who might not see the field for four seasons, if ever. That doesn't figure to subside anytime soon.
Meanwhile, in New York, Garoppolo noted the similarities between his draft-day wait and how the
Green Bay Packers
selected sliding signal-caller
Aaron Rodgers
in the 2005 first round as
Brett Favre
's heir apparent. He said it worked out for Rodgers, and now he hopes the same happens for him.
When might that be?
Up to this point, it hasn't been on the Patriots' radar. Now it is at least a consideration.
"We know what Ryan's contract situation is, we know what Tom's age and contract situation is, and I don't think you want to have one quarterback on your team," Belichick explained. "I don't think that's responsible to the entire team or the organization."
One needs only to look at the 2011
Indianapolis Colts
as a prime example. When
Peyton Manning
was lost to a season-ending neck injury that year, the season went down with him, and it ultimately cost vice chairman (and current ESPN analyst) Bill Polian his job.
As for Garoppolo, Belichick said he spent one-on-one time with him this spring and "he has a lot of qualities that we admire in a quarterback." Scouts have touted his smarts, anticipation and work ethic, and he looks like an ideal fit for the team's hard-driving program.

The
Houston Texans
, it seems, had similar thoughts, as Garoppolo was believed to be a strong consideration for them at the top of the third round before the Patriots made the pick.
So instead, Garoppolo comes to New England to back up Brady and potentially replace him down the line.
Maybe it's in four years. Maybe it's longer.
Either way, for the first time, the Patriots let us know a potential succession is on their minds as well.
In their view, it's better to be early than late.
May, 8, 2014
5/08/14
5:00
AM ET
Sharing a few thoughts on draft day:
What might the New England Patriots do?
It's the football question of the day in New England and it's a topic that was
explored in this piece
. For any team picking No. 29, a big part of Thursday is monitoring what unfolds in front of them and reacting accordingly. The Patriots should be most interested in what happens with the quarterbacks, because if they start sliding it opens the possibility that the No. 29 pick will have more value in a trade. Our best educated guess: Bill Belichick would be happy to strike a similar trade down as last year if it is available, adding more picks in a strong draft or even into 2015. If it isn't an option, Notre Dame defensive end
Stephon Tuitt
is a player we could envision the Patriots picking.
Which position is the double-dip?
The Patriots have had some success double-dipping at positions in the NFL draft -- tight end in 2010, running back and offensive line in 2011 and receiver in 2013 come to mind. If they do it again this year, offensive line would be the spot with some of the greatest odds. The team hasn't drafted an offensive lineman in each of the last two drafts. That should warrant some attention.
Underrated storyline
. As much as I think the Patriots would like to bolster the tight end spot, the options aren't plentiful. For all the talk about Notre Dame's
Troy Niklas
and Iowa's
C.J. Fiedorowicz
as possible solid fits, I started to have some second thoughts with both of them as more intel came in late in the process. I wonder if the Patriots will ultimately have more than a couple of viable options at the position.
Medical questions often alter the picture
. Another thing that came up that will serve as a reminder for this reporter next year -- before referring to a prospect as "clean" from a scouting perspective, try to dig deeper on medical information. That will sometimes change the context of "clean." So if a player falls unexpectedly in the draft, chances are it could be tied to medical questions.
Stat of the day
. In his 14 drafts with the Patriots, Belichick has made 52 draft-day trades. The only year in which he didn't make a deal was 2004.
Johnny Football and the Patriots
. As part of pre-draft festivities Wednesday, quarterback
Johnny Manziel
had positive things to say about his pre-draft visit with the Patriots. ESPN's Rich Cimini, who was covering the event, relayed Manziel's thoughts about meeting Belichick. "It was awesome. I spent more time there than I thought I would," Manziel said. "Had a good conversation, whether it was talking about [Kevin] O'Connell, a guy who coached me while I was in [San Diego], or Kliff Kingsbury, who was with me and Coach Belichick. We had some good stories to share and we really had a good conversation."
Reporter's view on draft day
. The question is sometimes asked, "Where do you watch the draft?" We'll be at team headquarters at Gillette Stadium, where Belichick is scheduled to meet with reporters at the end of each night of the draft.
April, 24, 2014
4/24/14
12:15
PM ET
The
New England Patriots
have the No. 29 pick in the 2014 NFL draft. They could go in a number of different directions as, unlike last year, when they were locked into the receiver position, there is no glaring void to fill.
ESPN Insider Todd McShay has posted his
latest mock draft

, making the picks for each team as if he was in the general manager's seat, and he pinpoints defense for New England.
April, 17, 2014
4/17/14
12:15
PM ET
The Patriots will get bigger along the defensive line and at running back if things unfold the way ESPN draft analyst Mel Kiper projects in his fourth mock draft. But are they the right picks?
To start, the choices hit two areas in which the Patriots could use more of a long-term boost, first at defensive tackle and then in the offensive backfield.
The defensive tackle spot is well stocked in the short term from a personnel standpoint with
Vince Wilfork
,
Tommy Kelly
,
Armond Armstead
,
Chris Jones
,
Sealver Siliga
and
Joe Vellano
, so the need doesn't seem as pressing right now. Thus, any pick at the position would be made as much with 2015 upside in mind more so than the present snapshot, sort of like the Patriots did in 2004 with Wilfork as a first-rounder.
To continue reading this article you must be an Insider
April, 10, 2014
4/10/14
12:15
PM ET
And with the 29th and 62nd selections of the NFL draft, the
New England Patriots
select ...
We've continued to dissect and analyze various possibilities for the team, focusing on the general idea that almost every position outside of quarterback is in play with a first-round pick.
One question pondered of late is, "How high might the Patriots select a running back?"
ESPN draft expert Todd McShay's fourth 2014
NFL mock draft is out on ESPN Insider

today, and he answers that question by going two rounds deep.
To continue reading this article you must be an Insider
March, 13, 2014
3/13/14
2:00
PM ET
Two things stood out when dissecting ESPN draft analyst
Mel Kiper Jr.'s mock draft 3.0

selection for the
New England Patriots
:

1. After going with Texas Tech tight end
Jace Amaro
at No. 29 in each of his first two mocks, Kiper now has Amaro out of the first round.
2. Notre Dame defensive tackle
Louis Nix III
, who was viewed as a mid-round possibility in earlier mocks, also has slipped out of the top 32.
This time around, Kiper slots Minnesota defensive tackle
Ra'Shede Hageman
to the Patriots at No. 29, and it has been a popular pick in various mock drafts. Hageman could give the Patriots a high-upside prospect with an ideal physical makeup at the position.
Vince Wilfork
,
Tommy Kelly
,
Armond Armstead
and
Chris Jones
top the current depth chart, so Hageman would likely have the luxury of time to develop.
While Hageman could be a solid pick, I'm also curious about the fall of Nix and if he might represent the better pick in that scenario. He's a big run-stuffer who is a good athlete for his size. In a league that trends toward the pass, might Nix be a potentially undervalued asset who could be a solid selection at No. 29?
March, 13, 2014
3/13/14
10:30
AM ET
ESPN draft analyst Mel Kiper Jr. linked the
New England Patriots
to Texas Tech tight end
Jace Amaro
in his first two mock drafts --
1.0
and
2.0
.

With Kiper's
third mock draft

set to be released Thursday, it's a good time to revisit team needs, and tight end remains on the radar.
Veteran
Michael Hoomanawanui
is returning to the Patriots on a two-year deal, giving the Patriots three layers on the depth chart --
Rob Gronkowski
, Hoomanawanui and
D.J. Williams
. Another "move" tight end would be ideal, and that is the category in which Amaro would fall.
The only position I think we could decisively rule out in the first round at this point is quarterback.
Everything else is in play, with both 2014 and future years in mind, and that's generally the way the Patriots like it. They prefer not to have their hand forced as it was, to some degree, at receiver last year.
From a general sense, one reminder that we've seen this year in free agency is that some of the biggest-money deals are along the defensive line. So if the right defensive lineman falls to the Patriots at No. 29, it wouldn't be surprising if the Patriots target that spot as well -- drafting and developing at the position is generally good business.
At this point, though, it's a blank canvas, with the Patriots owning one pick in each of the first four rounds, two in Round 6 and one in Round 7.
The fifth-rounder was shipped to the Eagles in the
Isaac Sopoaga
trade.
Todd McShay's third NFL mock draft for 2014 is out on ESPN Insider today. The Patriots went young at wide receiver last offseason, so adding a veteran wideout this time around is probably the better move, seeing as the Pats are a contending team. But drafting a tight end could be the right move for Patriots in the first round (No. 29), as a young complement to the oft-injured
Rob Gronkowski
.
The interior offensive line could also use some attention, but the Patriots have developed mid-round players here quite well over the years. We saw the effect of
Vince Wilfork
and
Tommy Kelly
's injuries had on New England's defense, so a defensive tackle like
Stephon Tuitt
-- who McShay mocked to them last time around -- or
Ra'Shede Hageman
could be a nice fit as a versatile lineman the Bill Belichick prefers with a lot of athletic upside.
Whom does McShay have the Patriots drafting at No. 29?
Let's take a look
:
To continue reading this article you must be an Insider
February, 6, 2014
2/06/14
12:00
PM ET
By
ESPN Insider
| ESPN Insider
January, 15, 2014
1/15/14
12:00
PM ET
The
New England Patriots
will once again be picking near the bottom of the first round, which is familiar territory for them based on their consistent on-field success.
Based on team needs and roster composition, this could be a draft in which the team focuses on the line of scrimmage, putting defensive tackle, offensive line and tight end as stronger possibilities with a high-round pick.
Notre Dame has two highly touted prospects along the defensive line in
Stephon Tuitt
(6-foo-6, 303 pounds) and
Louis Nix III
(6-3, 340) whose measurables would match up with a Patriots-type prototype.
To continue reading this article you must be an Insider
December, 18, 2013
12/18/13
11:59
AM ET
By
ESPN Insider
| ESPN Insider
Another season, another AFC East title for Bill Belichick and
Tom Brady
. Brady has jelled with his rookie wide receivers and has kept this offense producing at a high level despite not having
Aaron Hernandez
all season and
Rob Gronkowski
for most of the season. New England has dealt with a tremendous amount of injuries this season, and could use some help on defense, but remains a threat to make the Super Bowl in the AFC.
What do the Pats need in the draft?
Todd McShay released his
first 2014 mock draft
Wednesday, and in doing so identified the biggest areas of need for the Patriots. New England could use help at offensive guard, defensive tackle, cornerback, defensive end, tight end and safety. Here's who McShay believes will provide the best fit for New England in Round 1.
To continue reading this article you must be an Insider