NFL Draft:

Indianapolis Colts
May, 10, 2014
5/10/14
1:45
AM ET
INDIANAPOLIS -- There was a familiar face, one that had been absent around the
Indianapolis Colts
organization for nearly two months, inside the team's draft war room Friday night.
A picture made its way around Twitter, and in it stood a sharply dressed man in a dark colored suit standing next to coach Chuck Pagano.
Owner Jim Irsay was back in his familiar setting.

Irsay
"[It] was a shot of adrenalin," Pagano said. "He brings so much to the table and to the organization. He is the organization. He is the 'shoe.' To have Jim back in the building and back in the room with us today was pretty darn special."
Irsay had been in a rehabilitation facility getting treatment since March 17 after he was arrested the day before for allegedly operating a vehicle while intoxicated. He faces four felony counts of possession of a controlled substance. A sign that Irsay was out of the treatment facility was when the Colts Chief Operating Officer Pete Ward said he would give the pitch to the NFL owners about Indianapolis hosting the Super Bowl in 2018 during the league meeting in Atlanta later this month. Irsay was also up to his old habit of tweeting again on Thursday.
Irsay wasn't just sitting around watching during the draft. He quizzed general manager
Ryan Grigson
about potential players they might take with the No. 59 and 90 picks. He asked about alternative options if the players they were interested in weren't available and potential trades.
Being a part of the day-to-day activities is where Irsay, a former general manager of the Colts, feels comfortable.
The Colts selected Ohio State offensive lineman
Jack Mewhort
in the second round and Mississippi receiver
Donte Moncrief
in the third round.
"It was great," Grigson said. "He brings great energy, football wisdom, all the years of experience. He knows how to push my buttons in terms of when we're making a pick, seeing if I'm really feeling it. Same with Chuck. He looks you in the eye and wants to know about the player, wants to be able to feel that passion when you're making that pick and know that you really want that guy.
"He has a great feel for that kind of thing. He can tell when he's talking with you who you like and who you just kind of like or maybe just fills a need. He wants to know the plan. He wants to know if he's not there, what we're going to do."
It's uncertain how much longer Irsay will be around the team. Commissioner Roger Goodell said at the league's owners meeting in Orlando, Florida, in March that Irsay is subject to league discipline for his arrest but that he would wait "to understand the facts" before making a decision.
His initial hearing in March was postponed.
"We obviously will want to understand the facts before we take any steps as it relates to any potential discipline," Goodell said in March. "Obviously any policies or any laws that are broken, whether you're commissioner or owner or player or coach, those are subject to discipline."
But for one night, things were back to normal at the Colts facility on the west side of Indianapolis.
May, 9, 2014
5/09/14
11:53
PM ET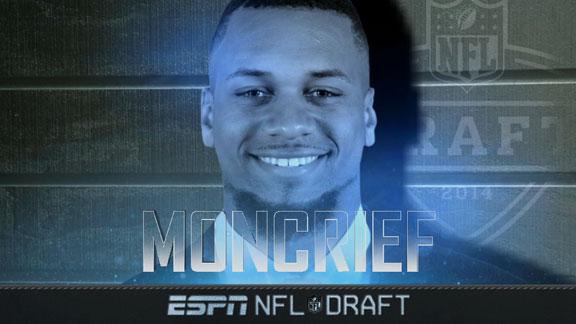 INDIANAPOLIS --
The pick:
Donte Moncrief
, receiver, Mississippi
My take:
The Colts are set at receiver next season with
T.Y. Hilton
,
Reggie Wayne
and
Hakeem Nicks
as their top three options, but they could have question marks there in 2015. Wayne and Nicks will both be free agents and it's uncertain how many more years the 35-year-old Wayne will continue to play.
Moncrief started all but one of the 37 games he played in at Mississippi. He had 59 receptions for a team-leading 938 yards last season.
The drafting of Moncrief means the Colts could end up releasing two of their three young receivers --
Da'Rick Rogers
,
Griff Whalen
or
LaVon Brazill
-- depending on how many wideouts they want to keep on the roster next season.
Another third-round gem:
Moncrief is the second receiver the Colts have selected in third round in the past three drafts. Hilton was taken with the No. 92 pick in 2012. And all Hilton has done is total 132 receptions for 1,944 yards and 12 touchdowns in his career.
What's next:
The Colts have three picks -- in the fifth, sixth and seventh -- in the final four rounds Saturday.
May, 9, 2014
5/09/14
10:02
PM ET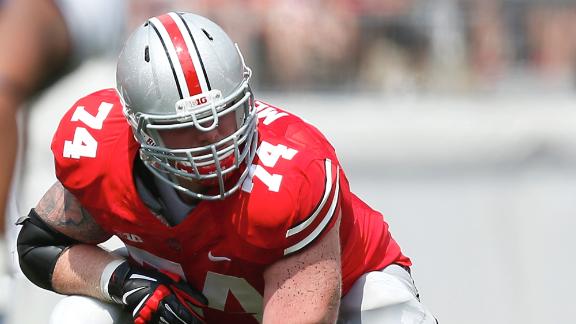 INDIANAPOLIS --
The pick:
Jack Mewhort
, offensive lineman, Ohio State
My take:
Mewhort is kind of a surprise pick when you consider the need for a safety and that there were still some quality receivers available at No. 59.
Mewhort would be considered a utility player if he played baseball. He's played every position along the offensive line. He was an All-American center, and Rivals.com had him as the second player at that position coming out of high school in Toledo, Ohio, in 2009. He played guard during the 2011 season at Ohio State, then switched to left tackle for his final two seasons with the Buckeyes. Mewhort started the final 39 games he played at Ohio State.
Mewhort's best chance to play with the Colts is likely at guard because they're set at tackle with
Anthony Castonzo
and
Gosder Cherilus
, who both had impressive 2013 seasons. Playing time at guard is up in the air.
Hugh Thornton
struggled during his rookie season, and
Donald Thomas
is coming back off a torn tendon in his quad and a torn biceps.
The ultimate goal is to protect quarterback
Andrew Luck
better. Luck has been sacked 73 times in his first two seasons.
Add one more to the résumé:
Tackle, guard and center aren't the only positions Mewhort can play. He's also capable of handling long-snapping duties. The Colts are set there, though, with
Matt Overton
. Overton made the Pro Bowl team last season. But Mewhort is capable of being the emergency long snapper.
What's next:
The Colts have the No. 90 overall pick. They'll have three picks in the final four rounds Saturday.
April, 17, 2014
4/17/14
12:15
PM ET
ESPN draft expert Mel Kiper Jr. posted his
mock draft 4.0

earlier Thursday.
Who needs a first-round pick? Not the
Indianapolis Colts
, so we'll skip ahead to the second round when they pick at No. 59.
April, 10, 2014
4/10/14
12:15
PM ET
ESPN NFL draft analyst
Todd McShay posted his 2014 mock draft

earlier on Thursday.
As you've been reminded every time you hear the name "
Trent Richardson
," the
Indianapolis Colts
do not have a first-round pick because of their trade with Cleveland to acquire the running back last September.
To continue reading this article you must be an Insider
April, 7, 2014
4/07/14
3:00
PM ET
INDIANAPOLIS – So you think it's difficult to figure out who the teams in the top five, 15 or 30 will select in next month's draft?
Imagine if the team doesn't have a first-round pick and doesn't select until late in the second round. That's the
Indianapolis Colts
, who have the No. 59 overall pick.
They can go in a number of different areas with their first pick.
Receiver.
Reggie Wayne
only has a few years left in what will end up being a Hall-of-Fame career.
Safety. Coach Chuck Pagano said that's a position they'll look in the draft.
Guard. That's a possibility, too.
Zach Allen
,
Khaled Holmes
(guard/center),
Lance Louis
,
Hugh Thornton
and
Donald Thomas
are currently the guards on the roster. Restricted free agent
Joe Reitz
received a qualifying offer from the Colts last month.
ESPN's Mel Kiper said "there will probably be five second-round guys, maybe as many as six that go in Round 2, early Round 3."
"
Kadeem Edwards
at Tennessee State had an outstanding combine," Kiper said. "I thought he was good player. I tried to highlight one of the off-the-radar guys during the year, it was in October. There's going to be some depth at the guard spot behind the top guys."
Here are the top-10 guards on Kiper's draft board.
Gabe Jackson, Mississippi State
David Yankey, Stanford
Xavier Su'a-Filo, UCLA
Brandon Thomas, Clemson
Joel Bitonio, Nevada
Trai Turner, LSU
Cyril Richardson, Baylor
Jon Halapio, Florida
Kadeem Edwards, Tennessee State
Ryan Groy, Wisconsin