May, 10, 2014
5/10/14
1:45
AM ET
INDIANAPOLIS -- There was a familiar face, one that had been absent around the
Indianapolis Colts
organization for nearly two months, inside the team's draft war room Friday night.
A picture made its way around Twitter, and in it stood a sharply dressed man in a dark colored suit standing next to coach Chuck Pagano.
Owner Jim Irsay was back in his familiar setting.

Irsay
"[It] was a shot of adrenalin," Pagano said. "He brings so much to the table and to the organization. He is the organization. He is the 'shoe.' To have Jim back in the building and back in the room with us today was pretty darn special."
Irsay had been in a rehabilitation facility getting treatment since March 17 after he was arrested the day before for allegedly operating a vehicle while intoxicated. He faces four felony counts of possession of a controlled substance. A sign that Irsay was out of the treatment facility was when the Colts Chief Operating Officer Pete Ward said he would give the pitch to the NFL owners about Indianapolis hosting the Super Bowl in 2018 during the league meeting in Atlanta later this month. Irsay was also up to his old habit of tweeting again on Thursday.
Irsay wasn't just sitting around watching during the draft. He quizzed general manager
Ryan Grigson
about potential players they might take with the No. 59 and 90 picks. He asked about alternative options if the players they were interested in weren't available and potential trades.
Being a part of the day-to-day activities is where Irsay, a former general manager of the Colts, feels comfortable.
The Colts selected Ohio State offensive lineman
Jack Mewhort
in the second round and Mississippi receiver
Donte Moncrief
in the third round.
"It was great," Grigson said. "He brings great energy, football wisdom, all the years of experience. He knows how to push my buttons in terms of when we're making a pick, seeing if I'm really feeling it. Same with Chuck. He looks you in the eye and wants to know about the player, wants to be able to feel that passion when you're making that pick and know that you really want that guy.
"He has a great feel for that kind of thing. He can tell when he's talking with you who you like and who you just kind of like or maybe just fills a need. He wants to know the plan. He wants to know if he's not there, what we're going to do."
It's uncertain how much longer Irsay will be around the team. Commissioner Roger Goodell said at the league's owners meeting in Orlando, Florida, in March that Irsay is subject to league discipline for his arrest but that he would wait "to understand the facts" before making a decision.
His initial hearing in March was postponed.
"We obviously will want to understand the facts before we take any steps as it relates to any potential discipline," Goodell said in March. "Obviously any policies or any laws that are broken, whether you're commissioner or owner or player or coach, those are subject to discipline."
But for one night, things were back to normal at the Colts facility on the west side of Indianapolis.
May, 10, 2014
5/10/14
12:01
AM ET
JACKSONVILLE, Fla. -- The
Jacksonville Jaguars
already were not planning on having suspended receiver
Justin Blackmon
in 2014.
What they did Friday night makes it pretty clear that they're not planning on having him -- period.
The Jaguars took a pair of receivers in the second round of the NFL draft --
Marqise Lee
with the 39th pick and traded up to take
Allen Robinson
with the 61st selection -- and plan on both being in the starting lineup in the season opener alongside
Cecil Shorts
. They're also going to be the building blocks, along with No. 3 overall pick
Blake Bortles
, of the Jaguars' offense for years to come.
[+] Enlarge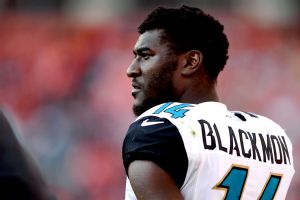 Ron Chenoy/USA TODAY Sports"We haven't heard much [from Justin Blackmon] and it doesn't sound like it's going in the right direction," coach Gus Bradley said.
Blackmon was once viewed in the same way, but three violations of the NFL's substance-abuse policy and an indefinite suspension has the fifth overall pick in 2012 clearly out of the Jaguars' future plans.
"There's some unknowns there," Jaguars coach Gus Bradley said of Blackmon, who has 93 receptions for 1,280 yards in two seasons. "You don't know how it's working out. I just don't want to shut it off. I was hoping that it would be better than maybe where it's going, but we'll see.
"We haven't heard much [from Blackmon], and it doesn't sound like it's going in the right direction. Just like [general manger] Dave [Caldwell] said: 'We can't count on him.'"
Caldwell said he didn't want to address Blackmon's status again since he spoke about it during the Jaguars' pre-draft luncheon, but he did say the team cannot cut Blackmon while he's suspended. When asked if they would cut him when he was reinstated: "If that happens."
By taking Lee and Robinson, though, the message is pretty clear. Caldwell had the 6-foot, 192-pound Lee as the No. 1 receiver on their board and was surprised to see him still available when the second round began. He was worried Lee wouldn't make it to 39 and tried to work out a trade with Houston, which had the first pick.
But Lee kept sliding and the Jaguars quickly snatched him up. Lee has the playmaking ability that the Jaguars receiving corps has lacked on a consistent basis. He caught 248 passes for 3,655 yards and 29 touchdowns in three seasons with the Trojans, including 118 passes for 1,721 yards and 14 touchdowns as a sophomore in 2012.
"He's explosive," Caldwell said. "He can make defenders miss. He's very instinctive. He's got a feel for zones. He can separate in and out of breaks very well. When he gets the ball in his hands, he's a threat to take it to the house.
"He's a playmaker, and we need playmakers."
The 6-3, 220-pound Robinson is the big, physical receiver the Jaguars have lacked for years. He caught 177 passes for 2,479 yards and 17 touchdowns in three seasons at Penn State. He was the Jaguars' No. 2 receiver, and they traded their third-round pick (70th overall) and a fifth-round pick (150th overall) to San Francisco to get him.
"This is a big target, and big targets are good in this league," Caldwell said.
Especially when you can count on them.
May, 9, 2014
5/09/14
10:08
PM ET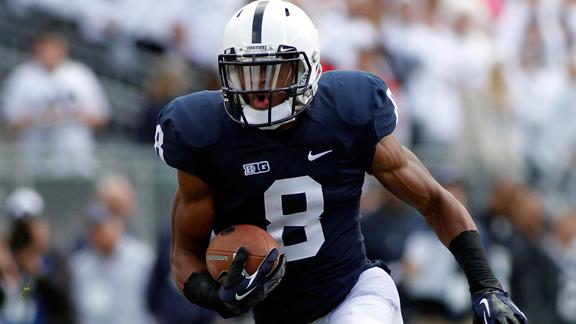 JACKSONVILLE, Fla. --
The pick:
Allen Robinson
, WR, Penn State
My take:
The Jaguars traded their third-round pick (70th overall) and a fifth-round pick (150th overall) to San Francisco for the 61st overall selection and took Robinson. The Jaguars got the big, physical receiver they needed in the 6-foot-2, 220-pound Robinson, who caught 177 passes for 2,479 yards and 17 touchdowns in three seasons at Penn State. That including a junior season in which he caught 97 balls for 1,432 yards and six touchdowns despite playing with a freshman quarterback. The Jaguars will pair him with
Marqise Lee
, whom they took with the 39th pick, to give them a young tandem that can hopefully grow along with rookie quarterback
Blake Bortles
.
Goodbye, Justin?
: If there was any doubt that the Jaguars have pretty much given up on receiver
Justin Blackmon
, Robinson's selection should all but cement it. GM David Caldwell said the team has already planned on not having him in 2014 and coach Gus Bradley said Friday night that he had hoped things would have gone better than they have. The Jaguars have had little contact with Blackmon and he still must apply for reinstatement and likely will have to serve an additional suspension before being cleared.
What's next:
The Jaguars have seven picks in Rounds 4-7 Saturday and are expected to address offensive line, running back and pass-rusher.
May, 9, 2014
5/09/14
7:51
PM ET
JACKSONVILLE, Fla. --
The pick:
The Jaguars got their first-round pick some help by taking USC receiver
Marqise Lee
with the seventh pick of the second round (39th).
My take
: Lee was considered a first-round talent but slid into the second round because teams are concerned with the sprained left MCL that he suffered last season, according to multiple reports. Even so, this is a fantastic pick because it addresses the team's biggest need on offense after quarterback. He fits the qualities the Jaguars were searching for in a receiver: size and play-making ability. Lee (6 feet, 195 pounds) had a monster sophomore season (118 catches, 1,721 yards, 14 TDs) but he was hurt by his knee injury and poor QB play last season (57 catches, 791 yards). Lee also has experience as a kickoff returner.
The Blackmon factor:
The Jaguars needed to make receiver a priority because of the uncertainty surrounding
Justin Blackmon
, the team's first-round pick in 2012. Blackmon is serving an indefinite suspension because of his third violation of the league's substance-abuse policy and general manager David Caldwell said last week that the team was not planning on having Blackmon in 2014.
What's next:
The Jaguars should continue to address needs on offense in the third round, likely taking an offensive lineman in the third round with the 70th overall selection.
May, 2, 2014
5/02/14
7:15
PM ET
Which player should the Jacksonville Jaguars take with the No. 3 pick in the NFL draft? That's a question that GM David Caldwell and head coach Gus Bradley are trying to answer before the first round May 8. Not that they're asking, but I'm here to offer help. Every day until the first round I'll argue for a certain player. We're going to go with the caveat that each of the players is available when the Jaguars make their selection.
Today I make the case for quarterback Blake Bortles. Monday will be quarterback Teddy Bridgewater.
JACKSONVILLE, Fla. -- Remember all that stuff we talked about Thursday regarding
Johnny Manziel
?
The ability to make plays outside the pocket, to improvise, to extend plays? That all applies to Blake Bortles, too. But there's one additional thing that he has that Manziel doesn't.
Size.
There are no concerns about the former Central Florida standout's frame. He's 6-foot-5 and 232 pounds -- close to ideal size for an NFL quarterback.
[+] Enlarge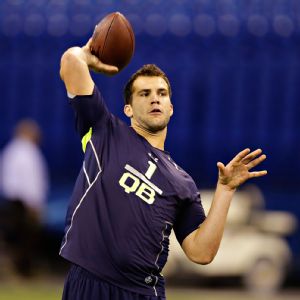 AP Photo/Michael ConroyBlake Bortles' ability to tweak his mechanics so quickly bodes well for his mental maturity.
Bortles isn't as accomplished as Manziel on the collegiate level, but numerous scouts and analysts believe his best football is ahead of him and what happened during his pro day is their best evidence.
There were concerns about Bortles' mechanics and scouts, and analysts dissected his flaws on tape after the Knights' season ended. The biggest issues were his lower body and footwork. Bortles obviously worked on that pretty hard in the first few months of 2014 because he was much cleaner in his mechanics at his pro day.
His balance was better, the ball came out of his hand cleaner, his throwing motion was more economical, and as a result he threw the ball harder and more accurately.
That he was able to clean up those issues relatively quickly is a huge plus about his mental makeup. In addition, there's the report by the Florida Times-Union's Ryan O'Halloran on a Jacksonville radio show that Bortles took over the room during a meeting with Jaguars coaches and personnel.
Considering that GM David Caldwell recently said the No. 1 quality he wants in a quarterback is leadership, that's another argument for the Jaguars to take Bortles with the No. 3 overall pick.
There are additional concerns about Bortles because he played in a spread offense and threw a lot of one-read passes. He didn't have to sit in the pocket and go through three or more reads. A lot of the throws were short passes, too. Evaluating him means projecting that he'll be able to adjust to a pro-style offense and become more comfortable taking snaps under center.
But he's the most physically impressive of the big three quarterbacks and he does have the ability to escape and turn a broken play into a big one. There's also less of a worry about him getting hit than Manziel or Teddy Bridgewater. His size will allow him to take more punishment.
The Jaguars have said they don't want a rookie quarterback to play right away. They want him to sit and learn behind
Chad Henne
. That would benefit Bortles because he has the most upside of any of the top quarterbacks in the draft.
Taking Bortles may not help in 2014, but it would pay off in 2015 and beyond.
April, 24, 2014
4/24/14
12:15
PM ET
JACKSONVILLE, Fla. -- The
Jacksonville Jaguars
have the third overall pick in the 2014 NFL draft, which is now two weeks away. Though the roster has improved since general manager
David Caldwell
and coach Gus Bradley took over in January 2013, there are still a lot of holes to fill.
The top needs remain a quarterback and a pass-rusher, but adding a big-play receiver or elite offensive lineman aren't ridiculous options for the Jaguars with their first pick.
ESPN Insider draft analyst
Todd McShay's latest mock draft

lists the picks he would make if he were the GM of each team. It's not a projection of what teams will do. McShay makes an interesting choice for the Jaguars.
April, 17, 2014
4/17/14
12:15
PM ET
The
Jacksonville Jaguars
have the third overall pick in the 2014 NFL draft and most people assume the team is going to take either a pass-rusher or a quarterback, which are clearly the team's two biggest needs after winning just six games combined the past two seasons.
ESPN draft analyst Mel Kiper Jr.'s
fourth 2014 NFL mock draft

is out on ESPN Insider today and his choice is a departure from what he predicted the Jaguars would do in his first three mock drafts.
To continue reading this article you must be an Insider
April, 17, 2014
4/17/14
12:15
PM ET
ESPN draft expert Mel Kiper Jr. posted his
mock draft 4.0

earlier Thursday.
Who needs a first-round pick? Not the
Indianapolis Colts
, so we'll skip ahead to the second round when they pick at No. 59.
To continue reading this article you must be an Insider
April, 10, 2014
4/10/14
12:15
PM ET
ESPN NFL draft analyst
Todd McShay posted his 2014 mock draft

earlier on Thursday.
As you've been reminded every time you hear the name "
Trent Richardson
," the
Indianapolis Colts
do not have a first-round pick because of their trade with Cleveland to acquire the running back last September.
To continue reading this article you must be an Insider
April, 10, 2014
4/10/14
12:15
PM ET
The
Jacksonville Jaguars
have the third overall pick in the 2014 NFL draft after finishing 4-12 in 2013. With a roster in need of a significant upgrade, the Jaguars can take a best-available-player approach and still fill an area of need.
Todd McShay's
fourth 2014 NFL mock draft

is out on ESPN Insider on Thursday and his choice means the Jaguars will fill one of their biggest needs.
To continue reading this article you must be an Insider
April, 7, 2014
4/07/14
3:00
PM ET
INDIANAPOLIS – So you think it's difficult to figure out who the teams in the top five, 15 or 30 will select in next month's draft?
Imagine if the team doesn't have a first-round pick and doesn't select until late in the second round. That's the
Indianapolis Colts
, who have the No. 59 overall pick.
They can go in a number of different areas with their first pick.
Receiver.
Reggie Wayne
only has a few years left in what will end up being a Hall-of-Fame career.
Safety. Coach Chuck Pagano said that's a position they'll look in the draft.
Guard. That's a possibility, too.
Zach Allen
,
Khaled Holmes
(guard/center),
Lance Louis
,
Hugh Thornton
and
Donald Thomas
are currently the guards on the roster. Restricted free agent
Joe Reitz
received a qualifying offer from the Colts last month.
ESPN's Mel Kiper said "there will probably be five second-round guys, maybe as many as six that go in Round 2, early Round 3."
"
Kadeem Edwards
at Tennessee State had an outstanding combine," Kiper said. "I thought he was good player. I tried to highlight one of the off-the-radar guys during the year, it was in October. There's going to be some depth at the guard spot behind the top guys."
Here are the top-10 guards on Kiper's draft board.
Gabe Jackson, Mississippi State
David Yankey, Stanford
Xavier Su'a-Filo, UCLA
Brandon Thomas, Clemson
Joel Bitonio, Nevada
Trai Turner, LSU
Cyril Richardson, Baylor
Jon Halapio, Florida
Kadeem Edwards, Tennessee State
Ryan Groy, Wisconsin
March, 31, 2014
3/31/14
4:00
PM ET
JACKSONVILLE, Fla. -- Now that we've gotten past the combine and the NFL draft is little more than a month away, it's time to enter the tear-down season in earnest.
That's when flaws in each prospect are highlighted, discussed and debated endlessly. All the praise these players earned throughout the college football season and into January is put aside and they're nitpicked to death. It's a vital part of the process as teams try to pare down their draft board.
Clowney
When it comes to former South Carolina defensive end
Jadeveon Clowney
, there's no secret what concerns teams: His drive and willingness to go hard on every play. He was inconsistent with his effort, which is a fancier way of saying that he takes plays off.
Jacksonville Jaguars
coach Gus Bradley doesn't seem to be overly concerned about that, though. Mainly because he's wowed by the plays that Clowney did make, the fact the runs like a wide receiver at 6-foot-6, 266 pounds, and his athleticism.
"We will get a chance to visit with him more in-depth in the next couple of weeks, but I see enough plays where he's playing hard," Bradley said. "I do see him getting great rush and making great plays. I think it's our job as a coach to try to get that consistency. There have been some players that have come out of the draft that maybe you look at their effort in one way or another and you question it at times and [they] have made the next step to the NFL and it's not a question.
"I think you have to take that into account, but the number of plays he makes, the flash plays he makes and the effort plays he does have on tape, that's why he's such a high prospect."
Bradley dealt with the same kind of issue during his first season in Jacksonville, albeit with someone not quite as talented. Defensive end
Andre Branch
, the team's second-round draft pick in 2012, had a disappointing rookie season (20 tackles, one sack in 13 games) and didn't start the 2013 season much better. Branch was virtually invisible on the field and had just one sack in the first nine games.
But after more than half of a season of Bradley, defensive line coach Todd Wash and defensive coordinator Bob Babich working with Branch on playing with consistent effort, Branch started to come around. He had five of his six sacks in the last seven games.
Clowney may not be on the board when it's the Jaguars' turn to pick in the first round. He may not be their choice if he is, anyway. But if he does end up in Jacksonville, the Jaguars already have proved they can get a guy who takes plays off to give consistent effort.
With Clowney, that could be downright scary.
March, 13, 2014
3/13/14
2:00
PM ET
JACKSONVILLE, Fla. -- ESPN draft analyst Mel Kiper Jr.'s
prediction in his third mock draft

that the
Jacksonville Jaguars
will take defensive end
Jadeveon Clowney
with the No. 3 overall pick in the upcoming draft is not surprising. He made the same forecast in his first two mock drafts.
It's the pick that makes the most sense.

The Jaguars do need a quarterback and in Kiper's scenario
Teddy Bridgewater
,
Johnny Manziel
and
Blake Bortles
are available, but general manager David Caldwell has dropped several hints that he doesn't believe any of them are a franchise quarterback.
Caldwell has said rookie quarterbacks generally aren't ready to play right away. There are exceptions, such as
Peyton Manning
,
Andrew Luck
and
Matt Ryan
, but those players didn't leave school early and played in pro-style offenses in college. He also has said
Chad Henne
, who signed a two-year extension last week, can keep the team afloat with better offensive line play and more weapons.
The Jaguars worked on both of those issues early in free agency by signing guard
Zane Beadles
and running back
Toby Gerhart
. They are expected to add at least one more offensive lineman and possibly a receiver before the draft, as well.
So Clowney, whom many regard as the best player in the draft, is the natural pick. He fills an immediate need and upgrades a pass rush that finished last in the NFL in each of the past two seasons. He's ridiculously athletic and exceptionally quick (4.53 40-yard dash, including a 10-yard split of 1.56 seconds) for a 6-foot-5, 266-pound end.
Some have concerns about his work ethic and motivation, but those issues are being overblown. Clowney is a freak who can dominate a game.
And consider this: Since the Jaguars will play six games against the AFC South it's important the team is built to handle those opponents. The
Indianapolis Colts
are the best team in the division because of Luck so the Jaguars need to be able to deal with them twice a year.
Clowney is the first piece.
March, 13, 2014
3/13/14
10:30
AM ET
ESPN draft analyst Mel Kiper Jr. has been consistent in which player he believes the
Jacksonville Jaguars
are going to take with the No. 3 pick in the upcoming draft.

In his first mock draft he predicted the Jaguars would bypass a quarterback and instead select defensive end
Jadeveon Clowney
.
In his second mock draft he had the Jaguars taking ... Clowney.
We'll find out if he has changed his mind in his
third mock draft

when it is released late Thursday morning.
The Jaguars had one of the least-talented rosters in 2013 and general manager David Caldwell and coach Gus Bradley still have a lot of work ahead before that improves. They have needs everywhere, but the two biggest are undoubtedly quarterback and pass-rusher, and it seems likely the Jaguars will take one of those two positions with their first pick.
The team signed quarterback
Chad Henne
to a two-year contract on March 7 and Bradley promptly named him the starter for the 2014 season. He said the ideal situation would be for whichever quarterback the team drafted -- whether it was in the first round or later -- to spend time learning behind Henne. The young quarterback might not even take a snap in 2014.
That would seem to indicate the Jaguars won't be likely to take
Johnny Manziel
,
Teddy Bridgewater
or
Blake Bortles
in the first round. Players taken that high need to make an immediate impact, and that won't happen if they're sitting on the bench.
However, Clowney or linebacker
Khalil Mack
would instantly make the Jaguars better on defense. The pass rush has been among the worst in the league the past two seasons (51 sacks, including 20 in 2012) and Clowney is regarded as the best pass-rusher in the draft. Mack, who is a perfect fit for the Jaguars' hybrid end/linebacker spot, had one of the most impressive workouts at the NFL combine and is rising up draft boards.
However, the Jaguars do need help at receiver, too. Maybe
Sammy Watkins
could be the player Kiper believes the Jaguars will pick.