April, 17, 2014
Apr 17
10:00
AM ET
GREEN BAY, Wis. -- Pick after pick crawled across the bottom of television screens last April 25, 26 and 27 and those wondering when the
Green Bay Packers
would draft a safety got their answer when the 254
th
-- and final -- pick in the 2013 NFL draft was announced.
Three safeties went in the first round, but none to the Packers.
Two more came off the board in Round 2, but neither was a Packers' pick.
[+] Enlarge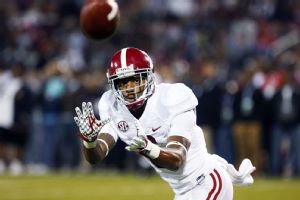 AP Photo/Rogelio SolisHa Ha Clinton-Dix may be available to the Packers when they draft in the first round.
Seventeen more were drafted on the third and final day, yet the Packers still had not filled one of their biggest needs.
That's not to say they went into last year's draft wholly convinced that they didn't need help at the position. But when it came time to exercise each of his selections, there wasn't a safety sitting there that intrigued general manager Ted Thompson enough to make that call.
Thompson liked a few of the safeties in the draft, but the ones he was sold on were either already off the board or would have been a reach at the time of his pick.
So here are the Packers, nearly a year later, and Thompson still has not put pen to paper on a contract for a new safety of any consequence. (And no, street free agent
Chris Banjo
, does not count.)
That has to change next month, when Thompson will take nine selections into the May 8-10 NFL draft, does it not?
If Thompson fails to land one of the top, say, five or six safeties in this draft -- be it
Ha Ha Clinton-Dix
of Alabama or
Calvin Pryor
of Louisville, both of who are locks to go in the first round; or possible second- and third-round picks like
Jimmie Ward
of Northern Illinois,
Deone Bucannon
of Washington State or
Terrence Brooks
of Florida State -- then he will be handcuffing defensive coordinator Dom Capers in much the same fashion he did last season.
Last summer, Capers and coach Mike McCarthy opened the competition at free safety to a pair of second-year players,
Jerron McMillian
(a 2012 fourth-round round pick) and M.D. Jennings (an undrafted free agent the same year). It was a close competition, more so because neither one stood out, and when strong safety
Morgan Burnett
was unavailable for the season opener because of a hamstring injury, that duo started Week 1 at the two safety spots.
The Packers thought so little of their performances that they cut McMillian late last season and did not even bother this offseason to offer Jennings a restricted free agent tender, which would not have cost them any guaranteed money.
"Obviously we didn't get the production that we wanted from that [free safety] position," safeties coach Darren Perry said this offseason.
To be sure, the Packers need Burnett to show that Thompson wasn't misguided when he signed him to a four-year, $24.75 million contract last summer.
"I think he's fully capable of doing it," McCarthy said this offseason. "Morgan's going to do everything he can. He needs to be more assertive in play-making opportunities."
In order for Burnett to flourish, he can't be worried about the player lined up next to him. That player was supposed to be Nick Collins, the three-time Pro Bowl safety whose career was cut short in 2011 by a neck injury. At age 30, he still would have been in the prime of his career last season.
If the Packers don't find another Collins, they must at least come close.
Since the team's resurgence in the early 1990s, they have enjoyed a strong group of safeties -- from LeRoy Butler to Darren Sharper to Collins; all were Pro Bowl selections during their time in Green Bay.
The dynamic of the position has changed in recent years. Whereas Butler was a fierce hitter, today's safeties are judged just as much on speed and ball skills as anything else. What NFL teams need now are safeties than can cover chunks of yardage in milliseconds and knock passes away or, better yet, intercept them. The Packers were the only team in the NFL last season that didn't get a single interception from a safety.
"The intimidator isn't necessarily needed anymore," ESPN draft expert Mel Kiper Jr. said. "The big hitters, you don't need that."
Kiper Jr. doesn't believe Clinton-Dix will be around when the Packers come up at No. 21 in the first round, but Pryor very well could be available.
Even if Pryor is gone or Thompson passes on him, he will have other options, says Kiper.
"
Jimmy Ward
from Northern Illinois, you could make an argument is the best cover safety in the draft," Kiper said. "He's coming off the [foot] injury but he had a very good career, has great ball skills, real good hands for the interception. And Ward is a decent tackler, but he doesn't have tremendous size [5-foot-11, 193 pounds].
"The days of that big, intimidating safety are just about over. Terrence Brooks from Florida State would fill that void at that point as a safety that could come in and help you right away."
No matter what Thompson does in the draft, Capers and McCarthy plan to work cornerback
Micah Hyde
at safety this offseason. Perhaps the fifth-round pick out of Iowa last year will be the full-time answer; he certainly showed enough as a rookie to warrant more than the 39.4 percent playing time he got last year. But if the Packers think Hyde can allow them to concentrate on other areas of need in the draft, they better be right.
April, 16, 2014
Apr 16
12:00
PM ET
By
Kevin Weidl
| ESPN.com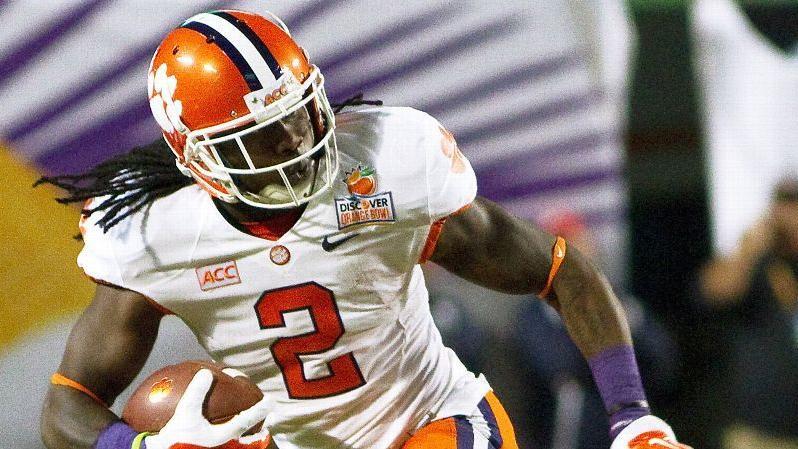 Almost every year, there are some receivers who fall during the draft and end up hitting in the NFL as late-round selections or free agents. Recent examples have included Ravens WR
Marlon Brown
(UDFA, 2013), Seahawks
Doug Baldwin
(UDFA, 2011), Steelers WR
Antonio Brown
(6th round, 2010) and Giants WR
Victor Cruz
(UDFA, 2010). Injuries, size, not testing well at combine or pro day and character are some of the factors that can play into these players slipping through the cracks.
As we near the end of evaluation process here at Scouts Inc., I have had a chance to focus on some receivers that projected in the Day 3 range. Of that crop, here is a look at three who have caught my eye during recent film study and could end up bringing strong return on Day 3.
To continue reading this article you must be an Insider
April, 15, 2014
Apr 15
1:42
PM ET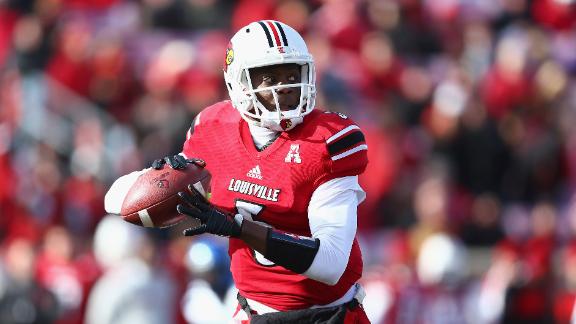 As I've mentioned many times during the past few months, there isn't a ton of separation among the top three quarterback prospects in the 2014 draft. I have UCF's
Blake Bortles
ranked No. 9 overall on my board with a grade of 93, with Louisville's
Teddy Bridgewater
at No. 15 (91 grade) and Texas A&M's
Johnny Manziel
at No. 16 (91 grade). But there isn't a consensus regarding these quarterbacks among teams, and evaluators could place varying levels of importance on different deciding factors.
With that in mind, we are taking a look at how the three QBs fared in key categories with the help of ESPN Stats & Information's Sharon Katz, explaining the cases in which the stats do or don't back up what I've seen on tape from these three passers.
Downfield passing
Katz
: Bortles had the shortest average pass distance (7.8 yards past the line) of these three last season. However, when he attempted a pass downfield, Bortles was extremely accurate. Among automatic qualifier conference quarterbacks, only
Tajh Boyd
(54.7 percent) had a higher completion percentage than Bortles on passes thrown 20 yards or longer downfield (minimum 30 attempts). It is important to note that even though he ranks third of three in this category, Bridgewater was among the nation's top quarterbacks on intermediate passes. On passes between 6 and 14 yards downfield, Bridgewater had the highest completion percentage of any AQ quarterback (75.5 percent) and did not throw an interception in 151 attempts. About half of his passes of this distance were to the left or right sidelines (often regarded as more difficult intermediate passes), and he completed an AQ-high 74.3 percent of those sideline passes.
McShay
: These results are dead-on compared to what I see on tape from all three of these guys.
To continue reading this article you must be an Insider
April, 15, 2014
Apr 15
9:00
AM ET
IRVING, Texas -- Day 2 of reviewing the
Dallas Cowboys
' last five drafts continues today with the Class of 2010.
If you want our thoughts on the 2009 draft,
click here.
First-round pick:
Dez Bryant
(No. 24 overall)
Bryant
Number of picks:
6
How they did:
The Cowboys landed two building-block players in Bryant and
Sean Lee
. Bryant is coming off back-to-back 90-catch, 1,000-yard seasons and is dynamic. Lee is the leader of the defense and its best player, when healthy. Health has been a key issue for Lee since he has yet to play a full season because of injuries.
Sixth-round pick
Sam Young
is still in the league (
Buffalo Bills
) and the Cowboys landed a draft pick in return for their seventh rounder
Sean Lissemore
in a trade last summer with the
San Diego Chargers
. Lissemore was a quality pick but no longer a scheme fit with the change to the 4-3.
Pivotal pick:
Injuries at Penn State kept Lee (No. 55 overall) out of the first round, but the Cowboys were willing to be patient with him because they sensed a special talent. He loves football in a way few players love the game and he is willing to put in the work. Had Lee been healthy, the Cowboys would not have been able to get him in the second round. Lee has been a playmaker since he joined the team and the Cowboys gave him a $42 million contract extension last summer.
Best pick:
Bryant (No. 24 overall) slipped because of offseason concerns but the Cowboys moved up to get him and felt they could provide him with the best atmosphere to succeed. They did this less than two seasons after trading for
Roy Williams
and seeing
Miles Austin
make the Pro Bowl in 2009. They didn't need a wide receiver, but Bryant was too good to pass up. Williams was eventually cut and injuries led to Austin's departure this offseason. Bryant is now one of the best receivers in the NFL and coming off his first Pro Bowl.
Worst pick:
Akwasi Owusu-Ansah
(No. 126 overall) put together a fantastic highlight tape and he tested great at the NFL scouting combine and at a pro day. Unfortunately his skills from Division II Indiana (Pa.) never translated. He played cornerback, but the Cowboys made him a safety and when that didn't work they made him a receiver. He was supposed to be a top kick returner but averaged only 21.7 yards per return. Seven picks after Owusu-Ansah the
Seattle Seahawks
took safety
Kam Chancellor
in the fifth round.
April, 14, 2014
Apr 14
5:34
PM ET
Mock drafts are an ever-changing beast. In the case of the Houston Chronicle's John McClain, this week's about-face was a big one.
After sending
Blake Bortles
and
Johnny Manziel
to the
Houston Texans
in his first two drafts, his
mock revealed today has the team
selecting
Jadeveon Clowney
.
While I've never gotten the sense that the Texans are all that enamored with any of the quarterbacks -- in part because of statements made by both general manager Rick Smith and head coach Bill O'Brien -- McClain has vehemently insisted the Texans will take a quarterback with the top pick. The thought has crossed my mind that the team's comments could very well have been smokescreens.
When Houston signed quarterback Ryan Fitzpatrick, McClain wrote it was another sign that the Texans will take a quarterback with the top pick. Less than two weeks ago, while poking a little fun at himself for thinking the Texans would take
Reggie Bush
first overall in 2006,
he reiterated his tendency toward a quarterback
.
I texted McClain to ask for a couple lines about why he made the switch.
"Bortles started but was benched for Manziel, who was sacked by Clowney," he quipped. "I have 3 mocks left and I hope to get one right."
Chances are, he will!
Draft season is misinformation season. Some of what we reporters hear in our research is true. Some of it isn't. It's hard to separate what we know from what we think we know. It's best not to take mock drafts (or ourselves) too seriously.
And while there is a growing sentiment that Clowney will be the Texans' choice, consider this: Clowney is also the Texans' best chance at trading the first overall pick.
April, 14, 2014
Apr 14
4:26
PM ET
Could North Carolina tight end
Eric Ebron
be about the surest thing the
Tennessee Titans
could draft if he's on the board at No. 11?
It's not a big position of need with
Delanie Walker
on the roster.

Ebron
But the Titans do have a head coach who was an NFL tight end in Ken Whisenhunt. Whisenhunt's tight ends coach has been an NFL head coach with two different teams. Mike Mularkey was also a NFL tight end.
"I highly doubt Ebron would be available for the Titans," ESPN.com's resident scout, Matt Williamson said. "But I do think they would love to have him. Still, I am high enough on Walker that tight end wouldn't be my top priority."
Ty Schalter of Bleacher Report did
an interesting piece
on he likelihood of players panning out based on how they ultimately score in Pro Football Reference's Approximate Value.
Schalter looked at first- and second-round picks over 10 drafts whose players have at least three years of NFL experience.
"Just 14.8 percent of top-pick tight ends go three years without standing out," Schalter writes. "An incredible 81.4 percent of them make a big impact in either their first or second years. Just one tight end in this entire data set,
Anthony Fasano
, flopped in his first two seasons and blossomed in his third. Generally speaking, if a tight end hasn't become good after two years, he isn't going to."
Recent history bodes well for a top-rated tight end contributing early. How much that plays into the thinking of the team that takes him is something we may never know.
April, 14, 2014
Apr 14
3:00
PM ET
Only one team in the last 40 years has drafted a quarterback in the first round the year after picking one within the first two rounds -- the
Carolina Panthers
, who chose
Cam Newton
in 2011 to replace
Jimmy Clausen
, a second-rounder.
Could the
New York Jets
become the second team?
Unlikely, but it's a good talking point because of the uncertainty regarding the top three quarterbacks --
Blake Bortles
,
Teddy Bridgewater
and
Johnny Manziel
. In his weekly
Monday Morning Quarterback
column, Sports Illustrated's Peter King notes that four quarterback-needy teams in the top six are thinking hard about waiting until after their first pick to address the position. The teams: The
Houston Texans
(No. 1),
Jacksonville Jaguars
(No. 3),
Cleveland Browns
(No. 4) and
Oakland Raiders
(No. 5). The
Minnesota Vikings
(No. 8) didn't make the list, but they're also looking for a quarterback.
If one of the top three quarterbacks gets past the Vikings, it's possible he could fall all the way to the Jets at No. 18. What, then? It certainly would add to the drama at Radio City. Would the Jets, only one year removed from choosing
Geno Smith
in the second round, take another quarterback?
First of all, this isn't a Carolina situation for two reasons: Unlike Clausen, Smith showed some promise as a rookie. In addition, the Panthers owned the No. 1 pick when they drafted Newton, who was deemed a legitimate franchise quarterback. Most talent evaluators agree there are no quarterbacks of that ilk in this year's draft, just a group of intriguing prospects that fall into the good-not-great category.
Some believe the most likely to fall is Bridgewater, once considered a top-five pick. (Sound familiar, Geno?) If he slips to the Jets, they'd have to ask themselves: Is he better than Smith and could he be our starting quarterback in 2015? Personally, I'd pull the trigger if it were Manziel.
The organization is hopeful that Smith can become their long-term starter, but it's not sold on him. If that were the case,
Michael Vick
wouldn't be here. If the Jets have a strong conviction on Bridgewater (or any others), and he's clearly the best player on their board, they should take him. This is a quarterback-driven league, and you can't have sustainable success (where have we heard that before?) without a good quarterback.
That said, it would an upset if the Jets go in that direction. They have too many other needs and they're not ready to abandon Smith after only one season. If they picked a quarterback, the Smith trade rumors would begin about 30 seconds after the selection. Could you imagine Rex Ryan's reaction if his general manager picks a player that probably wouldn't be able to help until 2015? He'd have to pull a Sir Laurence Olivier to convince the fans he's on board with that one.
A similar situation played out in 2006, when the Jets were looking to move on from
Chad Pennington
. With the fourth pick, they resisted the quarterback temptation, passing on
Matt Leinart
to take tackle
D'Brickashaw Ferguson
. They later looked into trading up for Leinart as he began to slide, but they wisely made no deal, walking out of the first round with Ferguson and center
Nick Mangold
.
In the end, this could all be a moot point because you know how teams react around draft time: When they're desperate for a quarterback, they panic and reach. If it turns out that Bortles, Bridgewater and Manziel are picked in the top 17, it would benefit the Jets, as it would push a "need" player or two down to them.
April, 14, 2014
Apr 14
1:32
PM ET
The
Pittsburgh Steelers
continue to examine the best cornerbacks in this year's draft, playing host to TCU's
Jason Verrett
on a pre-draft visit Monday.
Verrett is considered a top-five cornerback in this draft, and he could be taken as early as the bottom half of the first round. It's likely a stretch for the Steelers to select him at No. 15.
If Verrett slid into the second round, he would be a possibility for the Steelers, even though the team typically doesn't address the cornerback position until the middle rounds. Cornerback is a need for the Steelers because 33-year-old
Ike Taylor
is heading into the final year of his contract. Verrett totaled 43 passes defended and nine interceptions in three productive years at TCU.
The Steelers had
Darqueze Dennard
, one of the most highly rated cornerbacks, in for a pre-draft visit earlier this month.
The Steelers also brought in Oregon State defensive end
Scott Crichton
and Arizona cornerback
Shaquille Richardson
for pre-draft visits Monday. It's a surprise to see Crichton meeting with the Steelers because he projects to be a defensive end in a 4-3 defense. He has limited experience in dropping into coverage, and he's not seen as an ideal fit for an outside linebacker in a 3-4 defense like the one the Steelers employ.
A second-round prospect, Crichton finished with 7.5 sacks last season. He was recently rated as the seventh-best defensive end by Mel Kiper.
Richardson is projected to go in the fifth round. He's a long-armed defender who had some inconsistencies in coverage last season.
April, 14, 2014
Apr 14
12:00
PM ET
Over the last two weeks, we took a look at the last 10 first rounds from the
Detroit Lions
-- all of the drafts that had Martin Mayhew as either the team's general manager or assistant general manager.
This week, we're looking specifically as the Lions' drafts since 2009, when Mayhew has been in charge. This will be a look at the entire class, not just the first round picks, which garner the most attention.
We'll take a peek at each of the drafts, what worked, what didn't and one pick that in retrospect we would change with Detroit. Hopefully, this can also give a window into the way Mayhew drafts and some of the decisions he has made in the past that could help influence the 2014 draft and beyond.
[+] Enlarge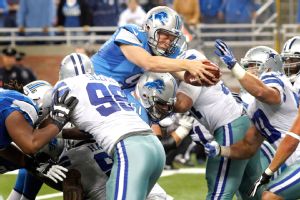 Rodger Mallison/Getty ImagesThe Lions scored a hit with Matthew Stafford -- the top overall pick of the 2009 draft.
Complete draft (pick number in parentheses):
Round 1 --
Matthew Stafford
, QB, Georgia (1); Round 1 --
Brandon Pettigrew
, TE, Oklahoma State (20); Round 2 --
Louis Delmas
, S, Western Michigan (33); Round 3 --
DeAndre Levy
, LB, Wisconsin (76); Round 3 --
Derrick Williams
, WR, Penn State (82); Round 4 -- Sammie Hill, DT, Stillman (115); Round 6 --
Aaron Brown
, RB, TCU (192); Round 7 --
Lydon Murtha
, OT, Nebraska (228); Round 7 --
Zack Follett
, LB, California (235); Round 7 --
Dan Gronkowski
, TE, Maryland (255).
Picks left on the 2014 roster:
3 (Stafford, Pettigrew, Levy)
Picks left in the NFL at the end of the 2013 season:
5 (Stafford, Pettigrew, Delmas, Levy, Hill)
Best pick:
Stafford. This might seem like the easy selection, but in his first five seasons in the league he has set franchise records and actually become the best Lions quarterback since Bobby Layne. Of course, that's not exactly a high bar considering the motley group of quarterbacks between Layne and Stafford, but he is a strong-armed quarterback who turned out to be, by far, the best quarterback in his draft class.
Thus far in his career, Stafford has thrown for 17,457 yards, 109 touchdowns and 73 interceptions. While his accuracy (career 59.5 percent passer in the regular season) and decision-making are still major questions for him entering his sixth season with the Lions, the team has completely committed to him after giving him a massive contract extension prior to the 2013 season. For better or for worse, Detroit will be at the mercy of the play of its newly-engaged quarterback.
Worst pick:
Williams. The third round pick signed a three-year deal with the Lions when he was drafted out of Penn State and didn't even it make it to the end of his first contract before being released. Williams played in 18 games during his two seasons with the Lions and caught nine passes for 82 yards. He never caught a touchdown. Even more telling -- he only had 17 targets and only 14 yards after the catch in his career.
Best value pick:
Levy. The No. 76 overall pick, Levy took a step this season toward becoming one of the top linebackers in the NFL. He had 118 tackles in 2013 -- the second time in his career he topped the 100-tackle mark -- and also had six interceptions. He was Detroit's second-best defensive player in 2013 behind
Ndamukong Suh
and appears to be heading into the prime of his career. He graded out as the seventh-best 4-3 outside linebacker in the league this season by Pro Football Focus and the third-best in pass coverage. Considering the mess that was the 2009 draft, if teams were to re-draft today, Levy could have been a late first-rounder in 2009.
One pick I'd change (other than the worst one):
This one will be a little bit shocking, mostly because it is a higher pick and not fixing part of the Lions' late round miscues this season. If I had to switch one pick in this draft, it would have been taking
Jairus Byrd
over Delmas in the second round. This has little to do with Delmas' production as he was a good player for the Lions and a starter during his time with the tea,. Rather, Byrd went less than 10 slots later and has turned into a Pro Bowler who was too expensive for Detroit during free agency. He would have offered more stability at the position than Delmas did and would have been healthier as well.
Draft grade overall:
B. Detroit got four starters out of this draft class -- Stafford, Pettigrew, Delmas and Levy -- and a contributor for four seasons in Hill. That's not terrible out of a 10-pick class where four of those picks were sixth or seventh round selections. The Lions ended up hitting on their first four picks in that draft with those four starters. Detroit should want that type of success rate every draft. The reason the grade on this draft is not higher is because none of the starters have made a Pro Bowl yet or been named All-Pro. But they have been solid starters and two of those players, Stafford and Levy, could end up at that elite level soon.
April, 13, 2014
Apr 13
10:00
AM ET
With 25 days until the NFL draft begins, here is another potential draft prospect for the
Baltimore Ravens
:
MARTAVIS BRYANT
Position:
Wide receiver
School:
Clemson
Height/weight:
6-4, 2111
Round projection:
Second or third round
File this away:
Bryant set a Clemson school record with a career average of 22.1 yards per reception.
Good:
Bryant is a dynamic vertical threat because of his height and above-average straight line speed. His long arms and ability to jump makes him a good target in the red zone (all four of his catches inside the 20-yard line went for touchdowns). He is constantly moving the chains, with 83.3 percent of his catches resulting in first downs. His 4.42-second 40-yard dash time was tied for fifth among wide receivers at the combine.
Bad:
Playing opposite
Sammy Watkins
, the best receiver in this draft, Bryant has the label of being a complementary receiver and not a No. 1 one. There wasn't consistent production from Bryant, who had one 100-yard game last season. He disappeared late in games with five fourth-quarter catches. Concentration trouble led to him not catching the ball cleanly at times.
Bottom line:
Bryant has been linked to the Ravens because his ability to stretch the field would work well with
Joe Flacco
's strong arm. I don't see the Ravens taking him in the second round because Bryant is too one dimensional. If he was available in the third, he could be considered by the Ravens. But his playmaking ability has caused some to think he'll get drafted higher than expected.
April, 12, 2014
Apr 12
12:00
PM ET
By
Andy Jasner
| ESPN.com
As of now, the
Philadelphia Eagles
hold six picks in the 2014 NFL Draft.
It's their fewest amount of selections since 2003.
This is subject to change since trades can be made and extra picks can always be acquired.
One year after having the No. 4 overall selection, the Eagles will pick No. 22 in the first round.
Philadelphia has its own selection in rounds one, two, three, four, five and seven. The Eagles previously had the
New England Patriots
' pick in the fifth round in a trade for
Isaac Sopoaga
, but they traded it to the
New Orleans Saints
in the deal for
Darren Sproles
.
The Eagles traded their sixth round draft pick to the Patriots in the Sopoaga trade.
In the second round, the Eagles will pick No. 54. Then in the third round, they hold the No. 86 overall selection.
Even with just six picks, the Eagles won't change their strategy of how they select players.
"The way we formulate our draft board is basically like an expansion team," Eagles general manager Howie Roseman told the Philadelphia Daily News. "It's like we have no players and let's make sure we have a clear mind. It's very hard to go in and know maybe the weaknesses that you have on your team and not grade players up a little bit because of that. But we try to grade all the players in the draft like we don't have any at that position."
Roseman added that the Eagles must be focused on taking the best player available, even if it means selecting a standout player at a certain position where there isn't a specific need.
"When you look at your team and try to look out 3-4 years, it becomes increasingly difficult to see who's going to be on your team," Roseman told the Philadelphia Daily News. "I mean, this is such a fluid game. Rosters turn over 15-20 percent in a normal offseason. To sit there and be really confident in what you're going to have as you go forward, it's hard. You don't want to force a position and you don't want to not take a position just because of what you have at the moment. You have to take the best player. And you have to build your team for the long term and look at the draft as long-term decisions for your football team."
April, 12, 2014
Apr 12
10:00
AM ET
With 26 days until the NFL draft begins, here is another potential draft prospect for the Baltimore Ravens:
TERRENCE BROOKS
Position:
Safety
School:
Florida State
Height/weight:
5-10, 198
Round projection:
Second or third round
File this away:
Brooks ran the 40-yard dash in 4.42 seconds, the top time by a safety at the NFL combine.
Good:
A former cornerback, Brooks covers a lot of ground with his speed. When playing center field, he makes good initial reads and doesn't put himself in bad positions. With good upper body strength, Brooks plays much bigger than his size and is an aggressive hitter. He has the reputation of being a driven player.
Bad:
Brooks isn't much of a playmaker because of bad hands. He drops a lot of interceptions. Brooks doesn't always wrap up, which leads to missed tackles. There's a question about his leaping ability, especially when defending bigger receivers.
Bottom line:
Brooks is a quality fallback option if Northern Illinois'
Jimmie Ward
is gone before the Ravens draft in the second round. The Ravens are looking for a rangy free safety, and Brooks certainly fills that role. There's very little risk with Brooks. Even if he isn't ready to start right away, he will be a core special teams player.
April, 11, 2014
Apr 11
3:00
PM ET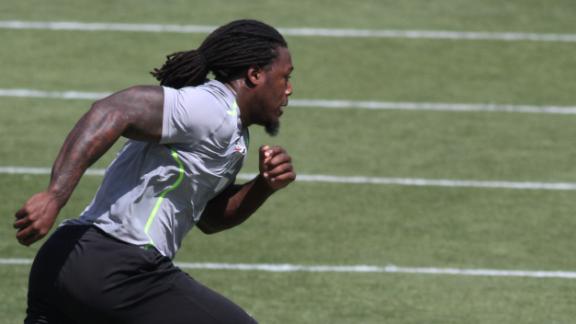 After going 2-14 in 2012, Kansas City hired head coach Andy Reid and general manager John Dorsey, whose first big move was to trade a 2014 second-round pick for quarterback
Alex Smith
.
In 2013, the Chiefs got off to a 9-0 start and went to the playoffs, but they dropped five of their last seven regular-season games and lost to the Colts in heartbreaking fashion in their wild-card game.
ESPN.com's Jeff Chadiha recently
wrote a piece
stating that no team in the league faces more pressure to hit it big when the draft arrives next month than Kansas City.
To continue reading this article you must be an Insider
April, 10, 2014
Apr 10
12:15
PM ET
With two picks in the first round, most pundits have the
Cleveland Browns
taking some combination of quarterback, receiver and/or cornerback with the fourth and 26th picks.
ESPN draft analyst Todd McShay's
mock draft 4.0

makes a lot of sense for the Browns.
To continue reading this article you must be an Insider
April, 10, 2014
Apr 10
12:15
PM ET
In this Insider piece

, Todd McShay offers his latest mock draft for the first two rounds of the May draft.
Below, we will review McShay's choices for the
San Francisco 49ers
for the first two rounds. The 49ers have an extra pick in the second round as part of the 2013 Alex Smith trade with the
Kansas City Chiefs
. Insiders can see who McShay has the 49ers taking and my thoughts on his choices below.
To continue reading this article you must be an Insider