December, 12, 2013
Dec 12
2:00
PM ET
By
Kevin Weidl
| ESPN.com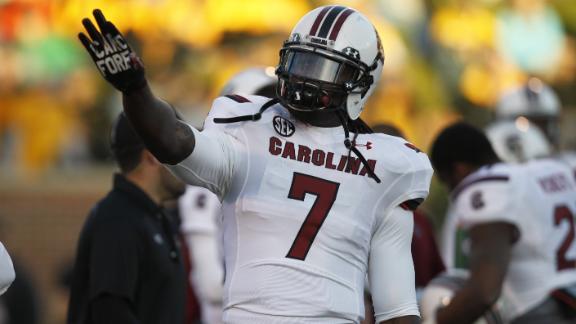 Sadly, save the Army-Navy game, the college football regular season came to an end last weekend, and so did my fourth consecutive scouting tour. This fall, I was able to get to 15 games while getting a look at 19 different schools (the list of games is below). Living in Charlotte, N.C., all the programs I saw were from the SEC and ACC conferences. Getting a close look at prospects helps paint a picture of their body type, leadership skills and overall demeanor to tie together with the coaches' copy tape.
At the end of every year, I like to sit down, review my notes, and make a list of different categories of NFL prospects who caught my eye during the season. Below are the thoughts and observations I was able to accumulate during my travels this fall.
Be sure to check back on Dec. 17, when my colleague Steve Muench will review some prospects he was able to see in person this fall. As always, draft-eligible, non-seniors are denoted with an asterisk.
TOP THREE PROSPECTS
1. South Carolina DE Jadeveon Clowney* (6-5, 275)
Clowney's production dropped off this year, but he still made an imprint during most contests. He clearly received more media attention this season, which led to some scrutiny about his overall effort and lack of production. While some of the critiques were unfair, there were times Clowney's effort on the field dipped in the four times I saw him play, especially against Mississippi State the lesser of the four opponents. Scouts will do plenty of digging to find out every facet of what makes him tick. However, at the end of the day, there is no questioning his elite frame and overall skill combination.
2. Clemson WR Sammy Watkins* (6-0½, 205)
Watkins was the most explosive playmaker I saw all fall. He has above-average size with a muscular frame and excellent top-end speed. While he still needs polish as a route-runner, he shows a quick burst out of cuts and is a dangerous runner after the catch. I was most impressed with his strong hands and natural body control as he plucks the ball away from his frame.
3. Florida State DT Timmy Jernigan* (6-2, 298)
The junior defensive tackle possesses a thick and powerful frame. He has a powerful upper body and above-average quickness with his feet and hands. Jernigan is a disruptive run defender who shows excellent lateral agility and range at 300 pounds. In addition, he flashes a quick first step and active hands to manufacture interior pressure as a pass-rusher.
To continue reading this article you must be an Insider