December, 17, 2014
Dec 17
12:00
PM ET
EARTH CITY, Mo. -- The
San Diego Chargers
announced Tuesday evening that they will remain in San Diego for the 2015 NFL season.
In making
the announcement via a statement
from Mark Fabiani, the team's point person on stadium efforts and special counsel to Chargers president Dean Spanos, the Chargers made it clear that they are still working toward finding a solution to stay in San Diego for the long haul.
[+] Enlarge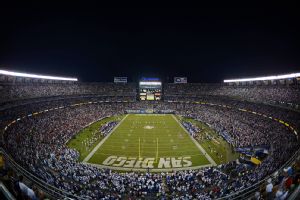 Kirby Lee/USA TODAY SportsThe Chargers' announcement that they will remain in San Diego next season is good for the prospects of the Rams staying put at least another season too.
"Today, the Chargers are making the same announcement that the team has made each year since 2007: The team will not be exercising the lease termination clause and will keep working to find a publicly acceptable way to build a Super Bowl-quality stadium in San Diego," Fabiani said in the statement. "Calendar year 2015 will constitute the team's fourteenth year of work on a San Diego stadium solution."
That announcement and the proclamations from Fabiani left many
St. Louis Rams
fans hoping and wishing for something similar or at the very least a declaration that the team would stay put in 2015 to come from owner Stan Kroenke or one of his proxies. While that hasn't happened -- at least not yet -- there are plenty of signs pointing to no team moving to Los Angeles in 2015. That includes the Rams.
Why? Well, the theory goes that the Chargers wouldn't so boldly and outwardly forfeit their leverage on the Los Angeles situation without some sort of knowledge that nobody would be moving to Los Angeles in time for the 2015 season. San Diego has long claimed that about a fourth of its season-ticket holders come from the Los Angeles and Orange County areas and that another team moving into the city would be detrimental to its business.
Sam Farmer of the Los Angeles Times
offered similar thoughts
in a column Tuesday night. And the New York Times
reported earlier this week
that the chances of a team moving in 2015 had "dimmed."
In that report, NFL commissioner Roger Goodell was quoted as saying that nothing was imminent on the Los Angeles front. Which brings us to the question of timing on the Chargers' statement. In connecting those dots, one would think that San Diego received strong signals that the league would not allow anybody to head to Los Angeles in 2015. Hence Tuesday's announcement.
How that was conveyed still remains unclear at this particular moment but reading the tea leaves here shouldn't be that difficult. Could Rams owner Stan Kroenke or Raiders owner Mark Davis still file for relocation in February? Sure, but it seems increasingly clear that the NFL is and will continue to control this process. Going rogue against the league has been done before but would seem unnecessary given that the Los Angeles market would still be in play beyond next year.
As for St. Louis, Dave Peacock and Bob Blitz, the task force appointed by Missouri Gov. Jay Nixon, continue to work on possible proposals for an NFL stadium. In the New York Times report, it was mentioned that Peacock met with Eric Grubman, the league's point person on Los Angeles, recently.
And for what it's worth, the Rams have already begun
accepting deposits
for 2015 season tickets on their website.
There remain plenty of unknowns when it comes to the Rams' long-term future in St. Louis and though there may be a bit of short-term clarity forthcoming, it's best to buckle up and remember that it's all far from over.
NFC WEST SCOREBOARD
Saturday, 12/20
Sunday, 12/21