January, 27, 2015
Jan 27
5:47
PM ET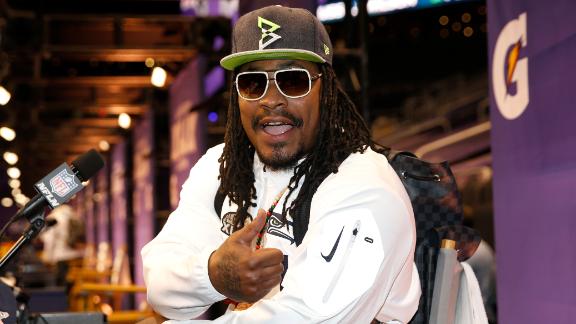 PHOENIX -- Another zany Super Bowl media day circus has come and gone. Here are a few of the highlights, or lowlights, depending on how you look at it:
Marshawn Lynch saved himself half a million bucks:
Lynch walked in to the roar of the 12s in the stands at the U.S. Airways Center, sat down at his corner podium, did his required five minutes and left.
And what did he say? "I'm just here so I don't get fined," Lynch said in some form 29 times before a timer he had went off telling him his five-minute obligation was over. And in so doing, he avoided a possible $500,000 fine by the NFL for not taking part in media day.
A little less crazy:
Maybe this is the difference in the Valley of the Sun and New York/New Jersey, but there seemed to be fewer comical costumes and crazy moments than a year ago on media day.
[+] Enlarge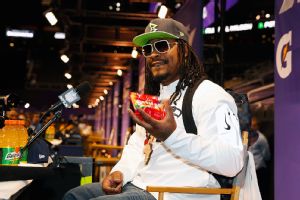 Christian Petersen/Getty ImagesMarshawn Lynch said enough to avoid a fine Tuesday, but not much more than that.
Last year, one young woman was wearing a fishnet dress, which meant she, as Seahawks cornerback
Richard Sherman
described, "was basically naked." The closest we saw to that on Tuesday was some guy wearing a barrel, a cowboy hat, sneakers and that's about it.
And there was one guy in some sort of superhero costume with a P on it. I don't know where it's from and don't care, but he did say it was his seventh media day.
There also was one guy wearing a football helmet and shoulder pads with five mini-cameras mounted on them -- three on the helmet and one on each shoulder. I guess you could say he had every angle covered.
Among the celebrities, two famous figure skaters -- Tara Lipinski and Johnny Weir -- also were in attendance.
You get the picture. This day isn't much about football.
But way too crowded:
This is not a place for anyone suffering from claustrophobia. The floor of a basketball arena is way too small for the number of people who have a credential for media day. Just trying to move without a camera hitting you in the head, much less getting from one side of the area to the other, is almost impossible.
Super Bowl media day used to be held at the stadium where the game is being played. It needs to return to that format. Thank goodness no one yelled "Fire" in the middle of this thing.
Sherman's salsa:
Sherman showed some of his dance moves when teammate
Christine Michael
got him to stand up at his podium and do some salsa steps with a young woman in attendance. "Dancing With The Stars" may be in Sherm's future.
Seahawks defensive end Michael Bennett on his beard:
"I want to look like the richest homeless person you've ever seen."
Bennett's description of Seattle:
"The streets are so clean you can eat off them."
Sherman says Browner still a LOB:
Sherman had no problem with his former teammate, New England cornerback
Brandon Browner
, saying the Patriots should target Sherman's injured elbow and free safety
Earl Thomas
' injured shoulder on Sunday.
"BB doesn't always say things the way he means them, but we know what he means," Sherman said. "We're OK with him and he's OK with us. He's a competitor.
"He was just caught up in the moment. He didn't mean any malice. It's one of those things. We know him as a person. Sometimes he exaggerates a little bit, but we know who he is. But nobody intentionally hurts anybody in this league that I know of. Guys have respect for one another and Brandon does, too."
Sherman says make NFL bigwigs talk:
Sherman brought up an interesting point in defending Lynch's right not to talk, saying he thinks NFL executives should have to speak weekly if players do.
LeGarrette Blount said the Seahawks are not immortal:
Don't know who said they were but the Patriots running back also said they are beatable.
Avril on the day:
Seahawks defensive end
Cliff Avril
had a perfect three-word summary for media day: "This is nuts."