October, 1, 2014
Oct 1
7:45
PM ET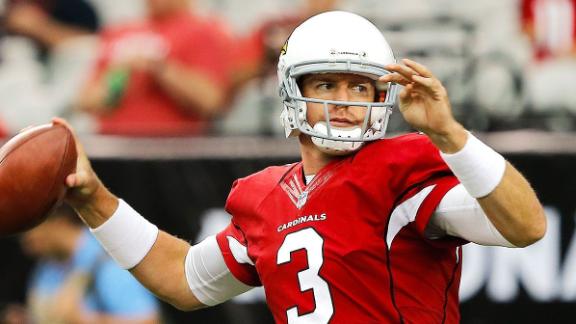 TEMPE, Ariz. -- It wasn't quite the same the injury as
Carson Palmer
's, but Denver quarterback
Peyton Manning
has experience dealing with nerves.
Manning
Palmer
Manning lost the 2011 season after surgery to relieve a pinched nerve in his neck. Palmer's nerve issue is in his right throwing shoulder. Different areas but similar situations. Manning struggled to grip a football and throw it during his recovery. Palmer had issues gripping and throwing after the nerve fell asleep, he said.
Palmer has missed the Cardinals' past two games because of a bruised nerve in his right throwing shoulder. Two weeks ago, he talked about
the number of treatments
he's gone through trying to awaken the nerve. He was excused from Wednesday's practice to see another specialist after the shoulder regressed last week.
Palmer has said he hasn't found anyone with the exact injury who he could consult with, which is likely why he hasn't reached out to Manning. But even though Manning's injury is different, he's open to discussing it with Palmer.
"I have become somewhat a resource for guys who have had those kinds of injuries," Manning said. "I am always willing to talk about it. I have had some other players from other sports that have reached out to me or 'Greek' (Broncos trainer Steve Antonopulos), the trainer, and talked about what kind of rehab we have done.
"I have not had the chance to talk to Carson. Obviously, I hope he gets back soon, and I'd be more than willing to help anybody that has similar problems."