July, 22, 2014
Jul 22
8:45
PM ET
EARTH CITY, Mo. -- While the discussion of Tony Dungy's comments that he would not have made defensive end
Michael Sam
the first openly gay player drafted to the NFL continued from Monday afternoon into Tuesday, Sam was reporting to the
St. Louis Rams
for his first NFL training camp.
Sam was busy making sure he passed his conditioning test so he could begin practice with teammates. He was busy weighing in at 257 pounds, down 13 from what he weighed at the end of organized team activities. He was busy preparing himself to work at right defensive end for the first time since his arrival in St. Louis.
With all of that going on around him, Sam was wholly unconcerned about Dungy's words. Asked early Tuesday evening what he thought about Dungy's statements to the Tampa Tribune, Sam pointed to the obvious and promptly took the high road.
"Thank God he wasn't the St. Louis Rams coach," Sam said, laughing. "I have a lot of respect for Coach Dungy and like everyone in America, everyone is entitled to their own opinions."
[+] Enlarge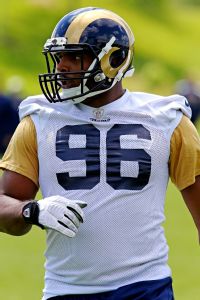 Photo by Dilip Vishwanat/Getty Images"Thank God he wasn't the St. Louis Rams coach," Michael Sam said, laughing. "I have a lot of respect for Coach [Tony] Dungy and like everyone in America, everyone is entitled to their own opinions."
As Sam reported for training camp with the rest of his rookie teammates Monday evening and went through a practice Tuesday night, the only opinions carrying any freight in his mind were the ones belonging to coach Jeff Fisher, general manager Les Snead and the rest of their respective staffs.
In other words, while the word "distraction" has become something of a catch-all buzzword as a means for avoiding details, Sam seems to have a good handle on the only focus he should have at this time of year: making the Rams' roster.
It's a focus that Sam expressed when the Rams drafted him with the 249th overall selection in the May draft. He has mostly stuck to that focus, with the exception of the three-day firestorm created by a potential documentary series on the Oprah Winfrey Network.
Sam has made it clear that he would not have made a public pronouncement about his sexuality if he didn't think he could handle some of the negative things that might be said about him afterward.
"I knew what I was coming into," Sam said the night the Rams drafted him. "Are there going to be idiots out there who say some stupid stuff? Yeah. I'm not worried about that. I'm worried about the guy next to me, the guy in front of me. I have got to prove myself. I have got to make sure the vets know I'm a team player and I love this game and I want to show the coaches that I'm a team player and a hard-working guy. What I do on the field will determine how great Michael Sam will be."
That time has finally, mercifully arrived.
One practice into his first training camp with no veterans, no pads and no oppressive heat to deal with, Sam's biggest task Tuesday night was adjusting to playing on the right side. He'd spent all of the spring playing on the left and was admittedly rusty when he switched sides for Tuesday's workout.
Of course, as a seventh-round pick working to make the roster on one of the league's deepest defensive lines, Sam is truly in "the more you can do" mode. For that same reason, Sam made it a point to come back for training camp lighter and faster so he can contribute on special teams coverage units.
Although he spent his summer doing a lot of traveling from Los Angeles to New York to Kansas City, Sam arranged for a trainer to work with him in each city. In the process, he trimmed 13 pounds off from his previous weight of 270.
The ability to contribute on special teams could give Sam a leg up for a potential ninth roster spot on the defensive line since there aren't many linemen who can run down kicks. The Rams have kept nine on the defensive line in each of the past two years. There are eight spots that seem all but sewn up this season, and the ninth one could come down to a battle between Sam and undrafted rookies such as
Ethan Westbrooks
.
"My focus is on making this team," Sam said. "I don't really care what people come up and tell me. My job is to make this team. That's my No. 1 priority."

NFC WEST SCOREBOARD
Thursday, 9/4
Sunday, 9/7
Monday, 9/8