September, 21, 2014
Sep 21
11:50
PM ET
GLENDALE, Ariz. -- When a team isn't expecting something from an offense -- which is rare in the NFL -- the first half of Sunday's
Arizona Cardinals
game is the result.
The
San Francisco 49ers
came out five wide without two tight ends, spreading Arizona's defense and allowing
Colin Kaepernick
to run for 45 yards in the half.
[+] Enlarge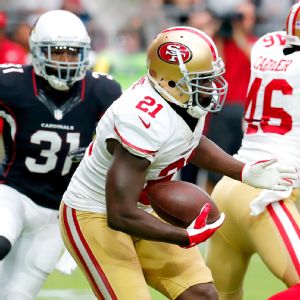 AP Photo/Rick ScuteriFrank Gore had just one carry in the second half, allowing the Cardinals defense to capitalize on a 49ers offense that abandoned the run.
"It was a different game plan than we technically prepared for," defensive end Calais Campbell said. "Nobody thought they were going to come out and throw the ball like they did like that. We thought they were going to run the ball [more].
"They came out in five wide and hurry-up and threw the ball short. [Kaepernick] was precise. He was quick. I think that he just played great."
It was basketball on grass, veteran linebacker
Larry Foote
said, as San Francisco dinked and dunked their way to a 14-6 lead at halftime.
Of Kaepernick's 37 attempts Sunday, 30 were for within 10 yards or less of the line of scrimmage, according to ESPN Stats & Information. Arizona struggled to counter the hurry-up offense. Cornerback
Patrick Peterson
said the defensive calls came in wrong. At one point, the Cardinals were flagged for having 12 players on the field.
The 49ers' first two drives Sunday each went for 80 yards, ate up more than 8 minutes and resulted in touchdowns. They marched through Arizona's defense at will and while Kaepernick was able to find his lanes in the first half, running nine times for almost 50 yards, he threw 18 times for 116 yards.
That was Foote's introduction to Kaepernick, whom he had never played before then.
"He is that fast," Foote said. "Some guys take a minute to get going. Naw. He was slippery and fast."
At halftime, Arizona adjusted and regrouped.
"We talked about the first five minutes of the third quarter being huge," Cardinals coach Bruce Arians said. "We were down again and we had to make a stop defensively, make some first downs and hopefully get some points offensively, and we were able to get a touchdown. From there, it snowballed."
The Cardinals held the 49ers on their opening drive of the third quarter and scored on the offense's first possession. Arizona began winning first and second down, Campbell said, and it helped that the 49ers went away from the run game. They gave
Frank Gore
one carry in the second half, abandoning the run just 37 seconds into the half, according to ESPN Stats & Information.
Arizona held the 49ers to third-and-long four times in the second half. Two of them led to punts. Another one turned into third-and-23 on a penalty, which resulted in a blocked field goal on fourth down.
"We put pressure on them," Campbell said. "We got a little tighter in press coverage and took away the short throws and made him hold the ball a little longer. We tackled well in the run game and we got them in third and long."
The numbers of the second half told the story. Arizona held San Francisco to 16 rushing yards -- including Kaepernick to 9 -- in the final 30 minutes. The 49ers had to do everything by air but even that wasn't that effective, accounting for just six first of their seven first downs in the second half.
The Cardinals' defense limited the 49ers to one converted third down on 27 second-half plays.
"We [didn't] blink," Foote said. "We just knew on the sideline we need to get them on the ground and play basketball with them.
"Something's brewing in this locker room and hopefully we keep going."