July, 31, 2014
Jul 31
10:00
AM ET
By
ESPN.com staff
| ESPN.com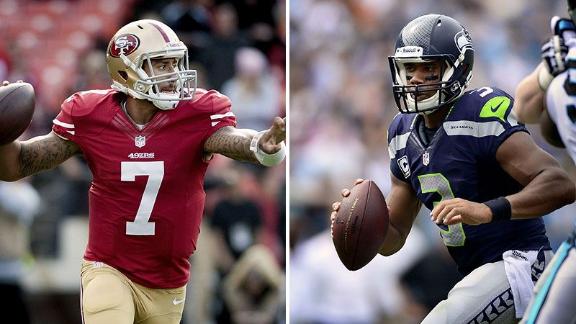 The NFC West had three teams that won at least 10 games last season, two teams in the NFC Championship Game and a team that won the Super Bowl by 35 points.
Consequently, there is no lack of confidence about the 2014 season for the teams in this division. Three of them -- the
Seattle Seahawks
,
San Francisco 49ers
and
Arizona Cardinals
-- can make a legitimate argument for winning the division title.
But until the 49ers or the Cardinals prove otherwise, the Seahawks are the clear favorites, not only to win the division crown but to return to the Super Bowl.
The Seahawks, however, realize the biggest obstacle to repeating as Super Bowl winners lies within their own division. The NFC West is widely regarded as the best division in the NFL. It's also the most physical division in the league, which means the division rivals tend to beat up on each other.
Here's how Seahawks reporter Terry Blount,
St. Louis Rams
reporter Nick Wagoner, Cardinals reporter Josh Weinfuss and 49ers reporter Bill Williamson see each team finishing in 2014:

What will the 49ers' record be and why?
Terry Blount: 12-4. The 49ers have a shiny new stadium, which I see them taking full advantage of and probably going unbeaten at home. Their home game against the Seahawks comes on Thanksgiving night, which likely will be a frenzied holiday crowd in front of a national TV audience. However, I don't see things going quite as smoothly on the road. I have the 49ers losing at Arizona, Denver, New Orleans and Seattle. The key for San Francisco is how the team performs in a five-game midseason stretch that includes four road games -- St. Louis, Denver, New Orleans and the New York Giants. The 49ers do have a bye week in that stretch, but how they get through the middle part of the schedule will determine their fate.
Nick Wagoner:
11-5. It's awfully tempting to elevate the 49ers above the Seahawks, especially after a productive offseason in which San Francisco bolstered its offense by retaining
Anquan Boldin
, trading for
Stevie Johnson
and drafting talented young playmakers
Bruce Ellington
and
Carlos Hyde
. Not to mention
Michael Crabtree
is healthy. It wouldn't surprise anyone to see
Colin Kaepernick
take a big step forward with all of those weapons at his disposal. However, it's fair to wonder if the Niners' defense can continue its dominance. They'll certainly miss
NaVorro Bowman
early and they have some pieces to replace in the secondary. Mostly, it's picking nits when it comes to the Niners, and I see no reason to believe this team isn't going to be a serious Super Bowl contender again.
Josh Weinfuss: 10-6. This may be a bit on the nice side, considering the run of injuries to running backs since training camp started, but I think the 49ers' passing game and Colin Kaepernick's feet will make up for at least one game they'll lose because of a depleted running game. San Francisco plays a brutal schedule, facing the Cowboys, Bears, Cardinals, Eagles and Chiefs in its first five games. I don't think the road will be kind to the Niners this year, especially in the NFC West. The magic is running out for Jim Harbaugh one injury at a time.
Bill Williamson: I'm going to say the 49ers will be 12-4. They are a top team. But it's difficult to predict any team finishing higher than 12-4, although it wouldn't shock me if San Francisco finished with a better record. As long as quarterback Colin Kaepernick stays healthy, and there are no more big injuries on defense, San Francisco will win its share of games. It is a very deep and well-coached team. It knows how to win consistently. I fully expect San Francisco to start hot and stay hot.
@BWilliamsonESPN 13-3. most loaded O since glory days. Great D. Very friendly final 6 weeks of schedule.

— Corey Mayne (@CDM49er) July 22, 2014
---

What will the Cardinals' record be and why?
Blount: 11-5. Yes, by picking the Cardinals to win 11 games, it means I'm picking the highly unusual occurrence of three teams in one division winning 11 or more games. But I believe the NFC West is that good. Arizona won 10 games last season. The offense should be better this season with quarterback Carson Palmer having a full year in the system and an improved offensive line. I actually thought this team could move ahead of the 49ers this year, but losing inside linebackers Karlos Dansby and Daryl Washington is a huge blow to the defense. The biggest problem for Arizona is ending the regular season with back-to-back games against Seattle and at San Francisco. The Cardinals also have to play Seattle twice in their last six games. They will need to split those two games, and probably win on the road at Atlanta and St. Louis down the stretch, to reach the 11-win plateau.
Wagoner:
7-9. This is probably the most difficult team to predict in the division. The Cardinals finished 2013 on such a high note that it would be easy to believe they can roll that over after a productive offseason. But it all really comes down to quarterback Carson Palmer and whether he can withstand the inevitable pressure that will come from some outstanding defenses on the schedule. The offensive line looks to be improved but still has to prove it on the field. The Cardinals could be very good defensively again, and they have some exciting pieces in the secondary; however, the loss of linebacker Daryl Washington will hurt, and they haven't gotten much younger upfront, where it might be expecting too much from older guys such as
Darnell Dockett
and
John Abraham
to duplicate their success of the recent past. Adding a difficult schedule to the mix leaves Arizona taking a bit of a step back in 2014.
Weinfuss: 10-6. There's a lot that can go right for Arizona this year, but there's a lot that can go wrong. I think the Cardinals will start hot -- building on last season's success -- and win five of their first six. I wouldn't be surprised if they continue to tear through, but their schedule is backloaded. By midseason, offenses will figure out how to exploit the middle of the defense, which was decimated by the losses of Karlos Dansby and Daryl Washington. But Arizona's offense should be potent enough to make up for any issues on defense, which will be few and far between, and simply outscore opponents.
Williamson: I'm going with 10-6. The Cardinals had 10 wins last season and may be better in their second season under coach Bruce Arians. But I still don't think Arizona is an elite team. Saying this team will take the next step and get to 12-4 is a bit of a stretch for me, although I love the Cardinals' defense. I think Carson Palmer is a solid fit for this team. But he's still Carson Palmer. He will still ruin a few games with some untimely interceptions. Arizona is good, not great, and a 10-6 record is a solid showing by a good team.
@joshweinfuss They split with @49ers and @Seahawks and lose to the @Broncos every other game can be won but ill say 12-4 and playoffs.

— Himself (@himself1234) July 21, 2014
---

What will the Rams' record be and why?
Blount: 6-10. This is my real shocker pick of the bunch because I'm sure most people see the Rams as a much better team than 6-10. St. Louis has an outstanding young defense, but the problem for the Rams is they play in the NFC West. Going through the division games, I don't see St. Louis doing better than 1-5. If the Rams can go 3-3 in the division, 8-8 or better is a possibility. But St. Louis just isn't on the same tier as the other three teams in the NFC West, not yet anyway. Maybe once the Rams move back to Los Angeles that will change. OK, I'm having a little futuristic fun there.
Weinfuss:
7-9. Welcome back, Sam. You'll be returning to play in the best division in football, plus you get to play a slew of playoff teams, including the reigning AFC champion Broncos. The improvements on St. Louis' defensive line will help the Rams early, but I think it'll take some time for the offense to regain any form under Bradford. The Rams could go 3-5 during the first half of the season and find a rhythm during the final eight games, splitting them 4-4. If the vaunted NFC East plays like the division of old, the Rams could struggle to hit even that record, but their young core of receivers should help ease Bradford's return at least a little.
Wagoner: 8-8. This is the season the Rams have targeted for a breakthrough since coach Jeff Fisher and general manager Les Snead took over in 2012. They've gone through a massive roster makeover in that time and have built this team into one that is bursting with potential, but still lacking in production. This is the season the Rams hope upside makes the transition to something more tangible, namely more wins. But it's still hard to see this team making the leap this particular year against an imposing schedule and the league's toughest division. Quarterback Sam Bradford returns from a knee injury, which should help but to what extent remains to be seen. The defensive line is probably the best and deepest in the NFL, and with Gregg Williams at coordinator, the defense should be able to keep the Rams in games. Once again, the onus to get the Rams to the next level falls on the offense. Beyond Bradford, the Rams have a talented offensive line but one that is dotted with injury questions at nearly every position. They should be able to run the ball effectively, but at some point the passing game will have to do its part. The receivers and tight ends won't be asked to carry too much freight, but that mostly young group has to be better and more consistent for the Rams to have success. Fisher has a history of getting teams to right at or around the .500 mark, as he's done his first two seasons in St. Louis. There is enough talent in place for this team to take the next step, but until we see it actually coalesce, it's hard to predict more than mediocrity.
Williamson: I'm saying 7-9. Look, the Rams' defense -- especially the defensive line -- is nasty good. St. Louis will win games on defense. But I worry about the offense. Yes, the Rams went 7-9 in 2013 with quarterback Sam Bradford hurt for much of the season. So, a healthy Bradford could make a difference. But I just don't see Bradford as a major difference-maker, anyway. Plus, the truth is, the Rams are the worst team in a very strong division. It is going to be tough piling up wins in the NFC West, and the Rams could suffer.
@nwagoner My heart wants to say 10-6.. But my brain tells me 8-8. Those games after the early bye week are going to be brutal.

— John (@The_Tiki_Garden) July 21, 2014
---

What will the Seahawks' record be and why?
Blount: 13-3. It's been a while since any NFL team was coming off a Super Bowl and could realistically say it might be in better position to win it all now than they were a season ago, but that's the case for the Seahawks. This still is a young and deeply talented team that probably hasn't peaked yet. The receiving corps will be better this season with a healthy Percy Harvin, and the sky is the limit for quarterback Russell Wilson, who is starting only his third NFL season. The final seven games are as difficult as I've ever seen for a defending Super Bowl champ. Seattle closes with five NFC West games in the final seven, including two against the 49ers and two with the Cardinals. The Seahawks also have road games at Kansas City and Philadelphia in that stretch. How they close it out will determine whether they win the division title, and it's almost mandatory if they hope to get back to the Super Bowl.
Weinfuss:
9-7. I think the Super Bowl hangover will hit the Seahawks immediately this season, especially with Green Bay and Denver bookending their first three games. That stretch, in which I think they start 1-2, will set the tone for the rest of the season. Seattle will undoubtedly string together some wins -- I have them winning five of six in the middle of the season -- but the final seven games feature five against NFC West teams. The other two? Just against Philadelphia and Kansas City, both of whom made the playoffs a year ago. Seattle will be a different team without its free-agent departures.
Wagoner: 12-4. On paper, the defending champions remain the class of the division. They handled their business in the offseason, prioritizing their own and keeping the ones they deemed most important. The defense should be dominant again with most of the key pieces returning and the Legion of Boom largely intact. Offensively, it's probably safe to assume quarterback Russell Wilson will continue to get better and the passing game to expand. Marshawn Lynch still has plenty in the tank and the Seahawks have some good young alternatives behind him. Seattle was able to get it done without Percy Harvin for almost all of last season, but with Golden Tate gone to Detroit, the Seahawks will need Harvin to be available and contribute consistently. The team's biggest weakness, the offensive line, will need to be better and could be with some improved health, but the Seahawks got it done behind a similar line in 2013. As with any team, injuries could severely hamper Seattle's run, especially after it lost some of its better depth players in the offseason. But all things considered, this was one of the youngest teams in the league a year ago and went on to win the Super Bowl. There's little reason to think that talent will regress with the experience and confidence that comes from the run it made in 2013.
Williamson: I'm going with 12-4. Would I be surprised if the Seahawks went 14-2? No, but a 12-4 season is a great effort and I will start there, much like the 49ers. The Seahawks could easily go 8-0, or stumble once, at most, in the first half of the season. But Seattle isn't a great road team. It can be beaten on the road, especially by teams such as the 49ers, Panthers, Chargers, Chiefs, Panthers, Eagles and Cardinals. My guess is the Seahawks go 7-1 at home and 5-3 on the road.
@TerryBlountESPN 12-4. Tough schedule and early bye, but this team wont cave to pressure or think of last year. All in...again.

— Vaughn Kness (@metalvx5) July 22, 2014