October, 2, 2014
Oct 2
11:45
AM ET
METAIRIE, La. –The
New Orleans Saints
' offense is not broken.
It didn't suddenly disappear or get old or get "figured out." In fact, as quarterback
Drew Brees
correctly pointed out on Wednesday, the Saints' offense is actually improved through four games this year in almost every statistical category.
"The major difference is we were 4-0 last year, 1-3 this year," said Brees -- though he made sure to stress that he doesn't want to "get too caught up in statistics, because statistics don't always tell the story."
"It's obvious it's not good enough," Brees said.
[+] Enlarge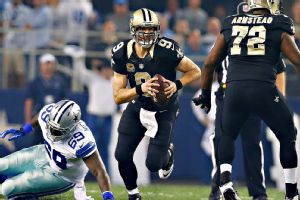 Tom Pennington/Getty ImagesDrew Brees and the Saints offense, aside from turnovers and big plays, has been statistically better this season than in 2013.
But his greater point, that the Saints' offense should stay the course and believe in the process and not try to "create problems" that don't exist, should be well-taken.
Because those aren't empty or misleading statistics that Brees was referencing. The Saints' offense truly has been better in just about every relevant way imaginable this year, based on numbers provided by ESPN Stats and Information.
The biggest difference, obviously, is that New Orleans' defense got off to a great start last year and is off to a lousy start this year. And the offense hasn't been good enough to make up the difference.
The Saints' points per game are down from 27.0 to 23.8 through four games, but that's largely because the Saints aren't getting as many possessions. They've had 9.75 drives per game, which ranks 31st in the NFL.
The Saints' points per drive, however, are up, from 2.25 to 2.44. And their touchdowns per drive are up from 25 percent to 30.8 percent (which ranks second in the NFL this year).
Also:
The Saints' yards per game are up, from 419.5 last year to 425.8 this year. And their yards per play rank No. 2 in the NFL this year (6.4, compared to 6.1 last year).

Their passing yards are down from 338.3 per game to 294.5. But their rushing yards are way up, from 81.25 per game to 131.3.

The Saints have the best third-down efficiency in the NFL (57.1 percent) and the best completion percentage in the NFL (71.4 percent). Their red-zone efficiency is way up (from 43.8 percent to 68.8 percent).

They've thrown fewer interceptions than they did in the first four games last year (3 vs. 4) and Brees has been sacked a lot less (5 times vs. 12 times). However, the Saints have four lost fumbles this year, compared to one at this point last year.

One other category in which the Saints have dropped off is "big plays." Last year they had 19 pass plays of 20 yards or longer through four games. This year, they have only nine.

Combine all of those factors and the Saints' offense is ranked by ESPN Stats and Info as the second-most efficient in the NFL this season, with 46.33 expected points added. Last year through four games, the Saints' EPA was 27.07.
Saints coach Sean Payton said the Saints' scoring efficiency has been good for the most part (especially before the slow start at Dallas in last Sunday's 38-17 loss). But he said it's the "lack of opportunities" that have stood out "when we get to talking about a complementary game." Payton, who attributed that to issues such as the Saints' turnover ratio (minus-6, with seven giveaways and just one takeaway) and the defense not getting off the field enough on third downs.
Payton was hardly pinning the blame solely on the defense, though. When asked if there are things on offense that he'd like to clean up, Payton said, "Absolutely."
"Look, we've turned the ball over too much," Payton said. "Our third-down numbers have been good. Our rushing totals have been good. Our big-play numbers have been down. So the two specific things would be the turnovers and the big plays."