December, 21, 2014
Dec 21
9:35
PM ET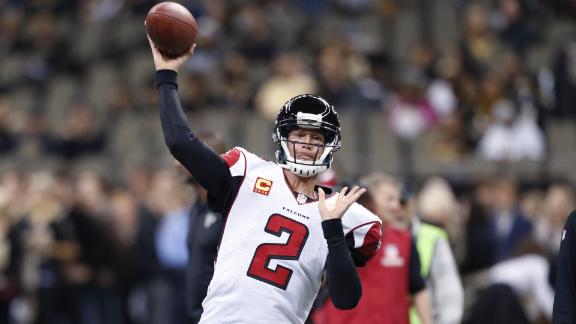 NEW ORLEANS --
Drew Brees
wasn't good enough when it mattered most.
Neither was
Jimmy Graham
. And neither was the
New Orleans Saints
' offensive line.
The Saints' offense hasn't been their biggest problem throughout this entire wayward season. But it needed to be the solution, led by franchise players such as Brees and Graham. Instead, they came up small Sunday in the biggest game of the season to date -- a 30-14 loss to the
Atlanta Falcons
that eliminated them from playoff contention.
The Saints (6-9) had a total of 78 yards in the first half against a Falcons defense that came into the game ranked 32
nd
in the NFL in yards allowed.
Then they rallied, only to turn the ball over three times in the fourth quarter, including a
controversial fumble by Graham
and a killer interception by Brees with 2:35 remaining and the Saints trailing by just six points.
"It's about as bad a feeling as you could ever have as a quarterback," Brees flatly admitted when asked about that pick, which followed a disturbing season-long trend.
Brees has been very good at times this season. He's still on pace for nearly 5,000 yards and a 69.6 completion percentage -- good for seventh in NFL history. But those game-killing turnovers have crept up time and again, usually when he's trying to force things in close games.
"Yeah, that's been frustrating and disappointing," said Brees, who now has 14 interceptions and three lost fumbles, including one on a sack on the final play Sunday that was returned 86 yards for an exclamation-point touchdown by the Falcons.
"We could very easily look back and say there were many, many games where we had chances in the end, and we were not able to capitalize," Brees said. "And I'd say in every season, the difference between you being a 12-4, 11-5 team and a team that's just middle of the pack, 8-8, is just so fine. It's that fine line, 'Did you win some of those close games or did you lose them?'
"Fortunately, in the past, I feel like we've won a lot of those games. Unfortunately, this year we have not."
The Saints' sluggish start was just as disturbing as the finish Sunday.
New Orleans was gifted a quick 7-0 lead when
Jalen Saunders
returned the opening kickoff 99 yards to set up a 1-yard touchdown run by
Mark Ingram
. But then the offense started sleepwalking for the better part of three quarters.
As coach Sean Payton pointed out afterward, that was especially disappointing, as the Saints' defense stepped up and played fairly well.
"We thought it was going to be a high-scoring matchup, but it ended up being different, and we weren't able to make enough plays on offense," Payton said.
Brees wound up sacked a stunning five times by a Falcons defense that had also ranked last in the NFL in sacks heading into Sunday. That was a season-high for both teams.
The Saints' run game went nowhere all day (15 carries for 45 yards by the running backs). Brees couldn't connect with Graham, whose performance was every bit as disappointing.
Graham, who did not appear in the locker room for interviews, caught just one pass for three yards through three quarters, despite being targeted five times. And his fumble -- even if it did occur after he crossed the goal line -- was still a fumble.
We are used to seeing Graham look like a man among boys and outmuscle defenders for tough catches (as he did on his too-little, too-late touchdown in the fourth quarter).
It's hard to say whether Graham's early-season shoulder injury is still bugging him, given he was still playing at a high level for a while after he got hurt. But the Saints need more from him than what they've gotten over the past month.
Brees, who turns 36 next month, was asked if getting older makes him wonder if he's running out of chances to win more Super Bowls.
"Well, I think that's stating the obvious. I'm not getting younger -- none of us are," Brees said. "But I'm not thinking about anything other than the opportunity that's right before you from season to season. I feel like all of the pieces are in place here to do that."
That statement seems a bit optimistic after the way this season just unfolded. But for the Saints to have any chance of that coming true, they'll need to rely most on Brees and Graham to be their two biggest game-changing weapons.
They'll need more than what they got Sunday.