November, 27, 2014
Nov 27
11:00
AM ET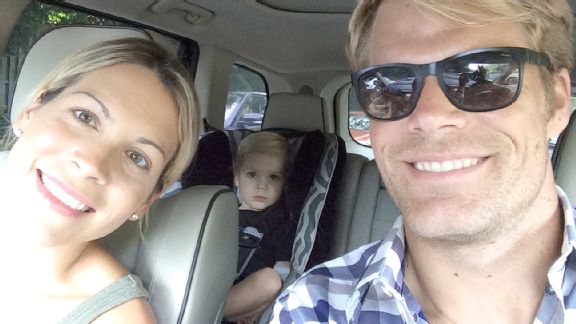 Courtesy Greg OlsenGreg Olsen and his wife, Kara, take their son, T.J., home after his final procedure.
CHARLOTTE, N.C. -- The call came as the
Carolina Panthers
were beginning practice on Monday. Just as he had several times over the past few months, tight end
Greg Olsen
ran back to the stadium for a quick change of clothes and short drive to the hospital.
"He had to go in for a little hiccup," Olsen said.
He is T.J., Olsen's son, the twin to Talbot.
Since being born with hypo-plastic left heart syndrome in 2012, T.J. has undergone four open heart surgeries. Three were expected. The fourth, which came in September when a pacemaker was installed, was not.
In between there have been several "hiccups," as Olsen calls them. But for the most part, despite the long-term uncertainty, things are going as well as can be expected.
[+] Enlarge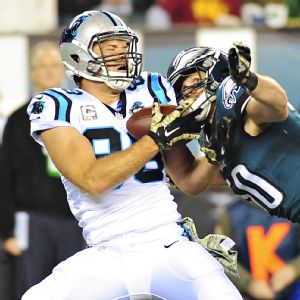 Evan Habeeb/Getty ImagesGreg Olsen is on pace to having one of the best seasons of his career.
Things are going well for Olsen on the field, too. He's on pace for a career year with a team-leading 56 receptions, with 719 receiving yards and five touchdowns.
But as impressive as Olsen has been on the field, he's been more impressive off it in the way he and his wife, Kara, have handled T.J.'s condition while raising their other two children.
In dealing with T.J.'s fight, the struggles the Panthers (3-7-1) have had on and off the field don't seem quite so bad.
"It puts a lot of things in perspective," Olsen said as he anticipated spending Thanksgiving with his family. "This time of the year you kind of stop and count your blessings and just think how fortunate we are.
"We've learned a lot about ourselves as a family about perseverance and continuing to be mentally strong and continue to take the good with the bad and wake up the next day and do it all over again."
Many of Olsen's days this season began waking up at the hospital before going to work. During one four-week stretch, Olsen spent about six nights a week at the hospital while Kara stayed at home with Talbot and older brother Tate.
Through all this, Olsen has learned a lot about himself as a husband, a father, a player and a teammate.
"It hasn't been easy," said Olsen, who with his wife and Levine Hospital started the initiative "The Heartest Yard" to help provide care for other kids like T.J. "We haven't shied away from that. His road is a little unclear going forward for the long, long haul.
"And we understand that. We're confident he's doing to do well and we're confident as a family we're going to be able to handle whatever comes our way."
Don't think Olsen's teammates haven't noticed the way he has handled things.
"He's showing a lot of perseverance to endure so much," quarterback
Cam Newton
said. "It's motivating and it's a heartwarming story when you hear about it.
"It's beyond being a player. It's what type of man Greg Olsen really is and he inspires a lot of people -- on the field and off."
In a way, football has been an escape for Olsen. When he's on the field, whether it's in practice or a game, his mind is focused totally on the game plan and away from the tears he has shed over T.J.
"He does a great job of balancing the two and using football as his outlet," said backup tight end
Ed Dickson
, who shares a locker next to Olsen's. "He puts on a great face when he's here."
[+] Enlarge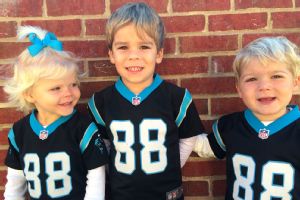 Courtesy Greg OlsenGreg Olsen's children: Talbot, left, Tate and T.J.
The on-the-field production says it all. Olsen is having the kind of season that warrants strong consideration for his first Pro Bowl.
But the Pro Bowl is the least of Olsen's concerns. As a team captain, he's more interested in helping Carolina turn around the season and make a run at Atlanta (4-7) and New Orleans (4-7) for the NFC South title.
As a husband and father, he's more interested in being there for T.J. and his family, knowing there likely will be other "hiccups" along the way.
"It's obviously not ideal," Olsen said. "It's not something you'd wish on anybody's child to live that sort of lifestyle, regardless of what mom and dad's schedule has been like. More importantly, it's what his first two years in life has been like."
Olsen has done his best to make life as normal as possible for T.J. So has the Carolina organization, from team owner Jerry Richardson to head coach Ron Rivera.
The "J" in T.J. actually is in honor of Richardson, who flew Olsen and his family to Boston in 2012 to consult with the country's top medical experts on their son's condition.
Rivera does his part by allowing Olsen to miss practices like Monday's session without question.
Olsen is appreciative. He wants his life to be as normal as possible even though he knows there will be calls and moments like Monday when nothing seems normal.
"We don't live our life on panic," Olsen said. "We don't live our life worrying. That's not any way we want him to go through his life or us to go through ours."