February, 25, 2015
Feb 25
7:15
PM ET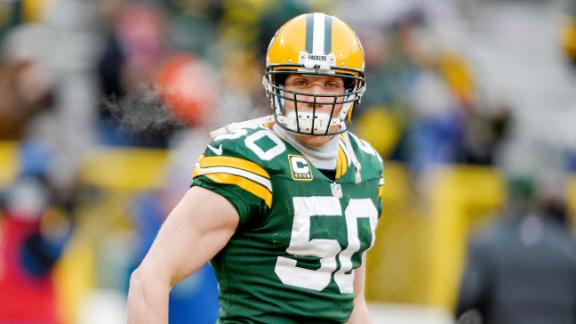 GREEN BAY, Wis. -- Whatever you thought of
A.J. Hawk
's nine years with the
Green Bay Packers
, remember this: It was never his fault that general manager Ted Thompson picked him fifth overall in the 2006 draft.
Hawk made only one Pro Bowl, and even then he wasn't voted in. He went as an alternate in 2010 -- the season the Packers won the Super Bowl.
Maybe the Packers would have been better off with
Vernon Davis
, the tight end whom Thompson bypassed in order to pick Hawk. Davis remains with the
San Francisco 49ers
, who picked him right after Hawk came off the board, and he has been voted to a pair of Pro Bowls.
But even at No. 5, there are no guarantees. None of the three players picked in that spot in the three drafts that followed -- Levi Brown (2007),
Darren McFadden
(2008) and
Mark Sanchez
(2009) -- was ever voted to the Pro Bowl. Same thing with the player taken at No. 5 the year before Hawk -- Cadillac Williams.
[+] Enlarge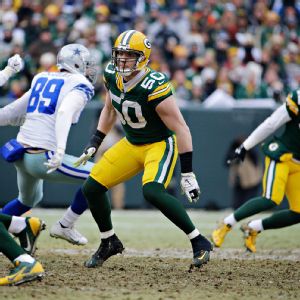 AP Photo/Nam Y. Huh"I try to look at it like, 'Hey, man, I was lucky enough to get nine years there and win a ring,'" A.J. Hawk said. "I wish we would've won more rings, but I wish them the best."
Imagine how Hawk's Packers career, which ended Wednesday when
he was released
, would be viewed if he would have been picked, say, at No. 30, where Thompson will select this year.
Or in the second round. Or the third round.
You'd be putting him in the Packers Hall of Fame.
He might end up there anyway because, if nothing else, he was a durable, long-lasting player who did whatever the coaches asked. He epitomized what the Packers want in one of their guys. In his nine years, he played in 142 of a possible 144 games and ended his career as the team's all-time leading tackler.
Thompson called Hawk "a consummate Packer" in the statement that announced his release.
If the NFL Players Association wanted an example for players to follow upon their release, they should distribute
this 30-minute video Hawk released
on Wednesday. In it, he described how the Packers notified him that he would be released -- he was on a charity cruise when they told him last week, and they said they would wait until he returned before they announced it.
"That just goes to show you the type of guys they are, the kind of organization they run," Hawk said in the video. "They were looking out for me even throughout this, and how I would feel. They don't need to do that."
He added: "They stayed awesome throughout this whole process. They've been super classy like they have my whole nine years there."
Yes, at the end, Hawk's deficiencies were obvious. Maybe it was because of his bum ankle, which
required surgery after the season
to remove bone spurs, even though he refused to concede that it impacted his play.
Whatever lateral movement he had as a young player, and even that was limited, was gone. All you had to do was watch him try to cover Vikings tight end
Kyle Rudolph
on the opening play of the Nov. 23 game at Minnesota. Rudolph caught a pass 2 yards from the line of scrimmage and ran away from Hawk for a 23-yard gain.
It was no coincidence that Hawk's playing time began to diminish the following week against the
New England Patriots
. By season's end, the only time defensive coordinator Dom Capers used Hawk was in the base 3-4 defense. In some games, such as the Dec. 8 Monday nighter against the
Atlanta Falcons
, that meant Hawk played just eight of 67 defensive snaps. Over the final six games of the season, including the playoffs, Hawk's highest snap total was 32 of 68 plays in the Dec. 14 loss at the
Buffalo Bills
.
Yet he never complained -- not during the season and not now.
"I try to look at it like, 'Hey, man, I was lucky enough to get nine years there and win a ring,'" Hawk said. "I wish we would've won more rings, but I wish them the best. No ill will towards anybody there, honestly, players, coaches, front office. I'm not leaving there bitter at all."