December, 24, 2014
Dec 24
6:00
PM ET
ALLEN PARK, Mich. – When he steps inside Lambeau Field on Sunday, Joe Lombardi might glance into the upper reaches of the historic stadium of the
Green Bay Packers
.
And if one interesting, different thing happens Sunday before the game for the
Detroit Lions
offensive coordinator, it'll be then.
"Certainly I grew up with some of the mementos around," Lombardi said. "It's cool. It's fun to walk out and see your grandfather's name on the ring of fame, but it'll be business as usual, I think."
[+] Enlarge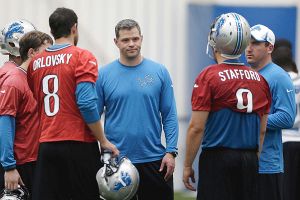 Carlos Osorio/AP PhotoBeing a Lombardi opened the door for admission to the Packers Hall of Fame for Lions offensive coordinator Joe Lombardi. But that's about it.
His grandfather is Vince Lombardi, the legendary coach of the Packers and the man the Super Bowl Trophy is named after.
Some of the mementos lying around included pictures and Super Bowl rings that were in view. So it wasn't an ordinary upbringing in that respect for Joe Lombardi.
Lombardi said he'll probably take Detroit's offensive staff to the steakhouse bearing his family name – Lombardi's – this weekend while the team is in Wisconsin, but that it won't be a big deal, either.
"Listen, there's been a lot of big names that have gone through Green Bay since my grandpa," Lombardi said. "They're not interested in Joe Lombardi; they're interested in Vince Lombardi and all the famous people that have come since then."
The Lombardi name did get him one other cool token that at one point he hoped would be a bigger deal – a lifetime pass to the Green Bay Packers Hall of Fame. Then, in college, he went up to visit Green Bay, Wisconsin, with some friends.
And he found out it didn't really get him much at all.
"I had this lifetime pass, this metal card that I got sent when I was 8 years old or something," Lombardi said. "Somehow I kept it around. So I was like, 'Watch this, we'll be MVPs.' Then we walked in and it was like, 'Go ahead,' and it wasn't a big deal. No one paid any attention.
"Said Joe Lombardi, it was this metal kind of thing. I thought it would be like, 'All right, VIP.' But they were like, 'Go ahead.' I got in for free. They had to pay 10 bucks or whatever it was."
Lombardi said he probably still has the pass somewhere in the bottom of a box from all the coaching moves his family has made since then, but he isn't sure where it is.
This weekend, though, he won't have to worry about paying for access to Lambeau Field. He'll be in there coaching for a division title.