September, 29, 2014
Sep 29
3:00
PM ET
EAST RUTHERFORD, N.J. – It took seven nickel cornerbacks and one defensive wrinkle, but the
Detroit Lions
appear to have finally found an answer in how to handle the slot on defense.
Use two different packages, each geared with different down-and-distance in mind along with varying tendencies for an opponent. The Lions brought both nickel packages out Sunday afternoon, essentially one on likely running downs and the other in probable passing situations.
When it appeared the Jets were going to run, Detroit used a defensive package with three safeties:
James Ihedigbo
,
Isa Abdul-Quddus
and
Glover Quin
. The Lions would play Ihedigbo, typically a strong run defender, at his traditional strong safety spot. Abdul-Quddus would handle the free safety role, and Quin dropped down to play the slot corner.
[+] Enlarge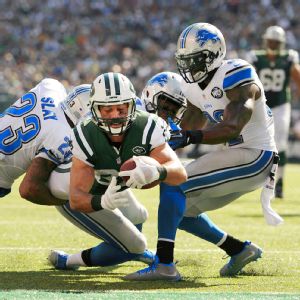 Ron Antonelli/Getty ImagesThe Lions used a couple of different nickel packages with positive results against the Jets.
When the Lions went nickel in traditional passing situations, Detroit kept Ihedigbo and Quin back at safety and brought in
Danny Gorrer
to handle the slot corner, much like he did last week when
Don Carey
re-injured his hamstring against Green Bay.
"It worked," cornerback
Rashean Mathis
said. "Kudos to the staff, they did a good job of having two guys ready to go, and we need that. We have a lot of versatility in our secondary and it's showing."
The Lions used the more traditional nickel package with Gorrer on the field and both Quin and Ihedigbo at safety on 27 plays. Abdul-Quddus played 19 snaps, so that meant 19 plays with Quin down in the bigger nickel.
Ashlee Palmer
played 18 snaps, meaning the Lions were in the 4-3 personnel 28 percent of the time Sunday against a heavy run team.
The Lions did this because of New York's preference to run out of any formation available. New York did rush for 132 yards and 4.9 yards per carry, but 63 of those yards came on the first drive of the game. After that drive, the Lions forced five straight three-and-outs.
"You think about it, they went 12 personnel, which is primary pass form and then they can do some running out of it," Ihedigbo said. "So to have three safeties in there, it worked out great for us."
The Lions have some experience with 12 personnel on their own roster, too, as the team has used a single-back, two -receiver, two tight-end set more often this season than last season. So they can practice against this set if necessary.
Detroit guessed right off down-distance pretty well, too. Pro Football Focus had Gorrer on the field for 20 pass plays and Abdul-Quddus for 10 rushing plays.
Defensive coordinator Teryl Austin's newest wrinkle worked with Detroit's defense, though, in part because Quin has experience playing cornerback. While he has not dropped down and played corner much since moving to Detroit prior to last season, he isn't a complete neophyte at the position so he can provide some coverage if necessary.
He also has experience playing closer to the line of scrimmage so he can really be used anywhere the Lions would like at this point.
It is part of the flexibility of Detroit's defense and being able to play veterans at both safety spots.
"It's just the versatility of our defense," Ihedigbo said. "With our defense, when you know the whole entire defense, you can implement guys in different spots.
"That's what makes it so effective."