October, 30, 2014
Oct 30
6:00
PM ET
EDEN PRAIRIE, Minn. -- Quarterbacks -- or at least those who analyze quarterbacks -- talk frequently about the need for passers to have an internal clock, a deadline of sorts by which the ball must be thrown before pass-rushers arrive. That term might be a misnomer, or at least an oversimplification; clocks are mechanical and consistent, ticking along unaffected by the outside world, while a quarterback's circumstances are changed by how well his offensive line is protecting him, what kinds of routes his receivers are running, how skilled they are at getting open, and how capable he is of evading pressure to buy them another split-second.
The Minnesota Vikings' efforts to fine-tune
Teddy Bridgewater
's quarterbacking approach certainly aren't exclusive to getting him to unload the ball faster. Bridgewater's average time before throwing is 2.56 seconds, just below the average of 2.52, according to ESPN Stats and Information, and quarterbacks coach Scott Turner said there are times when Bridgewater can miss an option that takes longer to develop if he's fixated on getting rid of the ball too quickly. So when Bridgewater talks about "overthinking," the solution isn't always for him to throw sooner.
[+] Enlarge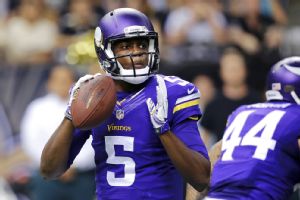 AP Photo/Bill HaberPart of Teddy Bridgewater's development is learning where to throw the ball sooner in the process, according to quarterbacks coach Scott Turner.
Instead, the Vikings are trying to instill something in Bridgewater that should be more helpful in the long run, but is a more fluid concept now. They are trying to get him to solve coverages and recognize their weak points sooner, even if that means realizing the right throw is one that will be open later in the play. And as it goes with most young quarterbacks, getting Bridgewater's internal processor to operate faster will take some work.
"There are times where you can just see, 'Hey, they gave us this look -- get to your next progression,'" Turner said. "For a rookie, it pops up, because things are new. ... Sometimes, if he gets off something too quick, he's too early to another route, and then, it's covered, but it was going to be open if he worked there in the correct timing."
There is no better tool than game action for Bridgewater to learn it, but Turner and Bridgewater have a favorite drill they use to speed up his progressions in practice: During the individual period, Turner will stand behind Bridgewater as he drops back to throw to managers, yelling out which receiver is covered and forcing the quarterback to look to his next read.
"We'll set up spots, work through progressions and just talk through, 'OK, the linebacker took this away,' or, 'The safety was down (toward the line of scrimmage), so you've got to get off this.' As he drops, I'll stand behind and I'll say things, and visually, you get the looks from the scout team in practice."
That's particularly important in a week where Bridgewater will face a Redskins defense that blitzes the quarterback 42.4 percent of the time and sends a defensive back on a blitz more than all but one team in the league. That, inevitably, will lead to some unusual looks for Bridgewater, and his ability to diagnose coverages quickly will be paramount.
"It's very exotic. You never know what you're going to get," Bridgewater said. "You just have to continue to know their tendencies and study the film."
As that happens, the Vikings hope Bridgewater will improve at recognizing what he's seeing and trusting himself to exploit it. They feel he's ahead of the curve for a rookie quarterback. But it will take some time before he is a finished product.
"The thing that I've tried to push on him is, 'Don't try to make something happen; just let it happen,'" Turner said. "Just go through your progressions, take the options that are open; don't predetermine, 'I'm going to have this.' I think that's where he's done a nice job when he's been successful. The two-minute drills have been a good thing for him, because he's kind of playing and taking what the defense gives him. We're trying to get him to play in that mindset all the time."