September, 30, 2014
Sep 30
8:15
PM ET
PHILADELPHIA --
Nick Foles
knows.
The Eagles' quarterback has some excuses. The offensive line is banged up. The running game has not been remotely as effective as it was last season. There are explanations for the offense's ineffectiveness Sunday in San Francisco.
But Foles also knows that, as the quarterback, he's the one guy who can erase many of those issues. Make a perfect throw here or a good read there and a quarterback can change the entire tone of a game.
[+] Enlarge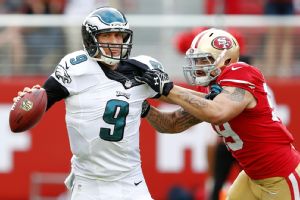 Bob Stanton/USA TODAY SportsNick Foles completed 21 of 43 passes for 195 yards with no touchdowns and two interceptions against the 49ers.
"I definitely missed some throws that I want to hit," Foles said Tuesday, as preparation began for Sunday's game against St. Louis. "That's something I'm going to work toward this week. My job as quarterback, when that ball's in my hand, is to deliver the ball where my receivers can catch it. There were a couple times I let it out there a little bit too far. We were close on a couple.
"It's all things we can fix. That's what's exciting. I want to hit every pass perfectly and I'm going to work toward that this week. I've got to be a little bit more accurate and I know how to do that. I've thrown a football for a long time."
Foles threw a dozen deep balls, defined by ESPN Stats & Information as traveling at least 20 yards beyond the line of scrimmage, against the 49ers. He completed zero of those attempts. Two were intercepted.
Those were the kinds of throws Foles excelled on last year.
DeSean Jackson
was his target for some. But
Riley Cooper
was also good on catching those deep throws. Cooper has not been as reliable a target this season. But Foles dismissed the idea that he's missing Jackson, who was released in a surprise move by the Eagles in March.
"No," Foles said. "I think I'm just overthrowing them. I'm letting the ball fly a little far. You've got to make a mistake to fix it. Looking at the film, I was a couple yards too far on a few of them. I know how to fix that and I know how to throw them."
Offensive coordinator Pat Shurmur is seeing the same things on the game film.
"We've got to just clean up," Shurmur said. "Everybody's got to clean up their fundamentals. Everybody's got to do a little better job of doing what they do and I think it will come together. I think Nick's played steady this year. We've all got to get better."
Foles certainly put things together on the 90-yard drive that ended one yard short of a go-ahead touchdown. But earlier, Foles just seemed a little off on many of his throws.
"There are certain times when we call a deep-to-short type concept, where he looks deep, and if it's there, take the shot and if not, you bring it down to a shorter receiver," Shurmur said. "And then there are other times when we are calling horizontal stretches, there are other times when we are calling four verticals. I don't think it's any one thing."
If it's one thing, it's the quarterback. Foles knows that.
NFC EAST SCOREBOARD
Thursday, 9/25
Sunday, 9/28