November, 25, 2014
Nov 25
6:30
PM ET
PHILADELPHIA --
DeMarco Murray
is having the season
LeSean McCoy
was dreaming about during training camp. Murray, not McCoy, is leading the NFL in rushing. Murray, not McCoy, is on pace to make a run at 2,000 yards for the season. Murray, not McCoy, has benefited from a consistent (and healthy) offensive line.
When the Eagles play the
Dallas Cowboys
Thursday, they hope to derail Murray's push for 2,000 yards. Doing that, they believe, will give them a chance to beat the Cowboys and take the lead in the NFC East race.
[+] Enlarge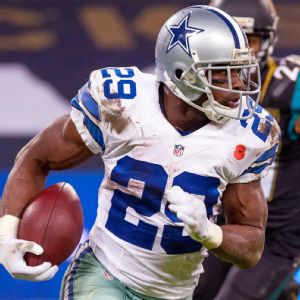 Steve Flynn/USA TODAY SportsDeMarco Murray, not LeSean McCoy, leads the NFL in rushing this season.
"It's going to be a great challenge for us," Eagles defensive coordinator Bill Davis said. "This is the top rusher in the NFL and they're committed to the run, so we know we have a big challenge of stopping the run game this week. And I think as the season's progressed, we've got better and better, especially the inside run. It's tough to run inside on us. "
The Cowboys rely on stretch running plays, with Murray running behind linemen and looking for a cutback lane to break a big run. It is a style of running that the Eagles have encountered several times this season, and have had some success against.
"The stretch is their No. 1 play," Eagles linebacker
Casey Matthews
said. "They've got counters, so we have to have our eyes right this week. Getting penetration is big, and being sound in your gaps. It's a one-cut run. That's where they get the big yards.
"DeMarco, when he gets in the open field and is able to hit the hole, that's when he's at his best. If you can get him to stop his feet and change direction, that's where you can shut him down."
The Eagles'3-4 defense has been very good against the run this season. Part of that is a side-effect of the Eagles' pass defense, which is ranked 30th in the NFL in terms of yardage allowed. If teams can throw the ball easily enough against you, there isn't much reason to run the ball.
You'd think the Cowboys would be delighted to let
Tony Romo
chuck the ball to
Dez Bryant
,
Jason Witten
and his other weapons. But Dallas has been much more committed to its running game this season, which is why Murray has rushed for 100 yards or more in 10 of 11 games.
"If you shut down the run, it shortens the playbook," Matthews said.
"Any offense's balance is always harder," Davis said. "When you got a one dimensional team, whether it's all run or all pass, at least schematically when you're calling a game, it's easier to just say, OK, this is what we'll do and this is what we'll stop. Those teams that commit to the run on first and second down almost always put themselves in that third-and-four or less, which makes it difficult. So the balance, the tact that they have now is a big part of why they're winning."
San Francisco's
Frank Gore
is the only back to top 100 yards against the Eagles this season. Green Bay's
Eddie Lacy
carried the ball just 10 times, but averaged 6.9 yards per carry. Other than that, the Eagles have been pretty solid against the run.
"The San Francisco game, we had issues on the edge," Davis said, "but really have kind of cleaned that up. That'll be challenged this week, because they are an edge rushing team. We're looking forward to the challenge and we'll see how we stack up."
Last year, Murray didn't play in the first game against the Eagles. In Dallas in December, he carried the ball 17 times for 48 yards. The Eagles will happily take those numbers Thursday.
NFC EAST SCOREBOARD
Thursday, 11/27
Sunday, 11/30