March, 27, 2015
Mar 27
12:15
PM ET
IRVING, Texas -- Tony Romo turns 35 on April 21. He might say he has four or five years left to play at a high level, but that's not how the Dallas Cowboys can look at it.
They need to see a quarterback with two back surgeries, who missed a game last season with two transverse process fractures and who had rib cartilage damage, and start wondering about Romo's successor.
[+] Enlarge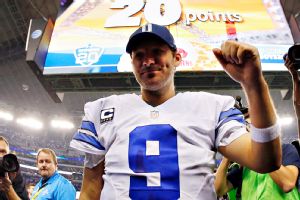 Tom Pennington/Getty ImagesIs now the year the Cowboys begin to worry about drafting a QB as Tony Romo's eventual successor?
"We do have to look to the future relative to quarterback," Cowboys owner and general manager Jerry Jones said at the NFL owners meetings in Phoenix. "It's starting a time frame where a guy could come in and be a good backup. Look at how Romo evolved into the guy he is today. He did a little time with the clip board."
Of course, the same thoughts were espoused in 2014 and 2013 and probably 2012. And the Cowboys didn't draft a quarterback. Bryce Petty's name has been bandied about, and he is expected to visit Valley Ranch. The Cowboys have other private workouts with quarterbacks coming up, too.
Maybe this is the year they actually take a quarterback in the draft.
But the likelihood of the Cowboys finding Romo's heir in the middle to late rounds is slim. Extremely slim. The odds-aren't-worth-it-slim. There are two starting quarterbacks currently in the NFL who were picked after the third round. Romo is one and he wasn't drafted. Tom Brady is the other and he went in the sixth round.
There are third-round starters, such as Russell Wilson, Nick Foles and, potentially, Ryan Mallett. If Mallett doesn't win the starting job with the Houston Texans, then Brian Hoyer would be the third starter after the third round -- he went undrafted. Josh McCown, who is likely to be the Cleveland Browns starter, has bounced around, but he was a third-round pick.
The Cowboys have selected three quarterbacks since Troy Aikman: Billy Musgrave, Quincy Carter and Stephen McGee. They traded for Drew Henson in 2004 and that didn't work out.
This isn't to say the ghosts of Musgrave, Carter and McGee should prevent the Cowboys from taking a quarterback. But it is to say the level of expectations for taking a quarterback in the middle rounds needs to be ratcheted way down. The Cowboys hoped McGee could develop into a No. 2 quarterback and that didn't happen.
The days of developing a quarterback seem long ago. The Green Bay Packers did it with Aaron Rodgers behind Brett Favre. Philip Rivers sat for two years behind Drew Brees with the San Diego Chargers. Those guys were taken in 2005 and 2004.
Most teams are drafting their guys in the first and second rounds and if not playing them in Week 1 of their rookie seasons, then very soon in their rookie seasons. Blake Bortles, Teddy Bridgewater and Derek Carr started as rookies last season.
It sounds quaint, the notion of a quarterback holding a clip board, taking mental notes as he watches. It's just not reality.
Let's say Romo plays another three years through 2017 when he is 37. In 2018, that's when the Cowboys will really need to find his successor.