November, 21, 2014
Nov 21
3:00
PM ET
PHILADELPHIA -- The
Philadelphia Eagles
play the
Tennessee Titans
, AFC South strangers with a 2-8 record, on Sunday at Lincoln Financial Field. About 96 hours after that game ends, the ball will be kicked off for the Eagles' Thanksgiving Day matchup with their ancient rivals, the
Dallas Cowboys
.
It certainly looks like the kind of scheduling quirk that could lead a 7-3 Eagles team to overlook the Titans and sneak a glance ahead to Dallas. To Eagles coach Chip Kelly, though, there is no danger.
[+] Enlarge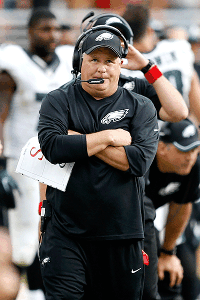 Bob Stanton/USA TODAY Sports"I think everybody knows in this league, everybody can beat anybody on any given day," Chip Kelly said in dismissing trap games.
"No. 1, I don't believe in trap games," Kelly said Thursday. "I think everybody knows in this league, everybody can beat anybody on any given day. There are a million examples of it, and I think it doesn't help anybody if you're looking (past) one team to go to the next game. The great thing about our league is you only have to play one game a week, so our focus and attention is on the one game we have this week."
That sounds good, and that may be the way Kelly would like his players to behave. But it was just 11 months ago that the Eagles were traveling to Minneapolis to play the
Minnesota Vikings
. The Eagles had won five games in a row to move into first place in the NFC East. The Vikings were 3-9-1 and would be playing without running back
Adrian Peterson
, who had a foot injury.
Trap game?
Trap game. The Eagles got crushed, 48-30. Running back
Matt Asiata
, whose name you do not recognize from your fantasy league draft this year, ran for three touchdowns. The game was an aberration, as the Eagles rebounded by defeating Chicago and Dallas in their final two games of the season.
The day after the Minnesota loss, Kelly was asked about how it could happen.
"I think you should go into every game with the same mentality whether it's people from the outside that consider you the favorite or don't consider you the favorite," Kelly said. "I think if you're paying attention to that type of stuff, you're not focusing in on what you can control. The message I give and the message I've always lived with is worry about what you can control.
"You don't control what other people's opinions are. If you are, you're going to be a yo-yo up, yo-yo down guy depending on how people tell you what they think going into the game. I think your preparation should be the same. Your mindset should be the same. Sometimes it's easier said than done. It's not an easy thing to get accomplished, but I think that's ultimately the way you should get it done."
Kelly will get more help from the Green Bay game than from the Titans on that front. A 53-20 loss should keep the players focused on the task at hand. As for the Dallas game, it will mean much more if the Eagles can win Sunday against Tennessee and be in a position to get a leg up on the Cowboys in the NFC East race.
Lose to the Titans, and the Eagles could be chasing the Cowboys the rest of the season.
Talk about a trap.