February, 26, 2015
Feb 26
5:57
PM ET
[+] Enlarge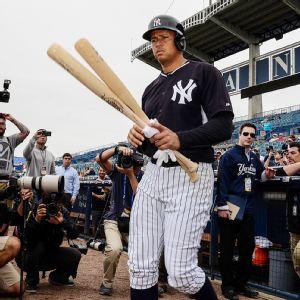 Jonathan Dyer/USA TODAY SportsAlex Rodriguez said playing baseball back in front of the public "felt pretty awesome," but acknowledged he has a lot of work left to do.
TAMPA, Fla. -- In his first appearance in a New York Yankees uniform in 17 months, Alex Rodriguez was cheered when he stepped out onto the field with his teammates shortly before noon, and he was cheered again when he came out of the dugout for batting practice about an hour later.
The crowd ooohed and aahed when the ball seemed to jump off his bat, and applauded when three of the 36 swings he took resulted in baseballs landing beyond the outfield fence.
In fact, Rodriguez was one of only two uniformed Yankees to draw any measurable response at all from a meager crowd of about 500 at the Yankees' first full-squad workout Thursday at Steinbrenner Field.
The other was Hideki Matsui, the MVP of the 2009 World Series, who is here as a guest instructor.
That may have been a commentary on Matsui, a perennial fan favorite, on the cool, overcast Tampa weather, or on the current, rather uninspiring state of the Yankees.
Or it may have been a sign that a majority of Yankee fans truly want to see Rodriguez succeed in his improbable quest to become a productive big league ballplayer again, 18 months removed from his last game and five months shy of his 40th birthday.
"It was pretty awesome," Rodriguez said after the workout and a post-workout lifting session. "I think sometimes you can take for granted being a major league baseball player. Just being able to go out there and stuff that I did when I was 10 years old. At the very least, I hope I get to finish my career up really appreciating the game."
For the hour or so that he was on the field, Rodriguez truly was "just like any other player," in the words of general manager Brian Cashman, stretching, participating in infield drills at third base and shortstop, and taking his hacks at the soft tosses of batting practice pitcher Danilo Valiente, although always under the watchful eyes of Cashman, manager Joe Girardi, about a hundred media members and that rather small gathering in the stands.
"Pretty much what I expected," is how Girardi described what he saw from Rodriguez on the field.
"I've said all along I don't think it's fair to judge him early, I really don't," Girardi said. "When you've played as few games as he has the last two years, the speed of the game is what you have to get used to. So I don't think it's fair to judge."
But Rodriguez was a tougher critic on himself than his manager.
"I wish it was as easy as hitting Danilo's 55 mph fastball," he said. "We can all look like an All-Star at that point. It doesn't mean anything. Let's see what happens when somebody is throwing 95."
If that is to be interpreted as a lack of confidence, it's understandable considering how few professional athletes at this level, or at this age, have been able to accomplish what Rodriguez is trying to do. Michael Jordan, Muhammad Ali and Sugar Ray Leonard come to mind, but all were considerably younger than Rodriguez.
At one point, Rodriguez said he "felt like a rookie again," but he meant it not in the sense of feeling young and eager; rather, a bit strange and more than a little nervous.
"It's been awhile," he said. "Did it look weird out there?"
Not so much weird as difficult. Rodriguez didn't hit one out of the park until his fourth round of BP, and hit a couple back-to-back in his fifth round. Meanwhile, Greg Bird, an actual rookie, was regularly hitting rockets into the right-field bleachers as part of the same group against the same pitcher.
"It's BP!," snapped a somewhat exasperated Girardi when asked to evaluate Rodriguez's performance today.
"I don't judge a lot of our players the first two weeks of games," he said. "You just don't, because they've been off of playing five or six months, and it's just something different. So you have to give them time."
Rodriguez said that his body felt good -- an effect he attributed to having had a full year to train rather than rehab -- but admitted it will take some time for him to regain his confidence.
"It's a long process," he said. "I was a little nervous out there. I'm definitely going to be nervous on opening day in spring training, Opening Day in New York. Look, this is a hard thing I'm trying to do."
And when someone mentioned that Mark Teixeira