November, 26, 2014
Nov 26
2:00
PM ET
Baltimore Orioles:
If
Nick Markakis
really wanted to return to Baltimore, wouldn't he have signed by now? ... Remember that year he had a .406 OBP? Yeah, that was a long time ago. ... Markakis won the Gold Glove, but that was as much by default as anything. There were only seven full-time right fielders in the American League and none of them were outstanding defenders. ...
Nelson Cruz
or Markakis? If I could only have one, I'd probably take the chance on Cruz and the potential that he'll have a couple more big seasons in him over Markakis' OK-but-nothing-special numbers. ... The Orioles could turn their attention to
Melky Cabrera
if they don't sign Markakis. ... If
Jonathan Schoop
can add 50 points of OBP, he's going be a very good player. He may already turn the double play as well as any second baseman in the game. ...
Kevin Gausman
should get 30 starts this year and -- while he projects as a solid mid-rotation guy -- imagine how dominant he could be as a multi-inning relief weapon, as we saw during the postseason. Still, he has more value as a rotation guy. ... One rumor has the Marlins asking about
Chris Davis
, but without Cruz and Markakis for now, the O's can't afford to punt on Davis, as bad as he was in 2014. ... Get healthy, Manny.
New York Yankees:
Right now, I'd pick the Yankees to finish last in the division, with their first under-.500 record since 1992. But we can assume the current roster isn't close to their final roster. ... It wouldn't surprise me if
Max Scherzer
ends up being their big splash. How about a rotation of Scherzer,
Masahiro Tanaka
,
Michael Pineda
,
CC Sabathia
,
Hiroki Kuroda
and
Brandon McCarthy
(have to re-sign the last two)? ... Joel Sherman of the New York Post reported that the Yankees are pushing harder to acquire a shortstop than a third baseman, which could indicate lukewarm interest in bringing
Chase Headley
back. Or, in other words, enjoy
Alex Rodriguez
, Yankees fans! ... Could see the Yankees going after one of the Seattle shortstops,
Brad Miller
or
Chris Taylor
. Mariners could use some rotation depth, so maybe
Shane Greene
for Taylor makes sense, especially if the Yankees sign McCarthy and/or Kuroda. ... How many years left on that
Mark Teixeira
contract? ... Any chance for a
Carlos Beltran
comeback at 38? Steamer projects a .261/.325/.440 line with 23 home runs. ... Steamer also foresees a similar improvement from
Brian McCann
, from a 92 wRC+ to 111. That would certainly help an offense that ranked 13th in the AL in runs scored. ... The last time the Yankees offense ranked that bad was 1990, when they were last in the league in runs. Jesse Barfield and Roberto Kelly were the only guys to drive in 50 runs that year. ... In the end, I think
David Robertson
returns to pinstripes.
Toronto Blue Jays:
With
Jose Bautista
and
Edwin Encarnacion
still providing top-level offense, it makes sense for the Jays to go in all-in with Bautista still under contract for two more seasons. Remember when many thought the Jays overpaid for Bautista at $14 million per season? ... I think the Jays need to bring Melky Cabrera back, in part to get a left-handed batter alongside Bautista, Encarnacion and
Russell Martin
. ... It's asking a lot to expect
Dalton Pompey
to be the starting center fielder, considering his lack of experience above Class A. Steamer projects Pompey to hit .238/.296/.353. ... Dalton Pompey: That has to be a top-five name. Do the Jays play the Dodgers this year? Vin Scully would make that name sing. ... I'm buying big-time on
Marcus Stroman
and also expect
Drew Hutchison
to have a better season. Hutchison's strikeout rate was good so, so if he can cut out a few home runs, he looks like a solid mid-rotation starter. ... I'd be tempted to leave
Aaron Sanchez
in the bullpen. He dominated there when called u, while when he started in the minors his control problems were a big issue. But he walked just nine in 33 innings (and allowed only 14 hits) pitching in relief with Toronto. He could be a huge weapon as a middle-innings reliever, or a potential closer to replace Casey Janssen. ... The Jays have reportedly discussed
Jay Bruce
, or thought about going after Bruce, but Bruce apparently has a no-trade clause that includes Toronto. ... Good luck with
Justin Smoak
. ... What about Chase Headley at third base? They could slide
Brett Lawrie
over to second, although Devon Travis may be ready to take over there at midseason. ... Toronto may shop
Dioner Navarro
now; I have to think a team like the Dodgers would be interested. ... It still feels like the Jays have one more big move coming, whether it's Melky, a pitcher or another bat.
Tampa Bay Rays:
Don't count out a bounce-back into contention from the Rays, although I do think losing Joe Maddon was a significant blow. ... They need
Evan Longoria
to be Evan Longoria after he dipped to a career-worst .253/.320/.404 line. Steamer sees some improvement but not back to his previous level of performance. ... The Rays scored 612 runs, lowest in the AL, but here's one reason to expect improvement: Their component statistics indicate an offense that should have scored 650 runs. ... In various splits, Tampa Bay's worst OPS figures came with runners at second and third and with the bases loaded. ... Goodbye,
Jose Molina
, your pitch framing will be missed but not your "bat." ... Don't sleep on
Drew Smyly
, who had a 1.70 ERA in seven starts after coming over from Detroit. He's not THAT good, of course, but he should line up nicely in the rotation behind
Alex Cobb
and
Chris Archer
. ...
Brad Boxberger
and
Jake McGee
ranked third and 12th in the majors in strikeout rate for relievers (minimum 40 innings), giving Tampa a dominant 1-2 punch out of the pen. ... The Rays could trade
Matt Joyce
, slide
Ben Zobrist
back to the outfield and give
Nick Franklin
a chance at second base. ... Remember Wil Myers? The more I look at the Rays, I believe they can get back in the playoff hunt, especially if
Matt Moore
can return and help out and Myers forgets about a lost 2014 and has a big season. ... Kevin Cash, Don Wakamatsu or
Raul Ibanez
for manager? No doubt that Ibanez would be the gutsy choice, but sounds like Cash is the favorite. He was on Terry Francona's staff in Cleveland the past two years.
Boston Red Sox:
Think the Red Sox will do anything interesting this offseason? ... While it seems a foregone conclusion that
Yoenis Cespedes
will be traded, I guess you could keep him to play right field and use
Mookie Betts
as a super-utility guy. ... That would still leave
Mike Napoli
,
Allen Craig
and/or
Daniel Nava
as potential trade bait. ... Cespedes would bring the most back, although I can't see Seattle giving
Hisashi Iwakuma
for him. ... Are the Red Sox the best team in the East if they sign
Jon Lester
and trade for
Cole Hamels
? Not so sure about that. Boston won 71 games; if
Pablo Sandoval
,
Hanley Ramirez
, Lester and Hamels are all five-win upgrades, that's 91 wins. Except that Lester is, in part, replacing himself, so that's not a five-win upgrade. Plus, they've lost John Lackey's starts, and Hamels would be changing leagues and out of the weak NL East, where he faced several subpar offensive teams. And Sandoval is more like a three-win player. ... In other words, I still think there is work to do even if they land both Lester and Hamels. And that's not counting on any regression from
David Ortiz
, who is going to get old one of these years. ...
Clay Buchholz
did have a 4.01 FIP compared to his 5.34 ERA, so maybe he's a good bet to do better than 8-11. Or he may not make anything close to 28 starts again. ... Love Mookie. Kid is going to be a star. No, they're not including him in a trade for Hamels, so stop dreaming, Phillies fans. ... Have to think they'll get a lefty reliever. Maybe
Andrew Miller
returns? ...
Rusney Castillo
, can't wait to see what you can do with 500 at-bats. ... Yes, I still believe in
Xander Bogaerts
. No, I don't think he'd be included in a Hamels trade either.
November, 26, 2014
Nov 26
12:32
PM ET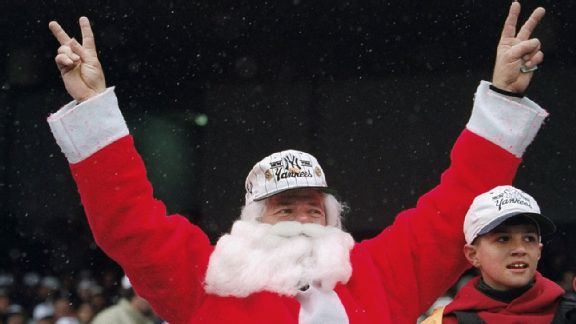 Linda Cataffo/Getty ImagesWhat free agent is on your Yankees gift list?
NEW YORK -- With the arrival of Thanksgiving and the beginning of the holiday season, it's time for a lot of us to start making out our Christmas lists.
And as a Yankee fan, there's no doubt you have a very special list for Baseball Santa that is just crammed full of high-priced free-agent toys.
But just like your mom and dad probably said when you were little, you have to narrow down that list to just one big item.
It's a tough call, I know, but even Santa Stein has his budgetary limits. (All of the players on the list were covered by Andrew Marchand and myself in Spend Hal's Money 2015, and all are
still accessible on the Yankees blog
).
So which of the following free-agents, whom the Yankees may or may not be interested in, would you most like to see in pinstripes under your tree for 2015? Tell us in the comments below or vote in our
Rank 'Em poll
.
Max Scherzer
Jon Lester
James Shields
Brandon McCarthy
David Robertson
Chase Headley
Victor Martinez
Nelson Cruz
Other
November, 25, 2014
Nov 25
12:21
PM ET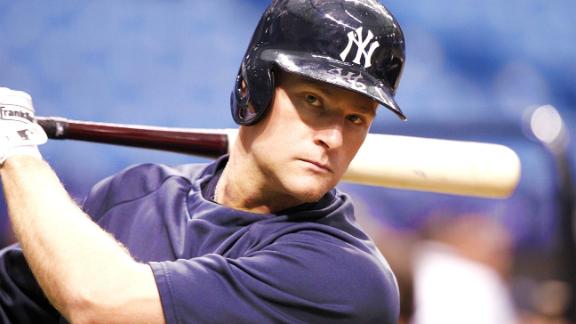 Headley
Chase Headley
had one amazing season in his career. In 2012, he hit .286 with 31 homers and 115 RBIs. He was fifth in the NL MVP voting and won a Gold Glove.
If you take out that season, he has never hit more than 13 homers. The most runs he has driven in a year, besides the '12 anomaly, is 64. His career OPS is .756, or 13 points fewer than
Martin Prado
.
Plus, he has a bad back.
As an AL scout put it, signing Headley to a long and lucrative contract is "risky business."
The Yankees know this, which is why they don't sound like they will go five years for Headley. Personally, I'm not sure I would go four.
The problem is, of course, there aren't enough good players to fill out every roster. So if you pass on Headley, then you might be left with Prado at third and rookies Rob Refsnyder and
Jose Pirela
fighting it out for
Robinson Cano
's old spot at second.

The Yankees could make a trade or sign someone like
Jed Lowrie
. The Yankees showed no interest in Lowrie a couple of years ago when the Astros were looking to trade him. He eventually went to the A's. Lowrie can play second and short. So maybe the Yanks' opinion of him has changed.
Headley has some numbers that work in his favor. His Win Above Replacement (3.5) was the 10th best among all third baseman in 2014, a
tad better than
Evan Longoria
and
Pablo Sandoval
. His OPS was .700, which is not that impressive, but
was 16th among third baseman
in '14.
Headley, 30, plays a strong third base. He is a tough guy who quickly returned at the end of last year
after taking a fastball on the chin
.
But if you sign him, you can't expect him to play better in the future than he has shown in the past. You can't fool yourself into thinking that with age he will be more durable.
So, yes, he was a nice pickup in '14, but there was a reason he was available for
Yangervis Solarte
, who besides two nice months had been a career minor leaguer.
And, by the way, after the trade to San Diego, Solarte's numbers with the Padres in 56 games were .267 with four homers and 17 RBIs. With the Yankees, Headley, in 58 games, hit .252 with six homers and 17 RBIs. Headley played to what -- excluding '11 -- seems to be his skill level.
So if you sign Headley, you have to know you are not getting the '12 Headley. You are picking up a solid, but far from spectacular, player.
November, 24, 2014
Nov 24
8:35
PM ET
Associated Press
MESA, Ariz. -- Ray Sadecki, who pitched in the major leagues for 18 seasons and won 20 games for the 1964 World Series champion St. Louis Cardinals, has died from complications of blood cancer, his son, Steve, said. Sadecki was 73.
Sadecki made his major league debut at age 19 with the Cardinals in 1960. In 1964, he went 20-11 and helped St. Louis win the National League pennant. The Cardinals beat the New York Yankees in the World Series in seven games.
Sadecki was traded to the San Francisco Giants in 1966 for Orlando Cepeda.
The left-hander had a 135-131 career record with a 3.78 ERA with St. Louis, San Francisco, the New York Mets, Atlanta, Kansas City and Milwaukee.
Sadecki died in Mesa last week, his son said Monday.
November, 24, 2014
Nov 24
2:55
PM ET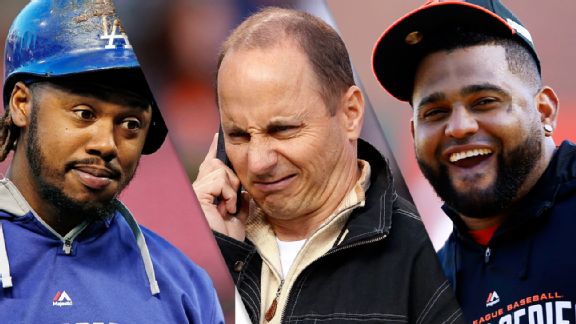 USA TODAY SportsIs Brian Cashman feeling a little hot under the collar?
NEW YORK -- A better question might be, will the Yankees respond at all?
The news that the Red Sox are signing two potential game-changers,
Pablo Sandoval
and
Hanley Ramirez
, to five-year contracts totaling a reported $180 million, might be interpreted as a shot across the bow at Yankee Stadium. Or, it might be greeted with a shrug of the shoulders and a "better them than us" reaction from a front office that has entered into more than its share of toxic contracts.
Most likely, the Yankees didn't need to do what Boston did Monday, which was take on two good players with potentially bad contracts. But they need to do something.
They still need a third baseman and a shortstop. And on Monday, the Red Sox snatched the two best options off the market. The Yankees had no interest in either of them, but no one on River Avenue can be happy about both of them winding up not only in the AL East, but in Boston.
Still, a source with knowledge of the team told me that all is "very quiet" around the Yankees as we head into Thanksgiving and that nothing of substance was discussed at last week's owners meetings in Kansas City, since Hal Steinbrenner wasn't even there.
I wouldn't go so far as to claim, as other outlets have, that the Yankees are going to sit out this winter after having committed nearly a half-billion dollars last winter on four players --
Jacoby Ellsbury
,
Masahiro Tanaka
,
Brian McCann
and
Carlos Beltran
-- and still managed to win just 84 games and miss the playoffs for the second consecutive season. But it does make you wonder exactly what the plan is.
We reported two weeks ago that
Chase Headley
was the Yankees' prime target to play third base next year, assuming
Alex Rodriguez
is incapable, at 40, of playing there more than occasionally. But now I'm hearing that the Sandoval deal might prompt Headley to demand five years as well. And as probably the second-best third baseman in an admittedly weak market, he might actually get it somewhere. But his chronic lower-back problems could be enough to scare away the Yankees.
And despite the Yankees' public and private posturing that they will not be in on the Big Three of available starting pitchers --
Max Scherzer
,
Jon Lester
and
James Shields
-- it would be foolish for anyone to believe that one is etched in stone.
And what happens, dare I ask, if the worst should happen? Let's say Headley signs somewhere else, and the Yankees can't come to terms with
Brandon McCarthy
, who is said to be their primary target at starting pitcher, and
Hiroki Kuroda
retires? And to top it off, what if the Red Sox persuade Lester to come back to Boston?
The Yankees will shrug that off too and tell you that moving
Martin Prado
to third base was the plan all along -- as was trying to fill the positions formerly occupied by
Derek Jeter
and
Robinson Cano
with Rob Refsnyder and
Jose Pirela
.
I can't imagine the Yankees would sit back and allow that to happen. Because their long-term history tells you that's not the way they operate. But their recent history indicates that might very well be the case. If so, next year's Yankees could look very much like last year's Yankees, only without Jeter and Kuroda. And with A-Rod.
And you might look back upon this day, Nov. 24, 2014, as the day the Yankees began to raise the white flag on their 2015 season.
November, 22, 2014
Nov 22
6:41
PM ET
Associated Press
NORTH LAS VEGAS, Nev. -- President Barack Obama is playing golf at an exclusive Las Vegas-area course with a retired shortstop, a Democratic Party donor and a newspaper owner.
After Obama took about five hours to play the 18 holes at Shadow Creek in North Las Vegas on Saturday, the White House said that he had decided to play an additional nine holes.
His foursome includes retired New York Yankees shortstop Derek Jeter, Obama campaign supporter Stephen Cloobeck and the owner of the Las Vegas Sun newspaper, Brian Greenspun.
Casino mogul Steve Wynn built Shadow Creek in 1989; it is now owned by MGM Resorts International.
Obama is spending the weekend in Nevada after delivering an immigration speech in Las Vegas on Friday.
He returns to the White House on Sunday.
November, 21, 2014
Nov 21
5:44
PM ET
Associated Press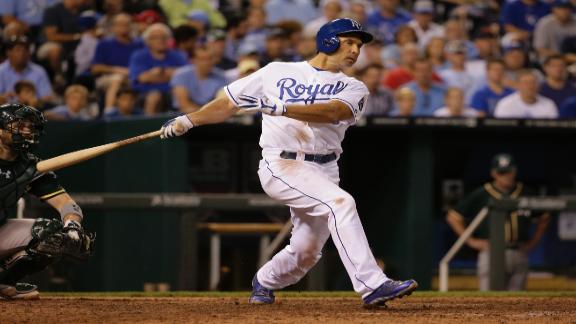 ST. PETERSBURG, Fla. -- Raul Ibanez, Kevin Cash and Don Wakamatsu are the finalists to replace Joe Maddon as manager of the Tampa Bay Rays.
Dave Martinez, the Rays' bench coach for the past seven seasons, was among seven candidates dropped Friday. Also cut were Barry Larkin, Doug Glanville, Manny Acta, Craig Counsell, Charlie Montoyo and Ron Wotus.
Tampa Bay said interviews with the finalists will be scheduled for the week of Dec. 1. Maddon left the Rays after nine seasons to manage the Chicago Cubs.
"The decision on Dave Martinez was especially difficult," Rays president of baseball operations Matt Silverman said in a statement. "He's played a key role in our organization's evolution, and he's done all he can to put himself in position to be a manager. In the end, we determined that our clubhouse would best benefit from a new voice that will add to our already strong and cohesive culture."
Ibanez, 42, has spent 19 seasons in the major leagues with Seattle, Kansas City, Philadelphia, the Yankees and the Los Angeles Angels and has 305 homers and 2,034 hits. He helped the Royals win this year's AL pennant.
The 36-year-old Cash played for Tampa Northside in the 1989 Little League World Series and was a big league catcher for eight seasons with Toronto, Tampa Bay, Boston, the New York Yankees and Houston from 2002 to 2010. He was a major league advance scout for Toronto in 2012 and Cleveland's bullpen coach in 2013-14.
November, 21, 2014
Nov 21
1:30
PM ET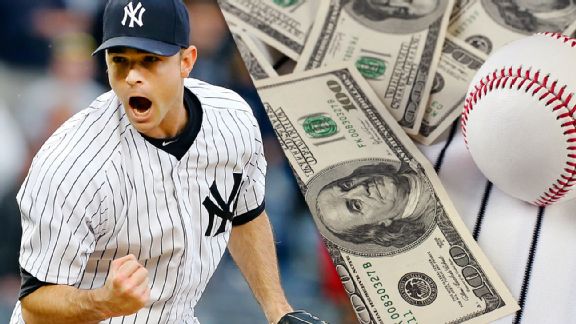 Getty ImagesDavid Robertson is looking for big bucks. Four MLB officials tell us he's gonna get them.
The question is: Will
David Robertson
receive
"Papelbon money"
from the Yankees?
The expectation is that Robertson's free-agent contract will at least be in the neighborhood of
Jonathan Papelbon
's four-year, $50 million contract, the highest ever for a closer.
Four MLB officials, surveyed by ESPN New York, think the 29-year-old Robertson will likely receive the years and at least come close to the money.
"I think he is going to get his money," an NL executive said.
"My first impression would be no, but the way the market is, yes," an AL executive said.
"I could see him getting four years and $40 million," an NL executive said.
"I could see four years and $40 million," an AL scout said. "It could be higher because, remember, it only takes one guy."

The Yankees must decide if they are the one guy. Should they
Spend Hal's Money
on Robertson?
They like Robertson, but Brian Cashman has never been a fan of big-money relievers, except for
Mariano Rivera
. There is a lot of historical data that says relievers are inconsistent and flame out early. Many scouts like Robertson's delivery and think he will be productive going forward.
"I think you will get good return on the dollar," said the AL executive, who was at first hesitant about whether Robertson will receive Papelbon money.
It is worth something on the market that Robertson replaced Rivera so smoothly and did so in the Bronx. The thinking is that since he could handle being the Yankees' closer after Mo, a big-money free-agent contract won't phase him. So maybe the
Washington Nationals
or
Detroit Tigers
believe Robertson is their missing piece.
The Yankees know they would probably be worse without Robertson in 2015. Teaming him with
Dellin Betances
would give the Yankees the beginnings of an excellent pen.
Without Robertson, Betances likely becomes the closer, while the Yankees
could sign Andrew Miller
, who hasn't closed but could be paid like one, and deservedly so.
A year ago, the Yankees let
Robinson Cano
go over money and years. Now, it appears,
they're going to stare at the same situation with Robertson
. It could signal a new direction in free agency, though the folks we spoke to don't believe the Yankees are ultimately going to change their pinstripes.
"When has money been a problem for the Yankees?" an NL evaluator said. "When has a budget been a problem for the Yankees? That's why they are the Yankees."
If Hal Steinbrenner wants to have some semblance of a budget -- which he clearly desires -- these are the types of questions he and his front office must decide. Are the Yankees thinking about their business differently, or will they do business the same as they have always done? In other words, if they want a guy, will they be the highest bidder?
November, 21, 2014
Nov 21
11:21
AM ET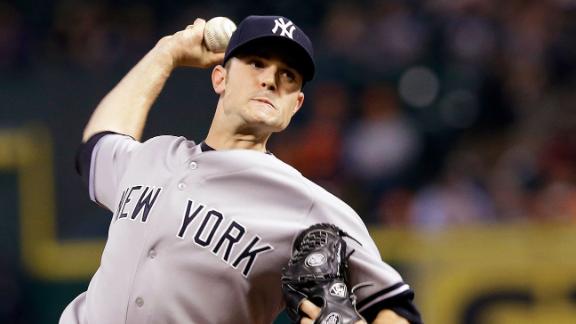 When
Mariano Rivera
called it a career after the 2013 season,
David Robertson
graduated from eighth-inning reliever to closer. In 2014, he went 4-5 with 39 saves and a 3.08 ERA while allowing a .192 batting average. This fall, he turned down the Yankees' $15.3 million qualifying offer -- which would have been the largest single-season salary ever paid to a relief pitcher – and decided instead to seek a multiyear contract on the free-agent market.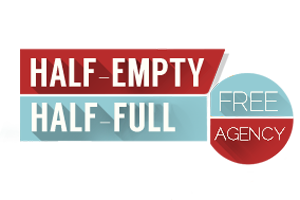 Robertson probably won't get $15 million per season, but Jim Bowden
predicted
a three-year, $39 million contract for Robertson. ESPN's Andrew Marchand reported earlier this offseason that Robertson is looking to match or exceed the four-year, $50 million contract
Jonathan Papelbon
received from the Phillies a few years ago.
Is Robertson worth it? Let's do another half-full, half-empty.
HALF-FULL
This year's World Series teams showed the importance of a deep, dominant late-inning bullpen crew, as both the Royals and Giants (with the exception of
Madison Bumgarner
) had mediocre rotations but terrific bullpens. Just ask the Nationals or Tigers about the importance of a shutdown reliever. The Nationals might have won two World Series titles by now if
Drew Storen
hadn't blown crucial save opportunities in the 2012 and 2014 postseasons, and the Tigers have struggled with their bullpen for years. Both teams could be interested in Robertson.
There's no denying Robertson's late-inning dominance. Over the past four seasons, his 2.20 ERA is sixth in the majors among pitchers with at least 200 innings in that time span -- and that's come in Yankee Stadium, where routine fly balls to right field land three rows deep in the stands. He's allowed a .201 batting average over those four years with a strikeout rate of 34 percent -- again, sixth overall in the majors. Not bad for a onetime 17th-round draft pick.
He's showing no signs of slowing down; indeed, his 2014 strikeout rate of 37.1 percent was the highest of his career. Robertson throws a cutter and a curveball (and a very occasional changeup). It's that curveball, one of the best in the game, that has made him an elite reliever: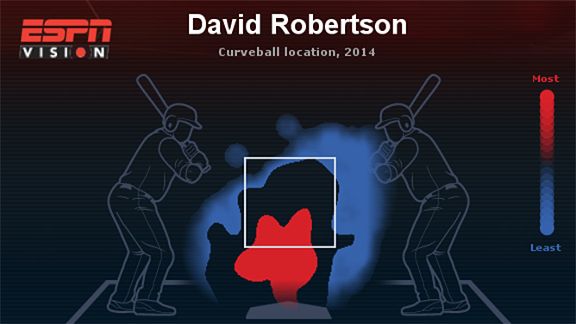 ESPN Stats & Info
The curveball is a swing-and-miss pitch
and
generates a lot of ground balls, owing to that sharp 12-to-6 break and location down in the zone. Obviously, it's Robertson's go-to pitch when he's ahead in the count. Since 2011, batters have hit .161 against it with one home run, 140 strikeouts and just seven walks.
Robertson has had two minor DL stints in recent seasons, but neither was an arm-related injury. He repeats his delivery well, and considering he's entering his age-30 season, he's a good bet to remain healthy over a three- or four-year contract.
Importantly, he's pitched in New York. If he ends up leaving the Yankees, there should be no concerns about how he will handle the pressure of closing elsewhere.
HALF-EMPTY
There's a reason the Papelbon contract was much derided at the time: Relievers, even good ones, just don't create enough value to be worth huge, multiyear contracts. Plus, it's not that hard to come up with good ones. Look at the Phillies; They have
Ken Giles
ready to take over as closer but are stuck with Papelbon's big contract.
Even if a team is desperate for a closer, where's the guarantee that Robertson does the job in October if you get there? He has one season of closing under his belt and has never had to save a postseason game. There are a lot of great regular-season closers who haven't done the job in October.

Plus, Robertson is coming off a 3.08 ERA -- that's nothing special these days for a reliever.
Sixty-nine
relievers who threw at least 50 innings had a lower ERA in 2014. He saved 39 games in 44 opportunities. That's a save percentage of 88.6. Sounds good, but again, it's nothing special; 13 closers with at least 20 opportunities had a higher percentage in 2014. Robertson also allowed seven home runs in 2014, six to right-handed batters. Whoever signs him has to hope that number was either an aberration or Yankee Stadium inflation.
Yes, there has been consistency in his performances over the past four seasons. But relievers tend to burn out quickly. Do you want to gamble $40 million that Robertson will remain healthy and productive in a role that's fairly easy to fill?
What do you think? Will he return to the Yankees or will the Tigers be desperate and give him a Papelbon-like deal?
November, 20, 2014
Nov 20
11:56
PM ET
NEW YORK -- Brian Cashman expected not to get much sleep Thursday night. But not because he's worrying about missing out on any big free-agent signings.
For the fifth consecutive year, the
New York Yankees
general manager planned to sleep outside in the blustery West 41st Street courtyard of Covenant House as part of an annual nationwide event to raise money to benefit homeless children and adolescents.
"I don't know how any human beings can deal with this on a daily, weekly, monthly basis," Cashman said. "There's no comfort on that ground. Even one night is terrible. With all the elements, with nature. It's not right. No one should have to live like that."
[+] Enlarge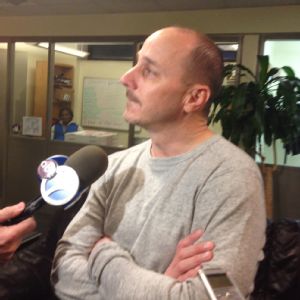 Wallace Matthews, ESPNNewYork.comBrian Cashman prepares to sleep outside the West 41st Street courtyard of Covenant House.
Along with dozens of other participants, Cashman was heading out to his concrete bed with just a sleeping bag and his arm for a pillow. "The first year, I didn't get a wink of sleep," he said. "But after Year 1, I brought a sleeping pill with me. I don't know if that's cheating or not."
Cashman, did, however, have a cell phone, his lifeline to the rest of the baseball world. And he did admit that in past years, he has taken calls from agents and even proposed a trade or two.
But Cashman, citing collective bargaining agreement rules prohibiting GMs from discussing free-agent negotiations, could offer no specifics on what he might be able to get done from his chosen spot on the cold pavement. So far this winter, the Yankees have traded
Francisco Cervelli
for pitcher
Justin Wilson
, sold the rights to
Zelous Wheeler
to the Rakuten Golden Eagles,
Masahiro Tanaka
's former club, and added four minor leaguers -- outfielders Tyler Austin and Mason Williams and right-handers Danny Burawa and Branden Pinder -- to the 40-man roster.
Other than that, all quiet on the free-agent front.
"Lots of calls, lots of texts, but nothing to show for it yet," he said. "It's certainly taking its time, but it's been busy. Certainly a lot of conversations. Hopefully they'll lead somewhere positive."
In fact, so far the only real movement in the AL East was the
Toronto Blue Jays
' signing of former Yankee
Russell Martin
to a five-year, $82 million deal earlier this week -- a move that didn't make Cashman's life any easier.
"Toronto got themselves a hell of a player," Cashman said. "I'm a Russell Martin fan. He's a great leader and a great catcher, there's no doubt about that. I know because we had him. I'd rather it not be them because they're in our division."
As for the Yankees, Cashman said CBA rules precluded him from even admitting whether the Yankees will be players in the sweepstakes for one of the three elite pitchers on the market --
Jon Lester
,
Max Scherzer
and
James Shields
-- or commenting on talks, if any, with
David Robertson
,
Brandon McCarthy
or
Chase Headley
, which are three free agents the Yankees are known to be interested in.
"I can restate clearly shortstop, maybe third base; the left side of the infield is definitely a priority," he said. "I think we have good pitching, but there's obviously some volatility in it because of the health status and health histories of some of them. Those are two areas I would like to focus on. Bullpen, clearly with the Robertson circumstance, is an issue. That's a handful, right off the bat. I can't really say if any of the big-ticket items are in play or not in play. I'm just going to say we're doing everything in our power to improve the club. Ownership has always been very beneficial with the resources to put the team on the field."
Cashman said he still does not know officially if
Hiroki Kuroda
will pitch in 2015. He did say, "He's way too talented to give it up and retire," and added he still has yet to speak with
Alex Rodriguez
, although the two have exchanged texts. He also described Wheeler as "excited" over the opportunity to play full-time -- and earn a big-league paycheck -- in Japan next season.
Cashman hinted that anyone who thinks the Yankees' plan to go into 2015 with the same team as last year, minus
Derek Jeter
and with Rodriguez, might be making a premature judgment.
"It's way too early to say what kind of team I'm going to have yet," Cashman said. "We're not even into December yet. Let me get through mid-January and I'll get a better feel of what kind of team I'm going to have and compare it to last year's team. But I definitely have work to do, no doubt about that."
But first, he had to have a sleepless Thursday night on a concrete floor in Manhattan, which certainly won't make his job any easier on Friday.
"I'll be a cranky Yankee tomorrow," he said.
November, 20, 2014
Nov 20
5:52
PM ET
The Yankees have sold the rights to infielder
Zelous Wheeler
to Japan's Rakuten Golden Eagles, otherwise known as
Masahiro Tanaka
's former team. For the deal to go through, Wheeler had to agree to go to Japan. Players choose to go because the pay day is usually richer. The Yankees got $350,000 from Rakuten for his rights.
The Yankees added outfielders Tyler Austin and Mason Williams, as well as pitchers Branden Pinder and Danny Burawa to the 40-man roster.
Here is the release:
The New York Yankees today announced that they have added OF Tyler Austin, RHP Danny Burawa, RHP Branden Pinder and OF Mason Williams to the Major League roster. The Yankees also have sold the rights of INF Zelous Wheeler to the Tohoku Rakuten Golden Eagles of Japan's Pacific League.

Austin, 23, spent the entire 2014 season with Double-A Trenton, batting .275 (109-for-396) with 56R, 20 doubles, five triples, 9HR and 47RBI in 105 games. In 33 games after the All-Star break, he hit .336 (41-for-122) with a .557 slugging percentage. Following the regular season, Austin played in 19 games with the Scottsdale Scorpions of the Arizona Fall League, batting .304 (21-for-69) with 12R, two doubles, one triple, 2HR and 13RBI. He was originally selected by the Yankees in the 13th round of the 2010 First-Year Player Draft.

Burawa, 25, combined with Double-A Trenton and Triple-A Scranton/Wilkes-Barre to go 3-1 with four saves and a 4.70 ERA (59.1IP, 31ER, 30BB, 73K) in 42 relief appearances in 2014. He made 31 appearances with the RailRiders, going 3-1 with three saves and a 5.95 ERA (42.1IP, 28ER, 26BB, 55K). Burawa was originally selected by the Yankees in the 12th round of the 2010 First-Year Player Draft.

Pinder, 25, combined with the GCL Yankees 2, Double-A Trenton and Triple-A Scranton/Wilkes-Barre to go 3-0 with five saves and a 2.04 ERA (39.2IP, 9ER, 9BB, 37K) in 29 appearances (four starts) in 2014. In 13 relief appearances with the RailRiders, he was 1-0 with one save and a 3.78 ERA (16.2IP, 7ER, 5BB, 12K). Pinder was originally selected by the Yankees in the 16th round of the 2011 First-Year Player Draft.

Williams, 23, spent the entire 2014 season with Double-A Trenton, batting .223 (113-for-507) with 18 doubles, four triples, 5HR and 40RBI in 128 games. The left-handed batter also led the Thunder in runs scored (67) and recorded a team-best 21 stolen bases. Williams was originally selected by the Yankees in the fourth round of the 2010 First-Year Player Draft.

Wheeler, 27, was signed by the Yankees as a minor league free agent on November 12, 2013. He made his Major League debut in 2014, batting .193 (11-for-57) with 6R, 2HR and 5RBI in 29 games over two stints with the Yankees.
November, 20, 2014
Nov 20
1:00
PM ET
The Yankees went into last winter with a publicly stated goal of keeping their payroll below $189 million. They came out of it having committed more than $400 million to four new players. This winter, there are no such payroll limitations, at least to our knowledge, but there is still plenty of need. And because there is nothing more fun than playing with another guy's cash, we at ESPN New York will once again aid the Yankees' decision-makers with a little game we like to call "Spend Hal's Money."
Today's Candidate:
Alexei Ramirez
Position:
SS
Age:
33
Height:
6-2
Weight:
180
2014 numbers:
$9.5 million salary, .273 batting average, 15 HRs, 74 RBIs, .713 OPS, 3.0 WAR
Pros:
Ramirez is a steady, durable, unspectacular performer who showed some renewed pop at the plate -- 15 home runs in 2014 after hitting only 15 in 2012 and 2013 combined. His .273 batting average this past season would have led all Yankees regulars, unless you consider
Ichiro Suzuki
(.284) a regular. He has played 158 games in each of his past four seasons and 156 the season before that. He also had 21 steals, which would have tied him with
Brett Gardner
for second on the team in 2014. He's an adequate shortstop with a strong arm who showed some diminishing range this past season.

Cons:
Despite the relative brevity of his career -- 2014 was his seventh season-- Ramirez is not exactly young; he will turn 34 in September. Despite his respectable batting average, he has never been much of an on-base percentage guy -- his OBP for 2014 was .305, about the same as
Derek Jeter
's, and he has drawn more than 30 walks in only two of his seven seasons. A right-handed batter, all 15 of his home runs in 2014 were to left or left-center, meaning that number will probably drop at Yankee Stadium. And because he is signed with the White Sox through 2015, he would have to be acquired through a trade, not an easy road for the Yankees with their lack of tradeable big-league pieces and scarcity of MLB-ready prospects. Plus, he would not come cheaply -- his contract calls for $10 million for 2015, and the White Sox have a team option for another $10 million, with a $1 million buyout, for 2016.
The verdict:
He's younger than
Jimmy Rollins
, but every bit as expensive and clearly not as good a fit. He's older than
Stephen Drew
, who will probably cost less after his humiliating 2014 experience. If the Yankees are going to trade for a shortstop, they may as well go all-in and try to land
Troy Tulowitzki
, although I seriously doubt they have what it takes to get him. If they want to go younger,
Asdrubal Cabrera
is out there. And if they are determined to add a shortstop named Ramirez, they'd be better off with Hanley. An easy call for me: Pass.
November, 19, 2014
Nov 19
2:26
PM ET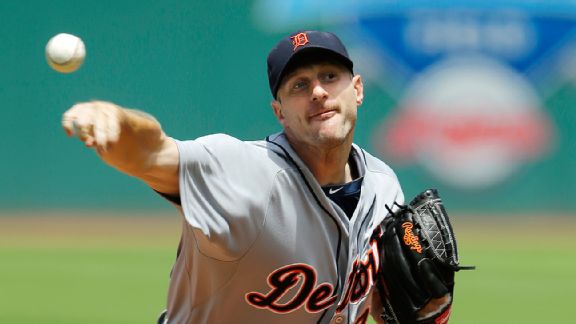 AP Photo/Mark DuncanMax Scherzer is the surest bet of all the free-agent starters available, says one exec.
A perception is out there that the Yankees, in the words of one NL executive, are "sleeping giants" on
Max Scherzer
. That by the end of the winter, they will be players for arguably the best ace on the free-agent market.
That is the perception. But the reality, according to a source with knowledge of the Yankees' plans, is that the team is avoiding long-term, nine-digit contracts for players 30 and older. Scherzer turned 30 on July 27, 2014.
A source did add, "Never say never," but emphasized the initial plan is to try to re-sign
Brandon McCarthy
and not go after the top tier of Scherzer,
Jon Lester
and
James Shields
.
The Yankees are engaging the trade market. They have already turned
Francisco Cervelli
-- a popular, but spare part -- into
Justin Wilson
, a talented, if not yet consistent, lefty reliever. The Yankees could try to fill shortstop by dealing for
Jimmy Rollins
,
Elvis Andrus
,
Alexei Ramirez
,
Didi Gregorius
or
Troy Tulowitzki
. Each situation has its upside, but none are close to sure things. If they turn to the free-agent market,
Stephen Drew
would seem the most likely option at short.
Drew is represented by Scott Boras, who is also Scherzer's agent. Boras is known to wait out the market to receive the price tag he deems appropriate.
So let's say the Yankees don't sign McCarthy, strike out on Headley, and David Robertson leaves as a free agent. Meanwhile, Jon Lester returns to Boston or goes north to Toronto, and while the Orioles either maintain their nucleus or add to it, the Yankees may sit back a month from now and re-examine Scherzer.
The NL executive called Scherzer the surest bet of the three top starters on the market. Scherzer has fanned more than 10 batters per nine innings, which is a stat that often suggests that success can be maintained. (It is not as foolproof as
CC Sabathia
's numbers -- his K/per 9 have stayed the same as he has declined -- show.)
Scherzer, despite the fact he would cost a No. 1 pick -- while Lester, who was traded midseason, would not -- is the more desirable starter out there, according to the NL executive.
"He's the best," the executive said. "He has a little less mileage [having pitched fewer major league innings], and what he does is more sustainable."
Boras knows all this, too. Is there any way -- no matter what the Yankees are saying or thinking internally right now -- Boras is not going to give the Yankees last licks?
At the end of the day, any agent -- especially one as successful as Boras -- is going to let the Yankees have one last shot to say yes, if nothing else to drive up the price on other clubs.
When the inevitable call comes, the Yankees will have to look at their roster and decide if they are going to be better than the 84-win club from 2014. They have a bunch of question marks in their rotation, from
Masahiro Tanaka
(elbow), Sabathia (knee),
Ivan Nova
(elbow),
Michael Pineda
(history) and
Shane Greene
(youth).
Scherzer could be a difference-maker. As of now, the Yankees are trying to stay out of any sweepstakes. But the NL executive's term "sleeping giants" seems appropriate. At some point this winter, would it really surprise you if the Yankees made a big play for someone like Scherzer?