September, 20, 2014
Sep 20
1:08
AM ET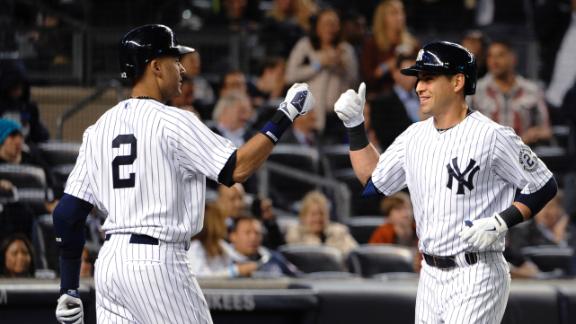 NEW YORK -- There is a young outfielder in the
New York Yankees
clubhouse these days, a September call-up named
Jose Pirela
, and when -- or if -- he finally gets into a game, he will be the 57th player to have appeared in a Yankees uniform this season, eclipsing by one last year's franchise record for players used in a single season.
That tells you all you need to know about how much of a role injuries played in the imminent collapse of the Yankees' 2014 season. If you thought their 2013 clubhouse was a baseball MASH unit, well, this one was every bit as bad, and might still turn out to be worse.
Still, until the fourth inning of Friday night's 5-3 win over the
Toronto Blue Jays
, when
Jacoby Ellsbury
felt something grab in his right hamstring, there was still a chance, however slim, that the Yankees might yet overcome the injury bug and survive to play at least one playoff game this October.
[+] Enlarge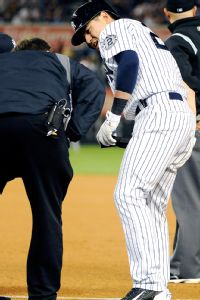 AP Photo/Kathy KmonicekJacoby Ellsbury is just the latest Yankee to get injured.
Well, those chances are now slim and none, and like my old pal Don King used so say, slim's out of town.
The Yankees survived the loss of four of their five starting pitchers, including their erstwhile ace,
CC Sabathia
, and the sensational
Masahiro Tanaka
. They weathered the continual lineup absences of
Mark Teixeira
and
Carlos Beltran
. They shrugged off the loss, last week, of
Martin Prado
, a replacement for a replacement, who had played well until falling victim to a season-ending appendectomy.
Despite all that, they have remained alive, albeit barely, in the hunt for the second AL wild card, and with their third straight win Friday night, their E# -- that is, elimination number -- is holding steady at six, with nine games to play.
It is not a great chance, but it is still a chance.
But not without Ellsbury. The $153 million center fielder may not have had an MVP-caliber season relative to the rest of baseball. He batted .271 with 16 home runs, 71 RBIs and a .747 OPS -- but relative to the rest of the Yankees' lineup, he was Babe Ruth and Lou Gehrig. He was the team leader in RBIs, had the highest batting average in their everyday lineup, and, with 39 stolen bases, was the Yankees' leading base stealer by nearly double over his closest rival (
Brett Gardner
, 20).
And he was having a hell of a night Friday before he pushed it a little too hard trying to beat out a double-play ball in the fourth.
He had homered -- a two-run shot deep into the right-field seats -- in the third to wipe out a 2-1 Jays lead, and the grounder that ended his night, and probably his season, scored two more runs to provide the rest of the scoring in a 5-3 win.
But what does it matter to a team to gain a victory but lose an offensive spark plug?
To this team, it means pretty much everything, since aside from Ellsbury, Gardner and newcomer
Chris Young
, the rest of the offense has misfired all season.
That is why there was little joy on manager Joe Girardi's face or mirth in his voice when he met the media after the game, because he knew better than anyone that on this night, the Yankees had lost much more than they had gained.
He didn't quite have all the bad news -- Ellsbury had been taken for an MRI and there was neither a diagnosis of the severity of his injury nor a prognosis for his return -- but when asked if he was concerned that he might have lost Ellsbury for the remainder of the season, Girardi said, "Well, I think that's a distinct possibility. Any time a guy comes out and grabs his hamstring, you're always concerned. It's not what you want. We just lost Prado, and Jake had swung the bat extremely well tonight. He's a huge part of our offense. It's not what you want, but we have to deal with it. That's all we can do."
The problem is, the Yankees are running as short of bodies as they are of games.
Presuming Ellsbury is gone -- and that is a safe presumption -- it means more playing time for Young in left, with Gardner in center and
Ichiro Suzuki
, whose 40-year-old body does not allow him to play effectively every day anymore, in right. Beltran, both slumping and in pain from a bone chip in his elbow, is the backup outfielder. Anything else gets cobbled out of
Zelous Wheeler
and
Chase Headley
, both infielders by trade, and of course, Pirela, who was issued No. 67 but really should have been given 57. (That one currently belongs to
Rich Hill
, a rarely used lefty reliever who became a necessity when the Yankees decided to cut bait on
Matt Thornton
).
It has been scotch tape and mirrors all season for this club, and somehow those makeshift remedies were holding it all together, but now it looks like it will finally come apart, for the last time.
That is why Girardi could not really revel in the pitching of
Hiroki Kuroda
, who gave the Yankees his usual 6⅔ steady if unspectacular innings, allowing three runs (two earned) on seven hits, or his bullpen, which --
Shawn Kelley
's Thursday night flameout nothwithstanding -- seems to be getting healthy again, with
Esmil Rogers
and
Adam Warren
combing for 2⅓ innings of scoreless, one-hit ball.
Nor could he really celebrate the play of
Derek Jeter
, who in the first two games of his final homestand is 4-for-8 with a home run, plus a terrific heads-up play to trap
Jose Reyes
off second base in the first inning.
Lots of good things happened for the Yankees on this night, but the manager couldn't seem to set aside the one bad thing that happened to them, because he knew that is the one that is likely to finally derail what is left of his season.
"You could hit Ells anywhere and he's going to be productive," Girardi said. "That's the type of player he is. He's got great speed. He's really a smart baserunner. He knows how to steal bases, knows how to get himself into scoring position. He's a great player. Offensively, defensively, there's nothing this kid can't do and he's meant a whole lot to our club."
Despite his history of injuries, Ellsbury played 149 games this season, and any Yankee fan would have signed on for that when the season began, especially after he missed 10 days of spring training with a calf injury. But now, 149 games will not turn out to have been enough, and the Yankees can only hope he will be all the things he was for them this year, next year.
Right now, he's just one more entry on a long list of players who broke down before his team reached the finish line.
Which probably means that a young man named Jose Pirela, who has never set foot on a big-league ball field, may be about to. And when he does, he will make Yankee history.
But, as Girardi has had to say way too many times this season, not the kind that you want.