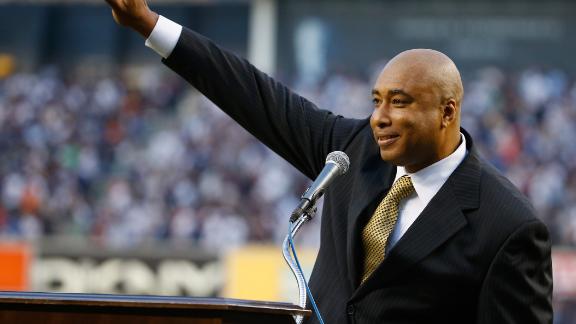 The Yankees honored Bernie Williams prior to Sunday night's game against the Rangers, officially retiring his No. 51 and unveiling his plaque that will reside in Monument Park at Yankee Stadium.
The Yankees called up lefty reliever Jacob Lindgren to bolster their weary bullpen for the series finale against the Rangers.
6h
ESPN Stats & Information
The Rangers are hitting Yankees pitching very hard, with Prince Fielder leading the charge, but tonight's starting pitcher, Yovani Gallardo is slumping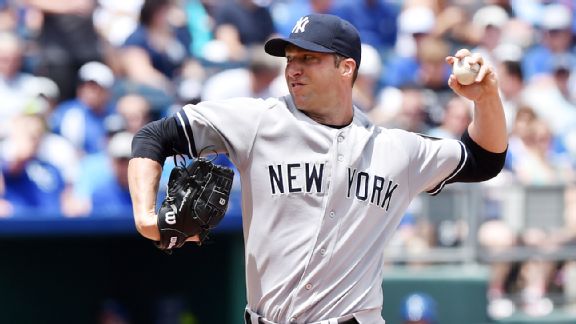 ESPN Chalk's Vegas experts give their best bets for the Sunday Night Baseball game between the Texas Rangers and New York Yankees, as Yovani Gallardo and Chris Capuano square off on the mound.
One of the most popular Yankees, Bernie Williams, will have his number retired on Sunday. We run through his most notable moments and accomplishments.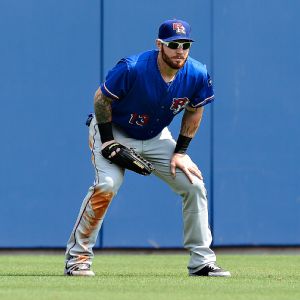 Nearly a month after being reacquired by the Rangers, outfielder Josh Hamilton will join the team on Monday after finishing his recovery from shoulder surgery.
Backup first baseman Garrett Jones was one of the few New York Yankees to have fun in a blowout loss Saturday, pitching a scoreless 2/3 of an inning.
CC Sabathia lasted just 2 1/3 innings against the Rangers on Saturday, allowing six runs on seven hits in the New York Yankees' 15-4 loss.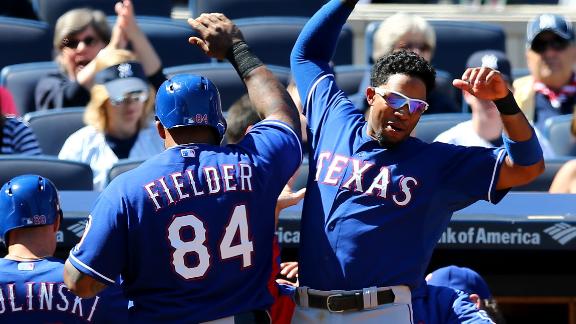 An 10-run third inning by the Rangers sent to the Yankees to a low point in their season so far.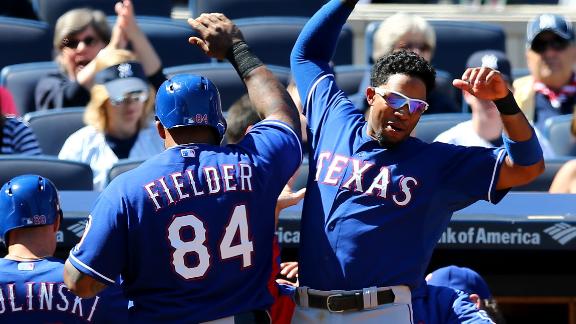 Rangers ride 10-run 3rd inning in 15-4 rout of Yankees
CC Sabathia hasn't lost to the Rangers as a Yankee and he takes the mound on Saturday in hopes of getting New York back on track.
With an offense that rarely puts up the kind of numbers it did Friday night, the Yankees can't afford to be asking their pitchers to get extra outs.
May 24, 2015

,

9:57 PM ET
Yankees retire Bernie Williams' No. 51