January, 30, 2015
Jan 30
5:20
PM ET
Associated Press
ATLANTA -- The Braves pulled off another trade in their busy offseason Friday, dealing right-handed pitchers David Hale and Gus Schlosser to the Colorado Rockies for minor league catchers Jose Briceno and Chris O'Dowd.
Hale pitched 45 games for Atlanta last season, going 4-5 with a 3.30 ERA, and had been expected to compete for a spot in the starting rotation.
He became expendable after the Braves reached agreement on a minor league contract with left-hander Eric Stults, according to his agent, Joe Bick. Stults will be invited to the major league camp.
The 35-year-old Stults started 65 games for San Diego over the last two seasons, going 8-17 with a 4.30 ERA in 2014. He will compete for the fifth spot in the rotation with hard-throwing prospect Michael Foltynewicz, acquired from Houston, and perhaps veterans Wandy Rodriguez and Chien-Ming Wang, both looking to come back from injuries that sidetracked their careers.
The Braves also finalized a $4 million, one-year contract with Jonny Gomes. The deal, which includes a vesting option, was completed Friday after the free-agent outfielder passed a physical.
Gomes played for Boston and Oakland in 2014, hitting only .234 with a career-low six homers. He could be part of a left field platoon in Atlanta with former Yankees prospect Zoilo Almonte.
Schlosser worked 15 games in Atlanta with a 7.64 ERA.
January, 30, 2015
Jan 30
12:00
PM ET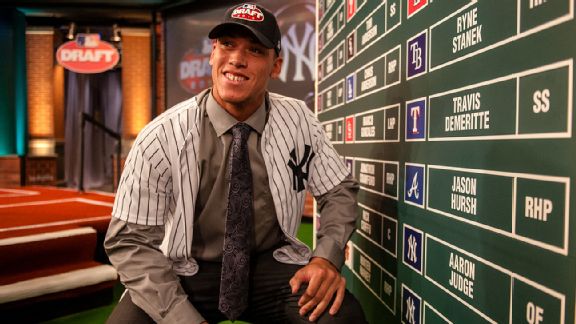 Paige Calamari/Getty ImagesAaron Judge, , a 2013 first-round draft pick, landed at No. 23 on Keith Law's Top 100 prospects list, making him the highest-ranking Yankee. So who is he exactly?
NEW YORK -- Everything about Aaron Judge is big. His size? He is 6-foot-7, 230 pounds. The expectations? He is the most likely prospect to become a star in the Bronx.
Even his personality is large.
"He is really a magnetic personality," Yankees assistant GM Billy Eppler said. "He is one of those guys in a food room, around his teammates, he is interacting with everybody and everybody is interacting with him. So you might see him one day sitting with one group of guys and the next day sitting with another group of guys. He is a really genuine, good person."
Another official with knowledge of the Yankees' plans described Judge as a potential cornerstone right fielder with 30-homer power and the charisma to go with it.
[+] Enlarge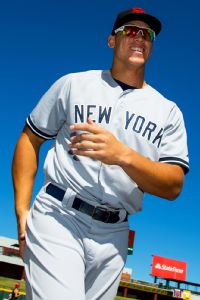 Mark J. Rebilas/USA TODAY SportsJudge hit 17 home runs and batted .308 in his first year in the Yankees' farm system.
Just this week,
Keith Law ranked the 22-year-old Judge
the best prospect in the Yankees' system and the 23rd in all of baseball.
The Yankees selected Judge with the 32nd pick out of Fresno State in the 2013 season. In his first full season, Judge mashed in A-ball, hitting .308 with 17 homers and 78 RBIs in 131 games. His OPS was .905. He's a power hitter with a precise eye, walking 89 times.
Eppler wouldn't say where Judge will start this year, but high-A or Double-A Trenton seems like a good bet. Very optimistically, he probably won't make it to the Bronx until later in the summer. More likely, after being a September call-up, he could be in the outfield mix in 2016 and he projects as an everyday right fielder in 2017. (All ETAs, of course, are subject to change.)
So what can trip him up? Well, the obvious item is how we started. He is so big that the speed of the major league game could be too much for him. Still, there is no solid evidence of that being true, at least to this point. From Law:
Judge's size was expected to be an impediment to his ability to hit, but so far it hasn't proven to be an obstacle at all. He showed outstanding plate discipline and ability to make contact in his first full year in pro ball while giving glimpses of the huge raw power you'd expect from someone of his build. Judge shouldn't have started his professional career in the low-A Sally League since he was a 22-year-old college product, but the Yankees got him to the Florida State League midyear, and he continued to rake while proving he can get on base and hit a few balls over the fence.

Judge has a short swing, surprisingly so given the length of his arms, and very strong command of the strike zone (which is partly why I didn't like seeing him in low-A to start the year). The challenge for him will be to learn when he can uncoil and turn on a ball without losing that compact stroke, which keeps his contact rate up.

Judge is as tall as a tree, but he doesn't move like one. Eppler describes Judge like one would describe an elite athlete. Fresno State supposedly wanted Judge to play football after he starred as a high school receiver in the small town of Linden, which is about two hours from San Francisco.
"You see that body and you probably think, 'He is a below average defender,' but that is definitely not the case," Eppler said. "He can run and he can throw. He can really throw. He has tremendous feel in the outfield. ... I think he'll play a solid average to maybe above average corner outfield."
He could be the leader of the next generation of Yankees. He seems to have it all -- the size, the strength, the ability, the drive and the personality. Now, he must do the biggest thing yet -- put it all together.
January, 30, 2015
Jan 30
9:11
AM ET
Organization ranking: 20
I've
ranked every farm system
, as well as the
top 100 MLB prospects for 2015
. Below, I've ranked at least the top 10 Yankees prospects, plus an overview of the system and any other names of note beyond the top 10. I also discuss any prospects who might help the big league club in 2015, one or two prospects whose stock has taken a big hit in the past year, and a sleeper prospect who I think can jump into the main top-100 list for 2016.
January, 28, 2015
Jan 28
9:00
AM ET
To kick off my look this week at the best prospects in the minor leagues, I've ranked all 30 MLB farm systems from top to bottom, considering only the players who are currently in the systems and have not yet exhausted their rookie of the year eligibility. (I use the same criterion for the individual player rankings that will be posted over the next few days.)
Similar to last year, there are only a handful of systems that combine both a few high-impact or high-ceiling prospects and the depth down to and past the end of their top-10 list. (My top 10 rankings by team will be released Friday.) Many systems ranked in the teens boast a couple very good prospects -- say, one or two guys who project as above-average regulars and another two or three who might be everyday guys -- and then it's bench parts and relievers. Those players are good to have, as you'd much rather fill those spots with minimum-salary players than have to reach out to free agency, but their asset value is much lower than the values of prospects who project as average or better.
One major change: You'll notice this year I have more large-market teams in the top 10, as ownership groups in those cities recognize the value in building better stables of prospects, which has included hiring better scouts and coaches away from other organizations. The draft has always offered a competitive advantage to lower-revenue teams willing to put their money into amateur scouting, in part because the clubs with higher payrolls chose to put their cash into the big league roster. If that's no longer true, it will reduce the opportunity for the Pittsburghs and Kansas Citys of MLB to continue to contend.

1. Chicago Cubs
Take a moment to recover from your surprise ...
To continue reading this article you must be an Insider
January, 26, 2015
Jan 26
3:00
PM ET
NEW YORK -- On top of the public humiliation, denigration and marginalization the Yankees have already heaped on
Alex Rodriguez
this offseason, now they want to welsh on his home-run bonus deal, too.
Well, the Yankees should only hope A-Rod hits enough home runs to merit those bonuses, and they should be more than happy to pay them.
But in their seemingly all-consuming desire to "get even" with A-Rod for his foolish and desperate attempts to overturn Major League Baseball's 162-game suspension last winter, the team that is supposed to be all about winning looks like it is about to compromise its own mission statement for the sake of someone's revenge.

If the Yankees are really concerned with winning, and improving off the dismal 84-win, 12-games-off-the-pace, Octoberless death march that their 2014 season was, they need Alex Rodriguez to play well.
And yet, this offseason the Yankees have seemed to do everything in their power to insure he will fail.
There can be only one reason for that: The Yankees are holding a grudge, and it could wind up costing them more than mere money.
There are two schools of thought on A-Rod, and both have validity. One is that he is insecure and soft, and will not be able to stand up to the relentless daily scrutiny he will be under this season.
That opinion is borne out by Rodriguez's admission that he turned to steroids in 2001 because of doubts he could live up to his 10-year, $252 million contract with the
Texas Rangers
, at the time the most lucrative in sports history.
The other school of thought is that A-Rod relishes playing the villain, courting the image and reveling in the attention, however negative, he gets in the media, in opposing stadiums, and often, even in his home ballpark.
That is borne out by events such as the home run he crushed off
Ryan Dempster
at Fenway Park in 2013 after being hit by a pitch that precipitated a bench-clearing brawl just 10 days after MLB had announced his suspension in the Biogenesis affair. And also by off-field exploits like working out with
Barry Bonds
, and hanging out with Cousin Yuri.
The Yankees seem to be playing to A-Rod's insecurities by their public statements about him this offseason, and for a player they know to be prone to distractions, they seem more than willing to distract him. (Ironically, people in the organization were privately critical of
Derek Jeter
for not publicly supporting A-Rod a few years back when he was getting booed at Yankee Stadium; now, those same people are doing the thing they accused the Captain of doing.)
Certainly, it is understandable to an extent.
You don't sue the team doctor for malpractice, imply through your emissaries that your own team is sabotaging you and attempting to force you out, or hire protesters carrying placards accusing the team president of being a cohort of Satan and Lucifer without expecting to tick someone off.
But the Yankees have always been pretty good at remembering what their business is, the business of winning ballgames, and they generally didn't hold bad manners or bad behavior against a player if they still believed he could help them.
Clearly, they no longer believe that of A-Rod. But the hard reality is, they are stuck with him for three more seasons and will have to pay him $61 million in salary, whether he plays well, badly, or not at all.
Baseball's Joint Drug Agreement insures that the Yankees can't wriggle out of the contract -- it stipulates that all punishment for drug offenses must be meted out by the league, which MLB already has -- and numerous sources within and without the organization insist self-proclaimed "finance geek" Hal Steinbrenner would pay off A-Rod and cut him loose.
The only thing left for the Yankees to do, it seems, is to go after the measly $6 million they would have to pay him for catching Willie Mays, who is six home runs ahead of A-Rod, and for catching Babe Ruth, who has a 1927-season lead (60 home runs).
Forget about the other targets on the list -- Hank Aaron is 101 home runs ahead, Bonds 108 ahead and the all-time record 109 ahead, a total Alex Rodriguez probably couldn't hope to reach in five seasons, let alone three.
But if he can give them 60 home runs over the final three years of the contract, the Yankees would be thrilled to have them. That averages out to 20 a season, which is two more than they got out of their DHs last season, five more than they got out of their third basemen, and more than
Chase Headley
, who has been handed A-Rod's old job, has hit in any but one of his eight big league seasons.
And besides, what is $6 million to the
New York Yankees
? Ashtray money. Half of what they paid to
Kevin Youkilis
in 2013, who gave them next to nothing, and just slightly less than they will be paying
Chris Capuano
, who was signed as rotation insurance for 2015.
So rather than trying to squash A-Rod's bonuses, the Yankees should be doing everything in their power to encourage him to earn them, and hope that he does.
Unless, of course, vengeance has now taking priority over victories.
Admittedly, the whole home run bonus idea was a bad one, conceived in greed by both parties.
The Yankees agreed to the separate marketing contract with Rodriguez -- calling for $6 million bonuses for reaching each of the five home run milestones -- because they expected to reap a box-office and merchandising windfall off suckers buying baseballs, hats and jerseys commemorating the chase of an already tainted home run record.
And A-Rod, who had already earned himself a raise from the most lucrative contract in pro sports history, still wanted to be paid extra for doing what he was being paid for in the first place, namely hitting home runs.
And all this was done despite the fact that GM Brian Cashman had publicly declared he would never negotiate with A-Rod if he exercised the opt-out clause in his original 10-year, $252 million contract, which of course he did.

Cashman was overruled by a higher authority, who at the time certainly thought the Yankees were getting a bargain at an average salary of $27.5 million, with the possibility of another $30 million tacked on.
Now, suddenly, it's a bad deal for the Yankees because A-Rod's "accomplishments" have been tarnished by his unprecedented year-long suspension, and his reported admission of steroid use to MLB last year.
Well, if that's the case, why didn't they try to void the bonus clause after the 2009 Sports Illustrated revelations of his steroid use, and his subsequent admissions? Wasn't his marketability just as tainted then?
The reasons are obvious: For one thing, A-Rod was still a productive player at the time and would in fact help lead the Yankees to the 2009 World Series championship.
For another, aside from the steroid admission, he hadn't done anything to anger the Yankees the way he did this time.
Now, approaching his 40th birthday and with few, if any friends left in the organization, Alex Rodriguez is seemingly no longer deserving of organizational support.
That may be a valid emotional decision, but it's clearly a foolish baseball decision.
The Yankees need Alex Rodriguez to hit home runs for them this season, and if he does, they should be more than happy to pay for them.
January, 26, 2015
Jan 26
1:24
PM ET
[+] Enlarge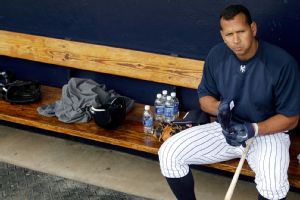 Matt Slocum/AP PhotoIf Alex Rodriguez hits six more homers, which would tie him with Willie Mays for fourth all time, he will be eligible for a $6 million bonus as part of his 10-year, $275 million contract with the Yankees.
NEW YORK -- The New York Yankees are devising legal arguments so Alex Rodriguez won't be able to collect any of the bonuses he is owed per the $30 million "milestone home run" marketing agreement he signed in 2007, sources confirmed to ESPNNewYork.com.
If Rodriguez hits six more homers, which would tie him with Willie Mays for fourth all time, he will be eligible for a $6 million bonus as part of his 10-year, $275 million contract with the Yankees. Rodriguez has hit 654 home runs in his career.
The Yankees plan on contesting the validity of the marketing deal because of Rodriguez's steroids revelations and yearlong suspension, a source with knowledge of the situation told ESPNNewYork.com.
Rodriguez, along with the MLB Players Association, would have the right to file a grievance that could return the ugliness from the Biogenesis investigation. This could reopen Rodriguez to questions about when and where he has done PEDs.
Even so, it is unclear how strong of a case the Yankees would have.
The Yankees' interest in trying to claim back some of the money they owe Rodriguez has been known for a long time. As far back as January 2013, shortly after the Miami New Times initially reported the Biogenesis story, a source told ESPNNewYork.com that the Yankees were "looking at about 20 different things" in regard to A-Rod's deal. The bonuses were part of that equation.
The New York Daily News reported earlier Monday that the Yankees would go after the bonuses.
In a future grievance, the Yankees likely would argue that Rodriguez basically voided the marketing agreement by making it worthless because of his PED use and the way he has acted. The deal calls for Rodriguez to receive the flat $6 million fee in return for the Yankees' gaining exclusive rights to market the milestone achievements.
Rodriguez, who will turn 39 in July, would also pocket $6 million apiece if he tied Babe Ruth (714 homers), Hank Aaron (755), Barry Bonds
January, 24, 2015
Jan 24
11:13
AM ET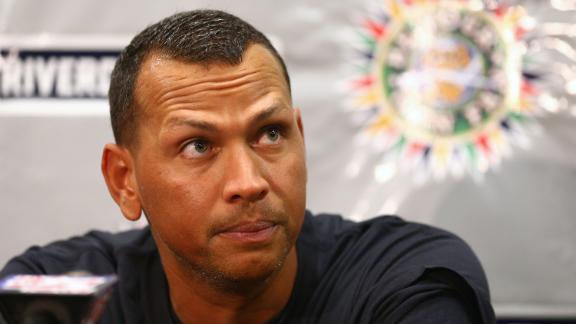 NEW YORK -- In an effort to find some closure after the confrontational Biogenesis case that led to his season-long drug suspension, Alex Rodriguez met with new commissioner Rob Manfred this week, sources confirmed to ESPNNewYork.com.
Rodriguez initiated the get-together between the two even though, with his suspension complete, he is considered in good standing in the eyes of MLB. There were no lawyers on hand, and it was said to be a positive discussion.
A source told ESPNNewYork.com that the meeting lasted 10 minutes and Rodriguez apologized, while promising to behave in the future.
The New York Post first reported the meeting took place.
The Yankees have no plans to make owner Hal Steinbrenner, president Randy Levine or general manager Brian Cashman available for any similar Rodriguez make-up sessions, a source said. An official with knowledge of the team's thinking said that Rodriguez will not receive any special treatment during spring training and will be dealt with like any other member of the 40-man roster.
The Yankees owe Rodriguez $61 million over the next three years. During the offseason, Cashman has repeatedly said the team does not know what type of player they will have the three-time MVP. With that in mind, the club signed Chase Headley for four years and $52 million to play Rodriguez's position, third base.
Rodriguez's poor relationship with MLB during the Biogenesis investigation included suing MLB and outgoing commissioner Bud Selig. He also dubbed Selig "the man from Milwaukee" and questioned the commissioner's integrity in not appearing during the Biogenesis appeal hearings.
January, 23, 2015
Jan 23
1:01
PM ET
[+] Enlarge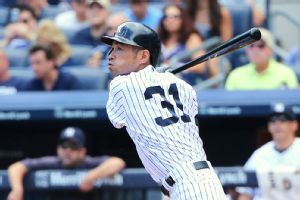 Anthony Gruppuso/USA TODAY SportsFree agent Ichiro Suzuki may be headed to Miami, as he and the Marlins are at work on a one-year deal, according to a source.
Free-agent outfielder Ichiro Suzuki is close to an agreement on a one-year contract with the Miami Marlins, a baseball source confirmed to ESPN.com Friday.
Although the two sides are still working through some final details before the deal becomes official, Suzuki is expected to earn a base salary of about $2 million in 2015.
The Marlins, who have one of baseball's most talented young outfields with Giancarlo Stanton in right field, Marcell Ozuna in center and Christian Yelich in left, plan to use Suzuki as their first outfielder off the bench.
Suzuki, 41, has 2,844 career hits over 14 seasons with the Seattle Mariners and New York Yankees. He made the All-Star team and won a Gold Glove Award in each of his first 10 seasons in Seattle. With 4,122 professional hits between Japan and the U.S., Suzuki is 134 hits short of Pete Rose's record of 4,256.
January, 22, 2015
Jan 22
2:24
PM ET
Welcome to ESPN Insider's 2015 ranking of the top 100 prospects in baseball.
This is my eighth such ranking for Insider, with a lot of the same names near the top of last year's list but in a different order based on what we learned from those players' 2014 seasons. Just 10 players from last year's top 50 lost their eligibility for this year's list due to exceeding the limits for rookie of the year eligibility. The list is heavy on position players up the middle, including shortstops near the top of the list and many potential everyday catchers further down, as with the previous year's ranking. A number of the top arms from last year's list were hit by the injury bug, including a few Tommy John surgeries and a number of other arm problems that kept them off the mound, some for almost the entire season.
A complete list of the top 100 is below, and a more detailed explanation of the process in determining these rankings is found at the top of each of the player capsule pages.
Top 100 index

| Nos. 1-50

| Nos. 51-100

| Top-10 prospects by team

To continue reading this article you must be an Insider
January, 22, 2015
Jan 22
2:07
PM ET
Welcome to ESPN Insider's 2015 ranking of the top 100 prospects in baseball.
This is my eighth such ranking for Insider, with a lot of the same names near the top of last year's list but in a different order based on what we learned from those players' 2014 seasons. Just 10 players from last year's top 50 lost their eligibility for this year's list due to exceeding the limits for rookie of the year eligibility. The list is heavy on position players up the middle, including shortstops near the top of the list and many potential everyday catchers further down, as with the previous year's ranking. A number of the top arms from last year's list were hit by the injury bug, including a few Tommy John surgeries and a number of other arm problems that kept them off the mound, some for almost the entire season.
The Guidelines
• The rankings are limited to players who still have rookie eligibility; that means they have yet to exceed 130 at-bats or 50 innings pitched in the majors and have not yet spent 45 days on the active roster of a major league club, excluding call-ups during the roster expansion period after Sept. 1. That means Milwaukee Brewers infielder Luis Sardinas, for instance, is ineligible, based on his days on the 25-man roster.
• Only players who have signed professional contracts are eligible.
• I do not consider players with professional experience in Japan or Korea "prospects" for the purpose of this exercise, which means no Jung-Ho Kang this year (among others). I also exclude Cuban players who are considered professional free agents by Major League Baseball by virtue of their experience in Cuba's Serie Nacional de Béisbol. This list includes Rusney Castillo and Yasmany Tomas, but will consider Cuban players whom MLB treats as amateurs, like Roberto Baldoquin (who just missed this list) and Yoan Lopez.
• When ranking players, I consider scouting reports on players -- usually my own, supplemented with conversations with other scouts and front-office executives as needed -- as well as performance, adjusted for age and context. I've made one adjustment in my ranking philosophy in recent years, favoring higher-upside prospects over lower-ceiling prospects who are closer to the majors. This better reflects how these players are valued now by front offices and scouting departments, and gives me a chance to deliver more information on prospects whose names or scouting reports might be new to you.
• I use the 20-80 grading scale in these comments to avoid saying "average" and "above average" thousands of times across the 100 player comments. On that scale, a grade of 50 equals major league average, 55 is above average, 60 is plus, 45 is fringy or below average and so on. Giancarlo Stanton has 80 raw power. David Ortiz has 20 speed. Carlos Gomez is an 80 defender. An average fastball for a right-hander is 90-92 mph, with 1-2 mph off for a lefty.
• I've included last year's rank for players who appeared in the top 100 in 2014. An "ineligible" player was still an amateur at this time last January, whereas an "unranked" player was eligible but didn't make the cut. I've also tagged players who were on last year's sleepers list or list of 10 players who just missed the cut.
Top 100 index

| Nos. 1-50

| Nos. 51-100

| Top-10 prospects by team

To continue reading this article you must be an Insider
January, 22, 2015
Jan 22
12:57
AM ET
ESPN.com news services
[+] Enlarge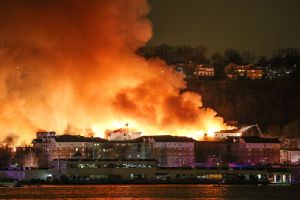 Cem Ozdel/Anadolu Agency/Getty ImagesYankees broadcaster John Sterling fears he lost all of his possessions in a massive fire that tore through his apartment complex Wednesday.
EDGEWATER, N.J. -- New York Yankees radio announcer John Sterling was among hundreds of residents evacuated Wednesday night after a fire swept through an apartment complex across the Hudson River from New York City.
A local state of emergency was declared after the massive blaze engulfed The Avalon at Edgewater, a four-story apartment building.
"I don't know what to expect," Sterling told the New York Daily News after finding a hotel room. "Now, I have nowhere to go. And I need a toothbrush.''
The blaze broke out around 4:30 p.m. Wednesday and raged late into the night.
Residents were able to get out safely, and there were no reports of injuries. Authorities cordoned off some streets around the burning building, but no major traffic problems were reported.
Sterling wasn't optimistic about his possessions.
"I would expect there would be nothing left," he told the Daily News. "I'm not a memorabilia person, so that doesn't bother me. Even my kids' pictures; I'll get other pictures.
"You can say, well there's that picture of you and [Bill] Clinton and you and [George] Bush and [Rudy] Giuliani, but that's not a big thing to me. I would like to have my clothes and my passport and my bags. But what are you going to do?"