January, 30, 2015
Jan 30
11:30
AM ET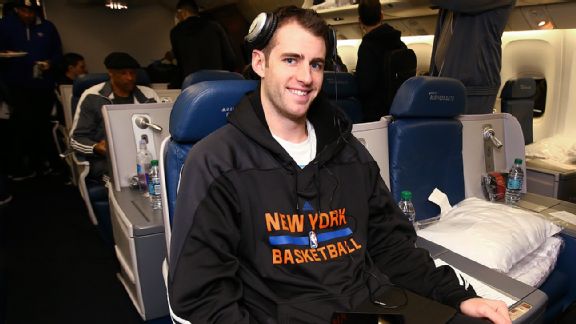 Nathaniel S. Butler/Getty ImagesLooks like Knicks forward Jason Smith got some shut-eye on the flight to London earlier this month -- the new father's numbers have improved as he's caught more ZZZs.
NEW YORK -- Every day is Father's Day right now for
Jason Smith
.
The
New York Knicks
forward and his wife, Kristy Smith, welcomed Ella Rose into the world on Oct. 9. And they've enjoyed every moment of parenthood.
"It's been a blessing, really," Smith said last week.
There's one aspect of caring for a newborn, though, that wasn't ideal for Smith's day job: the late-night wake-up.
Ella didn't sleep through the night initially -- and it was impacting Smith's performance at work.
"The first couple of weeks it was a lot of sleep deprivation, for sure," Smith says. "As a first-time parent, you think you know what you're in for. But when you're actually there and she's crying in the middle of the night, as a parent, you automatically tune it in. You can't just tune it out and try to go back to sleep."
That fitful, interrupted sleep is something young fathers in all walks of life have to deal with. But it can have an acute impact on someone who has to stay stride-for-stride with some of the best athletes on the planet.
"It can affect quantitative performance and physical performance," says Dr. Ana Krieger, the Medical Director of the Weill Cornell Center for Sleep Medicine. "Your speed and accuracy and reaction time are heavily dependent on adequate sleep. So if [someone] is not sleeping the proper amount or having the quality [of sleep] required during the night, all of the neurological functions are affected."
Smith can attest to this. He estimates he was getting about five or six hours of sleep per night after Ella was born.
That's not terrible. But Smith slept in intervals of one-and-half to two hours because young Ella woke several times over the course of the night.
In those first months of fatherhood, Smith said he often walked into the Knicks' practice facility the next morning with his "eyes glazed, just tired as can be. But you still have a job to do."
The problem was, Smith's sleep issues seemed to affect him on the court.
[+] Enlarge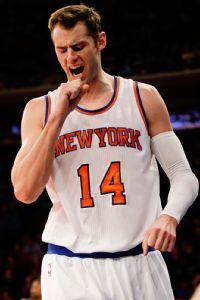 Frank Franklin II/AP PhotoWas Smith angry with a ref's call in this photo -- or stifling a yawn?
Smith averaged just seven points and three rebounds in 18 minutes a game while shooting 42 percent from the field in the first half of the season.
That type of production probably wasn't what Smith -- or Phil Jackson -- had in mind when Smith signed a one-year, $3.2 million contract to join the Knicks over the summer.
To be clear, Smith doesn't want to use his poor sleep patterns as an excuse. But he acknowledges that "sleep deprivation ... is one of the hardest things to go through when you're trying to perform at your highest level."
Dr. Krieger backs that assertion.
"It can affect precision and accuracy of movement, and speed," Krieger says. "During sleep, the entire body and muscles relax. By restoring the energy in the body and the brain, you can improve muscle activity as well."
Smith is living proof of this theory.
A few weeks ago, Ella started mostly sleeping through the night. Since then, her dad's play has improved.
In the past two weeks (six games), Smith is averaging 10.5 points and 6.0 rebounds. That's four more points and 2.8 rebounds more than he'd averaged prior to this stretch.
He's also more than tripled his assists per game (3.8 assists to 1.1). Additionally, Smith's defense also seems to have improved: New York allowed 1.17 points per possession with Smith on the court over the first 41 games. That number has dropped to 1.08 in the past seven games.
"His level of activity has gone up tremendously," Derek Fisher said earlier this month.
One reason behind this statistical spike is an increase in minutes. Smith is playing 32 minutes per game over the past seven games, up from 18 minutes a night.
But, Smith says, getting a better night's rest has helped, too.
"If you can get some sleep at night, you're a much more personable person during the day," he says. "And you're much more attentive to detail and practices. And you have a lot more energy for games too. Just going through the grind of an NBA season is tough and tiring and then you add having a baby on top of it -- it's even that much harder."
It's gotten a little easier now that little Ella is sleeping through the night.
January, 29, 2015
Jan 29
9:31
PM ET
Associated Press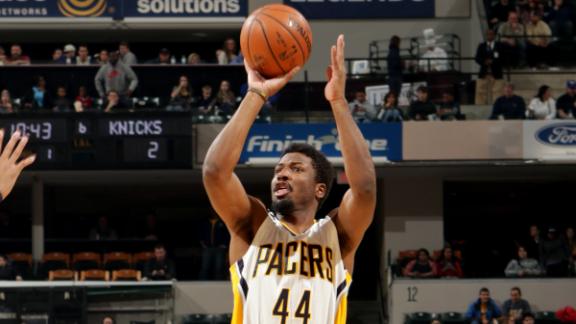 INDIANAPOLIS -- Rodney Stuckey scored 22 points, Roy Hibbert had 18 points and 10 rebounds, and the Indiana Pacers routed the New York Knicks 103-82 on Thursday night.
The struggling Pacers (17-31) picked up their most lopsided home victory of the season by winning for only the second time in 10 games.
Carmelo Anthony scored 18 points, 12 in the first 9 minutes for the Knicks (9-38). Lou Amundson added 17 as New York managed just 33 second-half points and fell behind Philadelphia for the worst record in the East.
Indiana turned the game midway through the second quarter, by rallying to take a 54-49 halftime lead.
The Pacers then opened the second half on a 10-2 run that extended the lead to double digits. Indiana pushed the margin to as much as 34, sealing the outcome.
January, 29, 2015
Jan 29
4:35
PM ET
NEW YORK -- The
New York Knicks
will sign forwards
Lou Amundson
and
Lance Thomas
to contracts for the remainder of the season, according to league sources.
Both Thomas and Amundson are currently on their second 10-day contracts. Once those contracts expire (Thursday is the last day of Amundson's current deal; Friday is the final day on Thomas' contract), each player will be eligible to sign with any team.
The Knicks will not let that happen, though, league sources said.
The move to retain both veteran forwards was endorsed on Wednesday night by Derek Fisher, who said it would be "very important" to keep both players on the roster. The Knicks coach has credited Amundson, Thomas and guard
Langston Galloway
for changing the mood around the team, which started the season 5-36 but has won four of its past five.
"Those three guys, I think we'll all just continue to say how impactful they've been," Fisher said. "I think you guys are seeing it on the court, I think our locker room is feeling it and I think our fans are feeling it. They're bringing a good brand of basketball to our team."
Amundson, whose deal with the Knicks was first reported by Real GM earlier Thursday, had five points, 10 rebounds and four blocks in Wednesday's win over Oklahoma City. He's averaging eight rebounds in his past three games. Meanwhile, Thomas had 17 points and five rebounds in New York's win over the Thunder, and has scored at least 16 points in the past three games.
With Galloway, Amundson and Thomas set to be with the team for the rest of the season, the Knicks will have 15 players on guaranteed contracts. So the only way for them to add players at this point is via trade or waiving a player with a guaranteed contract.
The Knicks have explored the trade market for veteran guard
Jose Calderon
and forward
Andrea Bargnani
, according to sources. Calderon is owed $15 million over the next two seasons and may be difficult to move. Bargnani, who has played just one game this season due to various injuries, is in the last year of his contract worth $11 million. He will also be tough to move and is a candidate to be waived.
The Knicks have also shopped veteran point guard
Pablo Prigioni
. According to ESPN's Marc Stein, Detroit is among the teams that have shown interest.
In addition, New York has discussed internally the possibility of buying out
Amar'e Stoudemire
to allow him to play for a contender, league sources said. Stoudemire, in the final year of a five-year, $100 million pact, would have to agree to such an arrangement. He recently expressed uncertainty about finishing the season with the Knicks but it is unclear if he'd be interested in a buyout.
January, 29, 2015
Jan 29
12:00
PM ET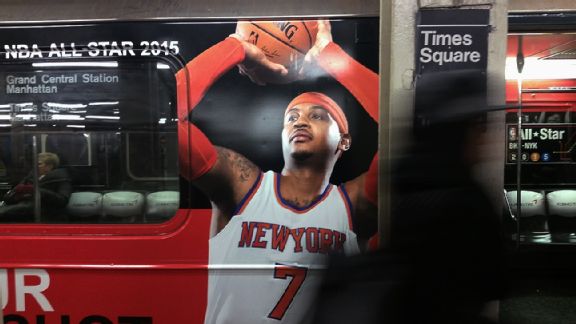 Ian Begley/ESPNCarmelo Anthony's presence is larger than life on the New York City subway's "S" trains.
NEW YORK -- Back in July, he could have ended up with the
Houston Rockets
, teaming with
James Harden
and
Dwight Howard
to form the NBA's latest "big three." Or he could have signed with the
Chicago Bulls
, adding some star power to a ready-made title contender.
Instead,
Carmelo Anthony
re-signed with the
New York Knicks
.
With the Knicks 28 games under .500 and tied for last place in the Eastern Conference, that decision looks a bit cockeyed now.
But Carmelo had his reasons back then.
New York, of course, offered more money and long-term financial security than the other suitors. It also gave Anthony a chance to chase a title under Phil Jackson, one the greatest winners in league history.
But another, under-the-radar factor in Anthony's decision can be found about 20 feet underground in midtown Manhattan these days.
An image of Anthony holding a basketball, ready to shoot, is plastered on the side of the "S" Train in New York City, a subway train that carries passengers between Times Square and Grand Central Terminal. It's part of an ad campaign to promote the All-Star Game in New York City. And it's the kind of opportunity Anthony was looking for when he signed a five-year, $124 million deal with the Knicks: to be the face of one of the biggest franchises in the NBA.
"I want to stay and build here with this city," he said on the day he announced his return to New York.
Of course, not much has gone right for Anthony or the Knicks since that day in mid-July.
The Knicks have suffered through losing streaks of 10 and 16 games this season and are on pace to finish the year with the most losses in franchise history.
"I never expected this," Anthony said recently.
Neither did Chris Hill. Hill, an NYU student and Knicks fan, is reminded of that on a recent morning as he rides the "S" Train, standing next to Anthony's ad.
"A lot has gone on with injuries and trades and it's been unfortunate," Hill said.
Some New Yorkers may want to blame Anthony for everything that ails the Knicks, but Hill doesn't fall into that camp.
[+] Enlarge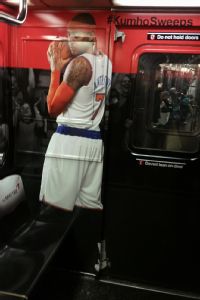 ian Begley/ESPNRiders of the "S" train also get to see Carmelo Anthony inside the subway car as well.
"All the pressure is on him, and that's not fair," he said. "He's in a situation where he's on an island. He has no one to pass to. It's like Melo is our front man, but who's helping him? New York puts a lot of pressure on you, but it's not all his fault."
Anthony, for the most part, has handled the pressure New York has thrown at him. He hasn't been in trouble off the court and has mostly accepted the criticism thrown his way for the Knicks' failures.
"A lot of times I'll take the blame," he said recently. "I accept that."
There has been plenty of blame to go around.
New York, after all, has won just one playoff series since Anthony arrived in a three-team trade in 2011. The Knicks are a combined 150-154 (134-127 when he plays) in the regular season since Anthony's arrival.
So he may be able to deliver you from Times Square to Grand Central on the "S" train these days, but Melo hasn't delivered much else to a Knicks fan base starving for a winner.
"I don't know if you can build a championship team around him," Lou, an "S" train rider from Brooklyn who only wished his first name be used, said on a recent morning. "I don't know if he's that type of player. He doesn't make anyone better. That's what great players do."
This is a familiar refrain among some Knicks fans. Anthony has been out of the first round of the playoffs just twice in his 12-year career.
"If he's such a great player, why hasn't he been to the Finals?" Lou says. "He's a great scorer, but that's it."
This is a perception Anthony will have to fight for the rest of his career. The only thing that will truly change it is if Anthony wins a title in New York.
And that's not happening this season.
For now, the biggest accolade Anthony has to look forward to is starting for the Eastern Conference in the All-Star Game on Feb. 15 at Madison Square Garden.
Anthony will be the only representative from either New York team at the game on Feb. 15.
Just call New York the Lone All-Star State.
"It's really been terrible to watch -- both teams, the Knicks and Nets. But this is the worst Knicks team I've ever seen," Hunter, a 58-year-old Knicks fan from Manhattan, who declined to give his full name, said sitting under Anthony's ad on the "S" train last week.
Hunter, like most Knicks fans of a certain age, remembers the glory years in New York -- the 1969-70 and 1972-73 title-winning teams.
"Those teams were amazing, my best memories as a Knicks fan. This one is terrible," Hunter said. "I thought they would be much better with this roster, with Melo back. I don't know if it's the players or the coach but they have been a huge disappointment."
Hunter looks at Anthony's ad on the "S" train and can't help but smile.
"I guess they had to have at least one player from New York in the game, right? But I'd rather see him in the playoffs than the All-Star Game."
Most players would trade an All-Star appearance for a shot at the title. Anthony is probably no different in this regard.
But, make no mistake, playing in the All-Star Game is important to Anthony.
He has been playing through soreness in his injured left knee for much of the season. He said he will eventually need surgery to repair the injury. But he has held off on going under the knife, in part, to be on the Garden floor for the All-Star Game.
"I still get excited for these moments," Anthony said last week. "It's a blessing to be able to represent New York here. I never thought I would be in the All-Star Game here in New York."
But, as with most things that involve Melo in New York, this appearance isn't without controversy.
Some, such as TNT analyst
Reggie Miller
,
have criticized Anthony
for seemingly prioritizing an All-Star appearance over his long-term health and the well-being of the Knicks.
And that's the rub with Anthony from the media's perspective.
He's one of the best scorers on the planet, but doesn't have the ring that would cement his legacy.
So, 12 years into his career, some wonder if this is just who Melo is.
Is he a guy content to be plastered on ads on subway cars and billboards in Manhattan -- the face of a bad franchise? Or is he driven for more?
Of course, only Anthony himself can answer that question.
Stay tuned, New York.
January, 29, 2015
Jan 29
1:36
AM ET
NEW YORK -- The
New York Knicks
have won four of five, and some people are confused.
Are they tanking for a top pick in June's draft?
Are they trying to make a run at the 8th seed in the East?
(You can stop laughing now.)
We'll get answers to those questions in the coming weeks and months.
For now, a more pertinent question is this: are we watching
Carmelo Anthony
develop into a leader?
According to
Derek Fisher
, that's exactly what's happening.
"I think Carmelo is continuing to find out more and more how capable he really is. Not just statistically leading his team, but emotionally, psychologically, guys are following him," Fisher said after the Knicks won for the fourth time in five games with a 100-92 win.
Anthony sat out for two weeks earlier this month to rest his injured left knee. Since his return, the Knicks have won four of the five games he's played in.
During his absence, New York lost six in a row amid a 16-game losing streak.
"He's setting a tone out there," Fisher said of Anthony. "He's playing defense. He's doing a lot of things that are forcing guys to get to his level."
If Fisher's assessment is accurate, this could be a significant development for the Knicks.
In the past, Carmelo has at times been at his best when surrounded by veteran leadership (
Chauncey Billups
in Detroit and in his first season in New York; Jason Kidd, Rasheed Wallace, Kurt Thomas and Marcus Camby with the 2012-13 Knicks).
But now that Anthony is under contract for five more years, it's logical for the Knicks to turn to him to lead in the locker room.
J.R. Smith
recently made an interesting observation about Anthony's leadership style when compared to that of
LeBron James
.
"[Anthony] is more of an 'I'll show you,' as opposed to Bron is more of an 'I'll tell you, then I'll show you," Smith told reporters in Cleveland.
Anthony has talked about his approach to leadership in the past.
"For me, it's letting everyone know what the deal is," Anthony said in October 2013. "If I see something that's wrong, I try to correct it as a unit. If I see something right, I give a pat on the back and keep moving."
Knicks to sign Thomas for rest of season:
The Knicks will sign
Lance Thomas
to a contact for the rest of the season, league sources told ESPN New York.
Thomas, who was on his second 10-day contract, had 17 points on 8-for-13 shooting and grabbed five rebounds in the Knicks' win over Oklahoma City.
He's scored in double figures in three straight games.
After the game, Fisher said it was "very important" for the team to re-sign Thomas and
Lou Amundson
. Amundson's second 10-day contract is set to expire Thursday.
The Knicks have to either sign him for the rest of the season or let him test free agency.
Hardaway Jr. motivated by slight:
Tim Hardaway Jr
. had 14 second-half points to help the Knicks hold off
Russell Westbrook
(40 points) and earn a win over the Thunder.
Afterward, Hardaway Jr. was asked if he was motivated by being left out of the Rookie-Sophomore Game this season. Hardaway Jr. played in the game last season.
"It's obviously motivation but you have to just go out there and compete," Hardaway Jr. said. "I think the assistant coaches or whatever they pick the team so it is what it is and I'm going to keep playing the game I play."
The format for the Rookie-Sophomore game is new this season. It is a team of American players in their first and second seasons against International players.
Assistant coaches voted on the teams.
January, 29, 2015
Jan 29
12:46
AM ET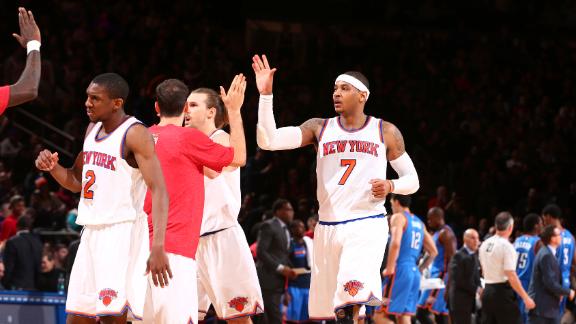 NEW YORK –- In a short amount of time,
Langston Galloway
has made quite an impression for an undrafted rookie.
In fact, Galloway's confidence and ability to step up in some big moments reminds
Carmelo Anthony
of another undrafted
New York Knicks
point guard who created a worldwide stir a few seasons ago.
When asked if he has seen another rookie as fearless as Galloway in taking big shots, Anthony mentioned the "L" word –- "Linsanity."
[+] Enlarge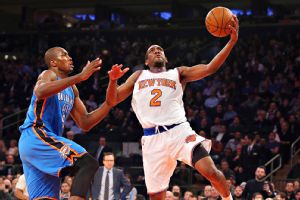 Brad Penner/USA TODAY SportsKnicks rookie Langston Galloway had 18 points in the win over the Thunder.
"I don't know man, I would say probably 'Linsanity,'" Anthony said. "[
Jeremy Lin
] wasn't a rookie but he was here and he had that mindset of taking the big shot when he first got here.
"I don't like to compare anything, but Langston's mindset of being willing to take that big shot, take the open shot, just having the opportunity out there, I think Langston loves those moments."
Galloway may not become the overnight sensation that Lin became when he captivated many with a magical 35-game run with the Knicks in 2011-12. But during this dark and dismal season, Galloway has become a rare bright spot for the 9-37 Knicks.
The Knicks have played their best basketball of the season with help from Galloway, who scored 18 points and had four assists, four rebounds and three steals in a 100-92 win over the
Oklahoma City Thunder
on Wednesday night.
Galloway, who agreed to terms with the Knicks this week for the remainder of this season and the 2015-16 season, has played a pivotal role in helping the Knicks win four of their past five games.
During that five-game stretch, Galloway is averaging 15.2 points, 5.8 rebounds and 3.2 assists. Coach
Derek Fisher
has played Galloway an average of 33 minutes in those five games.
"He is not fearful of any moment," Fisher said of Galloway. "When he is out there on the floor, he trusts himself. He plays with a confident toughness that has been really good for our group. And the guys enjoy having him around because of who he is as a young man, his character and how he's built.
"And it is easy for teammates to want to be on the floor and support a guy like Langston," Fisher continued. "Those are the type of guys we want to have around here as we build this thing out and that is why we got done what we got done yesterday [in signing him to a contract] and we are happy to have him."
The St. Joe's product has seemingly come out of nowhere. He played on the Knicks' summer league team before being in their camp. He played earlier this season on the Knicks' D-League team in Westchester before being signed to two 10-day contracts.
Fisher has credited hungry 10-day guys like Galloway,
Lou Amundson
and
Lance Thomas
with helping change the team's mentality on the court.
While the Thunder played without
Kevin Durant
,
Russell Westbrook
tried to carry Oklahoma City with 40 points, four assists and four rebounds. The Thunder point guard was a load for Galloway and the Knicks to handle, going to the line 12 times.
But Galloway banked in a big 20-footer with 4:41 remaining after Oklahoma City cut a nine-point deficit to two. Galloway's basket started a 10-0 run that finished with him assisting
Tim Hardaway Jr
. on a 3-pointer with 2:35 to go to push the Knicks up 92-80.
"I'm just out there having fun," Galloway said. "Just trying to play ball and learn from these experiences."
Galloway has played in only nine games with the Knicks, so he still has a ways to go before "Langstanity" gets rolling. But so far, Galloway reminds at least one Knick of another previously little-known point guard with the ability to hit some big shots.
"Langston can play," Anthony said. "I don't think a lot of people know about him. But he can play basketball. Even going back to training camp, early in preseason, we knew he could play basketball.
"He's great at getting in the paint, he can score the basketball," Anthony added. "If he don't have something, he'll find the open man. That's what he's been doing."
January, 29, 2015
Jan 29
12:18
AM ET
By
ESPN Stats & Information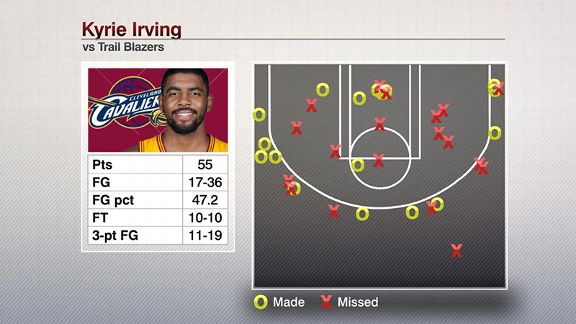 ESPN Stats & InformationKyrie Irving was one point shy of tying the Cavaliers' franchise scoring record.
Kyrie Irving
scored a career-high 55 points, including the game-winning 3-pointer in the final 10 seconds as the
Cleveland Cavaliers
defeated the
Portland Trail Blazers
99-94.
Irving's 55 points are the most in Cavaliers franchise history by a player not named
LeBron James
, and just one point shy of matching James for the most by a Cavalier.
If you're a Cavaliers fan, it's been a while since you've seen a performance like that in Cleveland. In fact, it's the most points scored by a Cavalier at home in franchise history.
LeBron has eight 50-point games with the Cavaliers, but all of them have come on the road. The only previous 50-point game by a Cavalier at home was by Walt Wesley in 1971. The only visiting player to score more than Irving's 55 at Cleveland was
Michael Jordan
, who scored 69 points in 1990.
Irving made a franchise-record 11 3-pointers, breaking the record of 10 previously set by C.J. Miles last season. Irving joins Joe Dumars as the only players in NBA history with at least 10 3-pointers and 10 free throws in a game.
It was just the Cavaliers' second win in 10 games this season without James. Irving has stepped up in such games with 27.3 points per game, compared to 20.7 when James is in the lineup. Irving has eight more field goal attempts per game without James, but he has also been less efficient (lower field goal percentage and more turnovers per game).
Lack of continuity for Cavaliers
Another missed game by James continues a theme of inconsistency for the Cavaliers in terms of their lineup. Throughout the season, the Cavs have dealt with injured stars and trades.
Their 25-12 record with James (.676 win percentage) would be second in the East behind the
Atlanta Hawks
.
But even that doesn't represent the current Cavs team at full strength.
Timofey Mozgov
, J.R. Smith and
Iman Shumpert
recently joined the team. In the eight games with Mozgov and Smith after James returned from injury, the Cavs were 7-1. Their offensive efficiency in those eight games (115.9 points per 100 possessions) would rank first in the league for the season.
In their past five games together, it's even better. Not only would their offensive efficiency in that span rank first in the league (116.0), but their defensive efficiency (97.4) would rank second.
It's just a matter of continuity -- whether or not the Cavaliers can stay healthy and continue the rhythm they developed in those eight games.
The Cavaliers most used lineup includes
Anderson Varejao
, who is out for the season. Their next-most used lineup -- Irving, LeBron,
Kevin Love
,
Shawn Marion
and
Tristan Thompson
-- has played just 110 minutes together this season. The
New York Knicks
are the only team whose most used lineup has played fewer minutes together.
January, 28, 2015
Jan 28
10:37
PM ET
Associated Press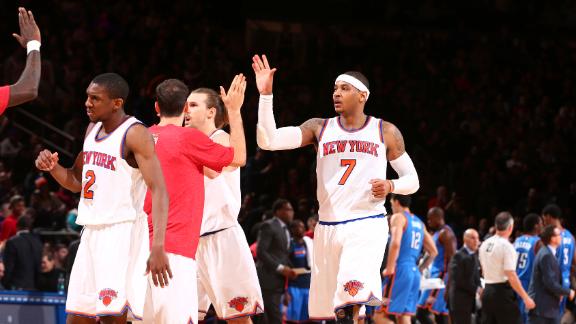 NEW YORK -- Carmelo Anthony had 31 points and 10 rebounds, Lance Thomas scored a season-high 17 points against his former team and the New York Knicks beat the Oklahoma City Thunder 100-92 on Wednesday night.
Langston Galloway added 18 points and Tim Hardaway Jr. hit three 3-pointers in the fourth quarter, finishing with 14 for the Knicks, who won for the fourth time in five games, representing nearly half of their nine victories on the season.
Russell Westbrook scored 40 points on 13-of-30 shooting for the Thunder, who were without Kevin Durant for a second straight game because of a sprained big toe on his left foot.
Westbrook blitzed the Knicks in his season debut after returning from injury in November, leading the Thunder to a 27-point romp. But behind players such as Galloway and Thomas, who weren't around then, the Knicks continued their best stretch of the season.
January, 28, 2015
Jan 28
2:32
PM ET
Last week, ESPN Insider David Thorpe wondered aloud: Could the NBA have Deflategate?
Is it possible a team could get away with shady tactics to gain a competitive edge?
The answer to that question comes from Phil Jackson, nearly 20 years after the fact.
Todd Radom, the graphic designer behind some of sports' more recognizable logos, tweeted a screenshot Wednesday of a December 1986 article by Sam Smith of the Chicago Tribune. In it, Jackson details how the famed 1970s Knicks teams he played for used to strategically deflate the basketball.
Less air pressure slowed down fast-break teams, helped the Knicks clear the boards -- since the ball wouldn't carom as far off the rim -- and didn't hinder the flow of New York's offense, which relied more on passing than dribbling.
Jackson, who is now president of the Knicks, said the team carried around inflation needles to let air out of the ball.
As Radom's tweet found traction on social media, Jackson clarified that the Knicks' pressure alteration was legal:
Jackson was coaching in Puerto Rico in 1986. He was hired to Doug Collins' Bulls staff the following year.
January, 28, 2015
Jan 28
12:44
PM ET
ESPN.com news services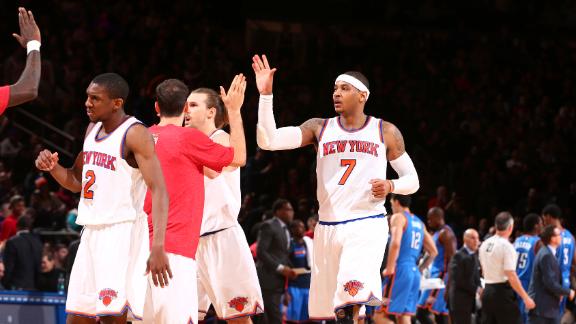 Oklahoma City Thunder star Kevin Durant missed his second straight game Wednesday, a 100-92 loss to the New York Knicks, because of a toe injury.
Thunder coach Scott Brooks told reporters that Durant would miss the game after the team's shootaround Wednesday morning. The reigning NBA MVP still is considered day to day with a sprained big toe on his left foot.
Russell Westbrook scored 40 points on 13-of-30 shooting for the Thunder in Wednesday night's loss, but they didn't have nearly enough balance without Durant and fell to 23-23.
Durant suffered the injury in Sunday's loss to the Cleveland Cavaliers and was ruled out shortly before the start of Oklahoma City's game Monday against the Minnesota Timberwolves.
Despite the absence of their leading scorer, the Thunder defeated the Timberwolves 92-84 thanks in part to a double-double by Serge Ibaka.
Durant, who also missed the first month of the season with a foot injury, is averaging 25.6 points and 6.7 rebounds per game.
The Associated Press contributed to this report.
January, 27, 2015
Jan 27
4:42
PM ET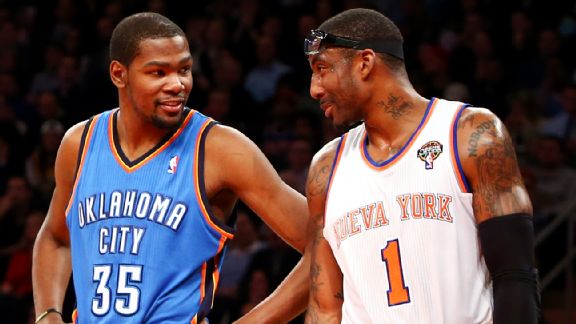 Debby Wong/USA TODAY Sports As Kevin Durant and other All-Stars near free agency, what the Knicks really need is another Amar'e Stoudemire -- a guy who looks at this mess of a franchise and says, "What the heck!"
NEW YORK -- With the Knicks perennially stuck in a tar pit of disappointment -- the more they thrash, the worse it seems to get -- it sounds strange to say the team's latest great rebuilding plan hinges on it getting another Amar'e Stoudemire.
Yet it does. Not the Stoudemire who got hurt and aged out during his stay with the Knicks, but the man who was willing to take the leap here when no other free-agent All-Star would.
It's a topic especially worth revisiting today as Kevin Durant's Oklahoma City Thunder arrive to play the Knicks at Madison Square Garden (without Durant, who will miss his second straight game with a sprained toe). The five-year, $100 million deal Stoudemire signed expires this season. Yet the Knicks are right back where they were when they were angling to get LeBron James, Chris Bosh or Dwyane Wade and wound up with Stoudemire instead.
Durant, supposedly the Knicks' latest target, can easily get the sort of max contract the Knicks threw at Stoudemire if Durant opts for free agency in the summer of 2016. Stoudemire couldn't say the same in 2010.
January, 27, 2015
Jan 27
1:45
PM ET
J.R. Smith
thinks Cleveland is "the best situation" for him and it's not just because
LeBron James
is there.
The way Smith sees it, the shooter might be able to find more consistency in his game in a city like Cleveland where there isn't as much of a nightlife as New York City.
In a conversation with NBA.com's David Aldridge, Smith said living in Cleveland should help his game.
"Consistency has been something that ... I wouldn't say lacked, but it's just been stints where I get hot, and then you go cold for two, three games, whatever the case may be," Smith said. "Just staying consistent, and that involves staying in the gym. So for me, I got my brother here with me, so we're in the gym every night, playing one-on-one, or whatever the case may be, as well as me getting my rest.
"I think this is the best situation for me, 'cause there's nothing but basketball. There's nothing you expect but basketball. There's nothing, there's no going out, there's no late nights. There's video games, basketball and basketball."
The former Knick, who was traded along with
Iman Shumpert
to the Cavs in a three-team deal earlier this month, said living in Cleveland reminds him of what life was like when he was younger.
"It's a great thing, 'cause I go back to where I came from," said Smith, who grew up in New Jersey. "When I grew up, I never, I wasn't allowed to go out. I missed my prom because I went to an AAU tournament, and all that stuff. For me, it was basketball, basketball, basketball.
"And then when I got in the situation where I was at an early age, it was more, all right, let me see what this life is about, as opposed to just keep going. So now, I get the chance to get back to my roots."
Smith is averaging 15.2 points in his first 10 games in Cleveland after scoring 10.9 per game as a Knick this season. He admits that the Manhattan nightlife was not the best thing for his game.
"Especially from the standpoint of making me better," Smith said. "I always made myself better by staying in the gym. When you replace that with stuff off the court, then you're taking away from what made you who you are, or what got you to a certain point. It was kind of pulling me down in a sense, of not getting enough rest, not doing things you're supposed to be doing, things you're used to doing."
Smith said the toughest part of being traded is no longer playing with
Carmelo Anthony
, who had been teammates with Smith in Denver and New York.
"We played together nine years," Smith said. "The bond, the camaraderie, the brotherhood that we gained, it's, I wouldn't say over, it's just discontinued. When you're playing with a person like Melo, you depend on him a lot, from on the court and off the court.
"I can always go to him for advice, just everyday life things, as well as stuff on the court. So I think that's the toughest part. But fortunately, coming to a team like this, I've also got him in a different person, between him and LeBron. It's pretty much the same concepts and stuff like that; it's just coming from a different voice."
Smith said he really wanted to succeed in the triangle offense. But he understands what Phil Jackson is trying to do in New York.
"They made the right decision," Smith said. "You have to take the car apart in order for it to be what you want it to be."
January, 27, 2015
Jan 27
1:06
PM ET
[+] Enlarge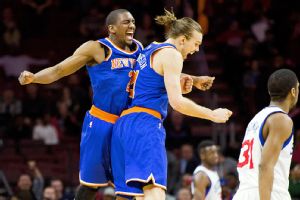 Bill Streicher/USA TODAY SportsKnicks coach Derek Fisher has credited players like Langston Galloway, left, and Lou Amundson for changing the atmosphere in the locker room.
NEW YORK -- The Knicks have agreed to a contract with point guard Langston Galloway for the remainder of this season and the 2015-16 season, league sources told ESPNNewYork.com.
The Knicks confirmed Tuesday afternoon that they had signed Galloway for the remainder of the season but didn't include any information on his contract status for the 2015-16 season.
Galloway's second 10-day contract with the Knicks expired earlier Tuesday, so he had been free to sign with any team.
His contract for the 2015-16 season contains a partial guarantee, according to league sources. Galloway has impressed the Knicks' coaches since being signed to his first 10-day contract Jan. 7.
Galloway, who played with the Knicks' summer league team and their D-League team in Westchester, is averaging 12 points per game in his first eight games with the team. He is also producing three assists and pulling down four rebounds per game while shooting 43 percent from the field.