December, 19, 2014
Dec 19
10:47
PM ET
The idea that free agents will sign with the
New York Knicks
now that Phil Jackson is in town is a "flawed theory,"
Charles Barkley
says.
Barkley shared his thoughts on Friday on "The Mike Lupica Show"
on ESPN New York 98.7 FM
-- a day after he into a war of words with the Knicks' president during the Knicks-Bulls telecast.
"This theory that [the Knicks] got all these expiring contracts, they got all this money, that people are going just be flocking to New York because of the great Phil Jackson, I think it's a flawed theory," Barkley told Lupica. "You got to admire and respect what Phil Jackson has accomplished but this notion that all these free agents are going to give up [money]? ... To think guys are going to turn down $30, $40, $50 million dollars to come to New York just because you got Phil Jackson, I just think that's a flawed theory."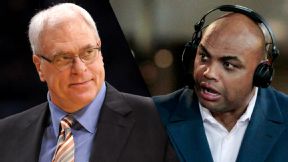 USA TODAY Sports
Jackson hopes to attract free agents to New York over the next two summers. Some of his potential targets include
Marc Gasol
,
LaMarcus Aldridge
and -- in the best-case scenario for the Knicks --
Kevin Durant
in the summer of 2016.
All of those players would have to accept a contract worth less money and with one less year to sign with the Knicks instead of their current club.
Barkley also reiterated that he thinks the Knicks (5-23) are struggling because they are asking players on expiring contracts to run an offense (the triangle) that asks for selfless play. The Knicks have nine players playing in the final year of their contracts.
"All these guys are going to be free agents," Barkley told Lupica. "They're not trying to win. They're trying to put up good numbers and audition because they know that they're not going to be with the Knicks next year. So instead of, maybe let's do the triangle and average 8 points per game, I'd rather average 16 points per game and get me a big contract on some other team next year. This system was flawed from the beginning. ... They're really auditioning for other teams, they're not going to buy into the triangle ... so it puts Derek [Fisher] in an awkward situation."
Fisher said last week that having so many players on the final year of their contracts is not conducive to building good team chemistry, so Barkley may have a point there.
Barkley touched on a few other Knicks topics:
The Tyson Chandler trade:
"You don't trade Tyson Chandler, you don't. He was your second-best player on your team, he was a great character guy. He was a hard-working guy."
On Phil Jackson calling him out on Twitter:
"Phil Jackson is too old and too important to be doing Twitter. He's Phil Jackson -- he does know that right?"
Barkley added: "Everybody can say that the
Detroit Pistons
stink. But Phil Jackson doesn't want you to say the exact same thing about the Knicks. That's the thing that annoys me. People want you to be honest unless they disagree with you."
On criticizing the Knicks:
"I don't dislike the Knicks. I think it would great if the Knicks had a good team, great for the NBA, but when you're team is 5-23 you stink, plain and simple. ... I didn't think they would be this bad. I thought they would be battling for the 7th, 8th spot in the East because there's only four legitimate teams in the Eastern Conference."
Question: Do you agree with Barkley or do you think free agents will come to play for Phil?