March, 30, 2015
Mar 30
11:16
PM ET
[+] Enlarge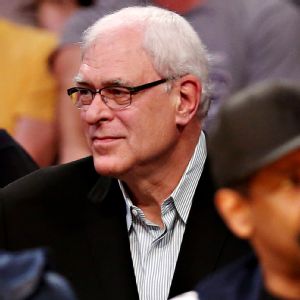 Stephen Dunn/Getty ImagesKnicks president Phil Jackson has asked season-ticket holders to "remain optimistic" amid what has been a dismal season for the franchise.
NEW YORK -- Phil Jackson has asked New York Knicks season-ticket holders to "remain optimistic" amid what has been one of the worst seasons in franchise history.
In a letter and video message sent out on Monday, Jackson tried to reassure the team's fan base, saying he has a "clear plan" in place for this 2015 offseason.
"While I know this has been a challenging season for our team on the court, I can also tell you that everyone in the organization is working tirelessly to get our Knicks back to a place where we are once again competing at the highest level," Jackson said in a video message obtained by ESPN New York that doubled as a pitch to season ticket holders to renew for the 2015-16 season.
In the letter, Jackson talked about the roster moves he's made to clear up cap space for free agency. The Knicks are expected to have at least $25 million in cap space this summer.
March, 30, 2015
Mar 30
12:48
AM ET
NEW YORK -- One day after his New York Knicks made the wrong kind of history, team president Phil Jackson took to Twitter to talk about the rebuild that lies ahead.
We will rebuild a team that fits together-guys that want to compete and play the way bball gods approve.#groundup

— Phil Jackson (@PhilJackson11) March 30, 2015
It's interesting that Jackson would use the hashtag "#groundup" at the end of the tweet. He had an opportunity to start the Knicks' rebuild from the ground up in the truest sense last summer when Carmelo Anthony hit free agency. If he wanted to, Jackson could have let Anthony walk and entered free agency this summer with a near-empty roster and an incredible amount of cap space.
Instead, after saying publicly that he hoped Anthony would consider a pay cut, Jackson re-signed the All-Star forward to a $124 million, five-year contract. Jackson will now try to rebuild the Knicks around Anthony, who is rehabbing from left knee surgery and is expected to be healthy for training camp.
Jackson will have at least $25 million in cap space this summer. That amount of money will give the Knicks an opportunity to build a roster with enough talent to compete in the Eastern Conference. New York also will likely have a high pick in June's draft. If they finish the season with the NBA's worst record, the Knicks will pick no lower than fourth.
The draft pick and cap space give Jackson the ingredients to build a contender in New York. This season, Jackson's first full campaign as Knicks president, the team has reached historic lows. They will have a league-worst 14-60 record when they take the floor on Wednesday against the Brooklyn Nets.
The 60 losses are the highest total in the franchise's 69-year history.
Ledo back: The team announced on Sunday that it has signed guard Ricky Ledo to a second 10-day contract.
Question: What players would you draft or sign in free agency to fit best around Carmelo Anthony?
March, 28, 2015
Mar 28
11:36
PM ET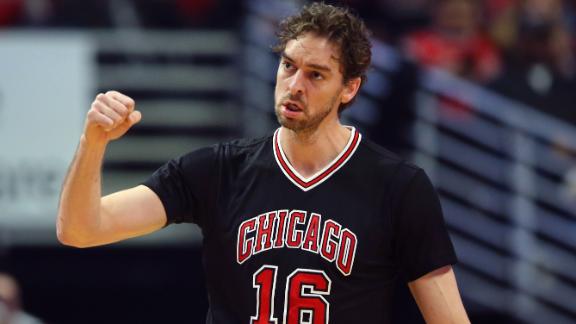 CHICAGO -- Chicago Bulls coach Tom Thibodeau worries about every opponent.
It doesn't matter whether the Bulls are facing another playoff team like the Toronto Raptors like they did earlier in the week or a team well out of the playoff race like the New York Knicks on Saturday. Thibodeau was equally concerned about both games.
After putting together a double-digit victory over the Raptors on Wednesday, the Bulls didn't let Thibodeau down against the lowly Knicks. The Bulls were clicking from the start -- scoring on eight of their first nine possessions -- and ran away with a 111-80 win.
It was another victory that made the Bulls feel like they were building something as they enter the regular season's final weeks.
[+] Enlarge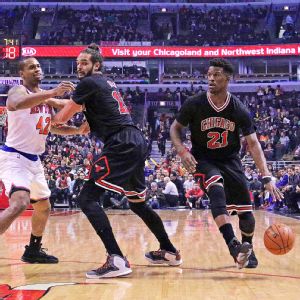 Dennis Wierzbicki/USA TODAY SportsJimmy Butler and the Bulls had little problem dispensing with the NBA-worst Knicks.
"The thing is, everyone is capable of beating you," said Thibodeau, whose team is on a three-game winning streak and moved to within two games of the Cleveland Cavaliers for second place in the Eastern Conference. "I liked the way we approached it this morning. I thought our guys came out with a lot of energy to start the game and we played tough. There are a lot of things we could do better and we have to keep working towards that, but overall we did a lot of good things in that game."
Thibodeau stressed leading up to the game he was seeking more continuity from his team. Players have been in and out of the Bulls' lineup due to injuries all season, and they're finally getting nearly everyone -- Derrick Rose could even begin participating in contact drills next week -- healthy together.
With only Rose and Doug McDermott (back) inactive against the Knicks, Thibodeau was able to utilize most of his roster and see what some different lineups could do on the floor. For the most part, the Bulls remained in synch all evening. They worked the ball around, played off each other and found the open man. They compiled 28 assists on 43 field goals and had just 12 turnovers.
It's not always easy to remain focused in a game where a double-digit lead is created in the first quarter, but the Bulls rarely wavered throughout the 48 minutes. Bulls forward Pau Gasol thought that had to do with the team knowing what's at stake with just eight regular-season games remaining.
"We're in the final stretch of the season," said Gasol, who had 19 points and 12 rebounds in 27:33 of action. "We understand the importance of each and every game. So, the sense of urgency and level of focus is a lot higher."
Bulls center Joakim Noah also liked Saturday's result, but he didn't want to be content.
"It's good," Noah said. "Just got to keep moving and keep getting better individually and as a team. But it's good. We're moving in the right direction."
Despite the momentum the Bulls are generating, they were all for having three days off until their next game. The team will take Sunday completely off and get back in the gym on Monday.
"It's not going to be tough," Noah said of taking time off. "We'll work hard and get ready for the next one."
The next one will be the Milwaukee Bucks on Wednesday, and Thibodeau will undoubtedly be back to being concerned again.
March, 28, 2015
Mar 28
11:41
PM ET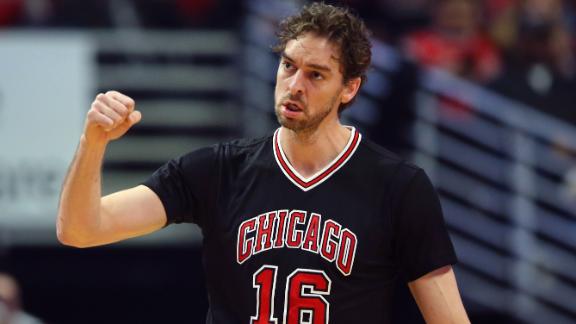 The New York Knicks made the kind of history on Saturday that Phil Jackson probably wants no part of.
New York lost its 60th game of the season against the Chicago Bulls Saturday night. That's the highest loss total in the franchise's 69-year history.
Jackson earlier this month said this of his team: "They're not talented enough to win a 48-minute game."
He wasn't kidding. The Knicks have lost seven straight and 14 of 16.
All the losing and the misery of this season should benefit the Knicks in June.
At 14-60, New York has the worst record in the NBA. They are three games ahead of Minnesota (16-56) in the race for the league's worst record.
If the Knicks finish with sole possession of the NBA's worst record, they will be guaranteed to pick no lower than fourth in June's draft. They will also have a 25 percent chance to land the No. 1 pick.
So who will they select?
Kentucky's Karl-Anthony Towns, Duke's Jahlil Okafor and Ohio State's D'Angelo Russell are considered the top prospects.
On Saturday, Kentucky's Towns had 25 points on 10-for-13 shooting in the Wildcats' win over Notre Dame in the Elite Eight.
The Knicks will surely consider Towns if they end up with a top pick.
According to league sources, there was a stretch in between mid February and March that New York had a scout or executive at Kentucky's practices or games for approximately 20 of the 30 opportunities.
In addition to the draft, the Knicks will also have at least $25 million to spend in free agency this summer.
So Jackson will have an opportunity to put together a team that can contend for a playoff spot next season.
Losing 60 games, of course, wasn't Jackson's plan coming into the season.
He said prior to the season that he believed the Knicks would make the playoffs in the Eastern Conference.
Later, when it became clear that the Knicks weren't going to contend for the postseason, Jackson traded J.R. Smith and Iman Shumpert to Cleveland for two second-round draft picks and two trade exceptions.
Days later, Jackson offered a "mea culpa" to the fan base for the way things went south in his first full season as president. He also explained why he thought the Knicks would be a playoff team.
"In the East, we looked at teams that were under .500 [as teams] that could compete [for the playoffs]," Jackson said. "It wasn't a really big challenge, a challenge I thought this team was capable of. They obviously weren't."
Now, the question for the Knicks is whether Jackson is up to the challenge of turning this mess around.
March, 28, 2015
Mar 28
10:32
PM ET
Associated Press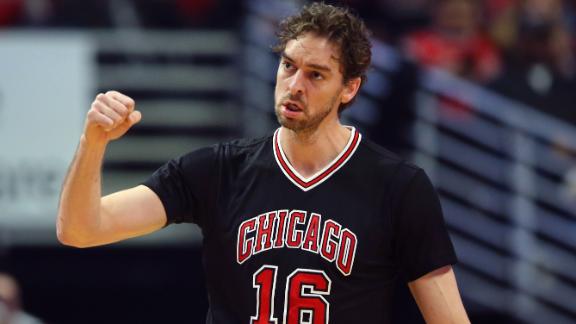 CHICAGO -- Nikola Mirotic scored 24 points, Pau Gasol added 19 points and 12 rebounds, and the Chicago Bulls handed the Knicks their franchise-record 60th loss, beating New York 111-80 Saturday night.
A night after tying the team's previous single-season loss mark, the Knicks dropped their seventh straight and 14th in 16 games.
Jimmy Butler scored 18 for Chicago.
The rookie Mirotic had another strong game, finishing five points shy of his career high. Gasol recorded his league-leading 48th double-double as Chicago won for the fifth time in six games.
The Bulls, who led by 20 at halftime, fell four points short of their most lopsided victory of the season. They pulled within two games of Central Division leader Cleveland and moved 1 1/2 games ahead of fourth-place Toronto in the Eastern Conference.
Andrea Bargnani led New York with 14 points and seven rebounds.
March, 27, 2015
Mar 27
10:52
PM ET
Associated Press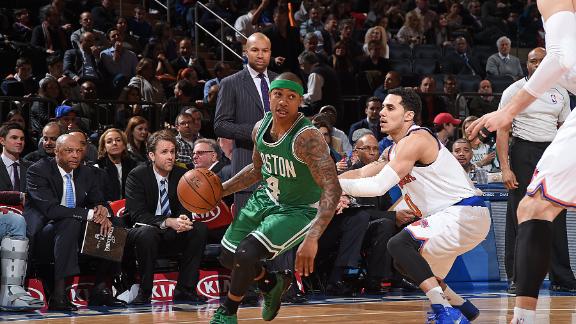 NEW YORK -- Isaiah Thomas scored 18 points and Jae Crowder had 17 points and nine rebounds as the Boston Celtics held off a late rally by the New York Knicks for a 96-92 win on Friday night.
Brandon Bass scored 16 points, Evan Turner had 15 and Avery Bradley finished with 10 for Boston.
Andrea Bargnani tied a season high with 25 points for the Knicks.
The Celtics led by as many as 11 points in the fourth quarter, but Langston Galloway's 3-pointer with 25 seconds left cut the Knicks' deficit to 92-88.
Thomas then made 1 of 2 free throws with 23 seconds left, and Early did the same with 13 seconds remaining.
March, 27, 2015
Mar 27
10:00
PM ET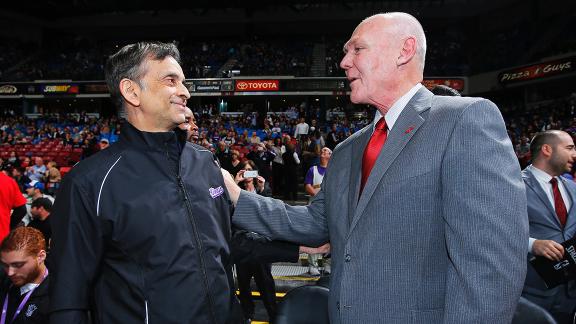 The ESPN Forecast panel ranked the Knicks' front office 30th in a league of 30 teams. The management team of Phil Jackson and Steve Mills came in at 29th; coach Derek Fisher was ranked 30th. Lastly, owner James Dolan came in at 30th.
Below, we'll take a look at why those rankings make sense and why there is reason to hope that they will improve in the future.
Executives
President Phil Jackson; GM Steve Mills (29th): Jackson and Mills thought they'd put together a team that could compete for the seventh or eighth seed in the Eastern Conference. Instead, they put together the worst team in franchise history.
Jackson's offseason moves haven't panned out; he traded Tyson Chandler and Raymond Felton for a package headlined by Jose Calderon. Calderon has played below expectation.
Jackson also dealt two rotation players (Iman Shumpert and J.R. Smith) for two second-round picks. That's not exactly a significant haul, though he did rid New York of Smith's contract.
That's probably one of the few redeeming qualities about Jackson's first year as Knicks president: he's put the team in good position to rebuild.
Coaches
Derek Fisher (30th): The Knicks have been set up to lose games since early January, but that doesn't mean that Fisher is above criticism. The first-year coach struggled to find a consistent rotation, using 20 different starting lineups in the first half of the season.
His defensive schemes have also hurt the Knicks. Fisher wanted New York to focus on defending the paint and stopping opponents in transition. That's come at the expense of defending the 3-point arc.
The Knicks have allowed opponents to shoot 38.7 percent from beyond the arc, which ranks 30th in the NBA.
The real test for Fisher, of course, will be next season. In theory, he'll have a roster that can compete for a playoff spot in the Eastern Conference.
Ownership
James Dolan (30th): The Knicks owner alienated some of his own fan base by sending an email to a long-time fan, suggesting that he go root for the Brooklyn Nets. Between that and the miserable season, it hasn't been a good year for Dolan.
Better days ahead? There's reason to believe that the Jackson and the Knicks can turn things around. They will be armed with at least $25 million to spend and have a high first-round pick in June's draft.
Furthermore, for the first time in recent Knicks history, it seems like the owner, president and coach are all on the same page.
Jackson has given Fisher the freedom to coach the team the way he sees fit; Dolan has thus far stuck to his promise to give Jackson autonomy when it comes to basketball decisions. It's anyone's guess how long this tranquility can last. Dolan has a history of meddling with his front-office people.
But the idea that all three men are on the same page, at this point, bodes well for the future.
Also, the fact that Dolan is a willing spender should help. For all of his warts, no one has ever accused Dolan of being cheap when it comes to paying for an asset that his front office deems worthy.
Question: Do you agree with the rankings? Do you see brighter days ahead for the Knicks?
March, 26, 2015
Mar 26
9:48
PM ET
ESPN.com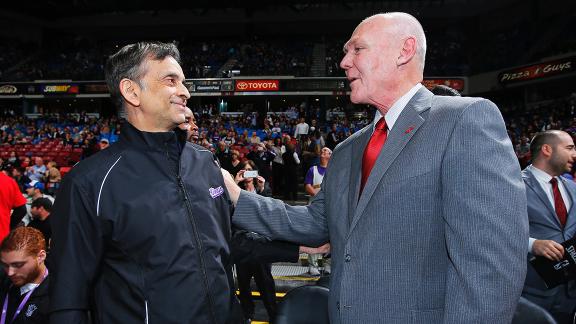 March, 26, 2015
Mar 26
10:05
AM ET
ESPN.com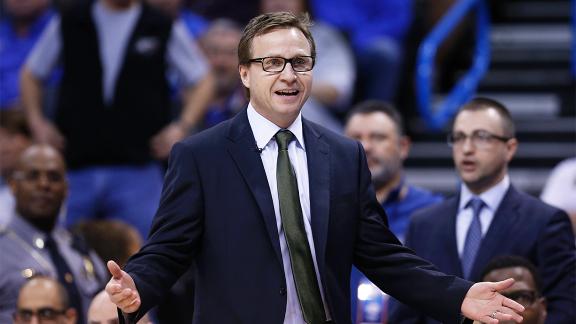 March, 26, 2015
Mar 26
9:00
AM ET
DALLAS -- One by one, the All-Stars from the Phoenix Suns' "Seven Seconds or Less" era are riding off into the sunset.
First, Shawn Marion announced that he'd retire at this season's end, the Matrix's 16th in the league. Then Steve Nash officially called it a career, his 41-year-old body failing to allow him to play his 19th season.
But Amar'e Stoudemire, the 13-year veteran whose best seasons came when he was running and gunning with Nash and Marion in Phoenix, isn't remotely close to being ready to consider hanging up his Nikes.
[+] Enlarge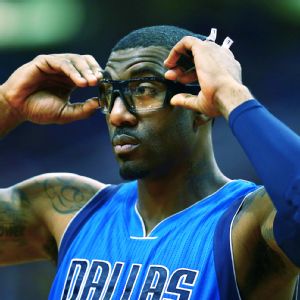 Mark J. Rebilas/USA TODAY SportsAmar'e Stoudemire believes he has several years left in the tank. Will Dallas be his long-term home?
"I'm the last man standing," Stoudemire said with a smile while stretched out on the floor of the visitors locker room with a pair of compression boots during the Dallas Mavericks' recent trip to Phoenix. "I plan on standing for a while, by the way.
"No, no, there's no way. There's a lot of youth in these legs. I have a lot of competitive juices still flowing in me. There's no way I'm ready to be the next man."
At 32 with chronic knee issues, Stoudemire is no longer the athletic freak he was during his high-flying Phoenix days, when he routinely soared high above the rim to catch lobs from Nash and finish in highlight fashion. But Stoudemire remains plenty capable of providing scoring punch off a playoff team's bench and plans to continue doing so for a long time to come, speculating that he could play five or six years with the proper maintenance.
The Mavs -- who signed Stoudemire for the veterans minimum after he received an All-Star break buyout from the final season of his five-year, $99.7 million contract with the New York Knicks -- will be among the teams expressing interest in him this summer. He's been productive as the Mavs' backup center, averaging an efficient 9.8 points and 3.4 rebounds in 15.8 minutes per game.
Owner Mark Cuban has made it clear that he'd like Stoudemire to stay in Dallas, comparing him to Vince Carter, another former perennial All-Star who contributed in a reserve role for the Mavs.
"I love Amar'e -- love, love, love the guy," Cuban said. "There's not enough superlatives. He's just a great guy on the court and off. I just love his physicality. He just wants to win and is a great guy."
Stoudemire chose the Mavs over several other suitors last month, so clearly there's mutual interest. Money, minutes and maximizing the chances of winning his first championship -- not necessarily in that order -- will likely be the biggest factors in Stoudemire's decision this summer.
The Mavs will probably offer Stoudemire a significant piece of their midlevel exception. Stoudemire, who says he can "compete at a high level for years to come," will likely request a multiyear deal.
But there will be plenty of time this summer to have those kinds of conversations. And, as much urgency as he feels to contend for a title now, Stoudemire is certain he has plenty of time left in his career.
"This isn't it for me, for sure," Stoudemire said. "There's a lot of basketball left. There's a lot of high-level basketball left in me. I feel competitive. I have faith in my body, what I can do on a basketball court on a consistent basis.
"The next step should be the best step, because I want to make sure I leave the game on a high note. That's the ultimate goal."
March, 25, 2015
Mar 25
9:11
PM ET
NEW YORK -- Doc Rivers doesn't allow his assistant coaches to speak to reporters.
In an effort to maintain one public voice, every request to speak to Los Angeles Clippers assistant coaches is quickly declined. Rivers made an exception on Wednesday.
Before the Clippers took on the New York Knicks at Madison Square Garden, Rivers stepped aside to let Mike Woodson take the spotlight with the media. After the Clippers blew out the Knicks 111-80, Rivers suddenly came down with a "stomach ache," allowing Woodson to address reporters again.
Woodson was fired as the Knicks coach last April after Phil Jackson took control as team president. Woodson guided the Knicks to a 54-win regular season and a division title in 2012-13, in addition to their first playoff series win in 13 seasons, but the team's 37-45 record last season fell well short of expectations.
Then again, 37 wins would be a massive improvement over the 14-57 Knicks, who not only have the worst record in the league but are nearing the end of the worst season in franchise history. At least the Knicks ended last season on a 15-6 run and missed the playoffs by one game.
[+] Enlarge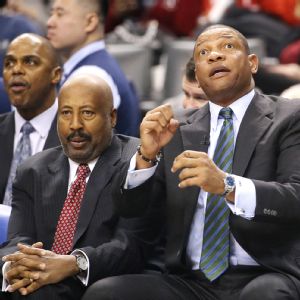 Tom Szczerbowski/USA TODAY SportsTwo season removed from leading the Knicks to a 54-win season, Mike Woodson returned to New York as Doc Rivers' assistant.
Woodson said that if he were still coach of the Knicks he wouldn't have changed the roster. Shortly after Jackson fired Woodson, he traded Tyson Chandler and Raymond Felton to Dallas for a package centered around Jose Calderon.
That trade hasn't worked out well for Jackson, as the Knicks are well on their way to the first 60-loss season in franchise history.
"Had I stayed on board I probably would have pushed to keep Tyson and keep that core group together because that's what won the 54 games two years ago," Woodson said. "But people change and you've got to live with it and it's what it is."
Woodson, however, wasn't in any mood to gloat at the current state of the Knicks even after they let him go last year.
"I've kind of moved on," Woodson said. "Two years ago was a great run for our ball club and a lot of things have changed since then. All I can say is that I wish them nothing but the best, and I truly mean that when I say that. I don't wish losing on anybody as a coach, as a general manager, president, Mr. [James] Dolan especially, who gave me an opportunity to come here and coach. So I'm just happy I'm in the position I'm in to be able to continue to coach."
Woodson deflected questions about Rivers giving him a platform to speak before and after the game on Wednesday saying, "This is not about me, this is about the Clippers and the fine team that Doc put together."
Clippers players said Woodson's homecoming to New York did mean something to them.
"Absolutely, we're all sticking up for each other," Griffin said. "It was probably not how everybody wanted it to end here. So, it's good to get wins like this to help support guys and get rest for everyone."
Chris Paul smiled when he learned Woodson addressed reporters postgame instead of Rivers. "Woody is an amazing guy. He's a great coach. I've enjoyed playing for him," Paul said. "Obviously, we're family here. He's with us. Obviously it was an unfortunate situation here in New York. So, it was good to get this win."
About three months after being let go by the Knicks, Woodson joined Rivers' staff in Los Angeles after Alvin Gentry left for Golden State and Tyronn Lue left for Cleveland. Rivers and Woodson had never coached on the same staff, but just two years ago Woodson eliminated Rivers' Celtics in the first round of the playoffs.
"Things change quickly," Rivers said. "I'd love Woody to still be coaching. He is, but with me. He's a head coach, and he'll be a head coach again. We know that. Things have changed here. They had to make a decision. You do. If you're building in the right direction, you keep building. If not, you try to tear it up and get it right. I think that's what they're doing and that's what they're going through. It was probably the right decision."
While Woodson believed he deserved to keep his job, he knew Jackson was going in a new direction when he took over. He was going to bring in his coach -- Derek Fisher -- and take the team in a new direction. That direction hasn't been a positive one in the short-term but Woodson doesn't hold any ill will toward Jackson for what he did.
"I think when Phil came in, he had his mind made up based on what he wanted to do, and I can respect that," Woodson said. "There's nothing I can say bad about Phil. Phil has had a hell of a career as a coach and he had other ideas in terms of the direction he wanted to go, and I respect that."
As Woodson spoke to the assembled New York media, calling individuals out by name as he did ushers and security guards he walked past at the arena, he still smiled when talking about the 2012-13 season. His tenure with the team didn't go as planned but that season will go down as not only his best but the best the Knicks have had in more than a decade.
"I'm not going to downplay what we did," Woodson said. "I mean, I'm pretty happy about our play and the style of play we had here. It's not easy winning 54 games in this league and the fact that along with Glen Grunwald and Mr. Dolan to put a solid group together that year ... you can't take anything away from that team. That team was very competitive and won a lot of games for us."
Woodson is used to experiencing disappointment after success. He finished his six-year run as the Atlanta Hawks coach by leading them to three straight playoffs and was fired after a 53-win season and a berth in the conference semifinals, the best season the franchise had enjoyed before this season.
"I had an opportunity here and I didn't get it done, I guess, so I had to move on," Woodson said. "I'm happy as hell to be in L.A. with Doc, a friend of mine who I've known for many, many years. He's given me an opportunity to help him try to get the Clippers to the [NBA] Finals and perhaps win a title. That's what it's all about.
"It was a good three years for me. I was blessed to be able to come in here and get an opportunity. This is where I was drafted and played my rookie year and to be able to circle back and be given an opportunity to be a head coach of the team, it was fantastic. I just tried to make the most of it and sometimes things work out and sometimes they don't. I have no hard feelings toward anybody in New York. I mean, it was a good run."
As much fun as Woodson is having this season in Los Angeles, his goal is to become a head coach again, perhaps as early as next season.
"Absolutely," Woodson said if he wants to be a head coach. "I'll push in that direction one day. We'll figure it out and see if I'm able to get back in the driver's seat again."
Ian Begley of ESPN New York contributed to this report