July, 23, 2014
Jul 23
5:00
PM ET
By
Ian Begley
| ESPNNewYork.com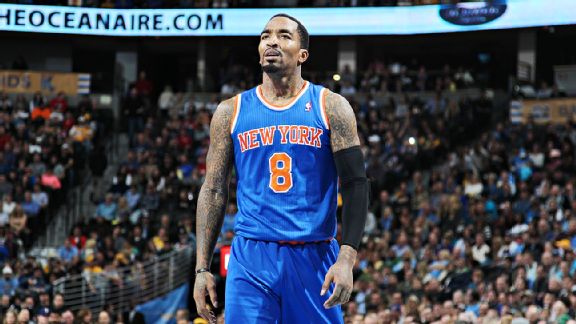 AP Photo/David ZalubowskiJ.R. Smith can be fantastic -- and frustrating. Do you think he's worth the headache?
We're not breaking any news when we tell you that, to many NBA observers,
J.R. Smith
is a talented but erratic scorer whose behavior can leave coaches, GMs and team presidents pulling their hair out.
Viewed in that context, Smith's 2013-14 season with the Knicks may have been his defining campaign.
It began with an offseason knee surgery that was timed, by Smith's own admission, to allow him to capitalize on his free agency.
It continued with a five-game suspension for a violation of the NBA's banned substance policy.
After a slow start on the court due in part to the knee surgery, Smith made headlines in November for appearing to threaten
Brandon Jennings
on Twitter after Jennings insulted Smith's younger brother,
Chris Smith
. He was fined $25,000 for the tweet. Then, in late December, Smith angered the Knicks by publicly questioning the team's decision to cut his brother.

As if that wasn't enough, Smith was fined $50,000 by the NBA for attempting to untie his opponents' shoelaces in early January.
At the time of the fine, Smith was shooting just 34.8 percent from the field and scoring 11.3 points per game -- nearly seven points fewer than the previous season.
But a funny thing happened on the way to what looked to be a disastrous year for the 2012-13 Sixth Man Award winner.
Smith's surgically-repaired knee started to feel normal again, and his shots started falling. In the final 43 games of the season (after Smith's second shoelace-related benching) he averaged 16.7 points per game on 45 percent shooting and knocked down 42 percent of his 3-point attempts; in the 31 games prior, Smith hit just 34 percent of his 3s.
Need more evidence to support his second-half revival?
Smith's effective field goal percentage jumped nearly 11 percent over his final 43 games. (Effective field goal percentage is a shooting metric that adjusts for the value of 3-point shots.)
Smith was even more valuable later in the season for the Knicks. After being inserted into the starting lineup for the final 22 games, Smith averaged 18.1 points per game as the Knicks finished the season 16-6.
To Knicks general manager Steve Mills, Smith's success in the second half of the season can be attributed to more than just an improved jump shot.
"I think we saw in the last month and a half of the season that J.R. was much more locked in as a player," Mills said earlier this month on the MSG Network. "I think when you walked in the locker room you could see ... that he was focused in a way that he wasn't at the beginning of the season."
The big question now for the Knicks and president Phil Jackson is this: Which Smith will show up for the 2014-15 season?
Will it be the player who caused headaches with his shot selection and impulse control in the first half of the season? Or the otherworldly scorer who gave opponents fits in the second half of the year? Or (the most likely option) a combination of both?
Says Mills, "We have all the confidence in the world that [Smith] will come back and be focused and locked in the way he was at the tail end of the season."
Smith's success this season will depend, in part, on how well he can fit into the triangle offense. Smith has been accused of over dribbling in the past, which is a no-no in the triangle. But as long as he can curtail that, there's reason to believe Smith can thrive as a jump shooter in the triangle.
The 28-year-old hit 45 percent of his catch-and-shoot attempts last season, including 46.2 percent on catch-and-shoot 3s last season, per SportVU. That 3-point percentage was the sixth highest among players who attempted at least 1.5 catch-and-shoot 3-pointers per game, according to the stats site.
That kind of efficiency would fit well in the triangle offense which, when run properly, produces ample open jump shots.
But will Smith get the opportunity to show what he can do in the triangle? The New Jersey product referred to last season as the "worst" of his career in an interview on ESPN's "First Take." He also said he wouldn't have been surprised if he was traded last season.
According to a league source, the Knicks have had discussions recently about making a move at shooting guard by trading
Iman Shumpert
or Smith to clear up the logjam at the position.
Smith, though, is set to make $5.9 million this season and has a $6.4 million player option for 2015-16. Those financial commitments to Smith, in addition to a resume filled with inconsistent play, would appear to diminish the shooting guard's value on the open market.
So if he ends up in a Knicks uniform on opening night, the team can only hope to have the version of Smith that suited up in the second half of last season: focused, productive and professional.
"I believe that Derek [Fisher] will be able to communicate with him and get him focused on what he can do to make our team better," Mills said of Smith.
The GM added that he thinks Smith can "buy into the philosophy that we have and make himself a better player."
Question: Do you agree with Mills? Can Smith help the Knicks win this season? Or should they look to trade him?
You can follow Ian Begley on Twitter.
July, 23, 2014
Jul 23
4:56
PM ET
By
Ian Begley
| ESPNNewYork.com
The Knicks have waived veteran guard
Shannon Brown
.
Brown's tenure with the Knicks was short-lived.
He signed the first of two ten-day contracts with the Knicks on Feb. 27 and then signed for the remainder of the season in late March. He appeared in 19 games for New York, averaging 2.1 points per game in 7.8 minutes.
The veteran also played on the Knicks' summer league team.
With Brown off of the roster, the Knicks are down to eight guards (including free agent
Toure' Murry
).
Phil Jackson and Steve Mills both said earlier this month that the roster needs better balance, mentioning the abundance of guards on the roster.
Sources say that the Knicks discussed internally their options regarding potential trades of
Iman Shumpert
,
J.R. Smith
or
Shane Larkin
to clear space in the back court. The team had been considering this as recently as last week.
You can follow Ian Begley on Twitter.
July, 23, 2014
Jul 23
11:07
AM ET
Associated Press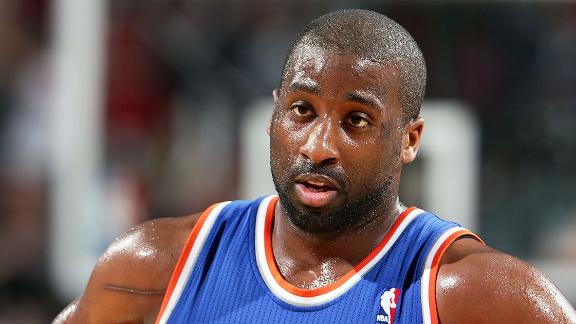 NEW YORK -- Dallas Mavericks point guard Raymond Felton pleaded guilty Wednesday in a New York gun case, taking a plea deal that involved admitting a felony but spares him jail.
Felton pleaded guilty to attempted criminal possession of a weapon and criminal possession of a firearm. He admitted he knowingly had a large-capacity ammunition magazine and a semi-automatic pistol without a license.
"Are those charges true?" Manhattan state Supreme Court Justice Larry Stephen asked.
"Yes, sir," Felton said, later adding in a soft voice: "I apologize. I realize what I did was wrong."
He was immediately sentenced to 500 hours of community service and ordered to pay a $5,000 fine. Manhattan Assistant District Attorney Jonathan Rebold said Felton will be allowed to do the service outside New York.
If he complies, the case will be closed without jail time or probation.
"At this point, Raymond is looking forward to starting the next chapter of his life and focusing on success in Dallas," his lawyer, James Walden, said after court.
The criminal case arose last winter, as Felton grappled with the breakup of his marriage and navigated a struggling season with the New York Knicks. He was traded to Dallas last month, two days after his plea plan was announced.
The team declined to comment Wednesday.
About a week after Felton's law student wife filed for divorce, her attorney brought a loaded semi-automatic handgun to a police precinct and said it was Felton's and she wanted it out of the house, authorities said. Walden has said Felton never threatened anyone with the gun.
After police contacted Felton, he turned himself in shortly after a Mavericks-Knicks game at Madison Square Garden.
July, 22, 2014
Jul 22
12:15
PM ET
By
Ian Begley
| ESPNNewYork.com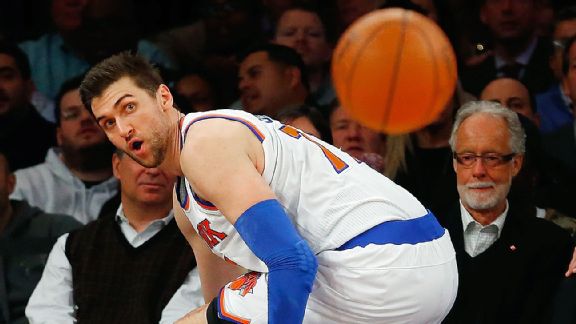 Jim McIsaac/Getty ImagesLast season, the 'Bockers were better off with Andrea Bargnani on the bench. But Phil Jackson says he might "surprise" next season. Agree?
By most measures,
Andrea Bargnani
's season with the Knicks last year was a forgettable one.
New York's offense was 6.8 points better (per 100 possessions) when Bargnani was on the bench. On defense, the Knicks allowed one fewer point per 100 possessions when Bargnani was off the court.
And then there's this: The Knicks went 15-27 before Bargnani went down with an elbow injury and finished the season 21-18 after he got hurt.

It's unfair to put that all on Bargnani, but it doesn't reflect well on the former No. 1 overall pick.
"He just never seemed to be a good fit," one NBA scout said of Bargnani last season.
But when viewed through the prism of individual statistics, Bargnani's 2013-14 season doesn't seem so terrible. He averaged 13.3 points and 5.3 rebounds per game, numbers the Knicks probably would have signed up for when they acquired Bargnani last summer.
The bigger issue last season for Bargnani was that he never fit well on the floor with
Carmelo Anthony
. The Knicks hoped Bargnani could be a strong secondary scoring option. That didn't happen.
New York outscored teams by 3.5 points per 100 possessions when Anthony was on the court without Bargnani. But when Anthony and Bargnani shared the floor, the Knicks were outscored by 3.9 points per 100 possessions.
Maybe that was one reason, along with his salary, that Bargnani was deemed expendable earlier this summer by the Knicks. The Knicks' hierarchy tried to ship Bargnani out, along with one of their guards, in an effort to shed his $11.5 million salary and free up some money for then-free agent
Pau Gasol
, sources say.
Either New York couldn't find an amenable trade partner or couldn't construct a deal to its liking because Bargnani is still a Knick and Gasol is with the
Chicago Bulls
.
It is unclear if Bargnani is still on the trading block.
Phil Jackson said last week he thinks Bargnani will "surprise" some people this season. He also called the seven-footer "overlooked."
"We think he's going to really do well in the kind of system we have," Jackson said in an interview on MSG Network. "We've got a couple guards he likes to play with in Jose [Calderon] and Pablo [Prigioni] because he's played with them before in situations. I think he's going to be a surprise and I think he's going to be a pleasant one for our fans."
Some see Jackson and Derek Fisher's triangle offense as a panacea for Bargnani. If he can knock down the open shots produced by the triangle, the theory goes, maybe Bargnani can have a successful run in his second season in New York?
(That theory ignores that Bargnani isn't a strong passer and doesn't move well -- two essential skills in the triangle.)
Offense, though, hasn't been Bargnani's biggest issue over eight years in the league. Defense and rebounding have also held him back -- maybe to a larger degree than any drawbacks he has on the offensive end.
So Fisher and the Knicks will have to figure out not only how to get Bargnani open looks on offense but also how to overcome his porous perimeter defense and spotty rebounding.
And, oh yeah, they'll also have to find a way to incorporate him on offense without hindering Carmelo.
Is that possible? Sure. Anything's possible. But, based on last season, it doesn't seem all that likely.
Question: Do you agree with Jackson when it comes to Bargnani? Do you think Bargnani can be a "surprise" for the Knicks this season? Or should they look to trade him?
You can follow Ian Begley on Twitter.
July, 22, 2014
Jul 22
11:55
AM ET
By
Staff
| ESPNNewYork.com
Fresh off an impressive showing at the Las Vegas Summer League, rookie
Doug McDermott
will join
Chicago Bulls
teammate
Jimmy Butler
on the USA Select Team that will practice against the national team as it prepares for the FIBA World Cup.
Butler

McDermott
McDermott and Butler were chosen for the Select Team along with the
Golden State Warriors
'
Harrison Barnes
and
Draymond Green
, the
Utah Jazz
's
Trey Burke
(Utah Jazz), the
New York Knicks
'
Tim Hardaway Jr
., the
Orlando Magic
's
Tobias Harris
and
Victor Oladipo
, the
Brooklyn Nets
'
Mason Plumlee
, the
Phoenix Suns
'
Miles Plumlee
, the
Boston Celtics
'
Marcus Smart
, the
Cleveland Cavaliers
'
Dion Waiters
and the
Charlotte Hornets
'
Cody Zeller
.
McDermott, drafted by the
Denver Nuggets
with the 11th pick in last month's draft and then traded for two picks to the Bulls, was a first-team pick for the summer league all-star team along with second-year swingman
Tony Snell
. McDermott averaged 18 points a game and shot 44 percent from three-point range in Vegas.
Butler, 24, averaged a career-best 13.1 points a game last season, his first as a starter. The young Bulls duo will train with teammate
Derrick Rose
, who is expected to participate in Team USA practices.
"USA Basketball's Select Teams are critical for getting some of the game's brightest and most promising young players experience at the USA National Team level, and getting them into our pipeline," USA Basketball National Team managing director Jerry Colangelo said in a statement. "Again this summer, as was done in 2007, 2008, 2010 and 2012, the members of the USA Select Team will play an important role in helping prepare the USA National Team for the 2014 FIBA World Cup.
"Being chosen for the Select Team is an honor and an important step in becoming involved in USA Basketball's National Team program in the future. In the past, current national team players like
Kevin Durant
,
Kyrie Irving
,
Kevin Love
, Derrick Rose,
Russell Westbrook
, as well as many other outstanding players got their USA National Team start through the Select Team."
The Select Team will train with Team USA from July 28-31 in Las Vegas. The FIBA World Cup runs from Aug. 30-Sept.14 in Spain.
July, 21, 2014
Jul 21
11:15
PM ET
Associated Press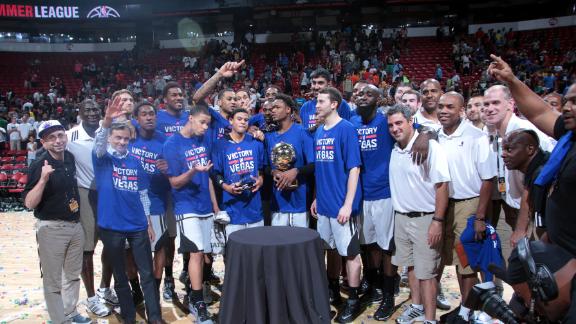 LAS VEGAS -- Ray McCallum had a few big moments toward the end of last season for the Sacramento Kings.
After a summer like this, he might have shown he's ready for plenty more.
McCallum scored 29 points and helped key a big Sacramento rally in the final minutes, as the Kings topped the Houston Rockets 77-68 Monday night to win the NBA Summer League championship game.
"It means a lot," said McCallum, as he held the tournament MVP trophy. "I've been trying to put in a lot of hard work this summer."
The Kings went 6-1 at Las Vegas, and McCallum more than saved his best for last. He scored a total of 55 points in his first six games in the tournament, then connected on 9 of 15 shots from the floor in the title game.
Ra'shad Jones scored 12 points and Nik Stauskas added 10 for Sacramento, which closed the game on a 27-10 run before a crowd of 7,603.
"This is a great way to start off an NBA career," Stauskas said.
Nick Johnson scored 17 for the Rockets, who got 16 from Donatas Motiejunas and 15 from Isaiah Canaan.
McCallum -- who appeared in 45 games for the Kings last season and made 10 starts late in the year, with three games of 22 points or better in the season's final weeks -- had just one point in the first quarter, and the Kings trailed 17-8 early.
But once he got rolling, the Kings followed suit.
July, 21, 2014
Jul 21
4:35
PM ET
[+] Enlarge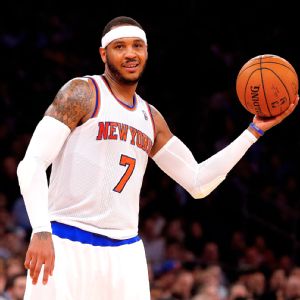 Jim McIsaac/Getty ImagesCarmelo Anthony already has a good grip on basketball and is now trying his hand at being a venture capitalist.
Signed to the New York Knicks for another five seasons, Carmelo Anthony is already looking to life after basketball.
On Monday, Anthony announced the creation of M7 Tech Partners, a venture capital firm whose only partners are Anthony and Stuart Goldfarb, the former CEO of Bertelsmann, the world's largest direct marketer of music, video and books.
"For as long as I can remember, I've been interested in technology," Anthony said in a statement. "We are actively looking for ventures with strong leadership that resonate with consumers."
Anthony noted that he was particularly intrigued with wearable and connected devices.
"Carmelo is in his prime right now," Goldfarb said. "He has built an incredible global brand and is now interested in building his future while his brand is on the rise."
Goldfarb said the two haven't put a minimum or maximum on how much they will invest in the coming years, though the firm's announcement was accompanied by news of its first investment. M7 has become an equity partner in Hullabalu, an interactive children story company.
Goldfarb said that the firm's interest could gravitate to sport on occasions, but will mainly be focused on "investing in companies that have products that deeply resonate with us."
July, 21, 2014
Jul 21
2:54
PM ET
[+] Enlarge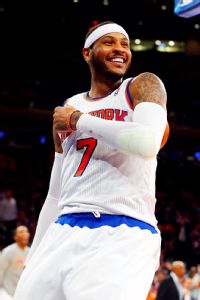 Jim McIsaac/Getty ImagesThough LeBron is taking his talents back north, big-named free agents like Carmelo Anthony stayed put.
The most successful offseason of any NBA team didn't involve a news conference or an as-told-to story. It quietly reached its conclusion in the form of an email from the San Antonio Spurs on Tuesday morning that announced the re-signing of Boris Diaw.
If the immediate goal is to win the 2015 championship, there's no better place to start than preserving the 2014 champions. No, the Spurs didn't make the eye-grabbing move of the summer -- the return of LeBron James to Cleveland snagged that honor -- but they made a series of low-key announcements that four main components of their championship squad are coming back: Diaw, Tim Duncan, Patty Mills and coach Gregg Popovich.
Put it this way: Would you rather have a team with LeBron adapting to a new group of players, or a team that just beat LeBron by a total of 70 points in five NBA Finals games? The Spurs epitomize the underrated story of the 2014 NBA free-agent fest, which is that retaining is the new improving.
July, 20, 2014
Jul 20
4:22
PM ET
By
Ian Begley
| ESPNNewYork.com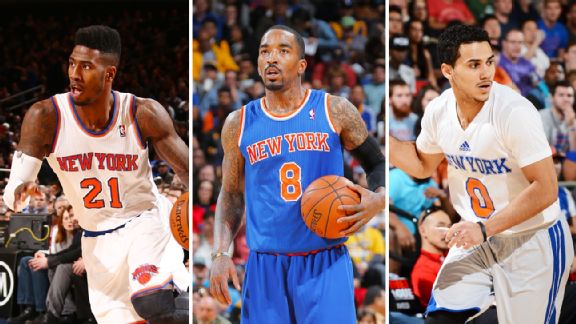 Getty ImagesThe Knicks are willing to trade Iman Shumpert, J.R. Smith and Shane Larkin. But who should go?
Working to clear the logjam in the backcourt, the Knicks are discussing their potential trade options with guards
J.R. Smith
,
Iman Shumpert
and
Shane Larkin
, a league source said Sunday.
"They're working on trying to make a move in the backcourt," the NBA source familiar with the Knicks' thinking said Sunday.
The idea that the Knicks are trying to make a trade to balance the roster isn't earth-shattering. President Phil Jackson and GM Steve Mills have mentioned the Knicks have a surplus in the backcourt, with Mills saying last week the Knicks are "heavy" at shooting guard.
The issue for the Knicks, of course, is deciding whom to send out in a trade and figuring out what they can get in return in such a transaction.

Tim Hardaway Jr.
has been deemed virtually untouchable, per a source.
Smith, the 2012-13 Sixth Man Award winner, has a player option in his contract for $6.4 million for the 2015-16 season and is coming off what he called the worst season of his NBA career. As such, it is unclear how much interest he could draw on the open market.
Shumpert is viewed as a strong defender but couldn't find his comfort zone on offense last season. He was made available in several trade proposals throughout the season. His value at this point in the trade market is also unclear.
Larkin was recently acquired from the Mavericks in the trade that also netted
Jose Calderon
and
Samuel Dalembert
.
The Knicks tried to include Shumpert in deals earlier in the offseason in an effort to unload the contracts of
Andrea Bargnani
($11.5 million) and
Amar'e Stoudemire
($23.4 million). No deal materialized for either player. It is unclear if such packages are still being discussed or if the guards are being offered individually at this point.
The Knicks have four shooting guards on the roster. They also haven't ruled out re-signing free-agent PG/SG
Toure' Murry
. He has drawn interest from the
Utah Jazz
and
Miami Heat
, according to a report Sunday from the Salt Lake Tribune.
Question: If you were Phil Jackson or Steve Mills, would you trade one of the Knicks' guards? If so, who and why?
You can follow Ian Begley on Twitter.
July, 20, 2014
Jul 20
2:42
PM ET
One metric ranks
Carmelo Anthony
's contract as the worst that's been handed out so far in NBA free agency.
ESPN Insider Tom Haberstroh has a metric to measure the value –- or lack thereof –- of contracts agreed to so far this summer.
He compared the player's average annual salary to the amount expected based on the player's age and 2013-14 production.
Carmelo's deal -– worth $124 million over five years -– ranked worst in Haberstroh's ranking.
Writes Haberstroh:
"According to the metrics, Anthony will be one of the most overpaid players in the game.

Like most, RPM sees Anthony as a below-average player on the defensive end. As such, he needs to be otherworldly on offense to warrant a $125 million commitment. Anthony's a great scorer, but he rated as only the 18th-best offensive player in the league last season. That's probably a bit unkind, but Melo's age and defensive struggles make this contract a dubious one by any estimation."
Habrestroh ranks Chris Bosh's deal with Miami and Utah's deal with
Gordon Hayward
as the second and third worst of the offseason.
Anthony, for what it's worth, has an early termination option for the fifth and final year of his contract and also has a no-trade clause.
For more on Haberstroh's methodology and which contracts he rates highest and lowest,
click here
.
Question: Do you think Carmelo's contract is the worst of the free agency season thus far? Or do you think it will work out well for the Knicks?
July, 18, 2014
Jul 18
8:30
PM ET
ESPN.com news services
[+] Enlarge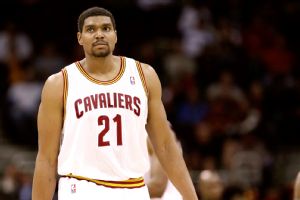 AP Photo/Mark DuncanAndrew Bynum is contemplating undergoing the Regenokine knee therapy program, which would result in him missing the 2014-15 season.
The 2014-15 NBA season could be another one without Andrew Bynum.
The oft-injured No. 10 pick in the 2005 draft is considering sitting out next season in order to undergo the Regenokine knee therapy procedure, his agent, David Lee, told the New York Post.
The non-surgical procedure uses injections to help grow new cartilage, and requires an extra-long rehab.
Lee said Bynum is considering doing the program with German doctor Peter Wehling, who has worked with Kobe Bryant and Alex Rodriguez in the past.
The procedure is not approved in the United States.
If Bynum successfully completes the program, he could return in 2015-16, according to Lee, who said the Knicks potentially would be interested in the 7-footer.
"If he's healthy, Phil [Jackson] will be interested," Lee told the Post, referring to the Knicks team president who coached Bynum while with the Lakers. "Phil knew how to tap into Andrew. They got along famously."