April, 18, 2014
Apr 18
9:29
PM ET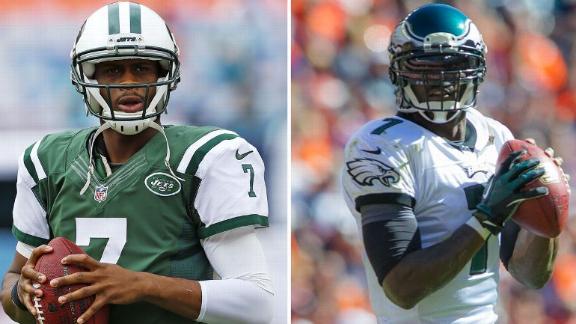 It isn't exactly going to be an open competition in New York.
The New York Jets have a plan for their quarterbacks. They like their room. They feel that either Geno Smith or Michael Vick can win games for them this season, and do so from the jump.
There will be competition between the two, but to say there will be an open competition to determine who will be the starter in 2014 isn't totally accurate.
The Jets want Smith to be the starter. He is the future. He has more upside. He is the one whom they are invested in for the long haul. Vick is merely a rental on a one-year deal.
The Jets, however, are realistic.
Because here's the thing about Vick: He wins training camp. He wins the preseason. The strength of Vick's arm and the effortlessness with which he flings the ball downfield is intoxicating, even if his stats in recent seasons paint the picture of a turnover-prone quarterback on the backside of his career.
Vick will turn 34 in June and isn't nearly as fleet of foot as he was a little more than a decade ago, when the Atlanta Falcons drafted him No. 1 overall out of Virginia Tech. But Vick is still fast. He still has as strong an arm as anyone in the league. He has experience, and he understands the West Coast system that Jets offensive coordinator Marty Mornhinweg runs.
During his time in Philadelphia, Vick proved he was willing to commit himself to the process of being the best quarterback possible. He learned the value in watching film. He worked hard. He was at the Eagles practice facility early and he stayed late.