October, 1, 2014
Oct 1
6:10
PM ET
FLORHAM PARK, N.J. -- After hearing the critics weigh in, New York Jets coach Rex Ryan wanted another crack at the whole idea of who has the final say on benching a struggling player.
Ryan clarified Wednesday that the committee approach ends when the game starts.
"That falls on my shoulders, and I think it's obvious," Ryan said. "What became obvious is that I should have handled that question differently."
Earlier in the week, Ryan described the process of how benching a player, for example quarterback Geno Smith, would be a team decision.
Ever since John Idzik arrived as general manager Ryan has moved away from the idea that he is the sole decision-maker and instead iterated that roster decisions are more by committee -- including the GM manager of course.
"I just thought it was so obvious that, obviously in my position as the head coach you are going to make decisions that during a game -- who else is going to make them?" Ryan said. "I am not going to call Randy Rasmussen up and say, 'Hey Randy, what do you think?' "
Rasmussen was an offensive lineman for the Jets in the 1960s.
Ryan was brought to the Jets in 2009 by former general manager Mike Tannenbaum. When Idzik replaced Tannenbaum in 2013, it wasn't clear how long Ryan was going to stay.
Last year after the two starting working together, Ryan's contract was extended through 2015. But now that another developing quarterback has stalled on Ryan's watch, his job security may not be quite as solid.
October, 1, 2014
Oct 1
5:55
PM ET
FLORHAM PARK, N.J. --
New York Jets
cornerback
Dee Milliner
, who has missed three of the four games with ankle and quadriceps injuries, will return Sunday to face the
San Diego Chargers
.
Milliner
Milliner, still dealing with a quadriceps issue, was limited Wednesday in practice, but Rex Ryan said he's confident the former first-round pick will play.
The major injury question this week involves wide receiver
David Nelson
, who has a severe low ankle sprain. He didn't practice and isn't expected to play Sunday. The Jets' receiver rotation will consist of
Eric Decker
,
Jeremy Kerley
and
Greg Salas
. They also have Walter Powell and newly signed veterans T.J. Graham and
Chris Owusu
.
Another key injury is safety
Calvin Pryor
(bruised thigh), but he was able to practice on a limited basis and should be ready to go. Cornerback
Antonio Allen
, who created a stir when he left the stadium last Sunday on a golf cart, doesn't appear on the injury report. Allen said his feet swelled up after the game, which he described as a "weird feeling." He doesn't know why, but he suspects it might have been a combination of the heat and artificial turf.
The official practice report:
New York Jets
Did not practice
: Nelson (ankle).
Limited
: G
Willie Colon
(knee), WR Decker (hamstring), C
Nick Mangold
(shoulder), Milliner (quadriceps), Pryor (thigh).
Full
: NT
Damon Harrison
(ankle), RB
Chris Johnson
(ankle)
San Diego Chargers
Did not practice
: LB
Jerimiah Attaochu
(hamstring), WR
Malcom Floyd
(illness), RB
Ryan Mathews
(knee), C
Rich Ohrnberger
(back), LB
Manti Te'o
(foot), LB
Reggie Walker
(ankle), CB
Shareece Wright
(knee).
Limited
: LB
Donald Butler
(shoulder), LB
Dwight Freeney
(knee), TE
Ladarius Green
(hamstring), TE
David Johnson
(shoulder), LB
Jarret Johnson
(shoulder),
Corey Liuget
(concussion), CB
Jason Verrett
(hamstring).
Full
: LB
Cordarro Law
(ankle).
October, 1, 2014
Oct 1
4:59
PM ET
FLORHAM PARK, N.J. --
New York Jets
wide receiver
Quincy Enunwa
missed part of practice Wednesday due to a court appearance on a domestic violence-related charge.
Enunwa
"Went in and spoke to the judge, and it's a pending legal matter," Enunwa said.
NJ.com reports that Enunwa's Florham Park municipal court hearing was
postponed until Oct. 15
so that the alleged victim's new attorney would have time to travel to New Jersey.
Enunwa's attorney, Anthony Fusco, said there would be no negotiations toward a plea deal.
"There's not going to be a guilty plea," Fusco told N.J.com.
Enunwa was arrested Aug. 31 for "purposely, knowingly or recklessly, causing bodily injury" to a woman at a local hotel. The arrest was just days after the NFL issued new measures for domestic violence offenses, which includes a six-game suspension for first-time offenders.
Enunwa was asked what he thought of the new policy.
"That's what the NFL put out there, I don't have an opinion," Enunwa said. "When you put yourselves in a situation, you have to face the consequences of whatever is coming. With a pending legal matter, I have to let everything fall through."
He repeated the phrase "pending legal matter" six times in the 90-second interview.
There have been a few arrests since the new policy passed. The Cardinals immediately removed RB
Jonathan Dwyer
from the active roster after his arrest for, among other things, allegedly head-butting his wife and breaking her nose. The Panthers'
Greg Hardy
was placed on the exempt/commissioner's permission list while he appeals a guilty verdict for assaulting and threatening his ex-girlfriend.
NFL spokesperson Greg Aiello said of Enunwa's status with the Jets: "The case is pending and will be reviewed under the personal conduct policy."
A Jets spokesperson added, "It is an ongoing legal matter and we are monitoring the situation."
Enunwa said the arrest and subsequent legal process have not kept him from putting his best effort in with the team. A reporter used the term "distraction" when asking Enunwa if an arrest for simple assault was affecting him.
"No, no. This industry, you're going to have distractions all over the place," Enunwa said. "Unfortunately I have a pretty unfortunate distraction but I don't let it get in the way of my work."
October, 1, 2014
Oct 1
2:21
PM ET
There was no sign of wide receiver
David Nelson
at
New York Jets
practice Wednesday, the first time the Jets took the field since a
24-17 loss to the Lions
Sunday. Nelson suffered a sprained left ankle in the game.
Nelson
On Monday, Jets coach Rex Ryan said he was unsure of the extent of the injury, but the fact that Nelson didn't finish the game was a bad sign.
But in good news for the team's banged-up secondary, the Jets did get cornerback
Dee Milliner
back on the field. The second-year player missed the last two games with a quad injury. Safety
Calvin Pryor
was also dressed, and both took part in individual drills.
Wide receiver
Eric Decker
and tight end
Jeff Cumberland
were on the sideline for the start of practice, but both also took part in individual drills.
Wide receiver Quincy Enunwa, a practice squad player charged with domestic violence, was in court.
At the start of practice, Ryan walked over to the wide receiver group and shook hands with
T.J. Graham
and
Chris Owusu
, the Jets' new arrivals at the position. If Nelson is out for long, those two may be brought along more quickly.
October, 1, 2014
Oct 1
9:00
AM ET
FLORHAM PARK, N.J. -- Add Joe Namath to the growing list of fans wondering why
New York Jets
general manager John Idzik is sitting on so much salary-cap space.
The legendary quarterback, speaking to reporters Tuesday at an event in Manhattan, questioned whether Idzik is spending enough and spending wisely.
"I heard about this extra money that they have," Namath said, according to published reports. "I don't know what they're saving it for, myself, looking at the talent they have out there right now."
In fact, the Jets are $21.5 million under the cap, according to ESPN Stats & Information. Cap dollars aside, their actual cash payroll for 2014 is $91.6 million, the lowest in the league. The
New York Giants
, in the same market and stuck with the same stadium debt, have a cash payroll of $121 million.
So, yeah, people are curious, including Namath, who gave Idzik a less-than-enthusiastic endorsement.
"School's out," he said of the second-year GM. "We'd like to have seen a better team out there, better personnel out there in some spots. Wide receiver, defensive backs. Injuries get in the way, ya know, (and) guys haven't developed that they have picked.
"You got to find the right men to play the game," Namath added, "and why (is it) some teams stay in the hunt more than others year in and year out? It's the people that are making decisions. It starts at the top."
Namath held a news conference in Manhattan to announce the creation of the Joe Namath Neurological Research at Jupiter Medical Center in Florida. The research center is focused on combating the effects of traumatic brain injuries sustained by concussion. Namath said they will launch a clinical trial to study the effectiveness of hyperbaric oxygen therapy to treat brain injury.
October, 1, 2014
Oct 1
6:00
AM ET
It doesn't get easier for the
New York Jets
, only harder. The
San Diego Chargers
, coming off a playoff season, are one of the top teams in the NFL. They have an MVP candidate at quarterback, very good receivers and a defense with playmakers on all three levels. They're also tough at home, having won five straight at the dump known as Qualcomm Stadium.
Let's take a closer look at the Chargers:
Record
: 3-1
Head coach
: Mike McCoy (12-8)
Offensive coordinator
: Frank Reich
Defensive coordinator:
John Pagano
THREE PLAYERS TO KNOW, OFFENSE
Philip Rivers, quarterback:
He's the hottest quarterback in the league, hands down. Rivers has completed 74.5 percent of his passes with no interceptions during the Chargers' current three-game winning streak. Some people thought he'd take a step back after losing offensive coordinator Ken Whisenhunt, but Rivers has continued to roll under Reich. Think about what he's had to overcome: He has no running game (
Ryan Mathews
and
Danny Woodhead
are injured) and he's on his third center. No matter. He leads the NFL in passer rating (114.5).
Geno Smith
has reached that mark in only one of 20 starts, so chew on that. Rivers doesn't throw deep a lot -- only
EJ Manuel
has thrown short passes at a higher rate than him -- but he makes good decisions and he's deadly accurate.
Eddie Royal, wide receiver:
Royal plays the slot and, as the
Detroit Lions
'
Golden Tate
showed last Sunday, the slot receiver is an issue for the Jets. Royal is similar to Tate in that he gains a lot of yards after the catch -- a 9.0 YAC average, according to ESPN Stats & Information. He's coming off a monster game against the
Jacksonville Jaguars
, becoming the first Chargers' receiver since Jeff Graham in 2000 to have two touchdown receptions of at least 43 yards in the same game -- 43- and 47-yard scoring plays. Royal moves around the formation, but most of his production comes out of the slot.
Keenan Allen, wide receiver
: Jets fans may not want to be reminded of this, but the team passed on Allen in the third round of the 2013 draft. The Jets took guard
Brian Winters
(No. 72 overall), with Allen going four slots later to the Chargers. They got a steal, as Allen won several rookie honors with a 71-catch, 1,046-yard receiving season. He has good size (6-foot-2) and runs excellent routes. Surprisingly, he got off to a slow start (sophomore jinx, anyone?), but he rebounded last week with a huge game against the Jaguars -- 10 catches for 135 yards on 11 targets. Fantasy owners are upset, though, because he has yet to score a touchdown.
THREE PLAYERS TO KNOW, DEFENSE
Brandon Flowers, cornerback:
Remember back in June, when the
Kansas City Chiefs
released Flowers and there was some buzz about the Jets being interested? They weren't, but it was a talking point for a few days. He ended up signing a one-year, $3 million with the Chargers, pretty much the same deal Dimitri Patterson got from the Jets. Oops, sore subject. Flowers has been terrific for the Chargers, solidying a weakness. He plays inside and outside, he tackles well and he recorded his first interception last week, which is one more than the Jets have as a team.
Dwight Freeney, pass-rusher
: He's 34, not as explosive as he once was, but Freeney has to be respected because of his accomplishments. The man has 110 career sacks and 44 forced fumbles, still capable of frightening a left tackle with his legendary spin move. He's not an every-down player anymore. Freeney, who missed most of last season with a torn quadriceps, is supposed to be a situational pass-rusher, but he's still logging about 40 snaps per game because of an injury to
Melvin Ingram
at outside linebacker. He was a factor last week, recording two quarterback hits and four hurries. He has a total of two sacks.
Corey Liuget, defensive end:
He's the Chargers' best all-around defensive lineman. The 6-foot-2, 300-pound is a lot like
Muhammad Wilkerson
in terms of versatility, because he can play anywhere on the line. Per ESPN Stats, he plays right end (92 snaps), right tackle (46) and left end (22). The former first-round pick has 1.5 sacks and one forced fumble.
September, 30, 2014
Sep 30
2:00
PM ET
One last look back at the
New York Jets
' 24-17 loss to the
Detroit Lions
:
Picking on Harris:
When a team has a rough day defending the pass, the blame usually falls on the cornerbacks. The Lions beat cornerback
Antonio Allen
for the biggest play of the game, a 59-yard touchdown, but they did much of their damage in the short and intermediate zones in the middle of the field. They went after linebacker
David Harris
, and went after him hard. Harris, not known for his pass coverage, surrendered seven completions on seven targets for 123 yards and a touchdown, according to Pro Football Focus.
[+] Enlarge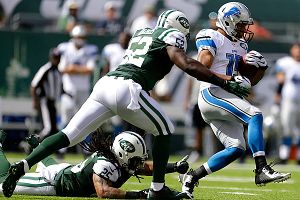 AP Photo/Frank Franklin IIThe Lions picked on linebacker David Harris time and again in pass coverage on Sunday.
Harris allowed 35- and 23-yard completions to wide receiver
Golden Tate
, missing a tackle on the first one that added to the gain. You can't blame Harris for the second play, though. He was matched against Tate in the slot, and there's no way you can expect him to cover a wide receiver. Credit the Lions, who created the mismatch by using an empty backfield against the Jets' base personnel.
At the end of the second quarter,
Matthew Stafford
picked on Harris again, hitting tight end
Eric Ebron
for a 16-yard touchdown. Rex Ryan made a conservative call on second-and-10, rushing only three and dropping eight. It was a rare Cover 2 look, with
Dawan Landry
and
Jaiquawn Jarrett
in a two-high safety formation. Harris dropped into middle coverage, picking up Ebron on a seam route. Stafford made a nice, back-shoulder pass and -- boom -- touchdown.
Double-A's hiccup:
Ryan wouldn't say who messed up on
Jeremy Ross
' 59-yard touchdown reception, but it certainly appears that Allen was the guilty party. The Jets played "quarters" coverage, meaning four defensive backs were responsible for the deep quarters of the field. They sent
Kyle Wilson
on a slot blitz, but Stafford still had time. Allen covered Ross out of the slot and bit ever so slightly on a pump fake/double move, allowing the receiver to get behind him. To make it worse, Allen missed the tackle at the 15. The killer: It came on a third-and-10. The Jets' third-and-long defense was exposed by the Lions, who played with a diminished
Calvin Johnson
. Imagine if Johnson had been healthy.
Geno's big mistake:
Geno Smith
was unsettled throughout the game, overthrowing open receivers and displaying shaky ball placement on his completed passes. Under duress, he was only 3-for-11 for 51 yards and an interception, according to PFF. When he had time to throw, he was 14-for-22, 158 yards and a touchdown. A pretty stark contrast, huh?
Smith took a big hit from
Ezekiel Ansah
on the interception, so it's hard to blame him entirely for the turnover. The offensive line went down like bowling pins -- really. Right tackle
Breno Giacomini
fell into center
Nick Mangold
, who caused left guard
Brian Winters
to fall down. A few yards away, right guard
Willie Colon
went down while trying to block
Ndamukong Suh
. And, oh, yeah, running back
Bilal Powell
also tripped. It was Keystone Cops-like. The only blocker that stayed on his feet was left tackle
D'Brickashaw Ferguson
.
Under pressure, Smith forced the pass to
Eric Decker
, who ran an in-cut. The Lions disguised their coverage brilliantly. Cornerback
Darius Slay
dropped off Decker and assumed a safety position, switching places with the safety. Smith sailed his pass, as he tends to do. Sure enough, there was Slay, backing up the play to make the interception on the overthrow. Meanwhile,
Jeremy Kerley
and
Jeff Cumberland
were wide open in the left and right flats --
wide
open. Smith should've checked it down to Kerley or Cumberland instead of throwing into traffic.
The strip sack:
On the ensuing possession Smith lost the ball on a strip sack by ex-Jet
James Ihedigbo
, who was unblocked on a safety blitz. No doubt, Smith could've done a better job of seeing the blitz, but it wasn't all his fault. The Lions rushed five. Running back
Chris Johnson
, in pass protection, was confronted by two blitzers. Players are taught to block the inside rusher in that type of situation, and Johnson did that. That gave Ihedigbo a free shot at Smith. One of his hot reads, Kerley, tripped on his pass route. That may have caused Smith to hold the ball longer than he wanted.
September, 30, 2014
Sep 30
1:00
PM ET
The John Conner sequel is coming to the
New York Jets
. Let's call it "Terminator II."
Conner, a former Jets draft pick who played with them from 2010 to 2012, will re-sign with the team, a league source confirmed Tuesday. He will replace starting fullback
Tommy Bohanon
, who fractured his collarbone in Sunday's 24-17 loss to the
Detroit Lions
. Bohanon appears headed for injured reserve, which would create a roster spot for Conner.
Conner, nickamed "The Terminator," was a popular player for the Jets in 2010. He was one of the featured players in the 2010 HBO "Hard Knocks" series, making a name for himself with punishing blocks. He was always a favorite of Rex Ryan, who likes to tell people that Conner was his choice in the fifth round of the 2010 draft.
The Jets cut Conner in October 2012. He played that season with the
Cincinnati Bengals
before moving to the
New York Giants
in 2013. He played 13 games for the Giants, who released him in August during the final cutdown.
Used almost exclusively as a blocker, Conner, 27, has only 21 career rushes for 88 yards and two touchdowns. He has 10 receptions for 22 yards.
Injuries are starting to mount on offense. Wide receiver
David Nelson
has a severe low-ankle sprain and is unlikely to play this week, one of the reasons why they signed
T.J. Graham
and
Chris Owusu
.
UPDATE:
The Jets confirmed the Conner signing and announced that Bohanon has been placed on season-ending injured reserve. Bohanon will have surgery to repair his collarbone.
September, 30, 2014
Sep 30
11:00
AM ET
A weekly look at what the
New York Jets
must fix:
The Jets are into the "Missiles of October" portion of their schedule, as they face
Philip Rivers
,
Peyton Manning
and
Tom Brady
in an 11-day span. Unfortunately for the Jets, they're hitting this stretch with a defense that doesn't scare quarterbacks.
Oh sure, the Jets' defensive front will gets its share of sacks, but when it comes to making game-changing plays -- forcing turnovers -- its useless. Rex Ryan's defense has produced zero interceptions in four games. The only other team with an oh-fer is the
New Orleans Saints
, whose defense is headed by Ryan's twin brother, Rob. Talk about keeping it all in the family.
It's pretty amazing when you think about it: Opposing quarterbacks have dropped back to pass a total of 150 times against the Jets, and not one of those throws has ended up in the wrong hands. On Sunday, they travel to the
San Diego Chargers
and will face the hottest quarterback in the league. Rivers has a league-best 114.5 passer rating and has completed 70 percent of his attempts.
How does Ryan fix the takeaway issue? It's tough because they're undermanned at cornerback. The anticipated return of former first-round pick
Dee Milliner
should help -- maybe. Ryan is a man-to-man coach, but maybe he can change it up by playing more zone. Maybe he can play more two-high-safety looks instead of the usual one. He has to do something, because the Jets' bad start could turn ugly over the next 11 days.
September, 30, 2014
Sep 30
6:00
AM ET
A look at the snap counts from the
New York Jets
loss to the
Detroit Lions
:
OFFENSE (Based on 64 snaps)
Quarterback
--
Geno Smith
64.
Ivory
Running back
--
Chris Ivory
37,
Chris Johnson
18,
Tommy Bohanon
16,
Bilal Powell
11.
Wide receiver
--
Eric Decker
51,
Jeremy Kerley
49,
Greg Salas
41,
David Nelson
16, Walter Powell 4,
Saalim Hakim
1.
Tight end
--
Jeff Cumberland
50,
Jace Amaro
22,
Zach Sudfeld
4.
Offensive line
--
D'Brickashaw Ferguson
64,
Brian Winters
64,
Nick Mangold
64,
Willie Colon
64,
Breno Giacomini
64.
Offensive analysis
: The news here is that, for the first time, the Jets got away from a 50-50 split between Ivory and Johnson. They decided to feature Ivory against the Lions' aggressive and physical front four. Johnson ended up with the longest run, a 35-yard touchdown, but Ivory was the most effective back on a down-to-down basis. ... This marked the first time that
Michael Vick
didn't get into the game. His snap counts for the first four games: three, two, one, zero. Isn't it interesting how his playing time has gone down as Smith's struggles have gone up? ... Nelson's early ankle injury resulted in a heavy workload for Salas. ... Decker played 80 percent of the snaps, an indication his cranky hamstring has improved significantly. ... With
Jalen Saunders
inactive for the first time (he was cut Monday), Powell made his NFL debut, also handling punt returns. ... Amaro's snap counts for the first four games: 21, 21, 23, 22. Gee, I wonder if there's a predetermined amount.
DEFENSE (Based on 65 snaps)
Defensive line
--
Muhammad Wilkerson
59,
Sheldon Richardson
55,
Damon Harrison
30,
Leger Douzable
17,
T.J. Barnes
16.
Linebacker
--
David Harris
65,
Demario Davis
64,
Calvin Pace
52,
Quinton Coples
46,
Jason Babin
20,
Trevor Reilly
11,
Nick Bellore
1.
Secondary
--
Dawan Landry
65,
Antonio Allen
65,
Darrin Walls
63,
Jaiquawn Jarrett
40,
Calvin Pryor
25,
Kyle Wilson
21.
Defensive analysis
: Pryor, who missed only five snaps in the first three games, left the game with a bruised thigh, giving Jarrett a chance. ... Allen played the entire game on an apparent leg injury. After the game, he needed to be carted to the parking lot from the locker room. Turns out he's fine. ... They dressed nine defensive backs, but
Josh Bush
,
Phillip Adams
and
LeQuan Lewis
played no defense. Lewis did enough damage on special teams, committing two penalties. He was cut Monday. ... Nose tackle
Kenrick Ellis
was a surprise inactive, replaced by Barnes. ... Reilly's role seems to be growing, as he played a season-high 11 snaps. ... Babin was the only defensive player not to play a single snap on special teams. ... We made it through an entire report without mentioning
Dee Milliner
and his injury situation. Well, almost.