September, 18, 2014
Sep 18
7:30
PM ET
HOUSTON -- Two
Houston Texans
moved from the limited participation list to the Texans' lengthy full participation list on today's injury report -- cornerback
Johnathan Joseph
(foot) and tight end
C.J. Fiedorowicz
(foot).
Fiedorowicz missed last week's game in Oakland. Earlier this week, Texans coach Bill O'Brien said it looked like Fiedorowicz would probably be ok to play, but they haven't made any final determinations yet.
Running back
Arian Foster
(hamstring), guard
Ben Jones
(ankle/knee) and safety
D.J. Swearinger
(elbow) were limited today, as they were yesterday.
Outside linebacker
Jadeveon Clowney
(knee), receiver
DeAndre Hopkins
(illness) and safety
Shiloh Keo
(calf) did not practice. Clowney actually made a brief appearance in the locker room during the open period today. He had a sleeve on his surgically repaired knee, but no brace, and didn't appear to have a limp. Clowney had arthroscopic knee surgery two weeks ago. Hopkins caught a bug, but is expected to play Sunday.
For the
New York Giants
, punter
Steve Weatherford
, who didn't practice yesterday, returned to practice on a limited basis. Linebacker
Jon Beason
(foot/ankle), receiver Odell Beckham (hamstring) and linebacker
Devon Kennard
(hamstring) did not practice. In addition to Weatherford, offensive tackles
James Brewer
(back) and
Charles Brown
(shoulder) were limited.
September, 18, 2014
Sep 18
6:05
PM ET
EAST RUTHERFORD, N.J. -- The
New York Giants
only scored 14 points again in Week 2, but offensive coordinator Ben McAdoo likes the direction his unit is headed.
Manning
Eli Manning
in particular looked much better against the Cardinals, completing 26 of 39 passes for 277 yards -- and he could have had a few more completions, if his receivers had held onto the ball.
"I thought he had some comfort in his feet," McAdoo said Thursday. "He felt good about where he was going with the ball. That is encouraging to see."
The Giants only rushed for 81 yards on 27 carries -- just 3.0 yards per run. But the offensive line did appear to give Manning more time in the pocket.
"[The O-line] are making progress like everyone else," McAdoo said. "Today was probably our best Thursday practice of the year. We completed the ball well. We didn't have pads on, but we had a good day running it."
McAdoo has featured a three-wide receiver set quite frequently in his first two games as offensive coordinator, but that third wide receiver will be someone else, now that
Jerrel Jernigan
has been lost for the rest of the season with a foot injury.
Preston Parker
will get the first crack, and McAdoo spoke positively about him.
"Preston is on the roster for a reason," McAdoo said. "We trust him. He can create separation out there. He is aggressive to the ball. We know he is a competitor."
As for rookie wideout
Odell Beckham Jr
., who continues to be sidelined with a hamstring injury, McAdoo says Beckham doesn't even enter into his mind right now.
"He has a special skill set. He is gifted. He is talented. He is smart. He is conscientious. I am excited for the chance for him to come out here," McAdoo said. "When he comes out here, it will be a good bonus for all of us."
Demps
NOT SO SPECIAL:
The Giants made two costly mistakes on special teams last week, on back-to-back plays in the fourth quarter -- giving up a punt return touchdown by
Ted Ginn Jr
., followed by
Quintin Demps
' kickoff-return fumble.
Special teams coordinator Tom Quinn said there were multiple issues on the Ginn return. "Number one thing is you want to make the tackle," he said. "Second thing we want is more hang time and the location. We expect the ball to go to the right, and it didn't go to the right. [But] whatever comes off his foot, we have to cover."
Demps lost the ball after spinning, trying to gain extra yardage. "We have worked on ball security," Quinn said. "We don't want to spin. That is probably trying to do too much. Just let the game come to you. If you try to hit a home run, you are not going to hit a home run. Hit some singles and they'll go out."
Demps returned several kickoffs from deep in the Giants' end zone, but Quinn said those were good decisions. "We want to be aggressive," Quinn said. "We felt like it was close. You look at the tape and one or two blocks each time and he could come spitting out of there and give us some good field position."
Beason
INJURY REPORT:
Beckham, linebacker
Jon Beason
(foot/ankle) and linebacker
Devon Kennard
(hamstring) did not practice for the second day in a row Thursday, although Beason
might be back very soon
.
Punter
Steve Weatherford
(ankle) practiced on a limited basis, after sitting out on Wednesday. Offensive linemen
James Brewer
(back) and
Charles Brown
(shoulder) were limited for the second day in a row.
Defensive tackle
Markus Kuhn
(ankle) practiced fully for the second day in a row.
September, 18, 2014
Sep 18
5:15
PM ET
EAST RUTHERFORD, N.J. -- The
Houston Texans
are 2-0 and the
New York Giants
are 0-2, but Giants defensive end
Jason Pierre-Paul
is sleeping comfortably this week.
When asked Thursday what concerns him most about the Texans, Pierre-Paul answered, "Nothing."
"I feel like we should be able to handle their offense, and nothing concerns me," he added.
The Texans are third-to-last in passing yards per game (172.5), but eighth in rushing yards (151.5), and lead the NFL in rushing attempts through two games (80).
[+] Enlarge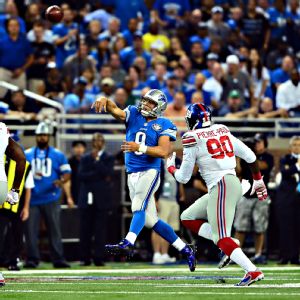 Andrew Weber/USA TODAY SportsThe Giants' Jason Pierre-Paul puts pressure on Detroit quarterback Matthew Stafford on Sept. 8.
Arian Foster
is second in the league in rushing individually (241 yards), behind only the
Dallas Cowboys
'
DeMarco Murray
(285).
"Foster is one of the best in our league," Giants defensive coordinator Perry Fewell said. "Great vision -- it's unbelievable his vision, how he can see the small creases, his acceleration into those small creases, and then his ability to get yards in a small crease and move the chains."
The Giants have been pretty good against the run through two weeks -- 12th in the league, giving up 100 yards per game. Pierre-Paul, while known as a pass rusher, has been the second-best 4-3 defensive end against the run in the entire NFL, according to Pro Football Focus.
"JPP, I thought he played really well last week in the ballgame -- not only in the run game, but also in the pass game," Fewell said. "He's had a great week of practice. So we just keep patting him on the butt and saying, 'Come on JPP!'"
Pierre-Paul did look like the JPP of old last Sunday -- the player who posted 16.5 sacks in 2011. He had 1.5 sacks against the Cardinals and was also credited with two passes defensed -- including one of his patented bat-downs at the line of scrimmage.
But he doesn't sound satisfied. "I am trying to get better," Pierre-Paul said. "I need to stop the run a little more. I need to get to the quarterback quicker. That is basically it. Chase the ball."
Texans quarterback
Ryan Fitzpatrick
has yet to throw an interception this season. In fact, he hasn't even been sacked.
The Giants, on the other hand, have failed to force a single turnover in their first two games.
"We need turnovers," Pierre-Paul said. "Turnovers win games, especially if you're on defense, and I'm a big part of that."
Fewell said forcing turnovers has been a big point of emphasis in practice this week.
"We had our hands on two balls last week, and we didn't come up with it," Fewell said. "
Stevie Brown
had his hands on a deep ball, and you expect him to come down with that one. [
Dominique Rodgers-Cromartie
] had his hands on a ball; you expect him to come down with it. We just haven't made our own breaks."
The Giants are hoping to change that come Sunday, and if they do, Pierre-Paul will likely be a big reason why.
September, 18, 2014
Sep 18
4:30
PM ET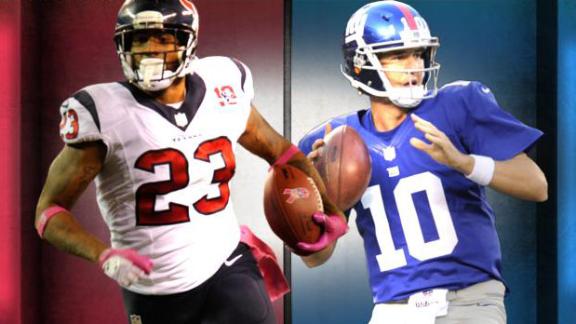 EAST RUTHERFORD, N.J. -- It appears the New York Giants have not lost their middle linebacker after all.
Jon Beason says his injured foot "feels a whole lot better," and he is not ruling out playing Sunday against the Houston Texans despite not practicing the past two days.
"I feel like I could go out there and take care of business," Beason said Thursday. "I'm active in the meetings. I know the game plan. I'm still studying and preparing as if I'm playing Sunday."
Beason aggravated the injury, which kept him out for the entire preseason, after stepping on someone's foot during Sunday's loss to the Arizona Cardinals. Initially there were fears that he might miss the rest of the regular season.
"I felt like I'd felt a pop," said Beason, who is one of the Giants' two defensive captains. "It scared me right away. We went in and got some pictures. But it's feeling a lot better right away, so it's an indication that it's probably just scar tissue."
The next step is a visit to Dr. Robert Anderson in Charlotte, North Carolina, on Friday. Dr. Anderson, the foot/ankle specialist who initially diagnosed Beason's injury back in June, was out of town earlier in the week -- otherwise, Beason said, he would have made the trip Tuesday.
"I wanna make sure everything's good," Beason said, "and then we'll determine when is a good time to come back."
September, 18, 2014
Sep 18
2:41
PM ET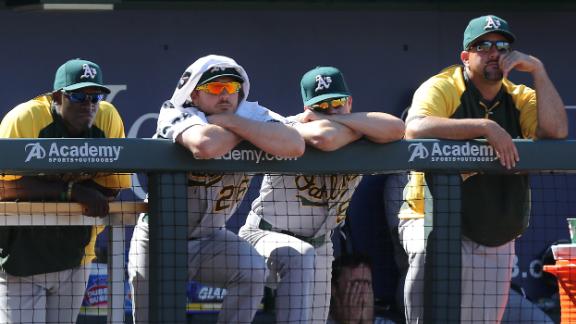 I can remember when it used to be a compliment to be called "the best team in baseball." Ha. Not anymore.
Now, all of a sudden, it's an indication you're about to roar off a cliff -- in about the next 20 minutes.
Which brings us to the latest edition of our ever-popular September History Watch. Our subjects: The A's and Red Sox -- two teams we were referring to, not so long ago, as "the best team in baseball," but now cause us to ask:
What the heck happened?
Where do their unbelievable falls rank among the most historic in baseball? Take a look.
The collapse of the mighty A's
On Aug. 10, with just 45 games to play, the A's still led the Angels by four games in the AL West. You can
look it up
. Boy, those were the days.
But we woke up Thursday morning to video montages of the Angels spraying champagne -- and the A's trying to figure out how they managed to drop 15.5 games in the standings sooooo fast.
[+] Enlarge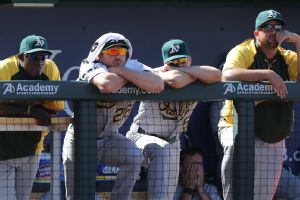 AP Photo/Ed ZurgaThe tumbling A's lost 17 of 29 games last month.
So how rare is it for a first-place team to plummet that far in the standings in the final weeks of the season? I ran that topic past the Elias Sports Bureau. Here's what it reported:
• Just eight other first-place teams since 1900 have lost 15 games or more in the standings at any point in August. They include three of the most infamous collapsers in history: the 1969 and '77 Cubs, and the 1914
New York Giants
.
• Three of those teams actually dropped by at least 18 games in the standings once they began tumbling: the '77 Cubs (22.5, in the final 58 games), the 1905 Cleveland Naps (19.5, in the final 65 games) and 1977 Twins (18.0, in the final 42 games).
• But wait. Only three of those teams held an August lead, at any point, that was as large as Oakland's, or larger -- the 1969 Cubs (9.0 ahead), the 1914 Giants (up 6.5) and a 1977 White Sox team (led by 4.5 on Aug. 1) that crumbled in sync with those '77 Twins, in the most historic parallel swan dives in history. So we've just narrowed the field dramatically.
• And when we look at just those teams' final 45 games, it turns out there's really only one team that parallels the fall of these A's. And anybody who was A) alive in the '60s and B) living in Chicago could tell you all about it. Only those '69 Cubs went into the final 45 games with a hefty lead (plus-9.0) -- and then dropped 17 games in the standings, finished 8 behind the Mets and broke 4 million hearts.
None of the other teams on this list led by more than half a game with 45 games left in the season. So if the A's lose a couple of more games in the standings in the next week and a half, uh-ohhhhh. That means they'd actually
surpass
the collapse of the '69 Cubs, a team that scarred its fans for life. Hard to do.
But as my buddy Buster Olney has argued, if this Oakland team not only loses its division but misses out on
both
wild-card slots, that would be the worst collapse in history, by pretty much any standard.
We wouldn't wish that on anybody. But it's still scary. And now here's something that's just as scary:
The 111-loss team that zoomed by the World Series champs
A mere 11 months ago, the 2013 baseball season ended with the
Boston Red Sox
partying in Fenway Park -- and the
Houston Astros
gearing up to make the first pick in the draft.
The Red Sox were (ahem) "the best team in baseball." The Astros had just lost 111 games -- a loss total matched or exceeded by only 12 other teams in the World Series era (1903-present).
But then "next year" arrived. By which we actually mean "this year." And a funny thing happened. It was shrewdly detected by my friend Gar Ryness (aka The Batting Stance Guy) in a tweet a few days ago:
"Told you Astros would have more wins than RedSox."
--liars

— Batting Stance Guy (@BattingStanceG) September 12, 2014
And that got me to thinking, which is always a dangerous development:
Has there ever been a team that lost 111 games or more one year and then won more games than the defending World Series champs the next?
Well, here's your answer: No. Not even close.
If we exempt the 1904 Senators team that lost 113 in a season when there was no World Series, there have been 11 other teams that lost at least 111 times in a season when a World Series was played. Here's how they fared the next year:
• Eight of them finished more than 20 games behind the defending champs.
• Four of them finished at least 35 games behind the defending champs.
• Two of them -- Pinky May's 1942 Phillies (61 back of the Yankees) and Choo-Choo Coleman's 1963 Mets (53 behind the Yankees) -- actually finished more than 50 games behind the defending champs.
• Their average finish was 31 games back of the champs.
• And the closest any of them came to catching, let alone outwinning, the reigning champs was 11 games, the margin that Dmitri Young's 2004 Tigers finished behind the Marlins.
But now let's check our handy-dandy
ESPN standings page
for this season. And what do we find? We find this amazing news:
The Red Sox have won 66 games.
The Astros have won 67 games.
And they each have 10 to play.
Wow.
I've chronicled many wild and crazy developments over the years in the September History Watch. But I'm pretty sure I've never been more riveted by any of them more than I am by the thought of how this one will turn out.
A 111-loss team outwinning the team that just finished parading through the confetti? This might be the best race in baseball.
September, 18, 2014
Sep 18
1:00
PM ET
EAST RUTHERFORD, N.J. --
New York Giants
middle linebacker
Jon Beason
was not on the field again Thursday during the portion of practice open to the media.
Beason
Beason, who aggravated a previous foot injury in last Sunday's loss to the
Arizona Cardinals
, was also absent Wednesday, but coach Tom Coughlin did not rule him out for this coming Sunday's game against the
Houston Texans
.
Fellow linebacker
Devon Kennard
(hamstring), who did not practice Wednesday, either, did make an appearance on the field Thursday, but was just doing some light work on the side.
The same goes for rookie wide receiver
Odell Beckham
, who is also dealing with a hamstring injury.
Punter
Steve Weatherford
(ankle) was back in action after sitting out practice Wednesday.
We'll have more later after post-practice interviews with Coughlin and the players.
September, 18, 2014
Sep 18
8:00
AM ET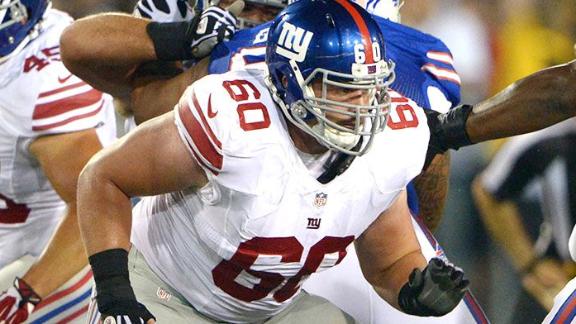 The
Houston Texans
are 2-0, just like they were at this time last season when they lost in Week 3 and didn't win again all season en route to the No. 1 pick in the NFL draft.
The
New York Giants
are 0-2, just like they were at this time last season when they lost in Week 3 and didn't win until Week 7 en route to a 7-9 season and an offseason overhaul.
Well, someone should win in Week 3 this season because the Texans and Giants play each other at 1 p.m. ET Sunday at MetLife Stadium. Here are ESPN Texans reporter Tania Ganguli and ESPN Giants reporter Dan Graziano with your preview of the game:
Graziano:
Tania, what's going on down there? One thing we thought we knew about
Ryan Fitzpatrick
was that he would throw interceptions. But so far he hasn't. What's been the key for the Texans' offense in terms of taking care of the ball?
Ganguli:
I had an inkling this might happen but was already taking so much heat for predicting eight wins for the formerly 2-14 Texans that I opted to wait and see. What we've seen is a quarterback making good decisions and doing exactly what the Texans have asked of him. He's had a lot of time from an offensive line that hasn't given up a sack, and he's had help from receivers who are keen to make life easy on him with their athletic ability and intelligence. He also hasn't faced very opportunistic defenses, which helps.
I had this game penciled in as a loss for the Texans before the season began, but having seen the Giants these first two weeks, I'm not so sure about that anymore. I guess I have the same question for you. What's going on up there? What do you make of this 0-2 start?
Graziano:
Seems like more of the same to me, honestly. I think people in this market are starting to recalibrate their expectations of the Giants, and I don't think it will be long before the perception around the league catches up.
They are a rebuilding team in a league and market that don't allow anyone to say that out loud. Last year's team was one of the worst in the league, and its 7-9 record was deceptively good -- built on a run of backup opposing quarterbacks and some December wins against teams that had shut it down. To the Giants' credit, they didn't get fooled, and they went out in the offseason and rebuilt the roster. They signed more free agents than any other team, which isn't the way they like to operate, but they had no choice given all their holes.
The result is a work in progress. The offense was incompetent in the preseason and the opener in Detroit. It showed improvement (and some competence) in Sunday's loss to Arizona, but it's clear it takes a lot for the Giants to score and they lack any true dynamic threats in the offense. They are also weak in pass protection, especially in the middle of the line, where retirements and injuries have left them a bit short.
As I write that, I'm thinking about
J.J. Watt
(maybe because he's on every other commercial that comes on my TV). Should a Giants offense that's not very exciting and can't protect its quarterback reliably be panicked about that Houston defensive front, even without
Jadeveon Clowney
?
Ganguli:
They could learn something from the way the Raiders played the Texans. Oakland planned well for Watt and kept him without a tackle Sunday, doubling him constantly. Of course, that was a week after he had one of the best games of his career (blocked extra point, fumble recovery, sack, batted pass, two tackles for loss). I would say, yes, they should panic a little. Beyond Watt, a guy to watch is outside linebacker
Brooks Reed
, who got a game ball after their Week 1 win, along with Watt.
The Giants should be equally concerned about what's been an opportunistic secondary in the first two weeks. Last weekend, the Texans' secondary forced two fumbles and intercepted Raiders quarterback
Derek Carr
once. Safety
D.J. Swearinger
has been part of three of the Texans' six forced turnovers. He is a character, and it's been working great for the Texans this year.
I know the Giants made a lot of changes on their defense. Do you see them ending Fitzpatrick's streak of clean games?
Graziano:
Well, they're due, I'll tell you that. But it's hard to imagine they're the team to do it. The Giants are one of three teams in the league -- along with Pittsburgh and Kansas City -- that doesn't yet have a takeaway. Combine that with their five giveaways and the 0-2 record doesn't need a lot more explanation. Tom Coughlin and
Antrel Rolle
talked Monday about the need to force some turnovers and get some free field position. But especially considering they spent so much on the secondary so it would be the strength of their team, the inability of their defensive backs to get interceptions is one of the more puzzling aspects of their slow start.
The Giants gave up 124 rushing yards to the Cardinals on Sunday, which annoyed Coughlin as well. And they haven't been able to run the ball very well themselves. Do you imagine Houston will be able to control the game on the ground with
Arian Foster
?
Ganguli:
Boy, that description of the Giants and turnovers sounds a lot like the Texans last season. They were never able to break out of it, and the 2-14 record reflected that.
Foster and the Texans' offensive line were dominant against the Raiders' run defense last week. Foster had 28 carries for 138 yards and a touchdown. The Texans ran the ball 46 times, a lot of it during garbage time, and threw only 19 passes. Foster already has 55 carries in the Texans' first two games, a number no running back has reached in the first two games of the season since Chester Taylor in 2006. The Texans aren't afraid to work him, and if they're facing another bad run defense, they'll be able to exploit it.
The Texans had growing pains offensively in their season opener, as it was the first time the entire starting unit played together in a game in Bill O'Brien's system. The Giants also learned a new offensive system during the offseason. Can you attribute any of the slow start to the learning curve there, and have you seen signs of improvement?
Graziano:
I think that's part of it, and you definitely saw in the "Monday Night Football" opener in Detroit that there were some issues with
Eli Manning
's footwork and his timing with his receivers. You see a zone run play every now and then where
Rashad Jennings
doesn't make the right cut. There's some learning still going on.
But I think the main problem, unfortunately for the Giants, is one they can't solve in-season. I don't think they have enough high-quality players at the key positions to run any offense and make it high-scoring.
Victor Cruz
is their best receiver, and he's a slot guy who's dropping too many balls. The interior of the offensive line is still a patchwork mess.
Larry Donnell
is catching passes at tight end, but he's still a liability as a blocker, which is hurting the run game.
Will Beatty
's performance at left tackle is inconsistent from week to week. They're just not very good, and it's hard to imagine that this 14 points per game trend is an aberration -- especially with another tough defense coming to town.
But we'll see. That's why they play the games and all that. Enjoyed the chat, Tania. Travel safe, and I'll see you Sunday.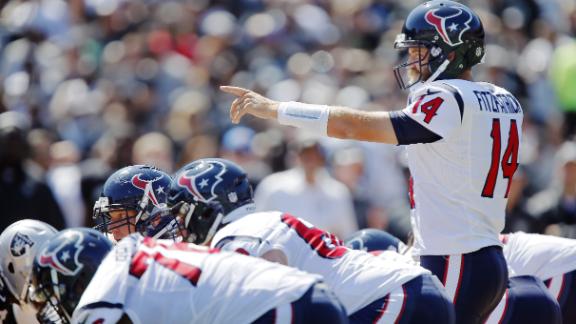 September, 17, 2014
Sep 17
6:22
PM ET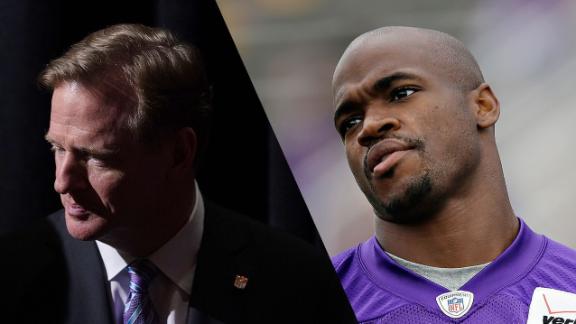 NEW YORK -- There is little make-believe talk this week that what goes on outside NFL team buildings stays outside the building during this young-but-embattled season.
Giants linebacker Mathias Kiwanuka was at MetLife Stadium on Sunday when a plane towing a banner that read "Goodell Must Go" flew overhead before New York's game against Arizona. Eli Manning says it's hard to ignore the image crises the NFL is fighting when it's on TV day after day.
By the time Kiwanuka, Manning and Victor Cruz -- three of the most thoughtful Giants -- spoke with the media Wednesday afternoon, they didn't pretend they were too deep into preparations for Houston this week to hear how the NFL's major corporate sponsors such as Anheuser-Busch had complained about the league's bungling of its child abuse and domestic violence scandals.
They knew NFL league office remained in full crises-control mode, too, with commissioner Roger Goodell still out of sight. They saw the amended punishments handed out to Ravens running back Ray Rice and Vikings star Adrian Peterson, the consternation that the Panthers' Greg Hardy and the 49ers' Ray McDonald are attracting for not being immediately benched. They agreed little had been handled correctly.
But there is still a missing piece to this story, too, you know. And Kiwanuka, Manning and Cruz all landed upon it independently as each of them stood by his locker Wednesday, saying some things that haven't been said enough.
September, 17, 2014
Sep 17
5:15
PM ET
EAST RUTHERFORD, N.J. -- The
New York Giants
' plan for their secondary this year included Walter Thurmond as a top-level nickel cornerback, squaring off against slot receivers and ideally giving the Giants a mismatch there every week. But Thurmond is out for the season due to a torn pectoral muscle, and the Giants have to turn to Plan B at the nickel corner spot. That plan is
Trumaine McBride
, who re-signed this year fully expecting to be a Plan B.
"I knew they brought me back to be a backup," McBride said Wednesday. "I was OK with it. I just approach it the same way I always have, knowing that at any time I could start."
McBride started 10 games for the Giants last year after being out of football in 2012. They liked him, and they re-signed him at the start of free agency as sort of an insurance policy in case their plan for rebuilding their secondary with outside free agents didn't work. But once they signed Thurmond and
Dominique Rodgers-Cromartie
, it was clear that McBride's role was to be able to back up any of the cornerback positions.
This week, though, he's focused on the nickel position, which he says requires more studying because of the additional responsibilities it brings. The nickel corner has more responsibilities in the run game, for example, since he replaces a linebacker when the team is in nickel. McBride said he has to pay more attention to the opponent's route tendencies, since the slot receiver has more field to work with (since he's not running along a sideline). And it's especially important for him to know where his help is on every play, so he can play to his leverage -- something that's been a bit of an issue for the Giants in the secondary so far this year.
"I don't think it's a big deal," McBride said. "I just feel like I'm a football player. I know what I have to do to be great at the nickel position."
September, 17, 2014
Sep 17
4:30
PM ET
EAST RUTHERFORD, N.J. --
Jerrel Jernigan
was not a "starting" wide receiver officially. But the
New York Giants
are in three-wide receiver sets on the vast majority of their offensive plays, and with rookie
Odell Beckham Jr
. sidelined to start the season, Jernigan was playing a significant role as one of the outside receivers in those three-wide sets.
Parker
Jernigan went on injured reserve Tuesday, which means his season is over. Beckham, who still hasn't practiced with the team since July 22 because of a hamstring injury, isn't ready yet. So the Giants need someone else from their bench to fill that spot opposite
Rueben Randle
when
Victor Cruz
goes into the slot. And first up will be
Preston Parker
.
"He will have that opportunity," Giants coach Tom Coughlin said Wednesday. "He's been in the league. He's very quick. He's played before. He's got a good attitude about it. He's a tough guy, and hopefully he'll make a strong contribution."
Parker made the team as a bench wide receiver and a punt returner because of injuries to punt-return options Beckham and
Trindon Holliday
. Parker caught one 29-yard pass in relief of Jernigan in Sunday's loss to the Cardinals. He caught 40 passes for 554 yards and three touchdowns as a member of the
Tampa Bay Buccaneers
in 2011, but he played in only two games in 2012 and was out of football last season.
"It's an opportunity," Parker said. "It's an opportunity for me to take advantage of and try and make something happen. I remember I was at that high, and I went through those lows and now I'm back to that high again. You have to appreciate that."
The other options at wide receiver right now are undrafted rookie
Corey Washington
, who became a preseason cult hero with his 6-foot-4 frame and the four touchdown passes he caught in the exhibition games, and Julian Talley, who was added from the practice squad Tuesday. Parker gets the first shot at replacing Jernigan because of his experience. Washington has been used sparingly, when the team goes to four-wide sets and occasionally at the goal line.
Beckham again worked on a side field Wednesday. There's almost no chance he plays Sunday against Houston, and because the Giants' next game is only four days later, he's not likely to see the field in Week 4 either.
September, 17, 2014
Sep 17
3:45
PM ET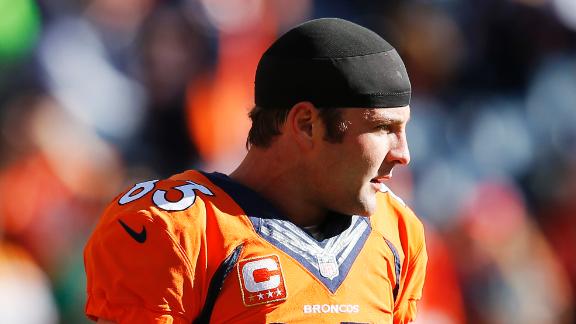 EAST RUTHERFORD, N.J. --
New York Giants
offensive lineman
Eric Herman
was suspended for the first four games of the 2014 season for violating the NFL's policy on performance-enhancing drugs. But due to the revised drug policy announced Wednesday, Herman's suspension has been voided and he is eligible to return to the team effective immediately. Herman got this news via a phone call from Giants assistant GM Kevin Abrams while he was driving to work out Wednesday.
"I made a U-turn and got here as fast as I could," Herman said.
Herman
Thing is, though, the Giants don't have a roster spot for Herman right now and would have to release someone from their 53-man roster in order to put him on it. So he wasn't allowed to practice. (The team said he watched practice in pads.) The Giants have applied to the commissioner's office for a roster exemption which likely would give them a week or two to make the necessary moves to get Herman back on their roster if they decide they want to.
Players whose positives tests occurred during the current league year are subject to the rules of the new policy. One of the rule changes is that positive tests for certain stimulants are treated under the substances of abuse policy if the violation occurs in the offseason (though still as performance-enhancers if the violation occurs in-season). So the guess here is Herman's positive test was for a stimulant and it happened in the offseason. He's been following the developments with regard to the new drug policy since late last week, but as of Wednesday afternoon he hadn't even been told the specifics of why he was reinstated.
"I've got to talk to the players' association and figure out what I fell under, so I can tell you guys," Herman said.
The Giants could release any number of extraneous offensive lineman if they wanted to clear a spot for Herman, a 2013 seventh-round pick who's shown promise as a project guard/center.
James Brewer
,
Charles Brown
and
Adam Snyder
are all candidates to go if they want to keep Herman. If they want to add him to their practice squad, they'll have to waive him first and hope no one else picks him up, then release someone from their practice squad. But if the commissioner's office will give them an extra week or so to decide how exactly to handle it, they'll sure take the time.
September, 17, 2014
Sep 17
3:18
PM ET
[+] Enlarge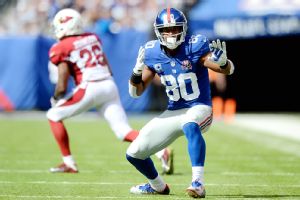 Ron Antonelli/Getty ImagesVictor Cruz admits he needs to take on a stronger leadership role in order to help the winless Giants avoid another 0-6 start like last season.
EAST RUTHERFORD, N.J. -- Victor Cruz is excited to be a New York Giants team captain for the first time.
But the process of getting used to his new role hasn't been as smooth or as rapid as he thought it would be.
"It's something new for me, so I have to be able to understand what comes with that role and what the expectations are for me in it," the veteran wide receiver said Wednesday. "It takes a lot of resiliency, a lot of strength emotionally to kind of withhold some of the things you feel and use them with your team in private rather than say them out loud and have people making judgments about them."
Cruz was clearly stung last week when a small controversy sprung up over something he said to the media. In an answer to a question on a conference call, Cruz said he believed the offense would work better if he and Rueben Randle got more targets in the passing game than they had in the season opener.
In some places, this was presented as Cruz demanding more targets, Keyshawn Johnson-style, and he's expressed annoyance with reporters more than once in the past week when the subject has come up.
September, 17, 2014
Sep 17
2:00
PM ET
EAST RUTHERFORD, N.J. --
Arizona Cardinals
punt returner
Ted Ginn Jr.
was named NFC Special Teams Player of the Week for Week 2. This is no surprise, because Ginn played against the
New York Giants
.
Lions linebacker
DeAndre Levy
was the NFC's Defensive Player of the Week in Week 1. He also played the Giants that week.
In fact, since the start of the 2013 season, the Giants have played 18 games. In eight of those, a player on the opposing team delivered a performance that won him a conference Player of the Week award:
2013
Week 1:
Dwayne Harris
, Cowboys (NFC special teams)
Week 2:
Trindon Holliday
, Broncos (AFC special teams)
Week 3:
Greg Hardy
, Panthers (NFC defensive)
Week 4:
Dexter McCluster
, Chiefs (AFC special teams)
Week 5:
DeSean Jackson
, Eagles (NFC offensive)
Week 15:
Richard Sherman
, Seahawks (NFC defensive)
2014
Week 1: DeAndre Levy, Lions (NFC defensive)
Week 2: Ted Ginn Jr., Cardinals (NFC special teams)
If it seems like a lot, that's because it is. Since the start of the 2013 season, no team has had more opposing players win conference Player of the Week awards than the Giants have. Washington is second with seven. Every team in the league has at least two except the Rams, who've only had one, and the Steelers, who somehow haven't had any. Here's the list:
Most opposing players winning conference Player of the Week awards since start of 2013 season
New York Giants: 8
Washington: 7
Tampa Bay: 6
Indianapolis: 6
Green Bay: 5
Oakland: 5
Dallas: 5
Detroit: 5
Tennessee: 5
New Orleans: 5
Philadelphia: 4
Minnesota: 4
Miami: 4
New York Jets
: 4
Baltimore: 3
San Francisco: 3
Arizona: 3
Houston: 3
Atlanta: 3
San Diego: 3
Buffalo: 3
Cleveland: 3
Jacksonville: 2
Carolina: 2
Denver: 2
Cincinnati: 2
Kansas City: 2
Seattle: 2
New England: 2
Chicago: 2
St. Louis: 1
Pittsburgh: 0