March, 24, 2015
Mar 24
5:15
PM ET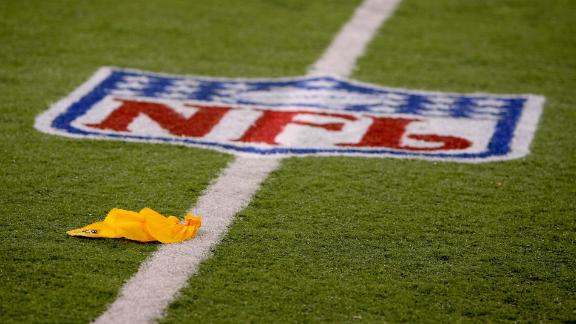 (For all Inside Slant posts, follow this link.)
PHOENIX -- NFL head coaches meet with the lead referee a few hours before kickoff of every game. In his first season with the Houston Texans, Bill O'Brien brought a special assistant to each meeting. Jim Bernhardt's title is director of football research, but one of his key responsibilities, O'Brien recounted Tuesday, is knowing the monstrous NFL rule book.
"He'll advise me on things that are challengeable," O'Brien said. "He's got a rule book right next to him [in the press box during games]. I don't know if he ever uses it, but he has it there for a crutch. That's what I did. I hired somebody to help with that. He's involved in a lot of things, from situations to clock management and things like that. But one of the parts of his job is the rule book."
The NFL rule book may be the most complex set of rules in American sports. The 97-page document is full of exceptions and exceptions to the exceptions, vexing fans who want simply to understand what they see on the field. If it makes you feel any better, here's a dirty little secret: Not even the coaches know all of the rules. On Tuesday, in the relaxed environment of the NFL owners meetings, a few of them admitted it.
[+] Enlarge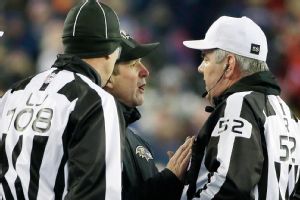 AP Photo/Steven SenneJohn Harbaugh said he took an unsportsmanlike penalty in order to get officials' "attention so they would understand what was going on." The Ravens' coach objected to a Pats subbing pattern designed to keep his team off balance.
More importantly, the half-dozen I queried supported a long-term effort to streamline and simplify the rule book -- a project headed by NFL executive vice president Troy Vincent.
"I'm all for making the rule book more coach-friendly and more user friendly," O'Brien said. "... I don't even know the challenge rules. I mean, I should. I kind of know them, but the referees will come over. They do a great job. They won't [let you make a mistake]. They're good about that, and they'll come over and say, you can challenge this, you can't challenge that. But I just think that we're all in the business of trying to get it right. If we can just get to a system where we're all on the same page with that goal, I think that will help our league and it will help the officials.
"I think the officials in this league do a really good job," he added. "I really enjoy working with the officials. But I don't know how they do it. My wife is a lawyer, and I can remember her studying for the bar, and I would equate [learning NFL rules] to studying for the bar."
The nature of football makes some complexity unavoidable, according to Pittsburgh Steelers coach Mike Tomlin. When I mentioned Vincent's project, Tomlin smiled and said: "Good luck with that."
Tomlin added: "I think we all search for clarity and simplicity, but I don't know that that describes our game in today's time, particularly with the inclusion of some of the technological advances that have become very much part of our game. I think what we're looking for is clarity and as much as we can find that, I think that's what we aspire to. I don't know that that ends up with simplicity, and that's just the reality of it."
Tomlin said he started studying the rule book in 2001, his first year as an NFL assistant coach.
"It's been a 15-, 16-year journey for me to gain a real understanding," he said. "I'm not going to pretend that I know every crevice of the rule book. We were talking in the coaches' meeting here the other day, and the reality is that we continually have discussions during the course of games about the specifics of the rules. It's difficult to have a detailed understanding of it at all times."
Indeed, O'Brien and Denver Broncos coach Gary Kubiak all joined Tomlin in saying they routinely ask officials for rule clarifications during games. Occasionally, of course, even the referee must hustle to keep up.
"The officials have the tough job," Baltimore Ravens coach John Harbaugh said. "They're asked to do more and more every single year with the nuance. That's why anything we can do to keep it simpler for them, make it easier for them to identify formations and things like that, so they can do their job effectively and carry out their responsibilities, would be helpful. I know the officials want that. We should never be trying to make their job tougher."
Harbaugh's team fell victim to an unusual implementation of rules in the AFC divisional playoffs; the New England Patriots had an eligible player report as ineligible to confuse the Ravens' coverage assignments. Referee Bill Vinovich handled the twist the best he could, as we discussed at the time, but ultimately Harbaugh took a penalty to stop the game and draw Vinovich to the sideline for further discussion.
The Patriots' Bill Belichick isn't the only coach to dip into the nuances of the rule book for a potential competitive advantage. In 2008, then-Arizona Cardinals coach Ken Whisenhunt called for a "fair catch kick" in a game against the New York Giants.
Stay with me for a moment: If a team executes a fair catch, Rule 11, Section 4, Article 3 provides the option to attempt a free kick immediately afterward. The arrangement of players looks roughly like a kickoff with the exception of the holder. Because the defense is not on the line of scrimmage, the place-kicker presumably can line up a lower and longer kick.
Neil Rackers' 68-yard attempt was short, but there was no harm done as the half expired.
"When you're around it a long time, you understand some of the rules," said Whisenhunt, now the Tennessee Titans' coach. "There is always going to be something that comes up. Like the free kick. There's a lot of people that don't understand what a free kick is. It's a very seldom-used rule. We used it once in Arizona when I was there. Things like that are going to come up. You learn as you're in it, I guess."
Based on what Vincent has said, reorganizing NFL rules is a multiyear project. But when successful coaches acknowledge their own limited grasp of them, well, it seems pretty important. Kubiak has been an NFL player or coach for 32 years. His response to Vincent's idea? "I think it's a great idea."