July, 23, 2014
Jul 23
4:20
PM ET
[+] Enlarge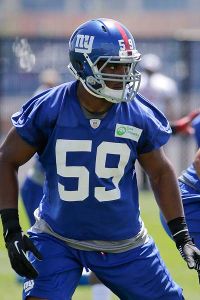 Julie Jacobson/AP PhotoThe Giants have seen great things out of rookie LB Devon Kennard through offseason team activities.
EAST RUTHERFORD, N.J. -- The
New York Giants
are desperate for one of their middle-round or late-round draft picks to turn out to be a helper. It's been way too long since that happened for them. But while it's still incredibly early, what they've seen so far from 2014 fifth-round pick
Devon Kennard
has them pretty excited.
The former USC linebacker has been working at the strongside linebacker position in early training camp practices, but he got some work at the vital middle linebacker spot in spring practices and showed an ability to rapidly and effectively pick up the responsibilities that go along with that position. With starting middle linebacker
Jon Beason
out, Kennard is likely the next option for that position behind veteran
Jameel McClain
. And after McClain was carted off the field with a foot injury Tuesday, the contingency plan was to use Kennard in the middle Wednesday. And they didn't expect the fact that he's a rookie to hold him back.
"Not at all if he can do it," linebackers coach Jim Hermann said before Wednesday's practice. "If he can handle it and get everyone lined up and understand the nuances and where he belongs, sure. He's a pretty thick kid, he can hit people, so that's good."
Kennard may be a "thick kid" physically, but he's a sharp one mentally, and that's where he's stood out in this embryonic portion of his career. He embraces the idea of playing the on-field leader role, knowing everyone's assignments and helping make sure they're carried out. And he's proud his coaches view him as such a quick study.
"I think they're definitely happy with how fast I've picked things up, but it's still a long way to go," Kennard said. "I still have a lot of things to correct from yesterday and I'm still taking steps every day to improve and to make sure I know what I need to do to keep playing at the level they expect of me."
Thing about it is, the Giants don't tend to expect much from their rookies early. If Kennard can be a major contributor on defense this year, that would be a huge bonus and make them feel very good about this particular fifth-round pick. And while the pads have yet to go on and the preseason games have yet to start, so far, so good.
"He played at USC and he played under four different coordinators there and played four different positions," Hermann said. "So I think he kind of got lost in the college shuffle a little bit. Again, we've got to go out and see him in live games, but based on what you see of him on film, he's not going to shy away from that part of it. He's calm, cool and collected. It's the speed of the game that's the question, and we'll see how he plays. But based on what we do out here, I don't think he's going to have a problem."
July, 23, 2014
Jul 23
3:29
PM ET
With the Giants just a few days into training camp with their new offensive coordinator, an up-in-the-air offensive line, and an owner, John Mara, who seems to have inched into public view a bit more to ratchet up the feeling of urgency, Giants quarterback Eli Manning has reached an interesting little crossroads in his career.
Where Manning ranks anymore as an NFL quarterback is a bit up for grabs. The "Is Eli Elite?" question that grew so tiresome a few years ago has been re-opened. And great swaths of what to expect from him this season defies hindsight or predictions.
Over the offseason, Justin Tuck and Chris Snee joined all the Super Bowl-winning teammates who had already walked out the door, and Manning admitted Monday he's noticed their absence. Kevin Gilbride, the only NFL offensive coordinator the 33-year-old Manning worked with since 2007, has been replaced by Ben McAdoo, a West Coast offense guru from Green Bay. The answers about what it all means is just going to have to play out.
Monday, even Manning allowed he's still adjusting to it all, saying: "Yeah, it is different. You come into the season a little nervous."
Eli? Nervous?
"You have a good feel for [the new offense], but not to where I want it to be," he continued. "That just comes with repetition and more plays. It is a different feeling at this time of year than in previous years. Still have a lot of work to do, a lot to improve on to get comfortable myself and get comfortable with my teammates and everything that goes on with being successful in an offense."
July, 23, 2014
Jul 23
3:00
PM ET
Here are some photo highlights from Tuesday, the first day of practice at
New York Giants
training camp in East Rutherford, N.J.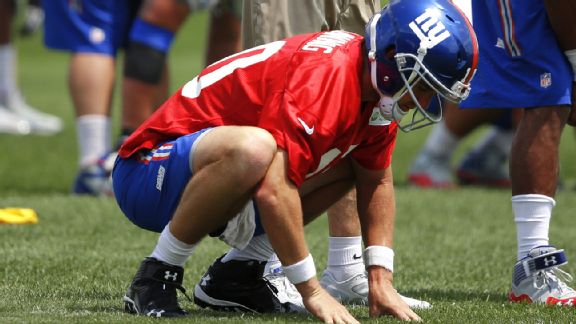 AP Photo/Seth WenigEli Manning is either signaling for peace, flashing a victory sign or, more likely, working through some offensive plays.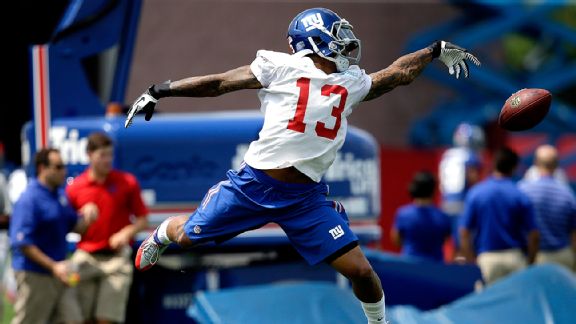 AP Photo/Seth WenigRookie wide receiver Odell Beckham Jr. demonstrates his aerial skills.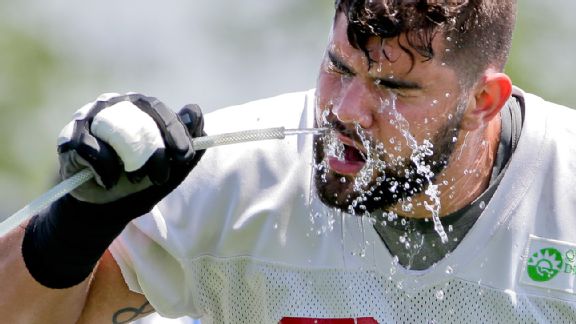 AP Photo/Julie JacobsonTackle Justin Pugh douses his head and face with water while taking a break. The temperature rose to 91 degrees on Tuesday afternoon in East Rutherford.
July, 23, 2014
Jul 23
2:35
PM ET
By
Mike Mazzeo
| ESPNNewYork.com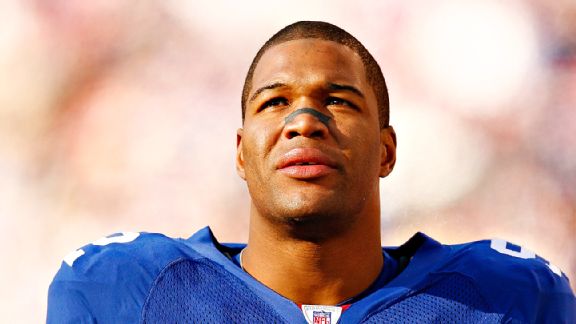 Rob Tringali/Getty ImagesGiants great Michael Strahan says his goal at the start of his career was "just to make a little money."
When his NFL career began, Michael Strahan was not thinking about the Hall of Fame.
In fact, being enshrined in Canton was the furthest thing from his mind. "My goal when I first started was just to make a little money so I didn't have to move back to my parents' house," Strahan said Wednesday. "I just didn't want to live with my parents."
He didn't have to. Strahan made millions.
He ended up in the Hall of Fame, too.
Strahan, one of the most dominant pass-rushers in NFL history, will be enshrined in Canton on Aug. 2.
"It's overwhelming, to be honest with you, because obviously (late New York Giants co-owner) [Wellington] Mara was there when I was drafted," Strahan said. "He'd come to practice every day, the face of the NFL and more so the Giants, one of the original founders of the game. It's such a rich history. And on top of that, Harry Carson being a great friend of mine as well as L.T. [Lawrence Taylor] being a great friend and the one guy I looked up to when I came in. Just so much history on the side of the Giants."
During his 15-year career, Strahan racked up a franchise-record 141.5 career sacks which puts him fifth on the all-time list. He went to seven Pro Bowls and set the NFL's single-season sack record in 2001 (22.5). He also went out a champion, winning Super Bowl XLII in his last game as a pro.
"I'm just honored," Strahan said. "Because it's something, it's nothing I had in my brain, nothing I imagined when I started out, that I'd be joining these guys in the Hall of Fame."
July, 23, 2014
Jul 23
2:10
PM ET
EAST RUTHERFORD, N.J. --
Eli Manning
is 33 years old and coming off the worst season of his career. But
New York Giants
GM Jerry Reese said Wednesday that the team expects a return to top form by their franchise quarterback in 2014.
Manning
"I expect nothing except for him to bounce back and be the Pro Bowl-caliber player that we know he can be," Reese said before Giants training camp practice. "He's still a young football player, all things considered, with respect to the quarterback position. So we expect him to come back and be a leader and bounce back and not have some of the things that happened to him last year and be a dynamic football player for us."
Manning threw a career-high and league-leading 27 interceptions in 2013. His completion percentage and yardage totals were his lowest since 2007 and 2008, respectively. And his 18 touchdown passes were the fewest he's ever thrown in a full season. It's fair to ask the question of whether Manning is on the decline, but the determination the Giants made this offseason was that he is not.
"Quarterback's a little bit different," Reese said. "Thirty-three is getting up there, but it's not like a running back at that age or some other position. Quarterbacks don't take hits like a lot of other positions do. So hopefully, Eli doesn't take a lot of hits like he took last year."
Many of Manning's problems in 2013 were traceable to the complete collapse of the Giants' offensive line in front of him. Still, his performance was alarming enough that the organization decided not to extend his contract this offseason. Manning is signed through 2015, and the Giants could have helped themselves against the salary cap with an extension, but they decided not to do it, and Reese said Wednesday they're not working on anything now, either.
"We keep all of our options open with respect to that, but right now it's nothing really to talk about," Reese said. "We're two days into training camp, and there's really no need to talk about contracts at this point."
With a big year, Manning could ensure one more big quarterback contract (likely an extension signed next offseason) to carry him through the end of his career. But if he slumps again, the Giants are going to have to start asking some tough questions about whether they need to replace him sooner than they expected to.
July, 23, 2014
Jul 23
10:00
AM ET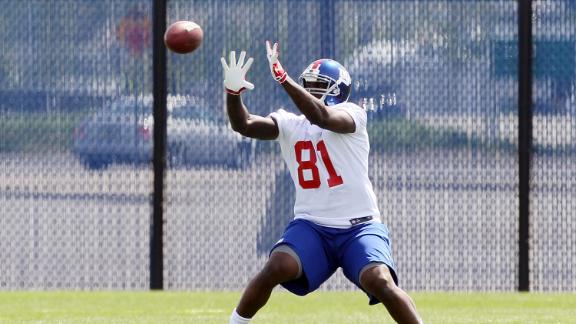 ESPN NFL Nation Giants reporter Dan Graziano discusses the chances of the vastly inexperienced
Adrien Robinson
winning the job as the starting tight end for the 2014
New York Giants
.
July, 22, 2014
Jul 22
10:00
PM ET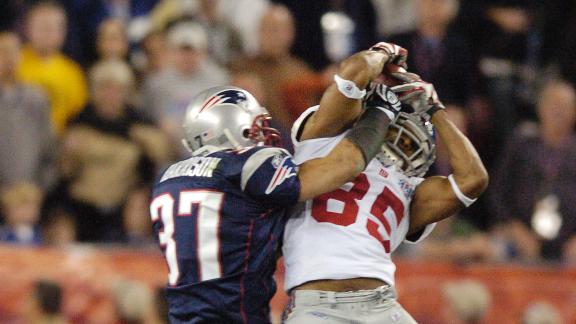 EAST RUTHERFORD, N.J. -- I wrote about the Tony Dungy-
Michael Sam
controversy on
Tuesday
, so you know where I come down on the gay rights issue. I think these are issues of human decency, not of religion or culture or the sanctity of the NFL locker room.
But if Dungy merely put his toe over the line and onto the wrong side of this issue, former
New York Giants
wide receiver David Tyree is the
mayor
of the wrong side of this issue. In 2011, Tyree said he'd trade his miracle "helmet catch," which led to the Giants winning Super Bowl XLII, in exchange for a law outlawing gay marriage. And he's publicly professed his belief that "there is no scientific data to support the claim of being born gay." Tyree has explained his views by citing his religious beliefs, which is an excuse a lot of people use and is, in my opinion, a crummy reason for treating fellow human beings poorly. You believe what you want to believe, but once you start using it as a weapon with which to mistreat other people, you have lost me.
Anyway, this comes up because
the Giants hired Tyree on Tuesday
as their new director of player development. And while I don't think wrongheaded views should necessarily prevent a person from seeking and holding a job in his chosen field, I'm surprised that the Giants would make such a tone-deaf move in the current NFL and social climate. The move was
ripped by the Human Rights Campaign
, and Tyree declined to comment about the criticism when contacted by ESPNNewYork.com.
Obviously, given the sensitive nature of the Michael Sam story, we're at an important social time in NFL history. One of the points of Sam's decision to live his life as an openly gay man trying to play in the NFL is that gay football players in the future will be less afraid to live their lives openly. Sam's story should lead us all to a deeper understanding of each other as people and to treat each other with more kindness and decency regardless of where we disagree or where we're different. People like Tyree stand in the way of that, which is why I don't think this is the right time for Tyree to hold a job like this in the NFL.
Imagine, if you will, there was a hypothetical closeted gay player on the Giants who was thinking about coming out. Maybe he was inspired by Sam, maybe not, but as of, say, Monday, he was thinking about telling the world he's gay. He was nervous but excited about finally not having to feel as though he had to hide who he is -- a great, positive thing for the player and the world in general.
And then on Tuesday, the Giants go and hire a guy to work in a position of authority in the organization, and this guy loudly and publicly believes what Tyree believes.
What does that player think now? What does that player do now? What message has his organization sent to players in that position?
Tyree might well be qualified to hold the job of director of player development. Heck, he might be great at it. And maybe his medieval views on this issue won't affect his ability to do the job or relate to players in any way. But given what's going on in the NFL and the world right now, I have to think the Giants could have made a less tone-deaf hire.
July, 22, 2014
Jul 22
8:15
PM ET
EAST RUTHERFORD, N.J. -- A daily review of the hot topics coming out of training camp:
Giants coach Tom Coughlin was not at all happy that four of his players had to leave the team's first practice of training camp with heat-related problems. Guard
Brandon Mosley
, who had been working at starting right guard in place of the retired
Chris Snee
, was carted off early in practice. The cart also came for linebacker
Spencer Adkins
and tackle
Charles Brown
for what Coughlin described as heat-related issues, and Coughlin made it clear
in an interview with Sports Illustrated's Don Banks
that he was not pleased about it. The Giants will look to make it all the way through their second practice Wednesday, when the high temperature is forecast to be 92 degrees. The high Tuesday was 89.
Linebacker
Jameel McClain
was also carted off, but that was due to a foot injury. X-rays on McClain's foot were negative, which is good news for the Giants as McClain is filling in for middle linebacker
Jon Beason
, who also has a foot injury but hopes to be back in time for Week 1. For what it's worth, rookie
Devon Kennard
continues to look good at linebacker. He worked on the strong side but has been mentioned as someone who could handle the middle linebacker responsibilities.
Rookie wide receiver
Odell Beckham
, Jr., the team's first-round pick, pulled up short on a pass route in practice, leading to an interception of
Eli Manning
by
Dominique Rodgers-Cromartie
. Coughlin seemed annoyed about that and said of Beckham, "He has a ways to go." Earlier in the day, Beckham told us he was planning to watch out for and be careful with the hamstring injury that held him back in minicamp. It's possible the incident here was an example of that, but Beckham's health and overall progress will be worth watching as camp goes along. He has obvious blazing speed and good hands, but he will need to run his routes and run them again if he's to advance to the point where he's a Week 1 helper in the new offense.
Manning shows absolutely no ill effects of the ankle surgery that sidelined him for a portion of his spring work. He's practicing as usual and seems excited about working in the new offense.
The Giants used rookie running back
Andre Williams
as the goal-line back during that portion of practice Tuesday. Williams likely could slide into that role right away while he works on the finer points of his NFL game as a rookie.
July, 22, 2014
Jul 22
6:50
PM ET
By
Mike Mazzeo
| ESPNNewYork.com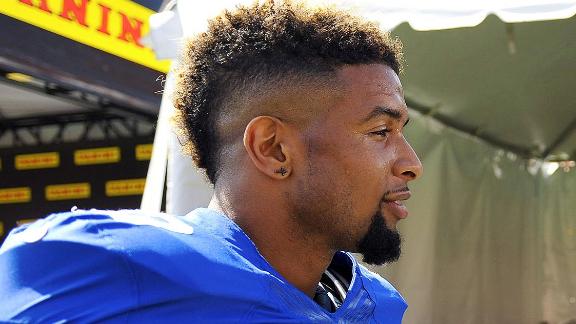 EAST RUTHERFORD, N.J. --
Jameel McClain
, who was carted off the field on Tuesday, the first day of
New York Giants
' training camp, underwent X-rays on his foot, which were negative, a source told ESPN.com's Josina Anderson.
The source told Anderson that if McClain experiences soreness on Wednesday, the team may follow up with an MRI.
McClain has been subbing in for the recovering
Jon Beason
at middle linebacker.
"He thought it was a foot issue, an irritation of the foot, but it was one of the metatarsals, so the medical staff came over to look at that," Giants coach Tom Coughlin said. "It will be interesting to see what the discussion is inside."
McClain is expected to start at strongside linebacker but moved to the middle with Beason coming back from a foot injury, which he suffered during organized team activities.
Mark Herzlich
also has experience playing middle linebacker.
"I'm hoping that this is just a matter of a sore foot with Jameel, so we'll see," Coughlin said.
Rookie wide receiver
Odell Beckham
came up lame while running a route, which was intercepted by No. 1 corner
Dominique Rodgers-Cromartie
. Beckham Jr. had been nursing a hamstring injury.
"He's got some work to do," Coughlin said of Beckham, the team's first-round pick in the 2014 NFL draft.
Right guard
Brandon Mosley
was also carted off, likely due to dehydration issues. Rookie
Weston Richburg
stepped in in place of Mosley.
Linebacker
Spencer Adkins
and tight end
Xavier Grimble
left the field, too.
"Most of them were heat-related issues," Coughlin said. "I'll have to wait to get inside."
July, 22, 2014
Jul 22
6:49
PM ET
By
Mike Mazzeo
| Special to ESPNNewYork.com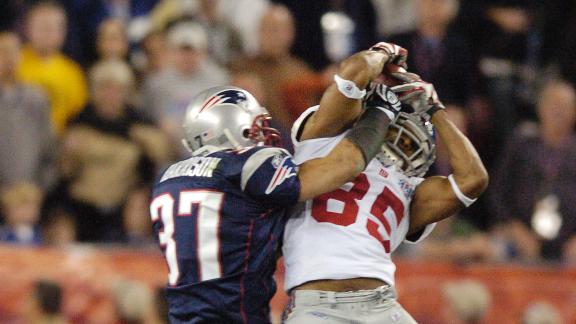 EAST RUTHERFORD, N.J. -- The Human Rights Campaign blasted the New York Giants' hiring of David Tyree on Tuesday for his past comments in which he expressed anti-gay views.
Tyree, who was hired as the team's director of player development, said in 2011 that he would trade in his famous Super Bowl helmet catch if it would stop homosexuals from being married.
That same year, Tyree also put out a series of tweets saying, "there is no scientific evidence to support the claim of being born gay" and that he has met "former homosexuals."
According to the statement from the Human Rights Campaign, Tyree's claim "has been debunked and condemned by every major medical and mental health organization in the country, including the American Medical Association, the American Psychiatric Association, American Psychological Association, and many others."
"When did Tyree decide to be straight?" HRC president Chad Griffin asked in the statement. "The idea that someone can change their sexual orientation or gender identity is ludicrous, and the New York Giants are risking their credibility by hiring someone who publicly advocates this junk science. His opposition to basic legal equality aside, David Tyree's proselytizing of such dangerous practices goes against the positive work the Giants organization has done in recent years."
The Giants said in a statement Tuesday evening that Tyree "was expressing his personal view, and that is not the view of the Giants organization."
Tyree declined to comment on the Human Rights Campaign's statement when contacted by ESPNNewYork.com.
"I don't have any comment about it. I'm just excited to be with the Giants," Tyree said via telephone.
July, 22, 2014
Jul 22
6:45
PM ET
EAST RUTHERFORD, N.J. -- The
New York Giants
drafted
Weston Richburg
in the second round of May's NFL draft to play center. But he's also playing guard in training camp, and he's fine with doing both if it helps speed his development as a starting NFL offensive lineman.
"It's a nice chunk," Giants coach Tom Coughlin said of Richburg's first-day training camp practice workload. "But he's a smart kid, and it's good for our team if he can handle it."
The plan Tuesday was for Richburg to work as the second-team center, with
J.D. Walton
working at center with the first team. But the Giants needed a fill-in at first-team right guard.
Chris Snee
retired Monday,
Brandon Mosley
had a stomach issue and had to leave practice early, and
John Jerry
remains a very limited practice participant as he recovers from knee surgery. So Richburg slid in at right guard with the first team.
"They don't carry a ton of guys on the offensive line," Richburg said earlier in the day. "So for me to be able to play guard and center would really help the team a lot."
It would help Richburg, too. The Giants don't like to rush their rookies, but just last year injuries forced
Justin Pugh
into a starting role at right tackle, and he ended up starting all 16 games for the team as a rookie. So it's not as though they won't give Richburg a shot if he shows he can handle it. And if he dominates at guard in camp and in the preseason, there's no reason to think that couldn't help his chances to beat out Walton for the starting center spot.
"I'm not really focused on one specific spot," Richburg said. "Wherever they need me to go, I'm happy to do that."
With free agent
Geoff Schwartz
slated to start at left guard, the Giants project to have three new starting offensive linemen in Week 1 this year. That assumes Pugh at right tackle and
Will Beatty
at left tackle. Beatty, by the way, did a fair amount of practicing with the first team Tuesday after missing OTAs and minicamp while working his way back from a broken leg. So that's a positive as he and the Giants hope to put a disappointing 2013 season behind them.
"My theme is 'today,'" Beatty said. "Go out there and see what I can do today, and focus on that."
Beatty believes he'll be ready for Week 1. Richburg believes he can be a starter right away. So do Walton and Jerry and Mosley. This camp will be about sorting things out for the Giants on the offensive line -- an area that completely sunk them in 2013 and that absolutely must do a better job in 2014 if the Giants are to be competitive at all.