September, 9, 2014
Sep 9
2:35
PM ET
By
Mike Mazzeo
| ESPNNewYork.com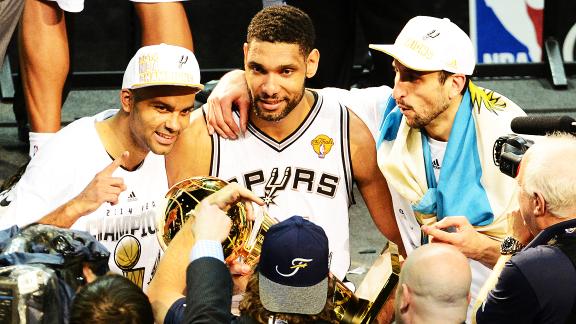 The
Brooklyn Nets
finished dead last in
ESPN Insider's Future Power Rankings for September 2014
.
A brief explanation: The Future Power Rankings are ESPN Insider's projection of the on-court success expected for each team in the 2014-15, 2015-16 and 2016-17 seasons.
The Nets received an overall score of 27.04 on a scale of 100. They got a 28/100 in players, 26/100 in management, 79/100 in market, 7/100 in draft and 9/100 in money.
Writes Amin Elhassan:
This is Russian for "welcome to the basement!" -- which is where the Ghosts of Bad Decisions Past have banished the Nets to for the foreseeable future. When they gave pick-swap rights to Atlanta for the right to overpay Joe Johnson, we said in unison, "No!"

When they gave up all those unprotected first-rounders for the last gasps of Kevin Garnett,Paul Pierce and Jason Terry, we all cried, "Don't do it!" When their luxury tax dwarfed the total payroll of every other NBA team, we collectively face-palmed.

But it didn't matter, as the Nets steamrolled their way to a team destined to be a second-round knockout, doubling down on an aging roster with limited upside. Add onto that Lawrence Frank debacle a month into last season, and the failed coup (and eventual departure) by Jason Kidd this summer, and it's easy to place the Nets among the most dysfunctional franchises in the NBA. As a result, here they are, with no cap respite until 2016, a depleted pick inventory and no blue-chip talent outside of the oft-injured Brook Lopez.
Mason Plumlee, Sergey Karasev and Bojan Bogdanovic are nice complementary pieces, and hiring Lionel Hollins was a solid move after the Kidd misstep, but the infrastructure in Brooklyn is so rotten that success cannot be realized without serious overhaul.
Over the summer, we touched on this in our
mini-series
about Nets GM
Billy King
and the need to define a clear direction for the franchise moving forward into the future.
Durant
The conversation inevitably turns to the summer of 2016, when
Kevin Durant
can become a free agent. Durant was recently at Barclays Center for a charity basketball game on behalf of his agency, RocNation Sports. While the game was going on, Durant walked around the bowels of the arena with RocNation president and chief of branding Michael Yormark, whose twin brother, Brett, is the CEO of the Nets. RocNation, of course, is hip hop mogul Jay Z's agency, and the history between the Nets and Jay Z is well-documented at this point. You see the connections, and, well, you can't help but dream.
Durant just signed a decade-long extension with Nike that could pay him upwards of $300 million, so he'll already have the whole money thing taken care of. And that doesn't even count other endorsements and his next max NBA deal. Pretty much any team with the requisite cap space is going to be clamoring for his services. So what may separate the Nets from the rest of the pack? Well, obviously the New York City market helps. A new state-of-the-art practice facility that is slated to open in 2015-16 should help, too. And as long as Russian billionaire still owns the team, the Nets are going to be committed to spending money and building a winner.
But what about surrounding talent? At the end of the day, that's probably what Durant is going to be after: championships and legacy. Maybe he ends up winning a title or two in Oklahoma City before his contract is up and stays. If not, then how do the Nets go about separating themselves from other suitors in that department?
LeBron James
went to Miami because the Heat already had
Dwyane Wade
and were able to bring in
Chris Bosh
. He then went back home to Cleveland because the Cavaliers had
Kyrie Irving
and were able to bring in
Kevin Love
. Insta-Big 3s seem to be all the rage these days.
The Nets books for 2016-17 look like this:
Deron Williams
$22.3 million (early termination option);
Jarrett Jack
$6.3 million (unguaranteed); Bojan Bogdanovic $3.6 million (guaranteed); Sergey Karasev $2.5 million (team option); Mason Plumlee $2.3 million (team option);
Marquis Teague
$ million (qualifying offer);
Markel Brown
$1.2 million (qualifying offer) and
Cory Jefferson
$1.2 million (qualifying offer).
Basically, there's a lot of flexibility there. Some nice pieces too. Just not that Wade or Iriving-type impact player. Using James as a comp, it seems that the key to luring a superstar of that caliber requires having an established superstar and the ability to bring in another.
The Nets have made some significant strides toward moving to Brooklyn. They went from being a lottery team to a consistent playoff team. Their fanbase continues to grow. Barclays Center is filled to capacity on most nights.
Still, have they reached their ceiling -- the second round of the playoffs -- with this core?
The Nets are at a crossroads. They have some talented veterans, but recently brought in some young complementary players. They traded several future draft picks away, but feel like they can buy picks to bring in young talent. Their strategy appears to be focused on the summer of 2016, which means they may have a tough decision on Brook Lopez. Do they sign him long-term? Or do they move in another direction.
Tough decisions must be made. A championship remains the goal. It's just a matter of getting there. But if Durant stays or goes elsewhere, what is King's contingency plan?
The Nets have been down this road of dreams before only to it shatter. Granted, they were still in New Jersey then. They're in Brooklyn now. We'll just have to wait and see what happens.