March, 28, 2015
Mar 28
1:09
AM ET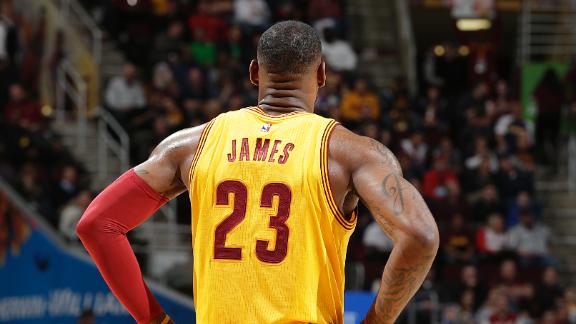 NEW YORK -- In the grand scheme of things, for a Cleveland Cavaliers team that came into Friday a winner of 28 of its past 34 games over the past nine weeks and still holding a 2½-game lead over the Chicago Bulls for the No. 2 seed in the East with eight games left to play, a 106-98 loss to a Brooklyn Nets team that's suddenly won six out of eight to try to sneak into the playoffs isn't a travesty.
Yes, the Cavs looked as impressive as they have all season in Wednesday's thrashing of the Memphis Grizzlies when they assisted on all 14 of their 14 made field goals in the third quarter. And true, comparatively, they looked rudderless against the Nets, totaling just 17 assists on 37 baskets, turning the ball over 17 times and shooting 8-for-30 from 3 (26.7 percent).
No, the sky isn't falling, but the Cavs aren't too cool as to just throw on their shades and pretend everything is sunny, either.
"We tried to make a late push like we did against Milwaukee, and it just didn't work again," said Kyrie Irving, who scored a game-high 26 points but went just 2-for-6 in the fourth quarter when Brooklyn turned a tie game into an eight-point win. "For us, we got to have that consistency. And we're still finding it. We're finding out a lot about ourselves. But I think that on- and off-switch has to go away pretty soon. We have to continue to be 'on' all the time."
[+] Enlarge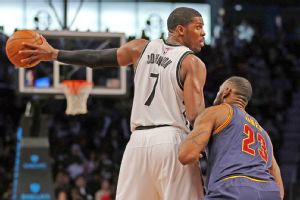 Adam Hunger/USA TODAY SportsLeBron James and the Cavs were overcome by a hungry opponent in Joe Johnson.
As much as the Cavs' schedule mercifully softens from here on out -- with six of their final eight games at home after they played 15 of their past 20 games on the road -- on the flip side, four of those games, one against the Miami Heat, one against the Milwaukee Bucks and two against the Boston Celtics, will be against teams such as Brooklyn that are fighting for their playoff lives.
In other words, Cleveland has to convince itself that the run it just accomplished isn't close to a crowning achievement and treat this final 10th of the regular-season schedule with the same respect it will give to its first-round playoff opponent.
"We're still not at the finish line," Cavs coach David Blatt said. "We got to get to the first finish line here in a few weeks, so we got to refocus our attention immediately to get back on track. That's what we got to do."
Blatt certainly can't be accused of letting up too soon. He is the guy who kept the Cavs' starters in the game well into the fourth quarter of their blowout of the Memphis Grizzlies because he is hyper-aware of how fickle momentum can be.
The Cavs will regroup with a practice Saturday and dissect how their bench was outscored 54-20 and how they were outrebounded 46-40, including 10-6 on the offensive glass.
And they'll try to turn that ticked-off feeling that permeated the locker room into something they can use to their benefit over the final three weeks of the regular season.
"You don't chalk up losses," LeBron James said when given the option to just flush this one and forget about it. "It's too hard to win in professional sports. You don't chalk up none of it. You see the ways, in the film tomorrow, what you didn't do so well and how you can get better from that. But it's too hard to win in this league to ever chalk up a loss."
Pragmatically, sure, the Cavs are still in great shape, but any satisfaction now is counterproductive to the two-month push they'll need to prepare themselves for if they hope to be the last team standing in June.
"We're disappointed because we have to show up better than that, we have to perform better than that, we have to play harder than that," said James Jones, who always seems to be able to read the pulse of the team. "But, we have to move on. This is a teaching moment. This is a learning moment for us, because as you get closer to the end of the season, some teams will lay down and pack it in, and then other teams, other guys with pride, will come in and play. And we have to be willing to work to continue to play at the level that we played the last two months as we get through the last 10 games of the season, because the human condition is to want to rest, want to lay back, want to take a step back and kind of recharge your mind, but you can't do that if your goal is to win it all."
In a perfect world, the playoff picture would be already cemented and the Cavs could manage the remaining schedule by resting guys intermittently to charge them up for what's to come April 18.
Maybe that day comes with five games left, or four games left. Time will tell.
But for now, the Cavs got a wake-up call courtesy of a Nets team that came in with more to play for.
"For us, it's just a reality check," Jones continued. "This is the NBA, the world's greatest athletes across the way. And if we don't bring our best game, we're vulnerable. We know that. It can be one of the elite teams, it can be one of the more non-competitive teams. But at the end of the day, if we don't come out in the first half and establish our identity, we're vulnerable."
March, 28, 2015
Mar 28
12:34
AM ET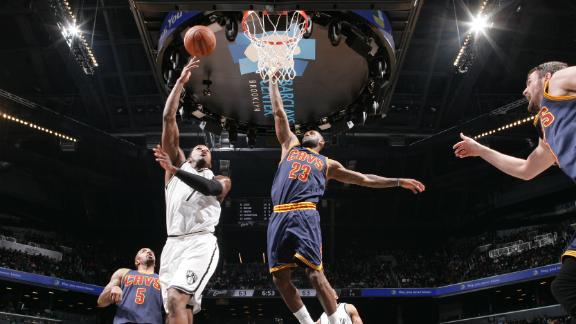 NEW YORK -- Joe Johnson hasn't missed the playoffs since 2006 -- and he doesn't intend for that streak to end this season.
"I think everybody in this locker room understands that we're at a point now where it's time to either put up or shut up," Johnson told ESPN.com after the surging Brooklyn Nets defeated LeBron James and the Cleveland Cavaliers 106-98 on Friday night at Barclays Center to secure their sixth win in their past eight games.
"We just gotta do whatever we can to get into the postseason."
Johnson did his part, contributing 20 points, a season-high nine assists and five rebounds in 38 minutes, and the Nets (31-40 overall, 13-20 home, 9-28 vs. .500 or better teams) remained a half game behind the Boston Celtics (32-40), who beat the lowly New York Knicks at Madison Square Garden, in the race for the eighth and final playoff spot in the Eastern Conference.
"We knew we were playing against a team that very badly needed to win," Cavaliers coach David Blatt said. "We had to play at a level that was appropriate to that. We just didn't reach that level today and Brooklyn, for their purposes, did."
Johnson had scored just 11 points in his previous two games on 5-for-20 shooting. The 33-year-old veteran has been plagued by tendinitis basically all season.
"You just play through it," Johnson said. "Some days are better than others. It's a grind. You just have to play."
[+] Enlarge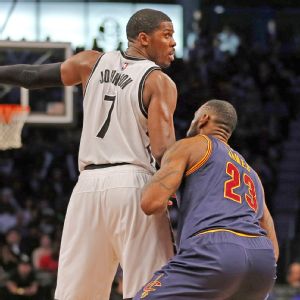 Adam Hunger/USA TODAY SportsJoe Johnson (20 points, 9 assists) was able to keep LeBron and the Cavs at bay.
Johnson wasn't the only Net who played well. It was a collective team effort. Brook Lopez had 20 points and nine rebounds. The bench -- led Bojan Bogdanovic (18), Jarrett Jack (16) and Alan Anderson (13) -- chipped in 54 points. With Thaddeus Young (knee strain) out, Earl Clark -- signed to a 10-day contract in the morning -- added seven points in 11 minutes.
James finished with 24 points, nine assists, five rebounds and five steals -- but he scored just eight points after halftime. In the fourth quarter, the Nets held the Cavaliers to 35.3 percent shooting while outscoring them 27-19.
"He's the face of this league and he's a great player and when you're playing against him, you gotta make him be great," Johnson said of James. "You can't double-team him the whole game and give those other guys great looks and they explode for 15, 20 points. That's how you get beat."
A struggling Deron Williams (five points, five rebounds, five assists, five turnovers) sat the entire final period. His teammates picked him up, exploiting Cleveland's smaller defenders in halfcourt sets while making life difficult on the Cavs in transition. In fact, Cleveland was called for five offensive fouls on the evening.
"They played a very good game," James said. "I think they were in attack mode. We didn't control dribble-penetration enough. They put us in a lot of pick-and-rolls and they played small and a lot of their guys are dual threats -- they were shooting the 3 and they also beat us off the dribble. So, we didn't do a good job of keeping them out of the paint.
"I just sense a team that's been playing for each other for a while now and they just know how to play. We just happened to get them on a good night."
With the Nets up 98-93, 2:56 remaining and less than five seconds left on the shot clock, Johnson hit a long 3-pointer from just inside the timeline to seal the surprising victory.
"It felt good," Johnson said with a laugh. "I didn't know if it was going in, but it felt good."
The Nets have had an up-and-down season. On March 11, they fell 14 games under .500. It looked like they were done. Well, they play in the East, and no, they aren't done. Not yet, anyway.
Brooklyn is looking to become the first team since the 2012-13 Chicago Bulls to make the playoffs despite not ever having a winning streak longer than three games.
It's why you can't make any bold proclamations that they've turned the corner. They've never been able to.
But since beating Philadelphia on March 14, the Nets are shooting 46.7 percent from the field and averaging 106 points per game. Granted, a 25-point loss in Cleveland and a 19-point home loss to Boston happened during this stretch. No need to dwell on that, though.
"Paying attention to detail, coming out and just executing the game plan and playing hard," Johnson replied when asked about the team's recent upswing. "Having that hustle and heart for 48 minutes, that's probably been the biggest key."
Johnson doesn't want the season to end on April 15. He wants more. The Nets have 11 games to earn themselves a playoff berth and a fresh slate.
"It would mean a lot for us because it would be a new start, and in the postseason, anything is possible," Johnson said. "That's our main goal right now, but we've gotta take it one game at a time."
March, 27, 2015
Mar 27
10:09
PM ET
Associated Press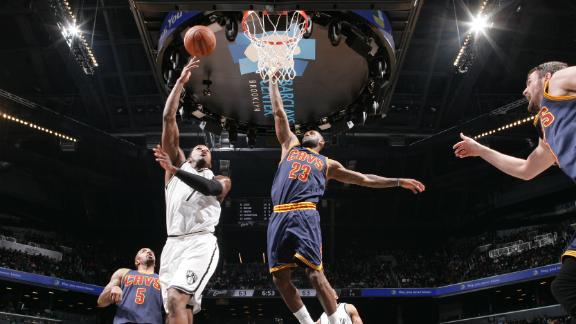 NEW YORK -- Joe Johnson and Brook Lopez each scored 20 points, and the Brooklyn Nets snapped the Cleveland Cavaliers' four-game winning streak with a 106-98 victory Friday night.
Bojan Bogdanovic added 18 points for the Nets, who held LeBron James to two baskets in the second half and won for the sixth time in eight games as they chase a playoff berth. They came in tied for ninth in the East, a half-game behind Boston for the final spot.
James finished with 24 points and nine assists for Cleveland, while Kyrie Irving led the Cavaliers with 26 points and Kevin Love had 18 points and seven rebounds.
The Cavaliers had won the first three meetings this season, outscoring the Nets by 17 points per game. But Brooklyn turned up its defense in the second half to cool off what had been the NBA's hottest team for more than two months.
March, 27, 2015
Mar 27
11:16
AM ET
NEW YORK -- The Brooklyn Nets signed forward Earl Clark to a 10-day contract Friday.
Clark, a native of Plainfield, N.J., has averaged 4.4 points in 251 career NBA games. He played nine games with the New York Knicks last season.
The 28-year-old spent this season in China, averaging 26.7 points and 10.3 rebounds in 19 games. Clark said he was working out in Florida before inking a deal with the Nets. He was a lottery pick in 2009.
March, 26, 2015
Mar 26
9:51
PM ET
ESPN.com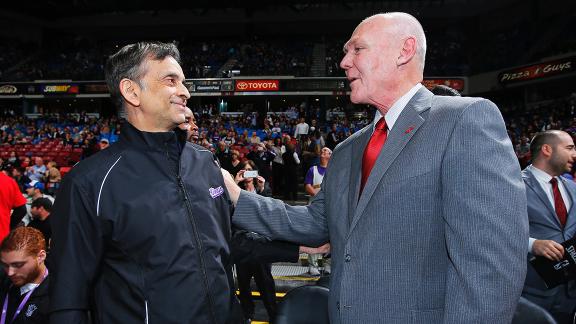 March, 26, 2015
Mar 26
1:53
PM ET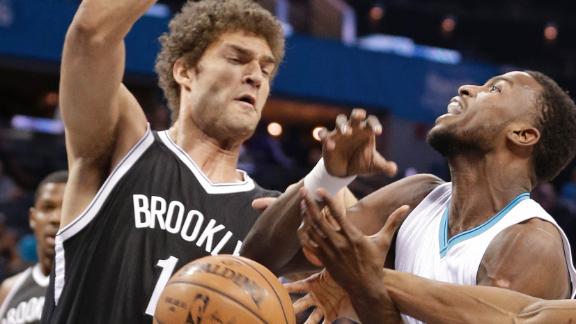 The Brooklyn Nets have been trying to trade Brook Lopez for years.
They just can't seem to get rid of their best player.
This season alone -- ever since the Nets first made him available in mid-December -- they talked with Oklahoma City, Charlotte, Miami and Denver about Lopez. And those are just the teams that we know of.
About an hour before the Feb. 19 trade deadline, the Nets thought they had a deal in place that would send Lopez to the Thunder in exchange for Reggie Jackson -- who they were going to max out.
But Thunder GM Sam Presti found a better alternative, acquiring the much cheaper Enes Kanter and flipping Jackson to Detroit.
The deadline expired. Lopez remained a Net. Brooklyn brass was upset. They thought they had a deal. Then they didn't have a deal.
Whatever.
The 27-year-old center has overcome it all.
Yes, after all of that -- including the MeloDrama, plus the Dwightmare -- Brook Lopez is still plugging away, playing the best basketball of his career and single-handedly keeping the only franchise he's ever played for -- the only franchise he's ever wanted to play for, the same franchise that has been trying to trade him for years -- right in the thick of the Eastern Conference playoff race.
On Wednesday night in Charlotte, Lopez posted 34 points (22 in the second half), 10 rebounds, three blocks and one game-clinching deflection, enabling his team to come away with a 91-88 victory over the Hornets. That win, coupled with a loss by Boston, moved Brooklyn (31-40) within a half-game of the Celtics for the eighth and final playoff spot in the East. It also gave the Nets the all-important tiebreaker over the Hornets by virtue of their 2-1 edge in the season series.
Over his past four games, Lopez is averaging an insane 30.8 points, 9.0 rebounds and 3.5 blocks in 36.8 minutes while shooting 65.8 percent from the field.
[+] Enlarge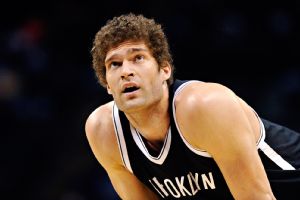 Sam Sharpe/USA TODAY SportsBrook Lopez never got traded and has kept delivering for the Nets.
As expected, after undergoing offseason foot and ankle surgeries, Lopez got off to an extremely slow start. He wasn't himself. He clashed with new coach Lionel Hollins. In early December, he suffered a lower back strain that cost him eight games. When he returned, Hollins decided to bring him off the bench. But recently, Lopez has looked like an All-Star again, thriving next to Thaddeus Young in the starting lineup. He is scoring and rebounding at an extremely high rate -- boxing out his man and making that signature 8- to 12-foot push shot he has become known for with relative ease.
These days, the player the Nets were desperately trying to get rid of seems like the only player they can trust to consistently make impact plays on offense. Unfortunately, Young suffered a hyperextended left knee injury on Wednesday night and had to leave the game. X-rays were negative, although Young told reporters he will likely have to undergo an MRI on Thursday.
So, with 12 games remaining in the 2014-15 campaign, Brooklyn's playoff fate will probably be determined by Brook.
Lopez is in the third year of a four-year, $61 million max contract he signed with the Nets in the summer of 2012. He holds a fourth-year player option for $16.7 million.
It has widely been assumed that Lopez would opt in, though maybe, given his injury history, he'd want to get a multiyear deal on the open market -- something like four years, $40 million. That way he'd have some security in case he got hurt again.
But given the way he's playing, looking quite healthy and quite productive, Lopez might be wise to take the $16.7 million and then try to get paid handsomely in 2016-17, when the NBA's salary cap is expected to increase to $90 million as a result of the national TV deal.
The Nets already have the following commitments for 2015-16: Joe Johnson ($24.9 million); Deron Williams ($21 million); Jarrett Jack ($6.3 million); Bojan Bogdanovic ($3.4 million); Sergey Karasev ($1.6 million team option); Mason Plumlee ($1.4 million team option); Alan Anderson ($1.3 million player option); Markel Brown ($845,000 partial guarantee) and Cory Jefferson ($845,000 partial guarantee). That's nearly $60.3 million for nine players. Add in Lopez and Young ($10 million player option) and you're looking at $87 million for 11 players. And that doesn't include a possible qualifying offer to impending restricted free agent Mirza Teletovic ($3.4 million this season), who is recovering after having blood clots in his lungs. Nor does it include Atlanta's 2015 first-round pick or any smaller-salaried players Brooklyn may want to add via free agency, compliant with CBA rules.
Yes, the Nets find themselves in yet another bind -- facing a payroll of over $90 million that could result in an unsightly projected repeater tax fee of $40 million. A team like Brooklyn that doesn't feel it can contend for a championship isn't going to want to pay that much money for its roster. But it's going to be extremely difficult for the Nets to move the massive salaries of Johnson or Williams. Maybe Nets GM Billy King, assuming he is still around, will be able to pull off a miracle. It only takes one team, after all.
Either way, Lopez finds himself in a really nice position with some really nice options. He can stay and try to get paid down the road or he can leave and get paid now.
It's hard not to feel good for a guy who has been extremely loyal -- almost to a fault. Oh well. As long as he stays healthy, Brook Lopez is on the verge of cashing in one way or another.
In the meantime, he'll try to help the franchise that has wanted to trade him in the worst way get into the playoffs.
Funny the way things work out sometimes.
March, 26, 2015
Mar 26
1:50
PM ET
[+] Enlarge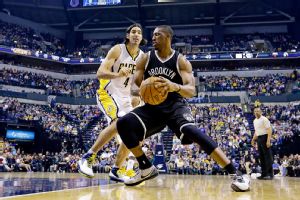 AP Photo/Michael ConroyBrooklyn's Thaddeus Young will miss at least one game with a left knee strain.
Brooklyn Nets power forward Thaddeus Young suffered a left knee strain in Wednesday night's 91-88 win over the Charlotte Hornets, an MRI revealed.
Young will not play in Friday night's game against the Cleveland Cavaliers and is doubtful for Sunday afternoon's game against the Los Angeles Lakers, the team announced.
Young suffered the injury late in the third quarter and did not return. He collided with Hornets guard Gerald Henderson as the two ran toward the lane on a change of possession. Young's knee buckled, and he went down to the floor in agony. He had to be helped up and then limped to the locker room under his own power.
The team diagnosed Young with a hyperextended left knee at the time. X-rays were negative.
Young, 26, is averaging 13.6 points on 49.5 percent shooting in 18 games since being acquired by the Nets at the trade deadline.
March, 26, 2015
Mar 26
10:07
AM ET
ESPN.com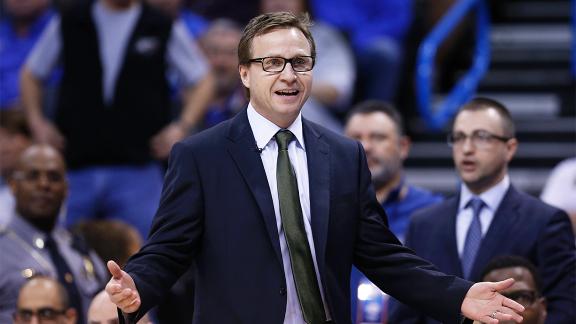 March, 25, 2015
Mar 25
9:41
PM ET
Associated Press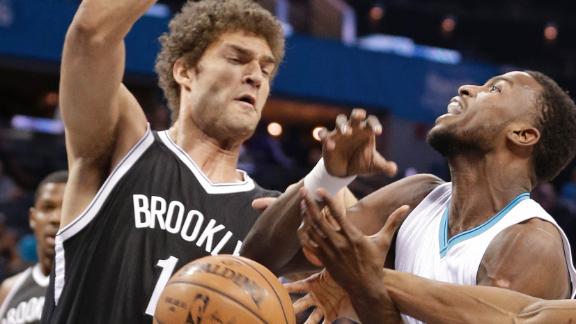 CHARLOTTE, N.C. -- Brook Lopez had 34 points and 10 rebounds and the Brooklyn Nets handed the slumping Charlotte Hornets their fifth loss in their last six games, 91-88 on Wednesday night.
The 7-foot center came into the game on a tear, having scored at least 26 points in each of his last three games, including 31 on Monday night against Boston.
Deron Williams had 10 points, 14 assists and seven rebounds for the Nets, who have won five of their last seven.
Nets forward Thaddeus Young left the game late in the third quarter with a hyperextended knee and did not return. Team officials said X-rays were negative and he will be re-evaluated on Thursday.
Gerald Henderson and Al Jefferson each had 23 points for the Hornets.
March, 25, 2015
Mar 25
9:08
AM ET
ESPN.com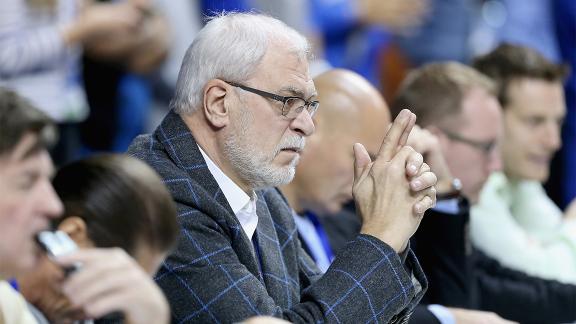 March, 24, 2015
Mar 24
10:01
PM ET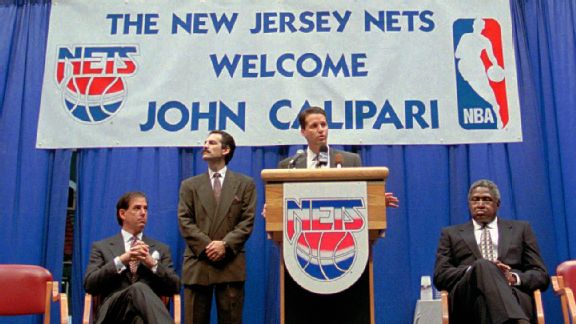 AP Photo/Mike DererFrom nearly the moment he joined the Nets, John Calipari made mistakes he wouldn't make again.
Jayson Williams is actively rooting for John Calipari to lose, and yes, this one is personal. As a New Jersey Nets power forward in a different life, Williams did not accept the coach's relentlessly abrasive approach. As a man who later faced charges connected to the accidental shooting death of his limo driver, Williams did not appreciate Calipari's choice to break from a largely supportive circle of past and present colleagues by publicly questioning his character.
So all these years later, with a 26-month prison stay behind him, the former Nets All-Star rooted for Hampton in Kentucky's first NCAA tournament game and for Cincinnati in the second. Williams will root for West Virginia on Thursday night, and for any other opponent that might stop Calipari from completing the first 40-0 season in college basketball history.
"Cal kicked me when I was down," Williams said.