April, 17, 2014
Apr 17
6:00
PM ET
By
Mike Mazzeo
| ESPNNewYork.com
OK, so it's not
Paul Pierce
and
J.R. Smith
going back and forth about the
Brooklyn Nets
-
New York Knicks
rivalry over the summer.
But Brooklyn's players are well-aware that
Toronto Raptors
forward
Terrence Ross
said he "preferred" to face the Nets in the playoffs during a recent web chat with fans.
"Ross asked for this, so first of all they've got to back up their words,"
Andray Blatche
told reporters in Cleveland on Wednesday night.
Added
Mason Plumlee
on WFAN Thursday: "You get what you wish for. I guess we'll have to see what kinda series he has coming up."
It certainly makes for an intriguing subplot, that's for sure.
•
Bloomberg reports
that Russian native
Andrei Kirilenko
is bringing five "Hooters" restaurants to Moscow.
Kirilenko said "the biggest challenge will be overcoming the notion that it's a strip bar."
• Brooklynnets.com writer Lenn Robbins has
a terrific interview
with Nets coach Jason Kidd that covers a wide variety of topics. It is well worth your time.
• The Nets had the seventh-highest selling merchandise among NBA teams at NBAStore.com, according to a league-issued press release.
April, 17, 2014
Apr 17
4:34
PM ET
By
Mike Mazzeo
| ESPNNewYork.com
Who will win this first-round Eastern Conference playoff series: the
Brooklyn Nets
or the
Toronto Raptors
?
Let's take a look at the matchups to figure it out:
---

POINT GUARD:
Believe it or not, the Nets are a much better team when
Deron Williams
is on the court -- both offensively and defensively.
Just look at this efficiency breakdown:
On-court offensive/defensive rating: 108.3/103.1
Off-court offensive/defensive rating: 100.0/106.9
Williams' stats, however, don't exactly jump out at you. He dealt with ankle injuries up until the All-Star break for the second consecutive season.
Bottom line: It's time for the 29-year-old to step up and play like an All-Star. After all, the Nets are only going to go as far as their $98 million man takes them. The inbound pass he threw against Toronto that was intercepted by
Patrick Patterson
and led to Patterson's game-winning basket on Jan. 27? Can't happen.
Kyle Lowry
, at one point, it seemed, was headed to New York or Brooklyn. Can you imagine if the Raptors traded him? Lowry was among the best floor general in the Eastern Conference this season and averaged 25.6 points on 48.3 percent shooting over the last five games of the regular season. Lowry, an adept marksman from 3-point territory, commands the attention of an opponent's entire defense. He's that good.
EDGE: RAPTORS
---

SHOOTING GUARD:
One of the biggest reasons for Brooklyn's 2014 turnaround was the inclusion of
Shaun Livingston
into the starting lineup. Livingston complements Williams well. On many nights, he's asked to guard the opposition's best wing player. Also an adept scorer in the post because of his size, Livingston has been his team's unsung hero all season. He's one of those rare players who doesn't need the ball to have an effect on the game. Who knows where the Nets would be without him.
DeMar DeRozan
was Toronto's lone All-Star. He's young, talented, athletic and can score. DeRozan averaged a team-high 22.7 points per game in 38.2 minutes, but he needed 17.8 shots a night to get there. DeRozan has been criticized a lot, but the Raptors are going to need a big series from him if they're going to advance.
EDGE: RAPTORS
---

SMALL FORWARD:
Joe Johnson
was Brooklyn's lone All-Star. He was extremely consistent and shot 40.2 percent from 3-point range -- the second-highest mark in his career. Over the past 18 games of the regular season, Johnson averaged 18.2 points on 50.2 percent shooting. Known for his prowess in the clutch, the 32-year-old hit two game-winning buzzer-beaters. Johnson sacrificed shots for the betterment of the team, and his willingness to do so from the beginning was impressive.
Terrence Ross
got an opportunity to start because of the
Rudy Gay
deal. He's certainly flourished. Arguably one of the best dunkers in the NBA, Ross averaged 10.9 points, highlighted by a 51-point game in late January. Ross said he preferred to face the Nets in the first round. Now is his chance to show why.
EDGE: NETS
---

POWER FORWARD:
Livingston's insertion into the starting lineup coincided with
Paul Pierce
moving to power forward. It worked brilliantly. Pierce has adjusted to his new role like a future Hall of Famer should. He ranks second on the team in defensive rating -- despite giving up 50 to 60 pounds to most bigs he has to guard -- and is shooting 47.7 percent from the field since Jan. 1. Pierce had a difficult time making the transition from Boston to Brooklyn at first, but he has since moved on and made a significant impact -- especially as a leader.
Amir Johnson
is a solid veteran who understands his role and does it well. He shot 56.2 percent from the field during the regular season and averaged 10.5 points.
EDGE: NETS
---

CENTER:
Kevin Garnett
hates playing center, in case you didn't know. Problem is, he's really good at it. After getting off to a slow start like his buddy Pierce, Garnett turned his season around. He's the team's quarterback on defense. His on-court defensive rating is a team-best 100.5. When he's not on the court, the team's defensive rating drops to 106.6. Since Jan. 1, Garnett is shooting 55.6 percent from the field. The key for him is his health. The 37-year-old missed 19 games recently because of back spasms. Luckily, there are no back-to-backs in the playoffs, so he'll have plenty of rest. Garnett's leadership is so valuable, as is his postseason experience.
Jonas Valanciunas
, 21, has a bright future ahead of him. He averaged 11.3 points and 8.8 rebounds and shot 53.1 percent from the field. He's a handful to deal with inside.
EDGE: NETS
---

BENCH:
Brooklyn's bench is one of its biggest strengths. The Nets led the Eastern Conference in bench scoring this season.
Andray Blatche
and trade-acquisition
Marcus Thornton
both averaged in double figures.
Mirza Teletovic
is an excellent floor spacer.
Andrei Kirilenko
, now healthy, is a versatile piece who always seems to have his hands on the ball.
Mason Plumlee
is a strong candidate to make the All-Rookie first team, while
Jorge Gutierrez
looks as though he may get some playoff minutes.
Toronto certainly gets a lot of use out of its reserves, as well.
Greivis Vasquez
has been an excellent pickup. He leads the Raptors in defensive rating (98.2). Patterson and veteran
John Salmons
also get a lot of run off the pine.
Tyler Hansbrough
is an intense big body, while Nets fans are certainly familiar with 3-point specialist
Steve Novak
.
EDGE: NETS
---
COACH:
Early on, it looked as though rookie head coach Jason Kidd was overwhelmed. But the two-time Eastern Conference Coach of the Month has done a great job instilling confidence in his players. When Kidd decided the Nets should go small, their season took off.
Dwane Casey has done a remarkable job in the final year of his contract, and he is a strong candidate for coach of the year honors after guiding the Raptors to a surprising Atlantic Division title.
EDGE: PUSH
---

PREDICTION:
The Nets may have wanted to play the Raptors in Round 1, but Toronto is going to be a tough matchup for Brooklyn. The Raptors can shoot the 3-pointer and all their players seem to have great chemistry playing with one another. Remember: Three of the four regular-season matchups between the two teams were decided by four or fewer points. Still, the Nets have the edge in playoff experience, which gives them an edge, assuming they can stay healthy. Winning Game 1 at Air Canada Centre and stealing away home-court advantage would be huge for a Brooklyn team that has won 16 of its last 18 games at Barclays Center.
NETS IN 6
April, 17, 2014
Apr 17
12:57
PM ET
By
Mike Mazzeo
| ESPNNewYork.com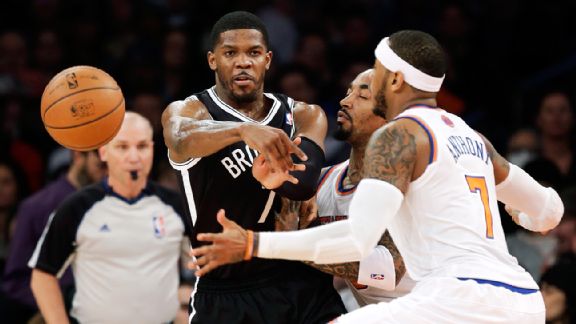 AP Photo/Seth Wenig
NEW YORK -- By the end of last season,
Joe Johnson
had become "Decoy Joe," the plantar fasciitis in his left foot having significantly worsened, robbing him of his ability to play basketball at a high level in a do-or-die Game 7.
"It was tough, man," Johnson said, harking back to his six-point, 2-for-14 shooting performance in 38 minutes on May 4. The
Brooklyn Nets
were eliminated on their home court by the
Chicago Bulls
, losing 99-93.
"I know what I'm capable of doing, and I couldn't lift the team in any form or fashion," Johnson continued. "That's probably the most frustrating thing."
But heading into his second playoffs with the Nets, the man
Kevin Garnett
refers to as Joe Jesus because of his prowess in the clutch is mostly injury-free -- and ready to make a huge impact.
"Obviously, this is a different time for us as Brooklyn Nets because of the players we have and we're going into the postseason healthy," Johnson said. "And me not playing on one leg is gonna make a big difference."
Johnson enjoyed an All-Star campaign in 2013-14, averaging a team-best 15.8 points and shooting 45.4 percent (40.1 percent from 3-point range, the second-best mark of his career) in 79 games.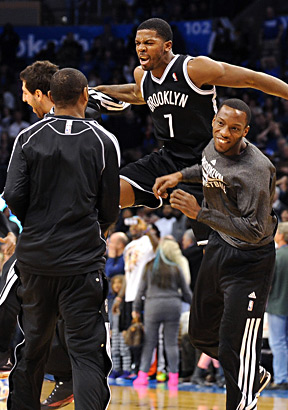 Mark D. Smith/USA TODAY SportsJoe Johnson makes his money at the buzzer. The Nets' closer finished off Brooklyn's comeback with a dagger in Oklahoma City.
The 32-year-old veteran knocked down 162 3-pointers (second most in team history), hit two game-winning buzzer-beaters -- his second on Jan. 2 in Oklahoma City turned the season around -- and scored 29 points in the third quarter against the
Philadelphia 76ers
on Dec. 16. The Nets went 15-5 in games in which he scored 20 or more points.
"He's carried the load for us all year," Nets coach Jason Kidd said.
In 2012-13, Johnson was heavily counted on to provide scoring. But this season, his role changed a bit. Johnson, known for his ability to deliver in isolation sets, averaged just 12.9 shots in 2013-14 -- his lowest since 2002-03.
"I think we've all had to sacrifice a little bit for the betterment of the team," Johnson said. "We've done that. I think in this postseason we're not gonna try to come out and do anything that we haven't been doing. We're gonna continue to play together, play hard and keep sacrificing so we can keep moving along."
Perhaps the biggest key to Johnson's success was his willingness to buy into Kidd's system from the beginning. In the absence of
Brook Lopez
(season-ending foot injury), Johnson has become one of the team's main threats in the post, using his size (6-foot-7, 240 pounds) either to take advantage of smaller guards or facilitate the offense and get one of his teammates an easy basket.
"It didn't take me long; I'm an easy-going kind of guy," Johnson said. "If you're gonna tell me something that's gonna help us out, then I'm willing to do it."
For all the talk about Johnson's never living up to the massive six-year, $119 million contract he received from the
Atlanta Hawks
in 2010, or how he can't be relied on as a No. 1 option, the native of Little Rock, Ark., has emerged as arguably the best late-game player in the entire NBA.
Over the last two seasons, in the final minute of games in which the Nets were tied or trailing by three points or fewer, Johnson is 13 for 16 from the field with four game-winning buzzer-beaters.
Hence the nickname: Joe Jesus.
"He might not be there when you call on him, but he's there when you need him," Garnett said.
The Nets were 10-21 when Johnson's behind-the-back fadeaway jumper beat the Thunder. They have gone 34-17 since.
"What year was that? 2014? That was a good year," Kidd joked. "I think that's just Joe. You go back to the Phoenix game [on Nov. 15]. He drove the length of the court, made the floater [to win the game at the buzzer]. There was no emotion. It was just: The game is over. Let's go get ready to play the Clippers.
"Most guys like to a dance, most guys like to celebrate, but Joe just moves on. When Joe made that shot, it was just everybody expected him to make it. And he delivered. And he loves that stage, and that's something we can lean on in the playoffs. I think it kinda kick-started our season."
Johnson put the team on his back during a stretch in mid-January; became the first Net in five years to win Eastern Conference Player of the Week in late March; and closed out the regular season by averaging 18.2 points and 50.2 percent shooting in his last 18 games.
"Last year was fun, but I think this year has been a bit more special because of where we started to where we've gotten to now," Johnson said.
Johnson has played in 69 career playoff games, averaging 16.7 points and 41.4 percent shooting. But he's never appeared in an NBA Finals before.
The sixth-seeded Nets, who will face the third-seeded
Toronto Raptors
in the first round (Game 1 is Saturday), certainly aren't the favorites to come out of the Eastern Conference, but given their dominance over the
Miami Heat
and the way the
Indiana Pacers
sputtered down the stretch, who knows. They're certainly better equipped to get there this season than they were a year ago.
"I would say so," Johnson said. "I think because we got the experience and guys have been through the trenches of the playoffs to help us get to where we're trying to get to, so I think we have what it takes to be the last team standing."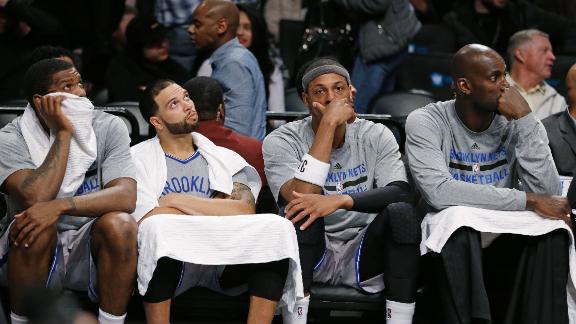 April, 17, 2014
Apr 17
11:45
AM ET
April, 17, 2014
Apr 17
9:00
AM ET
By
Scott Sargent | Speical to ESPNNewYork.com
CLEVELAND -- Their playoff ticket has been punched, but which team will show up on Saturday when the
Toronto Raptors
play host to the
Brooklyn Nets
in the first round of the Eastern Conference playoffs?
The Nets may be limping into the postseason, having lost four of their final five games, but the entire locker room is a firm believer in hitting the reset button.

"I like right where we are," said Nets coach Jason Kidd. "We are in a good place and playing some pretty good basketball as of late. We've rested and guys have gotten their work in at the same time of getting some of the injuries they've had -- some of the nicks and bruises -- healed. Now it's time to figure out how to get a win on the road."
Kidd, a rookie head coach armed with a $190 million roster, experienced a roller coaster of a season, seemingly hitting rock bottom around the New Year -- a five-game losing streak in November was met with a four-game losing streak in December -- only to propel itself into the sixth seed as a result of its turnaround in 2014.
But over the season's final two weeks, the team has struggled to tally additional victories, losing twice to the neighboring
New York Knicks
, once to the
Orlando Magic
and once to the
Cleveland Cavaliers
.
Injuries plagued the Nets throughout the duration of the season. Kidd lost key players (including point guard
Deron Williams
and center
Brook Lopez
, the latter suffering a season-ending ankle injury in March) for stretches of time. And while the team played well within the confines of the Barclays Center, winning 16 of their final 18 games, it has been the road that has given them fits.
"All four games that we played [against Toronto] were pretty tough games for us," said forward
Andrei Kirilenko
. "Nobody expected them to play so well this season, but they traded
Rudy Gay
and started to play better. I think it's going to be a tough matchup, but if you want to be the best, you have to beat everybody."
Coming in with the potential of being the fifth seed in the Eastern Conference, the losing streak ultimately relegated the Nets to the sixth seed. Toronto, winners of the Atlantic Conference and owners of the third seed, will have home-court advantage during the first-round matchup. For the series, the Nets and Raptors split, each team winning twice -- once on the road and once at home.
"It's like a new season starts right now," Kirilenko said. "Right now, every game counts. Every possession set you play on the floor is important. Right now, it's going to be very important to stay concentrated and keep our heads in the game."
"It's the playoffs," Kidd echoed. "You come, it's a new season, both teams are 0-0 and it's the first one to four [wins]."
Question:
What do you think of the Brooklyn's chances against Toronto? Let us know in the comments section below.
In case you missed it:
The playoffs are here, and
the pressure is on
.
Stat to know:
The Raptors' entire roster has 156 games of playoff experience. By comparison,
Kevin Garnett
and
Paul Pierce
have played in 267 playoff games combined.
Up next:
The Nets are off Thursday before returning to practice on Friday.
April, 17, 2014
Apr 17
1:08
AM ET
By
Mike Mazzeo
| ESPNNewYork.com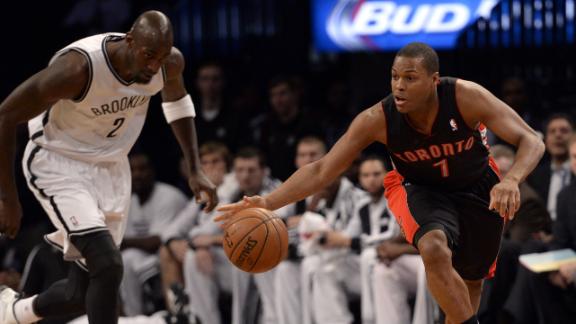 It is hard to fathom that the
Brooklyn Nets
tanked four of their final five games to avoid facing the
Chicago Bulls
for a first-round matchup with the
Toronto Raptors
-- if only because it would be atypical of a $190 million team with championship aspirations to fear anyone.
Nevertheless if the Nets did indeed tank, they got exactly what they wanted. And if they can advance past the Raptors, a date with the two-time defending champion
Miami Heat
looms.
The Nets finished 4-0 against the Heat in the regular season. And it would be fitting for the two teams to guarantee themselves at least four more meetings in the playoffs.
The talk all season -- even in the turbulent times -- was that the Nets were built for the playoffs.
Well, it's playoff time now. The time for Brooklyn to prove itself and make owner Mikhail Prokhorov, the Russian billionaire who shelled out all that money, and Billy King, the general manger who assembled the roster, proud.
The pressure is officially on.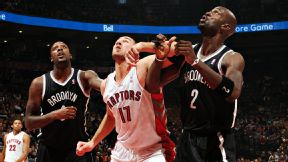 Ron Turenne/Getty ImagesThe Raptors wanted the Nets and vice versa. Game 1 is Saturday at 12:30 p.m.
The Nets were eliminated by the Bulls in Game 7 on their home court last season. Brooklyn's lack of leadership was apparent, as was the fact that it never developed an identity.
But going into the 2013-14 playoffs, it appears that the Nets have all the necessary ingredients to make a deep run.
Adversity came early, but it made them stronger. The Lawrence Frank fiasco; Jason Kidd's involvement in Sodagate;
Brook Lopez
's season-ending injury; the slow starts of both
Kevin Garnett
and
Paul Pierce
; all the blowouts; even the early injuries to both
Deron Williams
and
Andrei Kirilenko
.
The Nets were able to overcome them all. They were 10-21 when Kidd inserted
Shaun Livingston
into the starting lineup, moved Pierce to power forward and Garnett to center. That day was Jan. 2. And that same night they rallied back from a 10-point deficit in the fourth quarter and
Joe Johnson
beat the Thunder doing what he does best: hitting a game-winner at the buzzer.
The Nets went 34-17 the rest of the way. And they found themselves in the process.
Playing small-ball. Switching and creating turnovers on defense. Draining 3-pointers and exploiting mismatches on offense. That became their identity.
Kidd -- minus his tie, plus a beard -- looked more and more comfortable. Pierce and Garnett became leaders, making things easier on the rest of the team. They also flourished in their new roles. Williams rebounded after the All-Star break and has made the Nets a better team both offensively and defensively. Johnson was a model of consistency. Livingston emerged as the team's unsung hero. They became a dominant team at Barclays Center, winning a franchise-record 15 consecutive games there. All season, they have been able to overcome injuries and rest their veterans because King made sure to add depth.
But by the end of the regular season, it appeared their starters had checked out mentally, as if their thoughts were on the postseason. It is why they were all brought together, after all. Not to win an Atlantic Division championship, but an NBA title.
No one is installing the Nets as favorites to win it all. But given their regular-season dominance against the Heat and how poorly the
Indiana Pacers
played down the stretch, would it surprise you? Then again, would it surprise you if the Nets got ousted by the Raptors in the first round?
This is going to be a tough series. The Raptors are an excellent team. Williams and Co. are going to have their hands full with
Kyle Lowry
,
DeMar DeRozan
and
Jonas Valanciunas
.
Terrence Ross
said recently that he would prefer Brooklyn in the first round. And based on the way the Nets played in their final five games, it appears they preferred the Raptors just the same.
The Nets are healthy. And with the
New York Knicks
out, they are the city's lone representative in the playoffs.
The time is now for this $190 million team -- the most expensive team in NBA history -- to prove itself and do what last season's team could not do: make a deep playoff run.
The pressure is officially on.
April, 16, 2014
Apr 16
11:23
PM ET
ESPN.com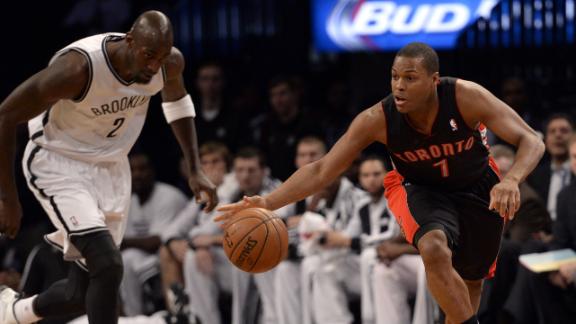 Our 5-on-5 crew breaks down the first-round matchup between the Raptors and Nets:
---
1. What's the scariest thing -- good or bad -- about the Raptors?
James Herbert, TrueHoop Network: Their frighteningly fiery point guard. Kyle Lowry already gave Brooklyn a 31-point, 5-rebound, 7-assist, 5-steal game this season, and in the playoffs he'll be playing huge minutes. Finally on a national stage, he has a chance to show everyone how crazy it is that he wasn't chosen as an All-Star.
William Lou, Raptors Republic: The playoff-intensity version of Kyle Lowry is going to be a force to be reckoned with. Lowry is the catalyst behind the Raptors' superlative chemistry, and he's the point of attack on both ends of the floor. He leads the league in charges taken, he's deadly from deep, and he'll be the one with the ball in his hands when the Raptors need a bucket.
Mike Mazzeo, ESPNNewYork.com: Kyle Lowry. As one Eastern Conference scout told me, "Kyle has outplayed Deron Williams throughout the season. He's one of those really gritty, hungry players, almost to a fault, where people hate it if he doesn't play for their team." Lowry is quick and commands the attention of the entire defense. He could single-handedly eliminate the Nets.
April, 16, 2014
Apr 16
10:26
PM ET
By
Mike Mazzeo
| ESPNNewYork.com
The
Brooklyn Nets
rebounded from a 10-21 start to finish 44-38 and secure the No. 6 seed in the Eastern Conference playoffs.
They closed out the regular season with a 114-85 loss to the
Cleveland Cavaliers
on Wednesday night at Quicken Loans Arena.
What it means:
The most expensive team in NBA history will begin the playoffs on the road against the third-seeded, Atlantic Division-champion
Toronto Raptors
. Game 1 is Saturday at Air Canada Centre.
The skinny:
The Nets and Raptors split their season series 2-2. Three of the four games were decided by four points or less. Brooklyn lost four of its final five games -- all to sub-.500 opponents. There is talk that the Nets were "tanking" to avoid a first-round matchup with the fourth-seeded
Chicago Bulls
, who eliminated them last season. Regardless, Toronto isn't going to be a walk in the park by any means. By the way, if the Nets do advance, the two-time defending champion
Miami Heat
probably loom in Round 2. Brooklyn went 4-0 against Miami in the regular season. That would be fun.
Oh, Canada:
The Raptors were 7-12 when they traded
Rudy Gay
. It was addition by subtraction. Remember when they were contemplating dealing
Kyle Lowry
to the
New York Knicks
… or Nets? Well, Lowry is their best player, a quick point guard who commands the attention of the entire defense. Toronto ranks in the top 10 in the NBA in both offensive and defensive efficiency. The Raptors are also an excellent 3-point-shooting team. The Nets are not good at defending the 3. Toronto's bigs,
Jonas Valanciunas
and
Amir Johnson
, are underrated. The Raptors don't turn the ball over much, but they did against Brooklyn. And you can't forget about All-Star
DeMar DeRozan
or high-flyer
Terrence Ross
.
Biggest advantage? Experience. Toronto's entire roster has just 156 games of playoff experience. By comparison,
Paul Pierce
has appeared in 136 postseason games,
Kevin Garnett
131. Of course, this is Nets coach Jason Kidd's first playoffs. It'll be interesting to see how Kidd fares.
The key? The Nets must continue to be themselves. They turned their season around by playing small ball: exploiting mismatches and hitting 3-pointers on offense and switching and creating turnovers on defense.
Deron Williams
versus Lowry is the big matchup. Maybe Brooklyn doesn't have to rely on Williams as much as it did last season, but he still needs to produce. Also, the Nets have to take care of business at Barclays Center, where they went 22-4 from Jan. 1 on.
Healthy team, healthy dream:
Starters Williams,
Shaun Livingston
,
Joe Johnson
, Pierce and Garnett all sat out on Wednesday night.
Up next:
Game 1 on Saturday at Air Canada Centre.
April, 16, 2014
Apr 16
10:25
PM ET
Associated Press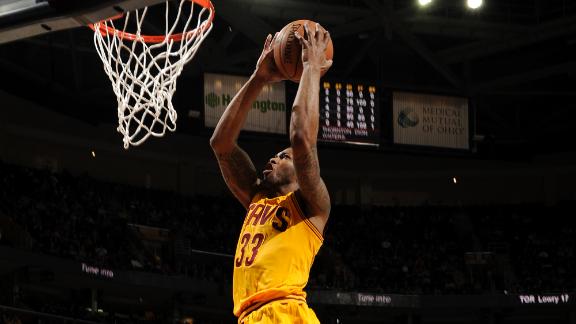 CLEVELAND -- Brooklyn coach Jason Kidd sat his starters for the playoffs and the Nets closed the regular season with a 114-85 loss to the Cleveland Cavaliers on Wednesday night.
Although the Nets could have clinched the Eastern Conference's No. 5 spot with a win, Kidd elected to rest Kevin Garnett, Paul Pierce, Joe Johnson, Deron Williams and Shaun Livingston, who spent the night on the bench as the world's highest-paid cheerleading squad. Kidd also limited the minutes of key reserves and used only seven players.
Tyler Zeller scored 22 points with 11 rebounds and Dion Waiters scored 19 for the Cavaliers, who finished a disappointing 33-49 in coach Mike Brown's first season back and missed the playoffs for the fourth straight year. All-Star Kyrie Irving scored 15.
April, 16, 2014
Apr 16
2:23
PM ET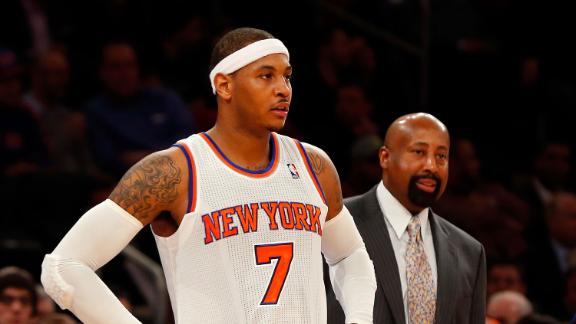 NEW YORK -- Even as the
New York Knicks
ran around the Barclays Center on Tuesday night, acting as if the borough of Brooklyn belonged to them every bit as much as it used to, the reality of this debacle of a season rapidly seeped in.
The
Brooklyn Nets
weren't fazed by anything the Knicks were doing because they didn't need to be. The Knicks, for all intents and purposes, were a mere afterthought.
After all, the Nets will have another game at the Barclays Center next week. Unlike Tuesday night, the games to come will actually matter. They will be in the postseason. Their coach will remain on their bench next season. And their billionaire owner and smart general manager aren't worried about losing their resident franchise player because he doesn't have the luxury of opting out of his contract and becoming a free agent this summer.
"It's fun being a Brooklyn Net right now," Nets GM Billy King said recently. "That much I'll admit."
King wasn't taking a shot at the Knicks, but truth be told, even if he had, could you blame him?
As the Knicks' excruciating season finally comes to an end, it's almost painful to admit that the Nets are everything the Knicks were supposed to be. And there's no reason to believe that will change anytime soon. Even with Phil Jackson in the house.
It's the Knicks who are not in the playoffs. It's the Knicks who couldn't reach 40 wins this season. It's the Knicks who have losses to Milwaukee and Philadelphia on their résumé, who managed to surrender 51 points in a quarter to a Lakers squad without
Kobe Bryant
or
Steve Nash
and who were saddled with nine- and seven-game losing streaks.
Yet all we kept hearing throughout this season was "We're still shooting for the playoffs" from coach Mike Woodson, who will be fired any day now. "We've still got something to play for."
If you're feeling sorry for Woodson, you have company. It appears the poor man never had a chance.
Before training camp opened or a preseason game took place, all of Woodson's comfort nuggets were taken away from him. Gone, inexplicably, was his friend of 37 years, former GM Glen Grunwald. The contracts of his assistant coaches were not renewed. Along the way, veterans departed via retirement (Jason Kidd), trade (
Steve Novak
and Marcus Camby) or just other job opportunities (Rasheed Wallace), and locker-room stability departed with them.
There's a reason
Kevin Garnett
and
Paul Pierce
were acquired and inserted into Brooklyn's locker room. "Can't put a price on stability and veteran leadership," King said. (Factor in J.R. Smith's five-game suspension for violating the league's drug policy, and we understand why.)
The thing is, Kidd and the Nets could have suffered the same fate as the Knicks. After all, they started out 10-21. Yet despite vouching for Lawrence Frank and securing a six-year, $6 million deal for the high-profile assistant, Kidd didn't hesitate to get rid of Frank when he decided his former New Jersey head coach was undermining him.
Essentially, Kidd said, "I'm the man in charge. I run this show." He was backed up by King, who was backed up by Mikhail Prokhorov, who was willing to swallow the $6 million. All the Nets have done is register one of the best records in the league since Jan. 1.
The Knicks, clearly, can't say the same.
Nobody knows this better than Carmelo Anthony, who conversed with chairman James Dolan after he released Grunwald to ask why Dolan would do such a thing. According to sources, Melo asked Dolan, "What kind of a message does it send to get rid of someone who just helped us win 54 games? What are we supposed to think or feel?"
Sadly, it wouldn't be the last time Melo asked such questions. He's just kept his thoughts out of the media.
The quiet, the silence, made the Knicks nervous enough to go out and sign Jackson for $12 million per year, both for PR purposes and to improve their chances of keeping Melo.
Jackson is the man who will supposedly have to answer for Melo's departure if it comes down to that. The man assigned to rebuild the Knicks. The man who will help New Yorkers refrain from protesting outside Madison Square Garden on game days, as Jackson was able to do simply by getting introduced as the new president the day before a fan protest was scheduled last month.
Yet in the end, Melo still doesn't know what he'll do. He's still out of the playoffs for the first time in his 11-year career. This Knicks roster still isn't good enough to legitimately compete for a title. They still have Dolan and, with him, the potential for chaos, because even as the team president, Jackson still will have to deal with Dolan's invasive tendencies eventually.
No wonder you hear Kidd consistently say how proud he is to be a Net. No wonder you don't hear anyone in Brooklyn complaining.
They're winning games and heading to the playoffs to compete for a championship.
The Knicks will be watching, just like the rest of us.