March, 4, 2015
Mar 4
12:36
PM ET
We're video chatting at 2 p.m. ET ...


March, 3, 2015
Mar 3
2:57
PM ET
NEW YORK -- It looked like
Thaddeus Young
and
Markel Brown
had been playing together for years.
Try 68 seconds.
And yet just over a minute after Young checked in for the first time since being acquired by the
Brooklyn Nets
in a Feb. 19 trade-deadline deal in exchange for
Kevin Garnett
, he anticipated that the high-flying rookie guard would rise up, threw a perfect lob pass and the duo successfully completed a highlight reel-worthy give-and-go alley-oop in Los Angeles, displaying the kind of on-court cohesiveness you would think takes some significant time to foster.
True, but here's the thing: Young had watched Brown on television before, and was well aware of the 22-year-old's aerial exploits dating back to Brown's days at Oklahoma St.
Knowing your personnel, Young said, makes all the difference.
So maybe it's no surprise that his transition from Minnesota to Brooklyn has been so seamless.
"I think one of the things about me is I'm a player that doesn't really need the ball in his hands all the time just to play," Young said. "I'll go get offensive rebounds, I'll set screens, I'll do pick-and-roll, pick-and-pop. I'll do a lot of different things on the court that will give you opportunities to score the basketball and I'll give you opportunities to put someone else in position to score the basketball."
In six games as a reserve with the Nets, Young, 26, has averaged 13.5 points and 4.7 rebounds on 57.6 percent shooting in 22.5 minutes. Lately, he's even been able to elevate his play in the biggest moments with his new team on the verge of unraveling late in the fourth quarter.
Saturday night in Dallas, he hit a tough floater with 2:15 remaining that gave the Nets a 99-92 lead en route to a 104-94 victory over the Mavericks. Two nights later, he knocked down back-to-back 3-pointers early in the final stanza with the Nets clinging to a one-point lead over the
Golden State Warriors
at home. Brooklyn went on to win the game at the buzzer 110-108. The Nets are now 4-2 since bringing Young aboard. Over that short span, they rank second in the NBA in offensive rating and 17th in defensive rating.
"It's been pretty crazy so far, just trying to get acclimated," Young said.
He was aware a deal was probably coming, so it didn't exactly catch him off guard. Still, having to pack up a couple of bags and go on the road for 10 straight days before finally getting settled in was far from ideal. Luckily, Young's wife and brother handled the move to the New York area. He even has a new house now. His wife picked one place, but she didn't like it, so she decided to pick another. "You know how women are sometimes," Young joked.
Wild how it all worked out.
The Nets entered the All-Star break in a season-long rut.
The Timberwolves had been trying to get KG for a while. Nets GM Billy King had drafted Young in the first round in 2007 when he was with Philadelphia.
The Wolves wanted Garnett to come back and mentor their young players. His ability to increase tickets sales wouldn't hurt, either.
The Nets were in desperate need of youth and athleticism. Their salaries matched.
So far, the trade appears to have benefited both teams.
The Nets have put themselves back in the playoff race, ironically by doing what they did last season under ex-coach Jason Kidd: going small. Brown was inserted into the starting lineup and has dominated defensively (98.5 rating), while 6-foot-7
Joe Johnson
was moved from the 3 to the stretch-4 spot and has rebounded at a high rate (7.8 per game).
Nets coach Lionel Hollins has been keeping
Mason Plumlee
(9.0 points, 5.7 rebounds) and
Brook Lopez
away from one another, which has benefited both. Lopez (16.8 points, 8.8 rebounds) finally looks healthy, while
Deron Williams
(16.3 points, 7.0 assists) has some surprising bounce in his step.
Alan Anderson
is even knocking down shots at high percentage (53.1 percent).
Overall, the team is playing with confidence, competing hard and playing free and easy now that the deadline is over. They may only be a fringe playoff team in the Eastern Conference, but at least they have an identity now and are playing much better, too.
Young is certainly a huge part of that.
King would like to retain the potential free agent-to-be (Young can opt out after this season) and build around him.
"It means a lot," Young said. "It means that I'm definitely a player that has come into his own and being able to go out there and do a lot of things to help my team win basketball games. Sometimes I can go out there and be a game-changer with the energy I bring to the table."
So far, so good.
March, 3, 2015
Mar 3
1:20
AM ET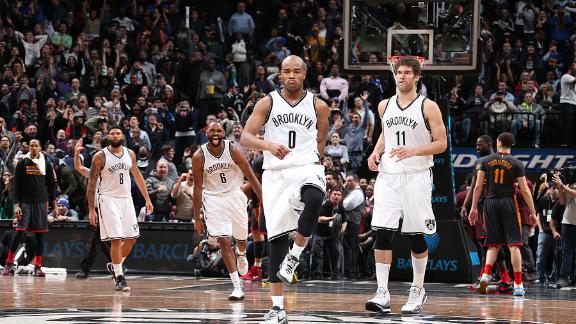 NEW YORK –-
Deron Williams
was zooming around the court like the old All-Star Deron Williams.
Brook Lopez
looks as mobile as he was before all the surgeries on his foot, playing like an offensive force inside at times.
And
Jarrett Jack
stared down Steph Curry, who was putting on the kind of breathtaking fourth-quarter show at the Barclays Center that only an MVP candidate can, and buried perhaps the biggest shot of the
Brooklyn Nets
' season.
The Nets beat the road-weary
Golden State Warriors
110-108 in what has to be their most important victory of the season.
It's no coincidence that the Nets are playing their best basketball since the All-Star break and trading deadline. They've won four of six games and are playing like a playoff team.
They look confident, not only moving the ball great but moving without the ball crisply and setting each other up for baskets. They look like they trust one another and are ready to play for each other and for Nets coach Lionel Hollins. They're competitive and, most important, they look comfortable and at ease.
What has changed? Perhaps we need to look no further than Feb. 19.
"We got past the trade deadline," Deron Williams said as one part of his explanation for why the Nets are playing their best right now. "Because a lot of us were on the block, so [we're] just playing a lot more free."
For months, just about every key
Brooklyn Nets
player heard his name mentioned in a trade rumor. Williams was linked to Sacramento.
Joe Johnson
to Charlotte and Detroit. Lopez to Oklahoma City, among other places.
All the while, the Nets tried to adapt to Hollins, who was trying to figure out his team as well and what he would need to win with.
[+] Enlarge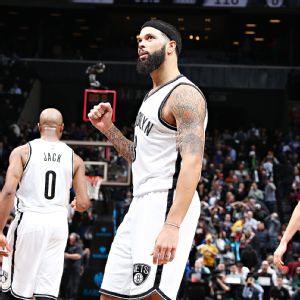 Nathaniel S. Butler/NBAE/Getty ImagesLike many of the Nets, Deron Williams is playing with a zip in his step, averaging 16.6 points and 7.0 assists since the trade deadline.
The result was an uneasy coexistence for the first four-plus months. The Nets lost eight of 12 games and were riding a three-game slide entering the trading deadline and All-Star break.
While most of the NBA was relaxing and recharging during the All-Star break, many Nets were on pins and needles wondering where they would be calling home for the next few months.
"My name was out there," Williams said Monday, able to laugh about it even if it was an uncomfortable sort of laugh. "Before, we didn't know if Brook was going to be here tomorrow or J-Jack -- whoever it was."
The Nets were as busy as any team at the trading deadline, furiously trying to deal with Oklahoma City for
Reggie Jackson
. Lopez would have gone in a package for the Thunder point guard. Jack's name came up at the deadline as well.
Ultimately, Jackson ended up in Detroit somewhat to the surprise of the Nets' front office. The Nets would end up making just one deal, though it was one that could very well pay big dividends, sending
Kevin Garnett
to Minnesota for
Thaddeus Young
.
While Garnett was a presence with his voice and personality, Young is much more of a contributor offensively as evidenced by him scoring eight of his 14 points in a tense fourth quarter against the late-charging Warriors.
But it's clear to see that the Nets, particularly Williams, are playing more freely. The point guard has zip back in his step and is averaging 16.6 points and 7.0 assists since the deadline. Williams scored 22 points and had four assists and four rebounds to go with four turnovers.
Lopez, who has averaged 16.8 points and 8.8 rebounds in the past six games, matched Curry's game-high 26 points off the bench.
The duo the Nets once built their franchise around –- and other key Nets -- know for at least the next few months where they will be. Stars may get paid max millions to play wherever they have to. But they're still human and still can feel as uneasy on trading deadline day as any longtime employee at a struggling company can feel when layoffs are looming.
And from Hollins' standpoint, the coach knows what he has to work with moving forward as well. This is his group and it may just have taken the Nets and Hollins this long to figure each other out and get comfortable with one another. They know what to expect from each other and Hollins may have figured out the right tempo and lineups to employ.
"It's obviously better chemistry, better camaraderie," Hollins said. "We're playing more for each other. We're kind of buying into our roles and also the system that we're running as well."
Jack said it took him and Williams time to get used to playing alongside each other and the way Hollins wants them to play.
"Two point guards trying to understand the system and relay it to everybody," Jack explained. "I think us getting on the same page with [Hollins] was more important because we can kind of relay it to everybody else.
"Understanding his calls and sometimes us having a call, and he is like, 'Hey, you all go do your thing and run the show,'" Jack added. "I think that part took a little long for him and me to do. But now we have some synergy."
A harmony that almost never developed. The Nets wanted Jackson and were prepared to build the future around the point guard. Detroit stepped in and picked Jackson out of the Nets' hands.
Who knows? Perhaps it was a good thing Jackson didn't end up in Brooklyn. Is there any way to know for sure that Jackson will be a franchise player or the type of point guard a team can be built around, one worthy of a big contract?
Only time will tell. For now, Nets players like Williams, Lopez and Jack don't have to worry about anything but playing their best in Brooklyn. They don't have to fret about their futures until later this summer when the Nets might look to make more moves.
And with 15 of the remaining 24 games at Barclays, the Nets (25-33) have a good chance to make the playoffs if they can keep playing loose and free -- something that has been a lot easier to do since Feb. 19.
"We didn't shake it up too much," Jack said of the trading deadline. "We still have that core foundation with what we started in October and we are definitely building off that.
"I think when you are comfortable, you are not second-guessing things."
March, 3, 2015
Mar 3
12:05
AM ET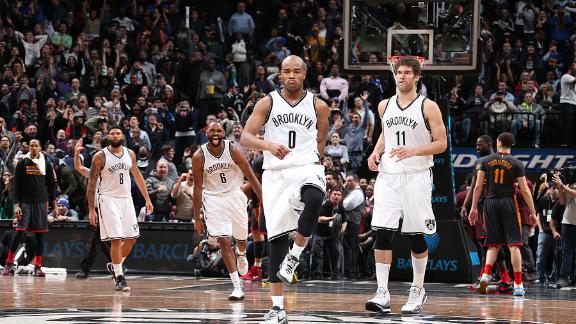 NEW YORK -- The
Brooklyn Nets
have a new go-to guy down the stretch:
Jarrett Jack
.
The past two seasons,
Joe Johnson
performed the role to perfection, knocking down four game-winning buzzer-beaters out of isolation sets.
But after Johnson missed his first four shots in clutch situations in 2014-15, Nets coach Lionel Hollins began using the man who
Kevin Garnett
aptly nicknamed "Joe Jesus" as a decoy off in the corner.
And the past two times, it's worked perfectly, both resulting in Jack draining a last-second mid-range jumper out of a pick-and-roll set with
Brook Lopez
to give the Nets a victory over an elite Western Conference foe.
[+] Enlarge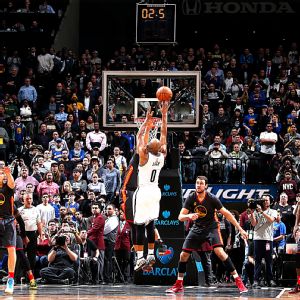 Nathaniel S. Butler/NBAE/Getty ImagesJarrett Jack's jumper with 1.1 seconds left upset the Warriors on Monday in Brooklyn.
On Feb. 2, the
Los Angeles Clippers
fell victim to the play.
Exactly a month later, the NBA-best
Golden State Warriors
met the same fate.
"That's just how the play was designed," Jack said after knocking down a 17-footer with 1.1 seconds remaining to lift the Nets a 110-108 win over the Warriors Monday night at Barclays Center.
"Coach drew it up, and it was intended for me to get put in a pick-and-roll situation [with Lopez]. And then, based on what the defense did, make a play. So I saw an alley -- they were kind of getting in a little crease against one of my rhythm spots -- and I was able to rise up and knock down the shot."
Jack and
Anthony Davis
are the only players with multiple go-ahead shots with two seconds or less to go in the fourth quarter or overtime of a tie game this season, according to ESPN Stats and Information.
"We were floundering," Hollins said. "Everybody had had a chance. I know that if they switch, Jarrett's going to have a big guy on him, and I think he can get a shot for us. And, again, he did it. The Clippers game was the same thing. All we're hoping for is to get a good look. Jarrett made the shot, and we go home happy."
Jack certainly has his flaws. His decision-making can be questionable, he doesn't play well with
Deron Williams
and the Nets are being outscored by 256 points during the 1,698 minutes he's played with them since being acquired in an offseason trade.
But for all the bad, Jack has always had the guts to take, and, more importantly, make, big shots. He's been that way seemingly his entire career. And the Nets needed him to make another one to avoid blowing what is their most impressive statement victory of the 2014-15 campaign.
They played so well over the first 44 minutes -- making smart decisions, hustling, competing, using their new-found, Jason Kidd-approved small-ball lineup to their advantage -- only to nearly blow it all in the final four minutes, when they went 2-for-7 from the field and had three turnovers before Jack bailed them out by draining that jumper over an outstretched
Stephen Curry
.
Curry had 18 of his 26 points in the fourth quarter, and heard MVP chants from the so-called "home crowd" after bringing the Warriors back from a double-digit deficit.
But in the end, Jack was there to save the day. His celebration was less animated this time.
No 1-thou-wow shuffle. Just a couple of confident skips at halfcourt.
"Well, we can send all of those Golden State fans home that came to watch here in Brooklyn tonight [unhappy]," Hollins said. "That's what I told the team. We have to excite our crowd and get them to be Brooklyn Nets fans and not just opposing team fans. This is definitely a start. When you win games like this, people take notice. They keep coming back and eventually they start rooting for you versus the other team."
March, 2, 2015
Mar 2
11:31
PM ET
By
ESPN Stats & Information
Stephen Curry
usually has the magic touch in games like the one between the
Golden State Warriors
and
Brooklyn Nets
last night.
But he was on the opposite end of this one, as
Jarrett Jack
beat him and the Warriors with a late hoop.
Jack and
Anthony Davis
are the only two players to make multiple go-ahead shots in the final two seconds of a tie game in the fourth quarter or overtime this season.
Jack is 2-for-2 on go-ahead field goal attempts with less than 24 seconds remaining in either the fourth quarter or overtime this season. His teammates are a combined 1-for-9 in such situations.
The NBA's Twitter account noted that Jack is 5-of-6 on shots taken with the score within three points in the final 30 seconds of games this season.
Jack hit a game-winning shot over DeAndre Jordan and the Los Angeles Clippers with 1.3 seconds left exactly a month ago.
Jack's production with the Nets is a hair below what it was with the Warriors two seasons ago, but he is enjoying his best season in awhile in one regard.
Jack is shooting 49 percent from 2-point range. He hasn't shot that well over a full season since shooting 51 percent on 2-pointers for the Toronto Raptors in 2009-10.
The Nets didn't just win because of Jack's shot, though.
They held
Klay Thompson
to seven points on 3-of-17 shooting (his worst shooting in a game this season). It was the first time Thompson was held to single digits this seaosn.
They shut out
Andrew Bogut
for 11:26 in the second half, after Bogut had scored 16 points on 8-of-10 shooting in the first half.
They held Curry to two baskets in the first three quarters. Curry scored 18 points in the fourth quarter to bring the Warriors back into the game. That was one shy of the most by any player in the fourth quarter of a loss this season (
Aaron Brooks
had 19).
March, 2, 2015
Mar 2
10:09
PM ET
Associated Press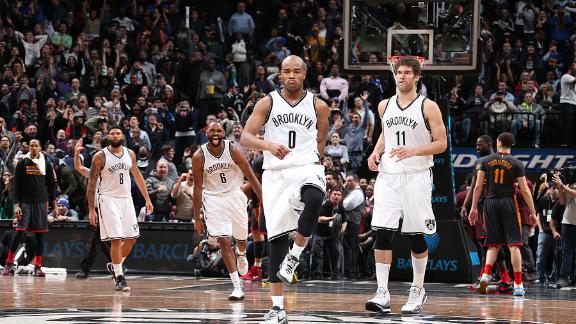 NEW YORK -- Jarrett Jack made a tiebreaking jumper with 1.1 seconds left and the Brooklyn Nets overcame Stephen Curry's fourth-quarter comeback attempt to beat the Golden State Warriors 110-108 on Monday night.
Curry brought the Warriors back from 10 points down with under 4 minutes left to tie it, but couldn't get a final shot off after Jack's jumper.
Curry finished with 26 points, 18 in the final period. Jack, however, calmly ran the clock down and shot over him as the Nets won their first game at home since Feb. 6.
Brook Lopez had 26 points and Deron Williams 22 for the Nets.
Andrew Bogut scored 16 for Golden State, but Klay Thompson shot 3 for 17. He was 1 of 9 on 3-pointers and finished with seven points.
March, 2, 2015
Mar 2
8:17
PM ET
[+] Enlarge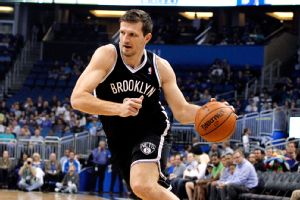 Kim Klement/USA TODAY SportsMirza Teletovic, who told reporters Monday that he feels great, was told that frequent air travel and no time off likely contributed to the formation of blood clots in his lungs in January.
NEW YORK -- Brooklyn Nets forward Mirza Teletovic, who will not play again this season after being diagnosed with multiple blood clots in his lungs in late January, told reporters Monday the clots are gone, he feels great and he hopes to return in six months.
Teletovic said the doctors have an 80 percent belief the clots originated as a result of the hip pointer he suffered in Cleveland in mid-December. The clot then traveled to his calf and lungs. He wasn't capable of breathing properly for "like 20 days" or so, he said.
Teletovic experienced shortness of breath in Los Angeles during the Nets' Jan. 22 game against the Los Angeles Clippers and was taken from the Staples Center to a local hospital in an ambulance. A battery of tests, including a CT scan, revealed the clots. The Nets announced the following day that he would miss the remainder of the season.
February, 28, 2015
Feb 28
11:21
PM ET
Associated Press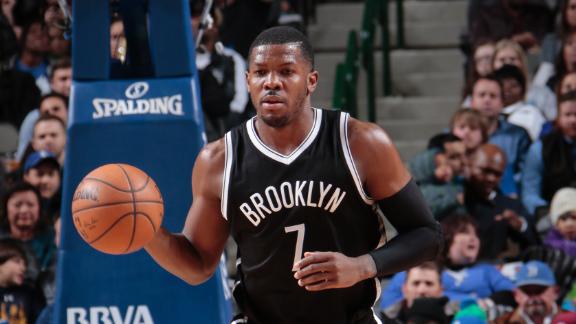 February, 27, 2015
Feb 27
10:56
PM ET
Associated Press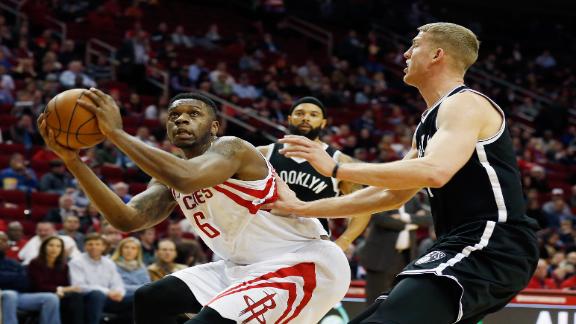 HOUSTON -- Terrence Jones scored a season-high 26 points, James Harden made the tiebreaking free throw with 43 seconds left and followed that with a jumper, and the Houston Rockets beat the Brooklyn Nets 102-98 on Friday night.
Harden, who played after spraining his right ankle on Wednesday night, shot just 4 for 15 for 15 points, but had 12 assists in a game where five Rockets scored in double figures.
The Rockets won their fourth straight overall and have defeated the Nets eight straight times in Houston.
Mason Plumlee and Deron Williams had 15 points apiece for the Nets.
The game was tied with 43.6 seconds left when rookie Markel Brown fouled Harden away from the ball before Houston got the ball in after a timeout, and he made the free throw.