December, 19, 2014
Dec 19
6:43
PM ET
MESQUITE, Texas -- Three crazy days,
Mike Jefferson
says. That's how his brother got here. In truth, it wasn't that long.
Malik Jefferson
's decision to commit to Texas was reached in just a few hours on Wednesday. Three crucial conversations that night convinced the state's most coveted recruit where he was going.
The first one: The Jeffersons' long-awaited family meeting. Going into that talk, Mesquite Poteet's ESPN 300 star insists he wasn't seriously leaning toward any of his three finalists. But he wanted to get this done. He needed clarity.
[+] Enlarge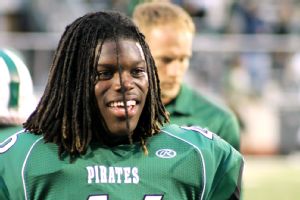 Max Olson/ESPNFamily and friends contributed to Malik Jefferson's decision to pick Texas. So did uncertainty at Texas A&M and Texas coach Charlie Strong's leadership.
His parents and two brothers did exactly what Malik expected. They argued that playing for Charlie Strong and the Longhorns was by far his best option and laid out every reason why.
The talk was neither brief nor easy. The arguments were impassioned, the voices at times raised. Malik knew the family debate, while vitally important to his process, wasn't going to be pretty at times.
"Everything was kind of intense," father Michael Jefferson Sr. said. "Very intense."
He and wife Teresa insisted throughout that Malik needed to appreciate the big-picture pros of Texas. They were all-in on the disciplined culture Strong is cultivating, as well as the value of a degree from Texas for the rest of his post-football life.
"We butted heads a little bit," Malik said Friday following his commitment ceremony. "I just had to understand what my parents were telling me."
UCLA, the family agreed, was ultimately just too far away. Texas A&M, his father argued, offered too much uncertainty, starting with its still-unresolved defensive coordinator vacancy. Malik was still on the fence about those concerns.
The biggest factor tugging him to become an Aggie? His friendships with
Kyler Murray
,
Christian Kirk
, now-former pledges
Daylon Mack
and Damarkus Lodge, and several other leaders of the A&M recruiting class.
"I wanted to play with those guys so bad, my gosh," Malik said. "Those are my brothers. We talked every day."
Though he agreed with the case his parents and brother Mike made for Texas, Malik felt he had to give A&M one last shot. So once the tense family discussions wrapped up, he called Kevin Sumlin.
The linebacker wants to keep the contents of that conversation to himself, out of respect for a coach he's admired throughout this two-year process. Simply put, Malik says, the conversation did not go well. He needed to know who his coordinator and position coach would be. That question couldn't be answered.
"Malik is very emotionally invested in things," Mike Jefferson said. "When he feels betrayed in any type of way, you're setting yourself up for failure. I think A&M not contacting him about the defensive coordinator had a major influence."
He moved on. Texas seemed like his best and most logical option, but Malik still needed a little more convincing. So, late Wednesday night, he went over to
DeAndre McNeal
's house.
The four-star receiver had quietly made up his mind earlier in the week. In fact, he'd been leaning toward Texas ever since attending the Red River Showdown game in October.
But he played coy when Malik showed up, pretending to care more about the pepperoni pizza he was eating.
"What are we going to do?" Jefferson asked.
McNeal says he elected to answer that by singing: "The stars at night are big and bright/deep in the heart of Texas."
"When I said that, he jumped out of his chair and shouted, 'Is that what what you're thinking? Heck yeah!' We went berserk," McNeal said. "He actually broke the chair. My mom got on him about that."
"I didn't think he would say that," Jefferson confessed. "It was a great surprise."
Malik went home, prayed and slept on his choice. In the morning, his mother wanted to know if he'd made up his mind. So he decided to surprise her: he walked up to her and held up a Texas banner.
Later that day, McNeal called Strong to deliver the good news.
"He jumped out of his seat and threw a block party on the 40 Acres," McNeal joked.
Jefferson, at last, had found closure in a thrilling but exhausting recruitment. And Strong had his first gigantic recruiting victory as a Longhorn.
"The No. 1 player in Texas chooses a 6-6 school?" Michael Jefferson Sr. said. "Why did he choose a 6-6 school? It's because of the coach, because of the leadership."
But it was the family and the best friend that sealed the deal.