Football Recruiting - West Region:

Rutgers Scarlet Knights
June, 27, 2013
Jun 27
4:15
PM ET
At least three teams are safe to make it through final cuts for tight end
Ryan Izzo
(Sparta, N.J./Pope John XXIII).
To continue reading this article you must be an Insider
May, 29, 2013
May 29
9:15
PM ET
Just as
Ryan Izzo
(Sparta, N.J./Pope John XXIII) was ready to trim his list to just a handful of schools, his world was turned upside down Wednesday -- twice.
To continue reading this article you must be an Insider
May, 15, 2013
May 15
11:19
AM ET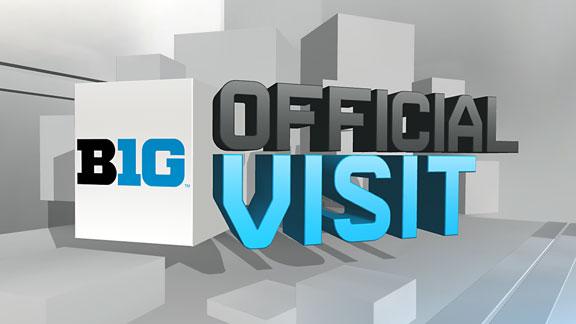 Jabrill Peppers
(Paramus, N.J./Paramus Catholic), the No. 2 prospect in the country, has set his decision date.
The No. 1 defensive back will make his decision live on ESPNU on May 26. With almost every program in the country targeting the talented prospect, Peppers has narrowed his list down to LSU, Notre Dame, Michigan, Penn State, Rutgers and Stanford.
He still plans on taking his visit to Penn State on May 18, and has already been out to Michigan, LSU and Ohio State. There might still be a surprise visit in store before the announcement as well. The five-star prospect has turned heads with his play on the field and will undoubtedly be a game changer for whichever school he picks.
April, 5, 2013
Apr 5
5:08
PM ET
A top 10 has emerged for touted running back
Jonathan Hilliman
(Jersey City, N.J./St. Peter's Prep), and now some separation is starting to take place among those schools.
"The top five has definitely broken apart but not severely far," Hilliman said. "I'm not counting out the other schools, depending on what they bring to the table -- if it's academics or great environment or great coaching staff."
To continue reading this article you must be an Insider
March, 18, 2013
Mar 18
7:21
PM ET
YOUNGSTOWN, Ohio -- Michigan and Rutgers will be battling in the once-again redesigned Big Ten in the near future, but first the two programs could be going head to head for a 2014 recruit.
KJ Williams
(Bethlehem, Pa./Liberty) has 10 offers but pegged Michigan and Rutgers as two programs standing out to him most.
The 6-foot-2, 190-pound receiver grew up liking the Wolverines, and Michigan was one of the first schools to offer Williams. He has built a solid relationship with the coaches already.
To continue reading this article you must be an Insider
December, 19, 2012
12/19/12
12:32
AM ET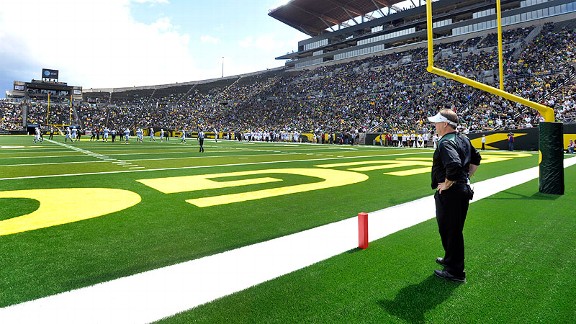 Steve Dykes/Getty ImagesChip Kelly apparently landed a sleeper offensive lineman on Tuesday when Jake Pisarcik out of New Jersey said he's a Duck.
The Oregon Ducks have made a living out of discovering hidden talent over the years. No one on the staff has been better at it than Ducks offensive line coach Steve Greatwood. On Tuesday he may have come up with one of his best discoveries yet.
Jake Pisarcik, a 6-foot-4, 278-pound offensive tackle from Medford (N.J.) Shawnee, said he made an oral commitment to the Ducks after receiving a scholarship offer from the Ducks. NCAA rules don't allow schools to talk about recruiting, but Pisarcik said he committed Tuesday night after Greatwood offered him a scholarship.
After the Ducks saw Pisarcik's film, they traveled to New Jersey to see him in person last week. When Pisarcik called to check in with coach Greatwood, he received his first scholarship offer.
"I called Coach Greatwood, and we just talked about my film and their program," Pisarcik said. "He offered me a scholarship, and I committed right away."
Shawnee coach Tim Gushue told the Burlington County Times that things happened fast with Oregon.
"They expressed interest in him last week," Gushue told the Times. "When they liked what they saw, they came here and met him in person. They really liked him."
Prior to his contact with the Ducks, Pisarcik had been hearing from Rutgers, New Mexico State and Delaware before the Ducks apparently found what they were looking for.
"They just told me that they really like me and think I have a bright future," Pisarcik said.
"They said to come in and be ready to play guard or center. I am just very blessed and blown away by the whole thing. It's an amazing opportunity and I am very excited,"
With his commitment, Pisarcik becomes the Ducks 12th commit and their third along the offensive line. He said he was going to take an official visit to Oregon on Jan. 18. He said he had not talked to Oregon coach Chip Kelly about his commitment.
December, 2, 2012
12/02/12
3:51
PM ET
Clairton (Pa.) and
Tyler Boyd
are in the middle of a historic playoff run, but the ESPN 300 athlete still has his eye toward his future.
Boyd, who became Western Pennsylvania's career touchdown leader last week, has set his second official visit of the recruiting process.
Arizona will host Boyd for an official visit the weekend of Dec. 14.
To continue reading this article you must be an Insider
November, 27, 2012
11/27/12
8:47
PM ET
Clairton (Pa.) senior athlete
Tyler Boyd
is poised to become one of the WPIAL's all-time greats. Barring anything unforeseen Friday, Boyd will become Western Pennsylvania's leader in career touchdowns. He is already among the top 10 in career rushing yardage and just helped Clairton to a state record 60th consecutive win.
Boyd will take the touchdown record from Rushel Shell, who scored 110 career touchdowns.
"It'll feel like this game, getting to 60 wins," Boyd said of breaking the record. "He was one of the best players in the WPIAL to play this game. Beating his record is a huge accomplishment."
To continue reading this article you must be an Insider
September, 14, 2012
9/14/12
9:22
AM ET
By
RecruitingNation
| ESPN.com
August, 20, 2012
8/20/12
10:52
PM ET
Junior college tight end
Beau Sandland
(Woodland Hills, Calif./Pierce College) is making the most of his first foray into the recruiting process. A non-qualifier out of high school, the 6-foot-5, 250-pound athlete turned in an impressive showing on the recruiting trail this offseason. Beginning in February, Sandland said it felt as though he collected an offer -- and sometimes two -- each day, through the end of spring. Though things have slowed considerably since then with the end of the spring evaluation period and fall camps starting, Monday proved that it isn't over completely, as Tennessee stepped forward with a scholarship offer.
"It's been fun," Sandland said of recruiting. "This is the first time I've ever gone through it, so I didn't fully know what to expect. You hear stories and see the sophomores from last year, but it's been a really exciting and fun time. It can get a little hectic, but in a good way. It's been really humbling talking to these schools and having offers from some of the top programs in the nation."
Several SEC heavyweights extended offers to Sandland, including Florida, Georgia, LSU and Mississippi, though he took opportunities this summer to get a better feel for programs in other conferences. Pac-12 programs Arizona State, California and UCLA received unofficial visits, while Nebraska was the recipient of an official visit. This weekend, Sandland will travel for Oklahoma for his second official visit.
To continue reading this article you must be an Insider
April, 26, 2012
4/26/12
2:04
PM ET
Priest Willis
(Tempe, Ariz./Marcos De Niza), the No. 62 player in the ESPN 150, entered the spring with 29 offers and has become one of the most highly recruited players on the West Coast. He has already received phone calls from USC -- which called the first day contact was allowable -- as well as Arizona State and Notre Dame. This week, Marcos De Niza High School has received visits from Florida State, LSU and Arkansas, with USC coach Ed Orgeron scheduled to make a stop on Thursday. Willis said that since the spring evaluation period began, Georgia, Rutgers and Alabama have also begun showing interest.
Willis said the Trojans making the first call on April 15 stood out, but he is grateful for the interest from every school. And increased attention from the two programs that played in the most recent national championship game is difficult to ignore.
Willis said the Alabama coaches have been talking to him about how he would fit into their defense, but it's obvious that LSU has made a statement for Willis.
"They have a great defense," said Willis of LSU, a school he plans to camp with this summer. "And it would be great to just play football in that atmosphere."
To continue reading this article you must be an Insider
January, 30, 2012
1/30/12
1:00
AM ET
By
Robert Abruzzese
| ESPN.com
CLOSTER, N.J. -- After rushing and passing for more than 10,000 total yards for Old Tappan High School,
Devin Fuller
announced at his 18th birthday party in front of about 100 of his family and friends at a restaurant in Closter, N.J., he will be headed to UCLA next season.
"I felt like it was the best fit for me, with the offense they run, the coach, coach (Jim Mora) believes in me a lot," Fuller said. "I have family out there and the last thing was the beautiful weather.
"I just felt most comfortable there. I felt like I was already part of the family."
In choosing UCLA, Fuller passed up on 31 other scholarship offers including Rutgers and Arizona, the two other schools that he narrowed his decision down to. Afterward Fuller explained that Rutgers was his favorite school for a while until head coach Greg Schiano left the school.
"I don't know what the new coach is going to run," Fuller said. "Me and coach Schiano talked about offense and incorporating stuff that I do best in it. When coach Schiano left, I didn't know if my job as the quarterback was still in play. I couldn't talk to the head coach about what he was going to do because they didn't have one."
Fuller went on to explain he had considered waiting to make his announcement until Rutgers' coaching vacancy was filled, but ultimately decided that UCLA had too much to offer.
"At Rutgers, they didn't have a coach and at that point they were out," he said. "So it came down to UCLA and Arizona, and I have family 10 minutes away from UCLA, so in the end that's what it came down to."
It was also important for Fuller to grow as a quarterback. He has a good arm, but he rushed for nearly as many yards in the past two seasons, 3,632, as he did passing, 4,091. He believes UCLA will be the best fit for him to be able to avoid getting trapped as a one-dimensional quarterback.
"(UCLA's coach Jim Mora) is really the guy that can develop Devin as a quarterback," Devin's father Bart Fuller said. "He does a lot of stuff out west with prep of NFL guys, preparing them for the combines. He picked the right teacher and educator to help him."
Fuller also talked about getting a chance to prove himself. With a pair of senior quarterbacks, he likely won't start for UCLA next season, but as he understands it, he will be given the opportunity to try to win the job as a sophomore.
After finishing rounds of interviews with reporters, Fuller was more relieved than anything that the process is over. He explained that this recruiting process was hectic. Not only did he get offers from 32 schools and spoke with dozens more, but coaching changes at UCLA and Rutgers as well as controversy at Penn State, another school he strongly considered, meant that this was not a typical recruitment process.
"The intensifying of phone calls over the last 30 days and then two weeks, he just wanted to get it over with," his father said. "I can see it now. It's a weight off his shoulder."
January, 29, 2012
1/29/12
5:26
PM ET
By
Robert Abruzzese
| ESPN.com
Westwood (N.J.) Old Tappan four-star
Devin Fuller
committed to UCLA Sunday evening at a news conference.
The 6-foot-1 190-pound Fuller picked UCLA over Rutgers, Nebraska and a number of other schools. Most insiders expected Fuller to land at Rutgers, but he said the departure of Greg Schiano to the Tampa Bay Buccaneers gave the Bruins the opportunity to capitalize.
Fuller ranks as the No. 39 player in the nation, the No. 7 athlete and the No. 1 player in New Jersey. He is the 26th known commitment for UCLA.
To continue reading this article you must be an Insider