Football Recruiting - Southeast Region:

Speedy Noil
April, 16, 2013
Apr 16
3:21
PM ET
BUFORD, Ga. -- ESPN Watch List athlete
Speedy Noil
(New Orleans/Edna Karr) earned his invitation to The Opening back in February at the New Orleans SPARQ Combine. That didn't stop him from attending the Atlanta NFTC on Saturday.
Noil didn't go to participate in the camp. He went to support his teammate, defensive end
Gerald Willis III
. After a strong performance in Atlanta, Willis will be joining Noil in Oregon for The Opening. He received his invite on Saturday.
Although he didn't work out, Noil did talk about recruiting and his top four -- LSU, Texas A&M, Florida and USC.
To continue reading this article you must be an Insider
April, 13, 2013
Apr 13
5:19
PM ET
BUFORD, Ga. -- The Southeast, in particular Georgia, prides itself on its football talent. When the 2013 Nike Football Training Camp tour made a stop outside of Atlanta on Saturday, the recruits who participated did not disappoint. After a competitive Saturday, dominated for the most part by the defensive line, six players earned invitations to The Opening.
Recruiting Nation's Greg Ostendorf attended the camp. Here's what he learned:
Headed to Oregon
To continue reading this article you must be an Insider
March, 19, 2013
Mar 19
12:00
PM ET
The legend of
Devante "Speedy" Noil
has been building for years and years, and the latest chapter is about as impressive as it gets.
As a junior, the coveted New Orleans Edna Karr athlete accounted for 3,975 total yards and 50 touchdowns -- 21 of them rushing -- as the program's unstoppable lefty quarterback. Edna Karr went 14-0 and finally won the state title game it had lost in 2010 and 2011. It was, for all intents and purposes, a dream season.
To continue reading this article you must be an Insider
March, 18, 2013
Mar 18
8:59
AM ET
TUSCALOOSA, Ala. -- With ideal weather and Alabama returning to the practice field, it was the perfect weekend to bring in some top recruits.
The Crimson tide took advantage and hosted prospects from across the Southeast for the opening practice.
Cajun flavor
Six Alabama players taking the field Saturday hail from the Pelican State including wide receiver
Raheem Falkins
, an early enrollee.
Based on the recruits who were on campus, the pipeline from Louisiana to Tuscaloosa could continue in the future.
To continue reading this article you must be an Insider
February, 24, 2013
Feb 24
6:03
PM ET
BATON ROUGE, La. --
Donnie Alexander
is used to being surrounded by high-end college talent.
Playing for Louisiana Class 4A state champion New Orleans Edna Karr, Alexander played on the same team as 2013 ESPN 300 prospects
Standish Dobard
(Miami (Fla) signee) and
Noel Ellis
(Texas A&M) and 2014 watch list prospects
Gerald Willis III
and
Speedy Noil
.
Count Alexander among the high-end Karr prospects.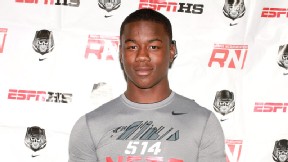 Tom Hauck for ESPN.comNew Orleans linebacker Donnie Alexander committed to LSU on Sunday, becoming the fifth 2014 commit for the Tigers.
The 2014 linebacker was offered by LSU on a weekend trip to Baton Rouge. After returning home and talking it over with his mother, he decided to pull the trigger and commit.
"LSU's the school I always wanted to go to since I was small," he said. "I didn't really want to wait."
The name may be an unknown to fans, who were perhaps expecting one of the 12 Louisiana players on the ESPN Watch List to be the next to commit.
Truth be told, Alexander was surprised, too.
"I was (surprised)," he said. "I really wasn't expecting it. They like my speed. They like that I'm a good tackler. They like that I make plays."
In that regard, he is perhaps comparable to 2013 signee
Duke Riley
, who share's Alexander's smaller build, but speed that will allow him to be versatile in areas like pass coverage.
"I think I do have good coverage skills," he said. "I get good drops and I'll come up and stick a slot receiver."
And he knows how to win. Karr went unbeaten in 2014, beating a talented Monroe Neville team for the 4A title.
"At Karr, we strive toward winning and being successful young men," he said. "That's what our coaches preach to us. Now that we've won, we have to maintain, don't let it get to our head."
February, 19, 2013
Feb 19
2:17
PM ET
By
Brian Stumpf
| Special to ESPN.com
NEW ORLEANS -- Over 980 athletes gathered Feb. 2 at Joe Brown Memorial Park for the New Orleans stop of the Nike Football SPARQ Combine tour. Here is a look at the 25 standout performers who make up the New Orleans All-Combine team.
Note: Selections are based upon combine performance as well as past and projected on-field performance. Athletes must have completed two of the four combine tests to be eligible for selection. Athletes are in the Class of 2014 unless otherwise noted.
OFFENSE
QB: Donovan Isom
, 6-foot-3 ½, 245 pounds, Destrehan (La.)
Results: 5.00 40-yard dash, 4.60 shuttle, 33-foot power ball throw, 31.3-inch vertical jump, 79.14 SPARQ rating
Breakdown: Good athlete with great frame who could end up on defense or at tight end in college if quarterback doesn't work out.
RB: Dontrell Hilliard
, 5-11, 186, Baton Rouge (La.) Scotlandville
Results: 4.62 40, 3.95 shuttle, 41.5' PB, 34.9" VJ, 126.63 SPARQ
Breakdown: The 2012 District 4-5A Louisiana Offensive Player of the Year as a junior has the nation's top SPARQ Rating through two combines.
RB: Jeremy Smith
, 6-0 ½, 196, Hammond (La.)
Results: 4.72 40, 4.52 shuttle, 35' PB, 33.6" VJ, 86.22 SPARQ
Breakdown: Bigger back also doubles as a linebacker and earned all-district on both sides of the ball as a junior.
WR: D.J. Chark
, 6-0 ½, 170, Alexandria (La.)
Results: 4.55 40, 4.10 shuttle, 35' PB, 37.0" VJ, 106.95 SPARQ
Breakdown: Totaled over 1,000 yards receiving and rushing and 11 touchdowns last fall.
WR: Gabe Fuselier
, 5-10, 173, Baton Rouge (La.) Catholic
Results: 4.61 40, 4.06 shuttle, 35' PB, 33.7" VJ, 101.58 SPARQ
Breakdown: Snagged 77 passes for over 1,200 yards and 19 scores last fall.
WR: Glenn Irons
, 5-8 ½, 148, New Orleans Edna Karr
Results: 4.68 40, 4.15 shuttle, 32' PB, 36.3" VJ, 89.73 SPARQ
Breakdown: Western Kentucky, Louisiana-Lafayette and South Alabama have offered Irons, who helped Karr to a state title in 2012.
WR: Corey McBride
, 6-1, 173, Geismar (La.) Dutchtown
Results: 4.46 40, 4.40 shuttle, 32' PB, 35.5" VJ, 94.08 SPARQ
Breakdown: McBride backed up his rep as one of the Bayou State's fastest players with a 4.46 40.
WR: Speedy Noil
, 5-10 ½, 176, New Orleans Edna Karr
Results: 4.45 40, 4.18 shuttle, 36' PB, 41.7" VJ, 120.54 SPARQ
Breakdown: ESPN Watch List recruit locked up the second invite to The Opening this summer.
OL: Alex Anderson
, 6-3, 267, New Orleans O. Perry Walker
Results: 5.21 40, 4.78 shuttle, 35.5' PB, 23.5" VJ, 67.56 SPARQ
Breakdown: Impressive two-way lineman held his own versus state's best last fall.
OL: Ethan Frith
, 6-7, 336, Summit (Miss.) North Pike
Results: 5.49 40, 5.41 shuttle, 33' PB, 21.8" VJ, 67.26 SPARQ
Breakdown: Showed solid athleticism, and you can't teach 6-foot-7, 336 pounds.
ATH: Dylan Moses (2017)
, 6-1, 210, Baton Rouge (La.) University Lab
Breakdown: Youth league phenom picked up an offer from LSU at the Tigers' camp last summer.
DEFENSE
DL: Deldrick Canty
, 6-1 ½, 252, Baton Rouge (La.) Scotlandville
Results: 5.08 40, 4.69 shuttle, 37.5' PB, 34.5" VJ, 94.32 SPARQ
Breakdown: Well-built defensive lineman displayed explosive athleticism for a 252-pound prospect.
DL: Christian Gill
, 6-3, 237, Navarre (Fla.)
Results:
5.11 40, 4.34 shuttle, 34.5' PB, 30.8" VJ, 84.60 SPARQ
Breakdown:
A second-team all-area selection as a junior, Gill recently landed offer No. 1 from Louisville.
DL: Chuck Harlow
, 6-3, 292, DeRidder (La.)
Results: 5.44 40, 4.52 shuttle, 34' PB, 28.5" VJ, 83.31 SPARQ
Breakdown: Strong and athletic, Harlow was a breakout performer in New Orleans.
DL: Raekwan McClellan
, 5-11 ½, 251, Biloxi (Miss.)
Results: 5.09 40, 4.89 shuttle, 40.5' PB, 33.2" VJ, 94.44 SPARQ
Breakdown: Sturdy defensive end totaled 13 tackles for loss as a junior.
DL: Garrald McDowell
, 6-1, 244, Covington (La.)
Results: 5.11 40, 4.75 shuttle, 32' PB, 24.4" VJ, 60.60 SPARQ
Breakdown: Kansas State and Arkansas have offered this Class 5A all-state player who had 10.5 sacks as a junior.
LB: RaeJuan Marbley
, 5-11, 211, Destrehan (La.)
Results: 4.84 40, 4.50 shuttle, 37' PB, 33.0" VJ, 88.53 SPARQ
Breakdown: All-district selection as a junior, Marbley is regarded by locals as one of Bayou State's best LB prospects in this class.
LB: Arthur McGinnis (2015)
, 6-1 ½, 203, New Orleans Warren Easton
Results: 4.78 40, 4.70 shuttle, 41.5' PB, 32.8" VJ, 96.12 SPARQ
Breakdown: Rising sophomore already physically resembles an SEC linebacker.
LB: Alvin Moore
, 5-11, 183, Bassfield (Miss.)
Results: 4.40 40, 4.28 shuttle, 33' PB, 36.4" VJ, 106.74 SPARQ
Breakdown: Southern Miss is the first offer for Moore, who totaled 103 tackles and four sacks last fall.
LB: Delvin Purifoy
, 6-1 ½, 234, Pensacola (Fla.) Catholic
Results: 4.70 40, 4.87 shuttle, 36' PB, 33.6" VJ, 89.64 SPARQ
Breakdown: Early FSU pledge racked up 116 tackles as a junior to earn Class 3A all-state honors.
LB: Josh Watson
, 6-1, 233, Blue Springs (Mo.) South
Results: 4.83 40, 4.22 shuttle, 37.5' PB, 31.7" VJ, 102.00 SPARQ
Breakdown: Big, sturdy Show Me State 'backer made the 15-hour drive worth it with a 100-plus SPARQ Rating.
DB: Camyron Brown
, 5-9 ½, 180, Missouri City (Texas) Ridge Point
Results: 4.67 40, 4.29 shuttle, 34.5' PB, 33.6" VJ, 91.32 SPARQ
Breakdown: Texas State and UTSA are first two offers for Brown, a second-team all-district pick as a junior.
DB: Molefi Maat
, 5-10, 159, Cordova (Tenn.)
Results: 4.51 40, 4.44 shuttle, 33' PB, 40.9" VJ, 97.38 SPARQ
Breakdown: Elite track performer also earned all-district honors on the gridiron as a junior.
DB: Curtis Mikell
, 5-7 ½, 161, Bassfield (Miss.)
Results: 4.34 40, 4.46 shuttle, 32' PB, 42.2" VJ, 105.93 SPARQ
Breakdown: Small, speedy corner had five interceptions as a junior.
ATH: Calvin Moore
, 5-11, 184, Bassfield (Miss.)
Results: 4.53 40, 4.28 shuttle, 35' PB, 38.6" VJ, 106.86 SPARQ
Breakdown: Alvin Moore's twin brother was part of a tremendous showing by Bassfield prospects.
January, 14, 2013
Jan 14
7:13
PM ET
TUSCALOOSA, Ala. -- It's one thing to go into Death Valley and steal a win away from LSU in the fourth quarter, but it's another to go into Baton Rouge and steal a top 50 recruit right out of the Tigers' backyard.
That's exactly what Nick Saban and the University of Alabama did on Monday.
ESPN 150 defensive end
Tim Williams
, who projects as an outside linebacker at Alabama, committed to the Crimson Tide over offers from nearly every major program in the country, including LSU.
To continue reading this article you must be an Insider
November, 4, 2012
11/04/12
10:30
PM ET
TUSCALOOSA, Ala. -- Although LSU came up short on Saturday, the atmosphere in Death Valley was as crazy as it's ever been, and many of the nation's top recruits were on hand to see it, including ESPN Watch List running
Leonard Fournette
(New Orleans/St. Augustine).
"Death Valley is a very exciting place," Fournette said. Everyone's screaming. You know how it is. It's exciting there."
The Louisiana native has been to LSU games before, but Saturday's contest might have topped the list. It pitted two of his top schools, Alabama and LSU, and it came down to the final minute. Ultimately, it was a screen play, executed to perfection by the Crimson Tide, that won the game, a call that surprised Fournette.
To continue reading this article you must be an Insider
September, 14, 2012
9/14/12
11:00
AM ET
As you'd expect, dozens of LSU commits and targets will be in action across the state this weekend. As we move toward the second month of the high school season, here is a handful of games and players for LSU fans to keep an eye on:
Barbe vs. Evangel Christian
-- Barbe, the No. 3 team in the most recent Class 5A power rankings, takes on the No. 3 team in Class 2A. Barbe has been considered a state championship contender since the end of last season, largely thanks to the contributions of tight end and LSU commit
DeSean Smith
. Smith combines with speedy wide receiver and 2014 LSU target
Trey Quinn
to make the Barbe offense tough to stop. But the Buccaneers have been unable to get over the hump against Evangel in recent seasons.
Neville vs. Ouachita Parish
-- Defending Class 4A state champion Neville takes on a regional rival and the No. 2 team in Class 5A. ESPN 150 athlete and LSU commit
John Diarse
quarterbacks the Tigers, and Neville has other talent like 2014 cornerback target
Laurence Jones
. Top 2014 wide receiver prospect
Cameron Sims
lines up for Ouachita.
To continue reading this article you must be an Insider