On The Trail: Southeast Region:

kc mcdermott
December, 30, 2013
12/30/13
5:26
PM ET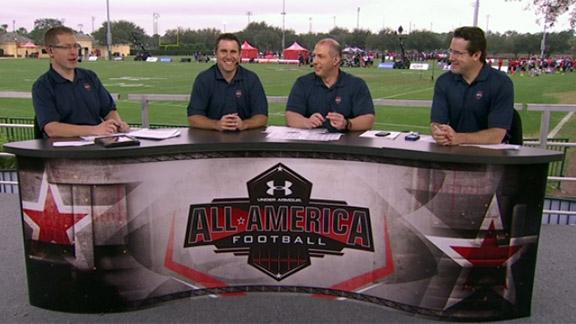 As expected, Day 2 at the Under Armour All-America practices were smoother, more concise and much more productive. The players are now starting to think less and play more. Natural ability is starting to come to the forefront, which allows for them to be more productive. There have been fewer dropped passes, fewer misses by the QBs and the offensive lines are starting to jell quicker than expected. Perhaps the most impressive thing about this group is there have not been any true letdowns. They have stepped up and been as advertised almost top to bottom for both squads. Let's hit the highlights of the day:
Top performers
WR Cameron Sims (Monroe, La./Ouachita Parish):
Sims might not wow anyone with his 40-yard dash time, but it may not matter. Sims is so similar to
Mike Evans
at Texas A&M. He just makes plays. He has extremely long arms and is outstanding when in contested matchups. The ball will look like it is uncatchable and then next thing you know he jumps out of nowhere, extends and makes a play and the defender is left scratching his head. When it comes down to it, the QBs for Team Highlight can trust that if they need to throw it up, Sims will make a play. The most basic thing about the position is catching the football and Sims has no problem doing that.
To continue reading this article you must be an Insider
December, 29, 2013
12/29/13
4:45
PM ET
LAKE BUENA VISTA, Fla. -- One thing is for sure for all the 2014 Under Armour All-Americans: This isn't high school anymore. Day 1 is about gauging the competition. Some guys dive right in and some test the waters with their big toe, but by the end of the first day of practice, all those in attendance have a pretty good idea of where they stand and what they need to do to compete and get better.
Given that it is Day 1, the playbook is introduced (Team Nitro is going no huddle with wrist bands and limited plays), and there can be sloppy moments of indecision and uncertainty. With each rep, most, if not all, prospects began to get a better feel for what is expected. Most importantly, the center-quarterback exchanges were very good for the most part, which is generally the biggest worry. Upon completion of the first practice, here are some observations and things to look for over the week:
Top Performers
To continue reading this article you must be an Insider
December, 19, 2013
12/19/13
9:00
AM ET
As each new evaluation period begins, our staff tries to use today's college football stars when comparing traits and describing the next generation of prospects. All prospects are different, but many share similar characteristics that stand out in relation to their styles. In this edition of the series we take a look at the top five offensive tackles in this class and who they remind us of in college football at this time.
To continue reading this article you must be an Insider
October, 9, 2013
10/09/13
2:00
PM ET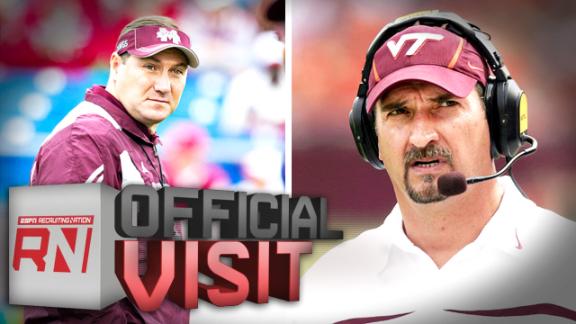 Each Wednesday, ESPN RecruitingNation updates its
national class rankings
. For an in-depth look at the ACC, check out our conference rankings:

1. Florida State, 24 commits:
The Seminoles have the top class in the ACC and the No. 2 class nationally. The class includes 10 ESPN300 prospects, including a trio of linebackers Kain Duab (Jackonsville, Fla./Sandalwood High),
Jacob Pugh
(Tallahassee, Fla./Godby High) and
Delvin Purifoy
(Pensacola, Fla./Pensacola Catholic High). The Semionles could close with a bang with up to 31 or 32 possible in the class. No. 6 Adoree' Jackson (Gardena, Calif./Junipero Serra High), No. 13
Tony Brown
(Beaumont, Texas/Ozen High), No. 22
Damian Prince
(Forestville, Md./Bishop McNamara High), No. 28 and Florida commit
Ermon Lane
(Homestead, Fla./Homestead High) and a number of others make up the wish list.
To continue reading this article you must be an Insider
October, 3, 2013
10/03/13
10:00
AM ET
Wellington, Fla. – Senior offensive tackle
Kc McDermott
(Wellington, Fla./Palm Beach Central High) was presented his honorary game jersey during the American Family Insurance Selection Tour for the 2014 Under Armour All-America High School Football Game at Palm Beach Central High School in Wellington, Fla. on Wednesday.
The event was part of the three-month American Family Insurance Selection Tour for the Under Armour All-America Game.
McDermott, a Miami Hurricanes commitment, is one of 90 players selected to compete in the seventh-annual Under Armour All-America Game presented by American Family Insurance, a nationally televised competition spotlighting the country's top high school seniors.
The 2014 Under Armour All-America Game is set for 4 p.m. ET on Jan. 2 at Tropicana Field in St. Petersburg, Fla., and will be televised on ESPN.
"I would just like to take this time to thank my teammates and my family for all that they provide for me ... all they do for me," McDermott said. "Honestly, without you guys this would never happen. I need you guys every single day in and out of practice. You guys make my life a lot better."
Palm Beach Central head coach Rod Harris doubt he'll ever coach another lineman with the ability of McDermott.
"Kc is a special player for so many reasons. He is the total package. He is a 3.3 in the classroom, his work ethic is unparalleled, his knowledge of the game ... he's a coach on the field and like I said, his gifts at 6-foot-6, 300-pounds with great feet, tenacity. Like I said, I don't know if I will ever coach a lineman as good as him in my lifetime."
McDermott points to the prestige, coaches and players that came before him in leading him to select the Under Armour All-America Game.
"I decided to come to the All-American because this game has a great prestige, great coaches ... Herm Edwards and Steve Mariucci. We have great uniforms, great gifts given out during the week. You are in Orlando for the week, get to go to Disney, a bunch of fun stuff, about it and the best competition, obviously. It's a great experience definitely to be mentioned with these names like Julio Jones, the greats like Braxton Miller, Duke Johnson, my brother Shane [McDermott] was in it."
The 6-foot-6, 301-pound McDermott is the No. 45-ranked prospect overall, and the No. 5 offensive tackle in the class. He committed to Miami (Fla.) over Notre Dame, Alabama, Ohio State, Florida and a number of others.
September, 10, 2013
9/10/13
8:00
AM ET
Florida State has the top class among ACC schools right now, but that is taking the Seminoles' entire 23-recruit class into account. The Noles don't have the best class at every position, as some of Florida State's top rivals are looking stronger at certain positions. Here's a look at which ACC school has the best class by position:
Quarterback
To continue reading this article you must be an Insider
April, 8, 2013
4/08/13
3:56
PM ET
Miami's offensive line, from a forward-thinking perspective, has been greatly upgraded over the last two weeks.
First it was
Kc McDermott
(Wellington, Fla./Palm Beach Central) picking the Hurricanes over Notre Dame last Tuesday. And
Reilly Gibbons
(St. Petersburg, Fla./St. Petersburg Catholic), also an ESPN Watch List offensive tackle, doubled the Hurricanes' tally on Monday afternoon, his father confirmed.
Gibbons said Miami considers him to be a left tackle prospect.
During his recruitment, Gibbons racked up offers from across the country. Arkansas, Auburn, Cincinnati, Clemson, Colorado, Duke, Florida, Florida State, Georgia Tech, Hawaii, Illinois, Indiana, Kentucky, Massachusetts, Mississippi State, Missouri, Nebraska, North Carolina, North Carolina state, Northwestern, Ohio State, Oklahoma, Purdue, Rutgers, South Carolina, South Florida, Tennessee, Vanderbilt, Virginia and West Virginia all offered.
Art Kehoe, the Hurricanes offensive line coach and longtime assistant, led Miami's pursuit of Gibbons.
Gibbons joins not only McDermott, but also
Nick Linder
(Ft. Lauderdale, Fla./St. Thomas Aquinas)
Trevor Darling
(Miami/Central) as other offensive linemen committed to Miami.
The Hurricanes are now up to six commitments for the Class of 2014.
April, 2, 2013
4/02/13
3:26
PM ET
ESPN Watch List offensive tackle
Kc McDermott
(Wellington, Fla./Palm Beach Central) made it official: He's staying home for college.
The 6-foot-6, 297-pound lineman had narrowed his choices to Miami (Fla.) and Notre Dame before Tuesday. And early last week there were some reports that he had chosen the Hurricanes.
But it's official now. He committed to Miami and coach Al Golden during a news conference at his school. Palm Beach Central coach Rod Harris said McDermott's decision was a tough one.
To continue reading this article you must be an Insider
March, 28, 2013
3/28/13
3:53
PM ET
The rumors circulating Thursday morning that
K.C. McDermott
(Wellington, Fla./Palm Beach Central) had committed to Miami proved to be inaccurate. Well, at least for now.
To continue reading this article you must be an Insider
March, 18, 2013
3/18/13
8:52
AM ET
MIAMI -- Offensive tackle
K.C. McDermott
(Wellington, Fla./Palm Beach Central) was one of the top offensive linemen at the Miami NFTC on Sunday. The 6-foot-6, 274-pound tackle prospect is being recruited by major programs from all over the country, but two schools have separated them from the rest.
To continue reading this article you must be an Insider
March, 17, 2013
3/17/13
5:44
PM ET
MIAMI, Fla. -- The 2013 Nike Football Training Camp tour continued in Miami on Saturday as several top players from South Florida showcased their skills at West Orange High School. The wide receiver and offensive line position groups were loaded and several players earned invitations to The Opening.
Recruiting Nation writers Derek Tyson and Kipp Adams attended the camp. Here is what they learned:
Wide receivers stand out
As impressive as the wide receivers group was at the Orlando NFTC on Saturday, the Miami NFTC was even better. The talented group of pass-catchers was led by Watch List prospects
Johnnie Dixon
(Palm Beach, Fla./Dwyer),
Travis Rudolph
(Miami/Cardinal Newman) and
Corey Holmes
(Fort Lauderdale, Fla./St. Thomas Aquinas). Just a day after impressing in Orlando, receiver
Ryan Sousa
(Orlando, Fla./Lake Nona) traveled to Miami and again competed and impressed with his performance.
De'Vante Phillips
(Miami/Central) and Devonaire Clarington (Miami/Southridge), both 2015 prospects, proved they belonged with the other top players. The group, as a whole, consistently won most of the one-on-one matchups and were the best position group at the camp.
To continue reading this article you must be an Insider
March, 15, 2013
3/15/13
10:10
AM ET
Here are five storylines for the Miami NFTC.
To continue reading this article you must be an Insider
August, 13, 2012
8/13/12
9:02
AM ET
Midway through spring practice at St. Petersburg (Fla.) Catholic, tight end
Reilly Gibbons
decided to make the move to the offensive line. Three months later, the 6-foot-6, 265-pound junior has more than a dozen offers with programs such as Nebraska, Tennessee, Missouri, South Florida and North Carolina showing heavy early interest.
For his part, Gibbons said the move wasn't difficult to make and he's happy that the switch was made.
"We really don't throw a lot in the offense so maybe I was getting two balls a game if I were lucky," Gibbons said. "I was blocking from the tight end position for
Ryan [Green]
anyway so it was a natural transition."
To continue reading this article you must be an Insider