On The Trail: Southeast Region:

Joker Phillips
May, 10, 2013
5/10/13
10:19
AM ET
Inspired by
Florida's "#ComePlayWRFortheJoker" campaign
, our recruiting writers looked at other ways schools can sell themselves on the trail. Here's a look at recruiting pitches for the SEC:

Alabama Crimson Tide
What they are selling:
What's not to sell? Alabama is coming off back-to-back national championships, and the Crimson Tide had nine players taken in April's NFL draft, including three in the first round. For the critics who say you won't play early at UA, ask
T.J. Yeldon
and
Amari Cooper
how much they contributed as freshmen.
What they are missing:
Although they won a national championship, the Tide didn't generate much pass rush last fall, and they had trouble containing freshman sensation
Johnny Manziel
. Also, they need to rebuild the offensive line, a unit that anchored the offense last year.

Arkansas Razorbacks
What they are selling:
New head coach Bret Bielema runs a completely different offensive system than the previous two Arkansas coaches. The Razorbacks are selling an opportunity for freshmen to come in and earn playing time early in their careers.
What they are missing:
The Razorbacks signed only one offensive lineman,
Denver Kirkland
, who was rated a four-star prospect or higher last year. In this run-heavy system, look for Arkansas to focus on landing talented players along the offensive line.

Auburn Tigers
What they are selling:
It's a new regime for Auburn, but there's a familiar face running the show. New head coach Gus Malzahn knows the program from his days as offensive coordinator. He's already shown the ability to recruit, stealing ESPN 150 linebacker
Tre Williams
away from the Tide. There's a sense of excitement on The Plains again.
What they are missing:
Malzahn filled out his first recruiting class with playmakers, but Auburn needs to build up front on the offensive and defensive lines. No matter what offense you run, if you want to win in the SEC, you need to be able to compete up in the trenches.

Florida Gators
What they are selling:
With no proven wide receivers on the perimeter, Florida is attempting to sell early playing time at the position. A chance to play for one of the best defensive minds in college football in Will Muschamp is another selling point to defensive prospects.
What they are missing:
Production on offense. After finishing 114th nationally in passing offense, it will be hard to sell playing time to wide receivers without an explosive passing game in place.

Georgia Bulldogs
What they are selling:
Freshmen, if they're good enough, play early at Georgia. From running backs
Todd Gurley
and
Keith Marshall
to offensive tackle
John Theus
to defensive end
Jordan Jenkins
, several freshmen Bulldogs made major contributions on a team that was a few yards away from making the national championship game.
What they are missing:
Georgia has brought in four top-12 recruiting classes in the last four years. Depth might become an issue for some recruits, but Georgia has certainly shown a willingness to play younger players.

Kentucky Wildcats
What they are selling:
After finishing 2-10, Kentucky fired coach Joker Phillips. New head coach Mark Stoops is offering a fresh start and a chance to help build Kentucky in to a contender in the SEC East.
What they are missing:
Plain and simple -- tradition. Sure, Kentucky is full of basketball tradition, but the success on the hardwood completely overshadows the football program. A record 50,831 fans attended the Wildcats' spring game, so the interest level is certainly headed in the right direction.

LSU Tigers
What they are selling:
An unprecedented 10 underclassmen declared for the NFL draft. LSU is selling the opportunity, not only for early playing time because of the departures, but a chance to make it to the NFL in three years.
What they are missing:
Because of all the departures, there are some holes on both sides of the ball. Depth is now an issue at running back and LSU will need to replace
Eric Reid
,
Kevin Minter
, defensive ends
Sam Montgomery
and
Barkevious Mingo
, defensive tackle
Bennie Logan
and linebacker
Kevin Minter
.

Ole Miss Rebels
What they are selling:
Ole Miss landed the No. 5-ranked class in the country, including No. 1 overall player
Robert Nkemdiche
and No. 1 offensive tackle
Laremy Tunsil
. Look for Ole Miss to sell recruits on the opportunity to help build something special under head coach Hugh Freeze.
What they are missing:
Freeze brought a creative and innovative offense to the SEC, but the defense is still a work in progress. Ole Miss finished 12th in the SEC in pass defense and will need to continue to build depth in order to compete for the SEC West championship.

Mississippi State Bulldogs
What they are selling:
Only 11 of 22 starters return for a team that finished 8-5 last year. The Bulldogs offer recruits a chance to play early and play in the best division in college football.
What they are missing:
Mississippi State returns its starting quarterback
Tyler Russell
, but who will he be throwing to? Last year's four leading receivers, including Chad Bumphis, are gone. Look for the Bulldogs to focus on offensive weapons in this recruiting class.

Missouri Tigers
What they are selling:
The Tigers return 14 of 22 starters on a team that went 5-7 in its first year in the SEC East. Missouri runs a fun and innovative offense that is sure to attract recruits, and there is certainly an opportunity to play early.
What they are missing:
The defensive line is probably the most critical area on any defense in the SEC, and the Tigers lost their best lineman in Sheldon Richardson. Mizzou must find a viable replacement for Richardson and linebackers Zaviar Gooden and
Will Ebner
.

South Carolina Gamecocks
What they are selling:
The Gamecocks have been dominant on defense over the last few years, and a strong line is a big part of their success. South Carolina is selling an opportunity to be the next
Jadeveon Clowney
and be a part of one of the top defenses in the SEC.
What they are missing:
Hard to believe, but head coach Steve Spurrier needs help at wide receiver. The Gamecocks signed only one wide receiver in their 2013 class. They have young bodies, but not much depth or production from the returning group.

Tennessee Volunteers
What they are selling:
A fresh start under new head coach Butch Jones. Since 2011, Tennessee has finished with the No. 13, 21 and 29 recruiting classes in the country. There plenty of holes to fill, and any incoming freshman will have plenty of opportunities to earn a starting spot.
What they are missing:
Tennessee lost wide receivers Justin Hunter and Cordarrelle Patterson to the NFL draft and must replace their production on the outside. The Volunteers are also thin in the secondary and will look to recruiting to plug some key holes on defense.

Texas A&M Aggies
What they are selling:
There is a lot to sell a recruit on at Texas A&M right now. An explosive offense which led the SEC in total offense by more than 100 yards a game, Heisman Trophy winner
Johnny Manziel
and a team that went into Tuscaloosa and handed Alabama its only loss last season.
What they are missing:
There are still some holes to fill on defense. The Aggies finished with the No. 8-ranked defense in the SEC and the No. 10-ranked pass defense in the league. They also need to replace talented defensive end Damontre Moore, who is now in the NFL.

Vanderbilt Commodores
What they are selling:
Head coach James Franklin has taken Vanderbilt to a bowl in two consecutive years, and the Commodores are bringing in a solid recruiting class. Selling recruits on an opportunity to play at Vanderbilt during one of the best eras in the school's football history is enticing to high school recruits.
What they are missing:
Vanderbilt is not yet on par with other SEC schools as far as facilities. The Commodores, though, are certainly headed in the right direction. A new indoor practice facility is being constructed, and stadium renovations are in the planning stages.
May, 10, 2013
5/10/13
9:00
AM ET
GAINESVILLE, Fla. – It started innocently enough with a hashtag and an illustration tweeted by Florida wide receivers coach Joker Phillips. There was the Joker, the Batman villain portrayed by Heath Ledger, wearing a blue Gators blazer including the hashtag #ComePlayWRFortheJoker.
Others followed. An astronaut planting a Gators flag and a newspaper featuring the hashtag and
Jeff Driskel
watching the Kentucky Derby among them.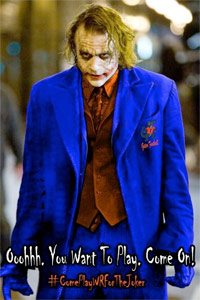 TwitterHaving a little fun with Twitter is helping Florida impress recruits.
Not to be outdone, offensive coordinator Brent Pease posted his own masterpiece of Harry Potter flying over The Swamp with his three quarterbacks, Driskel,
Tyler Murphy
and
Skyler Mornhinweg
looking up at Potter on a broom stick. It was captioned with Chasing #TheStandard.
Assistants Brian White, Derek Lewis and Tim Davis have all joined in on the social media onslaught with photos of their own.
While funny, the campaign is also helping Florida go on the offensive in social media. Instead of just private messages to recruits, the Gators are proactively using Twitter as well as Facebook and Instagram as a new outlet for reaching prospects.
Head coach Will Muschamp has refrained from posting comical photos but has used Twitter to promote the success of his program, including several Tweets about the eight Florida players that were selected in the 2013 NFL draft.
Muschamp hasn't said much about his assistants' forays into memes, but he has made it clear that he will do what is necessary to help Florida recruit the top players in the country -- even if that includes getting creative with the recruiting process.
"I'm not very good at that stuff," Muschamp said at a recent Gator Club gathering. "We have some coaches that have good imaginations."
But does this unique recruiting pitch have any effect on high school players and coaches?
Jacksonville (Fla.) Providence head coach Bobby Raulerson, who's star left tackle,
David Sharpe
, is the No. 12-ranked player in the country, said this tactic is certainly helping the Gators get noticed.
"We all know college football is one of the most competitive businesses on the planet," Raulerson said. "And, with everyone relying on social media to aid in the recruiting process, success or failure boils down to one question. How do you distinguish yourself from the competition? While I don't think it will affect any recruits decision to attend UF, it does create the all important 'buzz' that coaches are always searching for. Without a doubt, I think it is a creative way for the Gators to stay in the news during the heart of spring recruiting."
Offensive tackle
Denzel Ward
(Bradenton, Fla./IMG Academy), one of Florida's top offensive line targets, agrees with Raulerson's assessment.
"I think it's funny," Ward said. "It's very catchy. It caught my eye and it gets you to look at Florida in a different light because they are being creative which a lot of other schools aren't. I know a lot of coaches use social media to message kids and talk to them and things like that, but Florida is using it to promote their program in a positive way and for their own benefit. It's eye-catching and just draws more attention to the program even more."
Tallahassee (Fla.) Lincoln head coach Yusuf Shakir, who coached Florida wide receiver
Raphael Andrades
at Lincoln, sees it bridging the age gap.
"To be honest with you, that's how kids interact now," Shakir said. "They are always on Twitter. Facebook is kind of out of the picture now, but they are on Twitter and Instagram. It's really how they do their whole interaction with everybody. I think it's a phenomenal idea. There's a saying that if you want to get in touch with people then you have to know how to communicate. The more you interact with the kids on their level then the more they are comfortable with you as a coach."
Whether or not recruits think the posts are cheesy is irrelevant, Shakir said. It allows players to see a more personal side of a coach -- a side with a sense of humor to which high school students better relate.
"It opens dialogue. It opens communication and it's intriguing," the Lincoln coach said. "When you start a conversation with someone it's an icebreaker. That's where it helps -- especially with kids.
"Anytime you can get someone to laugh at something, not only that, but then the kid always enjoy when adults can laugh at themselves so it doesn't appear that the adults are uptight. I think coaches at big-time schools, especially at like the University of Florida, can be intimidating to the kids when they come in, but if that coach has a way to break the ice, then maybe that kid will open up a little bit more and connect with the coach and feel a little bit closer with the coach."
Ward, the three-star tackle with offers from Pac-12, Big 12, SEC and Big Ten programs, admits social media efforts won't persuade his decision, but he added he is learning more about the history of the program because of the recent photos and tweets.
"It just keeps Florida fresh in my mind," Ward said. "They are thinking outside of the box and being creative. It just catches my eye. I follow both pages on Instagram, Coach Joker and Coach Davis. They put up some funny pictures but they also put up some good photos about the history of the program and where the program is headed. It's good to know."
Opinions might differ on this new and innovative recruiting philosophy, but one thing is certain, recruits will never look at the Batman and Harry Potter movies the same.
January, 15, 2013
1/15/13
9:00
AM ET
ESPN 150 cornerback
Shaq Wiggins
(Tyrone, Ga./Sandy Creek) spent Sunday morning eating breakfast with South Carolina coach Steve Spurrier, then ended that night on the phone with Georgia coach Mark Richt.
To continue reading this article you must be an Insider
December, 3, 2012
12/03/12
4:22
PM ET
GAINESVILLE, Fla.-- The Florida Gators announced the addition of former
Kentucky head coach Joker Phillips as the new wide receivers coach
and recruiting coordinator on Monday afternoon.
Florida struggled at wideout this season and Phillips will bring a well-known name as well as extensive experience coaching the position.
Phillips, though, won't be left with an empty cupboard on the recruiting trail. The Gators have commitments from four wide receivers including
Ahmad Fulwood
(Jacksonville, Fla./Bishop Kenny),
Alvin Bailey
(Seffner, Fla./Armwood),
Marqui Hawkins
(Columbus, Ga./Carver) and
Chris Thompson
(Gainesville, Fla./Gainesville).
To continue reading this article you must be an Insider