On The Trail: Southeast Region:

Denzel Ward
May, 10, 2013
5/10/13
9:00
AM ET
GAINESVILLE, Fla. – It started innocently enough with a hashtag and an illustration tweeted by Florida wide receivers coach Joker Phillips. There was the Joker, the Batman villain portrayed by Heath Ledger, wearing a blue Gators blazer including the hashtag #ComePlayWRFortheJoker.
Others followed. An astronaut planting a Gators flag and a newspaper featuring the hashtag and
Jeff Driskel
watching the Kentucky Derby among them.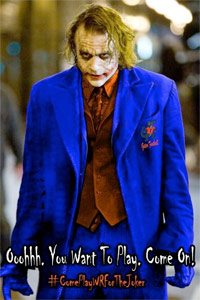 TwitterHaving a little fun with Twitter is helping Florida impress recruits.
Not to be outdone, offensive coordinator Brent Pease posted his own masterpiece of Harry Potter flying over The Swamp with his three quarterbacks, Driskel,
Tyler Murphy
and
Skyler Mornhinweg
looking up at Potter on a broom stick. It was captioned with Chasing #TheStandard.
Assistants Brian White, Derek Lewis and Tim Davis have all joined in on the social media onslaught with photos of their own.
While funny, the campaign is also helping Florida go on the offensive in social media. Instead of just private messages to recruits, the Gators are proactively using Twitter as well as Facebook and Instagram as a new outlet for reaching prospects.
Head coach Will Muschamp has refrained from posting comical photos but has used Twitter to promote the success of his program, including several Tweets about the eight Florida players that were selected in the 2013 NFL draft.
Muschamp hasn't said much about his assistants' forays into memes, but he has made it clear that he will do what is necessary to help Florida recruit the top players in the country -- even if that includes getting creative with the recruiting process.
"I'm not very good at that stuff," Muschamp said at a recent Gator Club gathering. "We have some coaches that have good imaginations."
But does this unique recruiting pitch have any effect on high school players and coaches?
Jacksonville (Fla.) Providence head coach Bobby Raulerson, who's star left tackle,
David Sharpe
, is the No. 12-ranked player in the country, said this tactic is certainly helping the Gators get noticed.
"We all know college football is one of the most competitive businesses on the planet," Raulerson said. "And, with everyone relying on social media to aid in the recruiting process, success or failure boils down to one question. How do you distinguish yourself from the competition? While I don't think it will affect any recruits decision to attend UF, it does create the all important 'buzz' that coaches are always searching for. Without a doubt, I think it is a creative way for the Gators to stay in the news during the heart of spring recruiting."
Offensive tackle
Denzel Ward
(Bradenton, Fla./IMG Academy), one of Florida's top offensive line targets, agrees with Raulerson's assessment.
"I think it's funny," Ward said. "It's very catchy. It caught my eye and it gets you to look at Florida in a different light because they are being creative which a lot of other schools aren't. I know a lot of coaches use social media to message kids and talk to them and things like that, but Florida is using it to promote their program in a positive way and for their own benefit. It's eye-catching and just draws more attention to the program even more."
Tallahassee (Fla.) Lincoln head coach Yusuf Shakir, who coached Florida wide receiver
Raphael Andrades
at Lincoln, sees it bridging the age gap.
"To be honest with you, that's how kids interact now," Shakir said. "They are always on Twitter. Facebook is kind of out of the picture now, but they are on Twitter and Instagram. It's really how they do their whole interaction with everybody. I think it's a phenomenal idea. There's a saying that if you want to get in touch with people then you have to know how to communicate. The more you interact with the kids on their level then the more they are comfortable with you as a coach."
Whether or not recruits think the posts are cheesy is irrelevant, Shakir said. It allows players to see a more personal side of a coach -- a side with a sense of humor to which high school students better relate.
"It opens dialogue. It opens communication and it's intriguing," the Lincoln coach said. "When you start a conversation with someone it's an icebreaker. That's where it helps -- especially with kids.
"Anytime you can get someone to laugh at something, not only that, but then the kid always enjoy when adults can laugh at themselves so it doesn't appear that the adults are uptight. I think coaches at big-time schools, especially at like the University of Florida, can be intimidating to the kids when they come in, but if that coach has a way to break the ice, then maybe that kid will open up a little bit more and connect with the coach and feel a little bit closer with the coach."
Ward, the three-star tackle with offers from Pac-12, Big 12, SEC and Big Ten programs, admits social media efforts won't persuade his decision, but he added he is learning more about the history of the program because of the recent photos and tweets.
"It just keeps Florida fresh in my mind," Ward said. "They are thinking outside of the box and being creative. It just catches my eye. I follow both pages on Instagram, Coach Joker and Coach Davis. They put up some funny pictures but they also put up some good photos about the history of the program and where the program is headed. It's good to know."
Opinions might differ on this new and innovative recruiting philosophy, but one thing is certain, recruits will never look at the Batman and Harry Potter movies the same.
April, 21, 2013
4/21/13
5:31
PM ET
BRADENTON, Fla. -- Offensive tackle prospect
Denzel Ward
didn't participate at the IMG 7v7 Southeast regional championships over the weekend at IMG Academy, where he attends school, but the 6-foot-8, 305-pound lineman came out to watch the competitive tournament.
Ward took time out to talk about the latest with his recruiting.
To continue reading this article you must be an Insider
March, 17, 2013
3/17/13
10:27
AM ET
ORLANDO, Fla. -- Former Michigan offensive lineman commit
Denzel Ward
(Bradenton, Fla./IMG Academies) was one of the standout linemen at Saturday's Orlando NFTC.
To continue reading this article you must be an Insider
March, 16, 2013
3/16/13
4:59
PM ET
By
Derek Tyson & Kipp Adams
| ESPN.com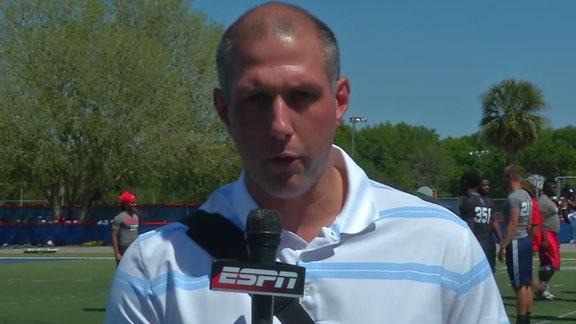 ORLANDO, Fla. -- The 2013 Nike Football Training Camp tour continued in Orlando on Saturday as several top players from the Central Florida area showcased their skills at West Orange High School. There were individual standouts at every position as well as several players who put themselves on the map with impressive performances.
To continue reading this article you must be an Insider
March, 15, 2013
3/15/13
9:49
AM ET
Here are five storylines to watch on Saturday.
To continue reading this article you must be an Insider
January, 22, 2013
1/22/13
11:37
AM ET
Offensive lineman
Denzel Ward
has transferred from Hales-Franciscan High School in Chicago to IMG Academy in Bradenton, Fla. The 2014 Michigan commit said in a text message that he made the move Sunday.
To continue reading this article you must be an Insider
October, 4, 2012
10/04/12
4:25
PM ET
Purdue has not been 3-1 since 2007. That also might have been the last time the Boilermakers had a recruiting weekend as big as the one they will have this weekend when they host the Michigan Wolverines.
Eight official visitors will arrive for the weekend in West Lafayette, including some big names that frankly would surprise most people in that Purdue was able to land an official visit with them.
The headliner of the official visitors is four-star receiver and ESPN 300 prospect
DeAndre Woods
(Pinsin, Ala./Clay-Chalkville). The 6-foot-3, 210-pound Woods has offers from the likes of Arkansas, Auburn, Mississippi State, USC and Vanderbilt among others, yet his first official visit is going to Purdue.
To continue reading this article you must be an Insider