On The Trail: Southeast Region:

Corey McBride
July, 20, 2013
7/20/13
6:47
PM ET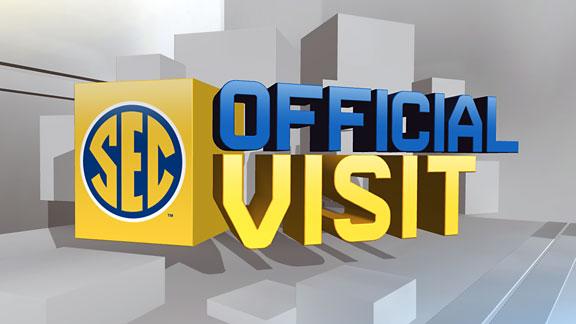 Bret Bielema and the Arkansas coaching staff probably wish they could have weekends like this more often.
After starting Sunday morning with only five commits, the Razorbacks are up to 12 after Saturday. Four players who were in attendance for the Razorbacks' elite prospect camp -- all from the state of Louisiana -- gave their verbal pledges on Saturday. The Metairie (La.) Archbishop Rummel duo of safety/outside linebacker
Dwayne Eugene
and three-star cornerback
Henre' Toliver
and the Geismar (La.) Dutchtown receiver duo of four-star
Corey McBride
and
Torrance Mosley
each committed to Arkansas.
"The Boot's coming to Arkansas," a proud Mosley said. "I guess the other guys felt the same way I felt. They fell in love with the campus and the coaches. It's pretty cool; I'm not going to lie."
Eugene is a 6-foot, 218-pound defender with 4.5 speed in the 40-yard dash, making him a target to be a hybrid safety/linebacker if the Razorbacks choose to utilize him in such a way. Toliver, a 6-1, 180-pound athlete, is a big, physical cornerback who might be the most intriguing recruit of the four. He has offers from Oklahoma, Kentucky, Mississippi State, Nebraska and others.
"We're doing big things in Louisiana," Toliver said. "For me, it was my choice. I liked it athletically, academically and socially. I liked the town and everything."
Perhaps the biggest pickup of the four is McBride, a 6-1, 172-pound receiver who is ranked No. 43 in his position. McBride said he and Torrance, a 5-10, 162-pound receiver, went in together to speak with the Arkansas staff. McBride is expected to be more of an outside receiver, Mosley more of a slot receiver.
"I'm very happy and lucky to be in the SEC with the Razorbacks," McBride said. "It's beautiful out here, kind of like another world. Plus, I want to major and drafting and architecture, and they're like No. 2 in the country."
Added Mosley: "I liked the coaching staff and the new facilities they've built. I met some of the team [Friday] night and had a great time. The coaches are real. I don't think it gets any better than this."
In addition to the Louisiana commits, Arkansas also scored a 2015 pledge Saturday in 6-6, 291-pound offensive tackle
Colton Jackson
(Conway, Ark./Conway). Jackson, who also had a Central Arkansas offer, is the third 2015 commit for the Razorbacks and the second in-state pledge.
Along with the five Saturday pledges, Arkansas picked up three-star offensive tackle
Jovan Pruitt
(Dallas/Bishop Dunne) on Friday. On Thursday, junior college cornerback
Kweishi Brown
(El Cajon, Calif./Grossmont College) became a part of the 2014 class. Three-star 2014 cornerback
Christopher Murphy
(Marietta, Ga./Lassiter) kicked the week off with a verbal commitment on July 14.
March, 21, 2013
3/21/13
10:00
AM ET
Sometimes you don't know who the brightest stars will be in March.
A year ago, wide receiver
Kevin Spears
' name was not in any conversations in regard to LSU recruiting. By the end of his senior season, however, he had played so well he had earned an LSU offer.
Are there any players like Spears out there this year, who might rise up and join the state's big four receivers as prime-time recruits? Here are five candidates:
To continue reading this article you must be an Insider
February, 19, 2013
2/19/13
2:17
PM ET
By
Brian Stumpf
| Special to ESPN.com
NEW ORLEANS -- Over 980 athletes gathered Feb. 2 at Joe Brown Memorial Park for the New Orleans stop of the Nike Football SPARQ Combine tour. Here is a look at the 25 standout performers who make up the New Orleans All-Combine team.
Note: Selections are based upon combine performance as well as past and projected on-field performance. Athletes must have completed two of the four combine tests to be eligible for selection. Athletes are in the Class of 2014 unless otherwise noted.
OFFENSE
QB: Donovan Isom
, 6-foot-3 ½, 245 pounds, Destrehan (La.)
Results: 5.00 40-yard dash, 4.60 shuttle, 33-foot power ball throw, 31.3-inch vertical jump, 79.14 SPARQ rating
Breakdown: Good athlete with great frame who could end up on defense or at tight end in college if quarterback doesn't work out.
RB: Dontrell Hilliard
, 5-11, 186, Baton Rouge (La.) Scotlandville
Results: 4.62 40, 3.95 shuttle, 41.5' PB, 34.9" VJ, 126.63 SPARQ
Breakdown: The 2012 District 4-5A Louisiana Offensive Player of the Year as a junior has the nation's top SPARQ Rating through two combines.
RB: Jeremy Smith
, 6-0 ½, 196, Hammond (La.)
Results: 4.72 40, 4.52 shuttle, 35' PB, 33.6" VJ, 86.22 SPARQ
Breakdown: Bigger back also doubles as a linebacker and earned all-district on both sides of the ball as a junior.
WR: D.J. Chark
, 6-0 ½, 170, Alexandria (La.)
Results: 4.55 40, 4.10 shuttle, 35' PB, 37.0" VJ, 106.95 SPARQ
Breakdown: Totaled over 1,000 yards receiving and rushing and 11 touchdowns last fall.
WR: Gabe Fuselier
, 5-10, 173, Baton Rouge (La.) Catholic
Results: 4.61 40, 4.06 shuttle, 35' PB, 33.7" VJ, 101.58 SPARQ
Breakdown: Snagged 77 passes for over 1,200 yards and 19 scores last fall.
WR: Glenn Irons
, 5-8 ½, 148, New Orleans Edna Karr
Results: 4.68 40, 4.15 shuttle, 32' PB, 36.3" VJ, 89.73 SPARQ
Breakdown: Western Kentucky, Louisiana-Lafayette and South Alabama have offered Irons, who helped Karr to a state title in 2012.
WR: Corey McBride
, 6-1, 173, Geismar (La.) Dutchtown
Results: 4.46 40, 4.40 shuttle, 32' PB, 35.5" VJ, 94.08 SPARQ
Breakdown: McBride backed up his rep as one of the Bayou State's fastest players with a 4.46 40.
WR: Speedy Noil
, 5-10 ½, 176, New Orleans Edna Karr
Results: 4.45 40, 4.18 shuttle, 36' PB, 41.7" VJ, 120.54 SPARQ
Breakdown: ESPN Watch List recruit locked up the second invite to The Opening this summer.
OL: Alex Anderson
, 6-3, 267, New Orleans O. Perry Walker
Results: 5.21 40, 4.78 shuttle, 35.5' PB, 23.5" VJ, 67.56 SPARQ
Breakdown: Impressive two-way lineman held his own versus state's best last fall.
OL: Ethan Frith
, 6-7, 336, Summit (Miss.) North Pike
Results: 5.49 40, 5.41 shuttle, 33' PB, 21.8" VJ, 67.26 SPARQ
Breakdown: Showed solid athleticism, and you can't teach 6-foot-7, 336 pounds.
ATH: Dylan Moses (2017)
, 6-1, 210, Baton Rouge (La.) University Lab
Breakdown: Youth league phenom picked up an offer from LSU at the Tigers' camp last summer.
DEFENSE
DL: Deldrick Canty
, 6-1 ½, 252, Baton Rouge (La.) Scotlandville
Results: 5.08 40, 4.69 shuttle, 37.5' PB, 34.5" VJ, 94.32 SPARQ
Breakdown: Well-built defensive lineman displayed explosive athleticism for a 252-pound prospect.
DL: Christian Gill
, 6-3, 237, Navarre (Fla.)
Results:
5.11 40, 4.34 shuttle, 34.5' PB, 30.8" VJ, 84.60 SPARQ
Breakdown:
A second-team all-area selection as a junior, Gill recently landed offer No. 1 from Louisville.
DL: Chuck Harlow
, 6-3, 292, DeRidder (La.)
Results: 5.44 40, 4.52 shuttle, 34' PB, 28.5" VJ, 83.31 SPARQ
Breakdown: Strong and athletic, Harlow was a breakout performer in New Orleans.
DL: Raekwan McClellan
, 5-11 ½, 251, Biloxi (Miss.)
Results: 5.09 40, 4.89 shuttle, 40.5' PB, 33.2" VJ, 94.44 SPARQ
Breakdown: Sturdy defensive end totaled 13 tackles for loss as a junior.
DL: Garrald McDowell
, 6-1, 244, Covington (La.)
Results: 5.11 40, 4.75 shuttle, 32' PB, 24.4" VJ, 60.60 SPARQ
Breakdown: Kansas State and Arkansas have offered this Class 5A all-state player who had 10.5 sacks as a junior.
LB: RaeJuan Marbley
, 5-11, 211, Destrehan (La.)
Results: 4.84 40, 4.50 shuttle, 37' PB, 33.0" VJ, 88.53 SPARQ
Breakdown: All-district selection as a junior, Marbley is regarded by locals as one of Bayou State's best LB prospects in this class.
LB: Arthur McGinnis (2015)
, 6-1 ½, 203, New Orleans Warren Easton
Results: 4.78 40, 4.70 shuttle, 41.5' PB, 32.8" VJ, 96.12 SPARQ
Breakdown: Rising sophomore already physically resembles an SEC linebacker.
LB: Alvin Moore
, 5-11, 183, Bassfield (Miss.)
Results: 4.40 40, 4.28 shuttle, 33' PB, 36.4" VJ, 106.74 SPARQ
Breakdown: Southern Miss is the first offer for Moore, who totaled 103 tackles and four sacks last fall.
LB: Delvin Purifoy
, 6-1 ½, 234, Pensacola (Fla.) Catholic
Results: 4.70 40, 4.87 shuttle, 36' PB, 33.6" VJ, 89.64 SPARQ
Breakdown: Early FSU pledge racked up 116 tackles as a junior to earn Class 3A all-state honors.
LB: Josh Watson
, 6-1, 233, Blue Springs (Mo.) South
Results: 4.83 40, 4.22 shuttle, 37.5' PB, 31.7" VJ, 102.00 SPARQ
Breakdown: Big, sturdy Show Me State 'backer made the 15-hour drive worth it with a 100-plus SPARQ Rating.
DB: Camyron Brown
, 5-9 ½, 180, Missouri City (Texas) Ridge Point
Results: 4.67 40, 4.29 shuttle, 34.5' PB, 33.6" VJ, 91.32 SPARQ
Breakdown: Texas State and UTSA are first two offers for Brown, a second-team all-district pick as a junior.
DB: Molefi Maat
, 5-10, 159, Cordova (Tenn.)
Results: 4.51 40, 4.44 shuttle, 33' PB, 40.9" VJ, 97.38 SPARQ
Breakdown: Elite track performer also earned all-district honors on the gridiron as a junior.
DB: Curtis Mikell
, 5-7 ½, 161, Bassfield (Miss.)
Results: 4.34 40, 4.46 shuttle, 32' PB, 42.2" VJ, 105.93 SPARQ
Breakdown: Small, speedy corner had five interceptions as a junior.
ATH: Calvin Moore
, 5-11, 184, Bassfield (Miss.)
Results: 4.53 40, 4.28 shuttle, 35' PB, 38.6" VJ, 106.86 SPARQ
Breakdown: Alvin Moore's twin brother was part of a tremendous showing by Bassfield prospects.