On The Trail: Southeast Region:

Chuma Edoga
November, 27, 2013
11/27/13
9:00
AM ET
This season's Iron Bowl has reached epic proportions in both hype and importance as both Alabama and Auburn are top-five teams for the showdown for only the second time in the history of the series. With an SEC title game appearance hanging in the balance, the list of expected visitors on hand Saturday is huge, especially for recruits in the 2015 class.
D'haquille Williams (Reserve, La./Mississippi Gulf Coast Community College):
The Auburn commitment and one of the top junior-college prospects in the class will likely attend the Iron Bowl on Saturday. Can Auburn hold off the surging LSU Tigers for Williams?
To continue reading this article you must be an Insider
November, 19, 2013
11/19/13
7:00
PM ET
September, 29, 2013
9/29/13
10:56
AM ET
Georgia made the most of a terrific recruiting opportunity on Saturday.
In a top-10 matchup against LSU, the Bulldogs made a strong impression on prospects in attendance -- and those watching from home on television.
One of the top remaining Georgia targets in the 2014 class was on hand, offensive tackle
David Sharpe
(Jacksonville, Fla./Providence School). The ESPN 300 No. 15-ranked prospect overall was on hand for the second time this season, and he walked away very impressed again.
To continue reading this article you must be an Insider
July, 23, 2013
7/23/13
9:00
AM ET
With the camp season over and the fall season rapidly approaching, DawgNation takes a look back at the biggest recruiting news of the summer.
[+] Enlarge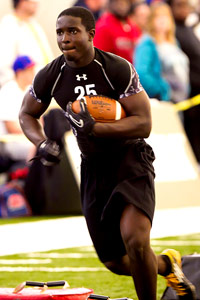 Davide De Pas/ESPN.comClass of 2014 RB Sony Michel is one of the many big names in Georgia's class.
1. Summer has been very, very good to Georgia
Heading into June, Georgia had five commitments, after going without one in May. Some analysts had pegged the Bulldogs as being off to a slow start for 2014, but with a class of 33 in 2013, Georgia has had to be very selective with this class. Even with a decommitment last week, the Bulldogs have added 12 commitments in June and July, headlined by the additions of five-star defensive tackle
Lamont Gaillard
(Fayetteville, N.C./Pine Forest) and ESPN 300 athlete
Malkom Parrish
(Quitman, Ga./Brooks County). As August approaches, Georgia can realistically pick and choose to fill its remaining spots.
To continue reading this article you must be an Insider
March, 5, 2013
3/05/13
1:19
PM ET
By
Brian Stumpf
| Special to ESPN.com
ATLANTA -- More than 1,730 athletes gathered Saturday, March 2, at Lakewood Stadium for the Atlanta stop of the Nike Football SPARQ Combine tour, making it the largest Nike combine in history despite the freezing temperatures. Here is a look at the 25 standout performers who make up the Atlanta All-Combine team.
Note: Selections are based upon combine performance as well as past and projected on-field performance. Athletes must have completed two of the four combine tests to be eligible for selection. Athletes are in the Class of 2014 unless otherwise noted.
OFFENSE
QB: Penny Smith
, 6-foot-1, 170 pounds, Knoxville (Tenn.) Fulton
Results: 4.64 40-yard dash, 4.03 shuttle, 35-foot power ball throw, 33.2-inch vertical jump, 100.89 SPARQ Rating
Breakdown: Passed for 1,494 yards and 22 scores as a junior.
RB: Nick Chubb
, 5-11, 216, Cedartown (Ga.) High
Results: 4.10 shuttle, 34' PB, 37.1" VJ
Breakdown: More than 15 offers already have come in for this ESPN Watch List prospect, who ran for over 2,700 yards as a junior.
RB: C.J. Fuller
, 5-9 ½, 204, Easley (S.C.) High
Results: 4.69 40, 4.31 shuttle, 33' PB, 32.6" VJ, 91.02 SPARQ
Breakdown: Ran for 2,040 yards and 22 TDs as a junior. Clemson, North Carolina and NC State have offered.
[+] Enlarge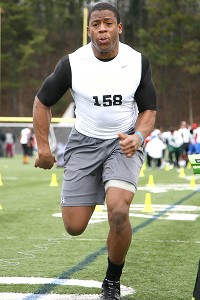 Scott Fink for Student SportsWatch List running back Nick Chubb ran a 4.10 shuttle at the Atlanta SPARQ Combine.
RB: Taj Griffin
(2015), Powder Springs (Ga.) McEachern
Results: 4.43 40, 4.15 shuttle, 28.5' PB, 40.0" VJ, 105.42 SPARQ
Breakdown: Rising junior reports early offers from UCLA and UNC.
RB: Daryl Rollins
, 5-8, 163, Fulton (Knoxville, Tenn.)
Results: 4.41 40, 4.00 shuttle, 32.5' PB, 35.3" VJ, 111.21 SPARQ
Breakdown: 2012 Class 4A All-Tennessee pick finished with the event's top 40-yard dash and shuttle run times and best SPARQ Rating.
RB: Racean Thomas
, 5-10, 202, Oxford (Ala.) High
Results: 4.62 40, 4.50 shuttle, 31' PB, 33.7" VJ, 84.87 SPARQ
Breakdown: Oregon, Alabama, USC and Auburn are among the offers for this ESPN Watch List prospect.
WR: Omar Black
, 6-1 ½, 183, Powder Springs (Ga.) Hillgrove
Results: 4.57 40, 4.40 shuttle, 36' PB, 31.7" VJ, 91.65 SPARQ
Breakdown: Caught 19 passes for 279 yards and three scores last fall.
TE: Luke Lewallen
, 6-2, 205, Marietta (Ga.) Dominion Christian
Results: 4.76 40, 4.25 shuttle, 37' PB, 32.4" VJ, 97.71 SPARQ
Breakdown: Small-school standout had 1,100 yards and 12 receiving TDs as a junior.
OL: Chuma Edoga
(2015), 6-4, 275, Powder Springs (Ga.) McEachern
Results: 5.04 40, 4.85 shuttle, 32.5' PB, 26.5" VJ, 70.98 SPARQ
Breakdown: Posted the fastest 40 for an OL at the event.
OL: Christian Harris
, 6-5, 275, Suwanee (Ga.) Collins Hill
Results: 5.08 40, 4.84 Shuttle, 34.0' PB, 26.7" VJ, 73.26 SPARQ
Breakdown: Harris has offers from North Carolina, Ohio, Georgia State and South Alabama.
OL: Tra Malloy
, 6-1 ½, 283, Lilburn (Ga.) Parkview
Results: 5.56 40, 4.65 Shuttle, 40.5' PB, 25.7" VJ, 85.20 SPARQ
Breakdown: Posted the highest SPARQ Rating for an offensive lineman on the day and the second-longest power ball toss for the entire event.
ATH: Hanson Guice
, 5-9, 169, Clayton (Ala.) Barbour County
Results: 4.53 40, 4.19 shuttle, 32' PB, 38.9" VJ, 102.21 SPARQ
Breakdown: Had to miss junior year because of transfer, but helped get his name back on radar Saturday.
ATH: Tez Parks
, 6-0, 199, Hogansville (Ga.) Callaway
Results: 4.77 40, 4.41 shuttle, 36.5' PB, 29.4" VJ, 84.60 SPARQ
Breakdown: Athletic quarterback reports offers from Georgia Tech and South Carolina.
DEFENSE
DL: Derek Barnett
, 6-2 ½, 263, Brentwood (Tenn.) Academy
Results: 4.89 40, 4.56 shuttle, 35.5' PB, 28.6" VJ, 86.76 SPARQ
Breakdown: FSU, Tennessee and others are among Barnett's early offers; totaled 13.5 tackles for loss and six sacks as a junior.
DL: Collin Giesey
, 6-3, 261, Douglasville (Ga.) Alexander
Results: 5.17 40, 4.53 Shuttle, 42.0' PB, 25.8" VJ, 91.38 SPARQ
Breakdown: A virtual unknown after missing most of his junior season, Giesey had the top SPARQ Rating among linemen.
DL: Hunter Knight
, 6-2, 272, Dothan (Ala.) Providence Christian
Results: 5.29 40, 4.72 Shuttle, 38.0' PB, 24.9" VJ, 75.66 SPARQ
Breakdown: Walker, another breakout performer, had one of the more impressive overall performances for an interior defensive lineman.
DL: D'Andre Walker
(2015), 6-3, 210, Fairburn (Ga.) Langston Hughes
Results: 4.63 40, 4.38 Shuttle, 28.0' PB, 30.9" VJ, 80.43 SPARQ
Breakdown: Coming off a 21-sack sophomore season, Walker has pulled in early offers from Georgia and North Carolina.
DL: Darian Yancey
, 6-0, 213, Auburn (Ala.) High
Results: 4.79 40, 4.25 Shuttle, 32.5' PB, 31.6" VJ, 88.98 SPARQ
Breakdown: The other bookend for the Auburn High School defense had the fastest shuttle for a lineman on the day.
LB: Dillon Bates
, 6-3, 213, Ponte Vedra (Fla.) High
Results: 4.79 40, 4.28 shuttle, 39' PB, 37.0" VJ, 109.05 SPARQ
Breakdown: Son of former Dallas Cowboy Bill Bates locked up an invite to The Opening with his big day.
LB: Rashaan Evans
, 6-2 ½, 211, Auburn (Ala.) High
Results: 4.72 40, 4.43 shuttle, 29' PB, 33.6" VJ, 81.30 SPARQ
Breakdown: Georgia, Auburn and Alabama are among the early offers for this Watch List prospect.
LB: Petera Wilson
, 6-2, 210, Memphis (Tenn.) White Station
Results: 32' PB, 35.8" VJ
Breakdown: Class 6A all-state pick as a junior has more than 20 early offers.
DB: Khari Blasingame
, 6-0, 196, New Market (Ala.) Buckhorn
Results: 4.66 40, 4.39 shuttle, 39' PB, 37.8" VJ, 106.89 SPARQ
Breakdown: Missed most of his junior season with injury but was back in a big way Saturday.
DB: Lorenz Griggs
, 5-9 ½, 163, Lithonia (Ga.) Martin Luther King
Results: 4.58 40, 4.47 shuttle, 35.5' PB, 37.5" VJ, 92.97 SPARQ
Breakdown: King is always loaded, and Griggs is a new name to watch there.
DB: Blaise Taylor
, 5-7, 157, Auburn (Ala.) High
Breakdown: Auburn, Tennessee and Nebraska already have offered this dynamic athlete.
ATH: Austin Leach
, 6-1, 199, Sarasota (Fla.) Cardinal Mooney
Results: 4.62 40, 4.28 shuttle, 35.5' PB, 28.9" VJ, 92.07 SPARQ
Breakdown: Playmaker at both defensive back and receiver for Cardinal Mooney in the fall.