On The Trail: Southeast Region:

100413-mailbag
October, 4, 2013
10/04/13
11:00
AM ET
It's time to dip into the SEC recruiting mailbag and answer your questions. Because of the amount of questions we've received, we won't be able to get to all of them today -- but we encourage you to ask again next week by tweeting your questions to
@DerekTysonESPN
or
@HamiltonESPN
and use the hashtag #SECRecruiting.
@superBowl: Where do you think Josh Malone (Gallatin, Tenn./Station Camp) goes? Vols, Dawgs, someone else?
Derek Tyson:
I believe this will be a great recruiting battle between the two schools you mentioned. He visited Georgia last weekend and by all accounts really was impressed with the the Bulldogs had to offer. Now it will be Tennessee's turn to impress the ESPN 300 wide receiver. Florida State is still in the mix and he will officially visit the Noles on Nov. 2, but at this point I believe this will be a Georgia-Tennessee battle. In my opinion I believe Georgia has a slight advantage, but if the Vols can impress him this weekend, then things could swing in their direction.
---
@chadhoward0808: Where do you think Lorenzo Featherston is going?
DT:
I feel like Clemson is probably the team to beat right now. He will officially visit Florida this weekend, and his parents are torn between North Carolina and NC State. Georgia is another team that is in the mix, but when all is said and done, I think the 6-foot-7, 203-pound defensive end will end up at Clemson.
---
@nathan0223: What's the story with Jamal Adams (Lewisville, Texas/Hebron)
DT:
Adams, the 25th-ranked player in the country, has already visited Texas A&M and Florida and those two schools appear to be out front of everyone else -- though he doesn't come out and say that publicly. He will visit Ole Miss on Oct. 18, Ohio State on Oct. 25 and his final visit will be to Texas on Nov. 15. As we all know, things can change on a dime in recruiting, but at this point I think the Gators are the team to beat, with A&M right there as well.
---
@Ctomemobile: It seems like there hasn't been any recruiting buzz coming from the plains in East Alabama. Any news?
DT:
Auburn has put together a solid class, but yes, things have slowed down a bit on the plains. The Tigers, however, offered wide receiver three-star wide receiver
Myron Burton Jr
. (Suwanee, Ga./Peachtree Ridge) earlier this week and Auburn appears to be high on his list, especially considering his father Myron Sr. played at Auburn. The Tigers will also have a big visitor in ESPN 300 wide receiver
Jesse Jackson
(Petal, Miss./Petal) this weekend. Auburn is in a battle with Mississippi State and Ole Miss for Jackson. ESPN 300 athlete
Ronnie Clark
(Calera, Ala./Calera) is set to make his decision sometime on Friday and it will likely come down to Auburn or Alabama.
---
@catorano: Do you see that A&M joining the SEC has helped other schools come into Texas to recruit?
DT:
Maybe to an extent. It certainly hasn't hurt, but SEC schools have always tried come in to Texas and pull some of the top players, with limited success. Two big Texas prospects -- Jamal Adams (Lewisville, Texas/Hebron) and
Tony Brown
(Beaumont, Texas/Ozen) -- have some ties to SEC schools, which is maybe why they are looking harder at some SEC schools.. LSU has always been able to recruit well in the Longhorn State because of proximity. I do think that the longer Texas A&M is in the SEC, the more it will help, just because recruits will get to see these big SEC games that involve the Aggies and will be exposed to other schools and SEC venues.
October, 4, 2013
10/04/13
11:00
AM ET
Does Florida State land an elite receiver? What are Pittsburgh's chances with
Jamil Kamara
? And how has Miami recruited so well of late?
All this and more in this week's ACC recruiting mailbag.
@93warchant99 asks: How many out of Malone, Rudolph and Dupre do you think FSU gets, if any?
Dowlar
: It's so hard to pencil these guys into classes right now since there is a long way to go, but I could see Florida State grabbing one of these guys.
[+] Enlarge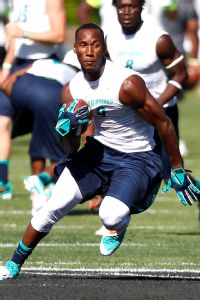 Steve Dipaola/NikeOhio State, Alabama and Florida are in the picture to land Travis Rudolph, but don't count Florida State out.
Malone is going to be tough for them. I really think he's headed to Georgia right now, but visits and results can change things. Tennessee is a huge player for him, too. He'll visit Tennessee this weekend, already took an official to Georgia and then will finally head to Tallahassee on the weekend of Nov. 1.
Malachi Dupre
is the longest shot of them all, to me. I think most people who follow recruiting realize how hard it is to get prospects from Louisiana away from LSU. And right now, the biggest competition appears to be UCLA. I would think he lands in Baton Rouge.
Travis Rudolph
is the best chance of the three for you, I think. Ohio State, Alabama and Florida are absolutely in the picture, but the Seminoles have been trending up for a while now. Rudolph has taken one official so far, and that was to Columbus to see the Buckeyes.
Ross_Abbott11 asks: what is the chance that #Pitt gets Jamil Kamara?
Shanker
: They still have to jump Virginia, but the Panthers should be happy with where they are at. Neither team looked good in last weekend's game, but Pitt did pull out the win, and the Cavs' offense was atrocious. I still think the Cavs lead here, but Pitt continues to impress Kamara. He won't decide until January and Pitt will certainly get an official visit.
Wisconsin is potentially a team to look out for, and he recently said Penn State could be a factor now with the increase in scholarships. I still see it as a top two of Pitt and Virginia -- with the Cavs still holding the lead. There are too many ties to the UVa program to project him anywhere but Charlottesville -- for now.
@fenstythenole asks: Will Florida State get any of the five-star offensive line prospects they are in the running for?
Dowlar
: Well, I don't know which rankings you're referencing, but there aren't any five-star offensive linemen FSU is in on, according to ESPN's rankings. I will assume, though, that you're probably talking about
David Sharpe
,
Chad Mavety
,
Damian Prince
and
Roderick Johnson
.
I think you can write off Sharpe now. I'm thinking he's headed to either Georgia or Florida. And Damian Prince no longer seems likely now. He'll probably end up at Maryland.
When talking about the other two, though, Florida State is in really good shape, especially with Johnson. There are a lot of factors going in the Seminoles' favor for him at the moment. Mavety is too close to call right now, but I have a feeling it is either going to be Florida State or Ohio State.
If FSU lands both of those guys, fans will have to feel really good about the incoming class up front.
@couloaksteelers asks: has Duke seen a bump in recruiting due to last year's bowl game appearance?
Shanker
: They don't play bowl games in basketball so ... oh, this is a Duke
football
recruiting question?
Blue Devils coach David Cutcliffe actually has taken full advantage and seized the opportunity set forth last winter when he coached Duke to a 6-7 record and an appearance in the Belk Bowl. From 2010-2013, the Blue Devils signed only one four-star prospect -- a placekicker. In the 2014 class alone, though, Duke has commitments from three four-star recruits including ESPN 300 Miami Coral Reef quarterback
Nicodem Pierre
. The Blue Devils have beat out the likes of NC State and UNC for a few in-state prospects as well.
Cutcliffe is also expanding Duke's borders, breaking into Ohio for three commitments in the 2014 class. Cincinnati Sycamore linebacker
Tinashe Bere
and Columbus (Ohio) Bishop Hartley defensive back
Alonzo Saxton
committed to Duke over Big Ten offers.
@EricHoudini12 asks: FSU and UF used to whip Miami in South Florida recruiting. That has changed. Was it as simple as Al Golden?
Dowlar
: No, I don't think so, but he's played a major role.
Even though Florida has made a larger impact down there this season, Florida State really hasn't and Miami has done very well. Why?
Well, take a look at your new offensive coordinator, James Coley. Miami's top-rated commitment,
Joe Yearby
, was once a Florida State commitment. Coley had a major, major impact there.
Move over to Booker T. Washington and guys like
Chad Thomas
and
Nigel Bethel
are Coley targets, too.
But the bottom line is there always has to be some kind of promise shown on the field. That's where Golden and his team come in to play. Sure, Miami's commitments mostly came before the win over Florida, but make no mistake about it, those pledges can be, and probably were, solidified because of it.
The short answer is that it is a lot of different moving parts pulling in the same direction at the moment. And it's working for them. Golden is helping to orchestrate it all.