NCF On The Trail:

Xavier Lewis
December, 30, 2014
12/30/14
9:00
AM ET
LSU has done a tremendous job of sending players to the NFL, especially over the Past few years, and this year will be no different. Now the Tigers are hoping to reload through recruiting. LSU is hoping an impressive win over Notre Dame in the Franklin American Mortgage Music City Bowl will help catapult the Tigers to a strong finish in recruiting.


August, 11, 2014
8/11/14
5:40
AM ET
Even the least astute coach with his nose buried deep in his playbook knew the Ed O'Bannon antitrust lawsuit and the vote for autonomy was going forever change college football.
One of the first changes expected to pass, and would first impact prospects in the Class of 2016, will be the addition of full cost-of-attendance stipends. Four-year scholarship guarantees are expected to be on the early agenda, as well.
Those moves are good. But there is potentially a lot to fix and the concerns aren't going away.
"I'm afraid we've opened Pandora's box," a Big 12 recruiting coordinator said. "We kept hearing over and over autonomy was going to be positive for student-athletes and address their welfare. But there's a growing concern by a lot of coaches I visit with, that this is simply an end run by the biggest schools in the country to stack the deck for them even more, especially in recruiting."
Yes, there are bigger subjects the Power Five has to fix first, such as cost of attendance and the stipend issue, but not far behind those should be adjustments on the recruiting trail. Focus them on the recruits and do it with all 65 teams in mind, not just the biggest few.
Heck, the biggest reason autonomy passed originally was the idea that change could reduce the infringement on recruits' academic preparation. What would improve their academic well-being more than fixing the out of control recruiting process?
Recruits are facing more pressure than ever before. If it's not dealing with a coach direct messaging them at all hours in the day, it's the pressure to commit while on an unofficial visit in March of their junior year without mom and dad sitting at their side because they couldn't afford to make the visit.
Outside of the ability to add an early signing period, the vote for autonomy gives the Power Five an opportunity to re-write many of recruiting's key rules, and if a majority of schools and conferences agreed, it could make the process less of a burden for the student-athletes and parents involved.
Let's allow recruits to take official paid visits earlier. Recruits are already committing earlier and earlier, so why not let them get on campus with mom and dad at their side so they aren't pressured into making a decision they might not want to make?
Let's fix the communication situation. Both coaches and recruits are craving more actual communication on the phone or even face-to-face, instead of only 140 characters at a time. Having actual conversations surely would lead to fewer decommitments or confusion.
And let's also ensure that everybody is playing with the same cards and introduce limits on the size of recruiting support staffs a school can have.
There's a litany of other rules the Power Five could adjust that would make recruiting better. And if this move to autonomy was truly done with in the interest in supporting the student-athletes -- and not a power grab by schools with the deepest pockets -- then there's no reason why it shouldn't step up and make much-needed changes.
Social Studies

Aug. 1 was the first day schools could officially offer Class of 2015 prospects in writing, and it's been fascinating to see recruits posting pictures of their official offer letters. Before it was often a mystery as to whether or not a recruit truly had all the scholarship offers he claimed or what promises were made by schools. In today's social media world, though, it's all out there for everybody to see.
What's also out there for everybody to see is the language schools use in their letters.
For example, Florida State coach Jimbo Fisher expects the Seminoles to have a football graduation rate of more than 90 percent by the end of this season.
Official Offer From Florida State =fc pic.twitter.com/auocXetDu7

— Jamal Peters (@JamalPeters21) August 10, 2014
Also, Colorado received a lot of positive attention when it sent an offer letter to both Buffalo offensive line commitment
Tim Lynott
and his family.
Official scholarship letter to @TL56TIM and letter to parents. #blessed pic.twitter.com/CG5UdxsS26

— Tim Sr (@LynottSr) August 4, 2014
And Les Miles led off his pitch to ESPN 300 cornerback and LSU commitment
Xavier Lewis
by talking about how LSU will always be competing for a championship.
Official offer #LSU pic.twitter.com/14ZJ1BiBV1

— ZayDot (@_ImKing) August 4, 2014
July, 8, 2014
7/08/14
9:35
PM ET
Cornerback
Xavier Lewis
has recommitted to LSU. Below, see what the Louisiana prospect adds to the Tigers' class:
To continue reading this article you must be an Insider
June, 30, 2014
6/30/14
1:30
PM ET
Here's the latest in recruiting from around the Big 12:

BAYLOR
Total commits:
10
ESPN 300 commits:
3
The latest:
The Bears lost their top-rated commitment last week when
John Humphrey Jr
. decommitted. Baylor had plans to use the four-star prospect as a cornerback, but Humphrey has his eyes on playing receiver, where the Bears are well stocked with playmakers.

IOWA STATE
Total commits:
6
ESPN 300 commits:
0
The latest:
The Cyclones landed another commitment last week in Denton (Texas) Guyer safety
Jordan Wallace
, who is reportedly a distant cousin of former Iowa State standout OB Seneca Wallace. The coaching staff snagged five of their six commitments in the month of June, including Austin (Texas) Lake Travis dual-threat QB
Dominic DeLira
.

KANSAS
Total commits:
9
ESPN 300 commits:
0
The latest:
Kansas continued to make noise on the recruiting trail by snagging a pair of Texas prospects last week.
Carl Thompson
, a 6-foot-3, 260-pound defensive lineman from Denton (Texas) Guyer, had offers from Duke, Minnesota and Vanderbilt.
Taylor Martin
, a 5-foot-9, 179-pound running back, committed to Kansas later the same day. He had an offer from Colorado State, and was reportedly drawing interest from TCU, Illinois and Kansas State. The Jayhawks went into the month of June with one commitment, but now have nine.

KANSAS STATE
Total commits:
6
ESPN 300 commits:
0
The latest:
The Wildcats landed two running backs last week, one from their backyard, the other all the way out of Georgia.
Denzel Goolsby
's recruitment picked up in the last week, with Kansas and Iowa State both extending offers. But the Wichita (Kansas) Bishop Carroll product wound up pledging to Kansas State. Goolsby is a versatile offensive threat, who also plays slot receiver and returns kicks. The Wildcats picked up another intriguing playmaker earlier in the week in Cartersville, Georgia, running back
Kalin Heath
, who had offers from the likes of Mississippi State, Washington State and Louisville. At 6-foot-1, Heath has the frame to become K-State's next power back in the mold of Daniel Thomas.

OKLAHOMA
Total commits:
7
ESPN 300 commits:
5
The latest:
John Humphrey's decommitment from Baylor could be Oklahoma's gain. The Sooners are giving Humphrey the option to play receiver, and Oklahoma appears to be his favorite. The Sooners also recently made the top five that ESPN 300 WR
Ryan Newsome
released, along with Texas, Oregon, UCLA and Notre Dame.

OKLAHOMA STATE
Total commits
: 8
ESPN 300 commits:
3
The latest:
The Cowboys already have one ESPN 300 cornerback commitment in
Jaylon Lane
, and now have a strong chance to grab another.
Xavier Lewis
announced last week that Oklahoma State made his cut of final four schools along with LSU, Arkansas and Texas. Lewis, out of Laplace, Lousiana, is the No. 14 rated cornerback in the country, seven spots behind Lane. If the Cowboys managed to scoop up Lewis, too, they would have an incoming cornerback tandem that would be the envy of the Big 12, and perhaps the country.

TCU
Total commits:
16
ESPN 300 commits:
0
The latest:
Even though they didn't add anyone last week, the Horned Frogs still easily have the biggest commitment total of the Big 12. They'll have to fight to hold onto to guard
Cody Ford
, who is showing interest in the Sooners after recently getting an offer. At 6-foot-4, 314 pounds, Ford has the potential to be a road grader in the run game down the line.

TEXAS
Total commits:
10
ESPN 300 commits:
5
The latest:
Texas is hosting a key night camp July 18 that will include visits from several of its top targets as well as top-rated pledge, QB
Zach Gentry
. Texas is also planning to host four-star QB
Kai Locksley
in mid-July after making his top six, along with with Florida State, Auburn, Maryland, Oregon and Virginia Tech. Locksley is the son of Maryland offensive coordinator Mike Locksley.

TEXAS TECH
Total commits:
7
ESPN 300 commits:
2
The latest:
Texas Tech is still looking for its running back from this class, and last week extended an offer to three-star New Orleans product
Kendall Bussey
, who is currently committed to Nebraska. The Red Raiders also got a visit recently from Waco, Texas, four-star safety
Kahlil Haughton
, who has offers from Baylor, Ohio State, LSU and Oklahoma, among many others.

WEST VIRGINIA
Total commits:
13
ESPN 300 commits:
2
The latest:
The Mountaineers already have three pledges in this class from their Miramar, Florida, pipeline, and could be close to adding another. Mammoth offensive lineman
Leeward Brown
, who is currently committed to Miami, visited West Virginia last weekend along with Miramar teammates
Kahlil Lewis
and
Kendrell McFadden
, and reportedly came away impressed. If the Mountaineers wind up offering the 6-4, 340-pound Brown, they stand a chance of flipping him.
February, 23, 2014
2/23/14
10:00
AM ET
AUSTIN, Texas -- In the midst of the January recruiting frenzy, a process far more hectic than usual for Texas' brand new coaching staff, defensive coordinator Vance Bedford submitted a plea on his Twitter account to the class of 2015: Be patient.
The new Longhorns coaches were scrambling to crisscross the state and finish off the recruiting class they inherited. They needed every day they could get.
Once the fax machine was turned off for good on signing day, the next battle began. Charlie Strong and his coaches had 16 days to plan for its first junior day and, truly, its first impression with a brand new batch of recruits.
That big day arrived Saturday. When it was over, the visiting recruits offered a common reaction as they left campus. Texas, they said, seemed different.
[+] Enlarge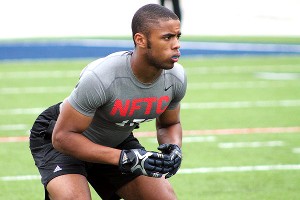 Max Olson/ESPNLinebacker Cameron Townsend says the new Texas coaching staff has made a strong early impression.
"Coach Strong and Coach Mack Brown are two totally different people. But, you know, I still get similar vibes," Missouri City (Texas) Ridge Point linebacker
Cameron Townsend
said. "I definitely like the new coaching staff a lot. I really like Coach Strong. He seems like a really legit guy."
Based on the standards his predecessor established, Strong's first Texas junior day wasn't filled with fireworks or countless rapid-fire commitments. But the first step in a long year of recruiting was a successful one.
Offensive tackle
Ronnie Major
switched his commitment from Baylor to the Longhorns midway through the day. The Huntsville, Texas, lineman landed his offer during the visit and committed on the spot.
Parting ways with Baylor wasn't easy -- Major had been committed since August -- but it was the relationship he built with Joe Wickline and the staff in the past month that sealed the deal.
"That's a great coaching staff," Major said. "I'm going to like playing for them. They said when I come to Texas, we'll have a great program and I'll get a lot better."
Major was one of seven visiting recruits who left town with scholarship offers. Those new offers went to ESPN 300 cornerback
Holton Hill
, receiver
Ryan Newsome
, safety
DeShon Elliott
, defensive end
Charles Omenihu
, Houston cornerback pledge
Jordan Tolbert
and a 2016 prospect, tight end
Kaden Smith
.
Smith already holds offers from the likes of Alabama, Oklahoma, Clemson, Texas A&M and Michigan but had never visited the Longhorns. Strong made it clear just how much Texas needed him.
"We were definitely impressed with Coach Strong," said Janell Smith, his mother. "He has a lot of energy and it looks like a great future here."
Hill, a corner from Houston Lamar, received the second offer of the day and admitted he's built up a stronger relationship with this staff in a short period of time than he had with previous Texas coaches.
"I actually liked it better," Hill said of the coaching change. "I like the coaching staff. I feel like I'll have a better connection to them."
Former LSU commit
Xavier Lewis
(Laplace, La./East St. John) remembers the first thing Strong said to him Saturday when they shook hands was simple: "I want you here."
"Coach [Chris] Vaughn and Coach Bedford, they're not all just about football," the ESPN 300 cornerback said. "They're about building you up as a man. I liked that [Strong] was really hands-on with everybody and moving around and talking to everybody."
The experience had to be somewhat surreal for the six prospects committed to Texas. Brown and his assistants had recruited them for nearly a full year and convinced them they belonged on the 40 Acres. How would the new staff make them feel wanted?
That's a question ESPN 300 running back
Jordan Stevenson
wanted to answer. The Dallas South Oak Cliff standout was recently offered by Alabama but says he's confident he'll still feel comfortable at Texas, no matter who's coaching him.
Stevenson made his verbal pledge one day after Texas' stunning Red River Rivalry victory over Oklahoma in October. A lot has changed since then.
"Everything happened so fast," he said. "But now I'm stronger and prouder of the decision I made. I don't ever question that. It's a blessing."
When his cousins
Sione Teuhema
and
Maea Teuhema
decommitted from Texas earlier this month and chose LSU,
Patrick Vahe
knew many expected him to do the same.
The ESPN 300 offensive guard from Euless (Texas) Trinity said he isn't having second thoughts after spending time with Strong and his coaches. He brought his entire family along for the visit and was proud of what he witnessed.
"The coaches had a really close bond, and it only took them a few weeks to get that," Vahe said. "That said a lot about them, about how they communicate with each other and get on the same page. I feel like they'll do the same with the players.
"I'm not following people. I've thought about it and I think UT is the best place for me. Coach Strong, he showed us a lot."
Corpus Christi (Texas) Flour Bluff cornerback
Jalen Campbell
is one of the leaders of that committed class. He still has lots of love for Brown and what he did at Texas.
But after Saturday, Campbell can't wait to see what's coming next.
"You could tell everybody was ready to go. The main goal is winning," Campbell said. "I think, for the most part, the coaches were more serious. They were smiling, but they're ready to go."
February, 22, 2014
2/22/14
8:00
AM ET
Texas takes its first big step toward building up its 2015 recruiting class under new coach Charlie Strong on Saturday, with the Longhorns' first junior day of the year.
The Longhorns are reportedly bringing in as many as 70 prospects for unofficial campus visits this weekend, including six committed prospects and more than a dozen ranked in the ESPN 300.
To continue reading this article you must be an Insider
August, 27, 2013
8/27/13
11:04
AM ET
LSU got a big boost to its 2015 recruiting class late Monday night as top junior running back,
Nick Brossette
(Baton Rouge, La./University Lab), and cornerback
Xavier Lewis
(Laplace, La./East Saint John) verbally committed to LSU.
The 6-foot, 210-pound Brossette is the No. 16-ranked player in the ESPN Junior 300 and chose the hometown team over offers from Auburn, Alabama, Florida State, Miami, Notre Dame, Texas A&M, Tennessee and others.
As a freshman Brossette rushed for over 1,500 yards and 29 touchdowns and followed that by rushing for over 2,100 yards and 44 touchdowns as a sophomore.
To continue reading this article you must be an Insider
March, 27, 2013
3/27/13
10:00
AM ET
ZACHARY, La. -- Sunday wasn't the best day for
Xavier Lewis
(LaPlace, La./East St. John).
The 2015 cornerback didn't perform up to his standards at the NUC 5-star Challenge in Baton Rouge, often getting beat by lesser-known receivers.
To continue reading this article you must be an Insider
March, 24, 2013
3/24/13
11:01
PM ET
ZACHARY, La. --
Sione Palelei
's name is as fun to say as the 2014 running back is to watch.
The Utah transplant who stars for East Ascension High in Gonzales, La., was named the Most Valuable Player of the National Underclassman 5-star camp at Zachary High on Sunday.
Here is what we learned at the invitation-only event that drew players from southeast Texas to the Florida panhandle.
To continue reading this article you must be an Insider
December, 13, 2012
12/13/12
9:23
AM ET
By
RecruitingNation
| ESPN Insider
Xavier Lewis
, a three-time first team all-league selection from Eaglecrest High School (Centennial, Colo.), is on board with Wyoming, the Aurora Sentinel reports.
Air Force and Montana also extended scholarship offers to the 6-foot, 186-pound prospect. Brigham Young, Colorado, Duke and Stanford showed interest.
To continue reading this article you must be an Insider
August, 18, 2012
8/18/12
9:17
PM ET
Safety
Xavier Lewis
(Centennial, Colo./Eaglecrest) picked up his third offer this past Thursday, as Air Force entered his recruiting picture, to go along with offers from Montana and Wyoming.
"They said they like the physical presence I can bring at safety," Lewis said.
The 6-foot, 186-pound safety said he has been in regular communication with the Air Force coaches, but won't rush into a decision. Lewis attended a camp at Stanford this summer and was hearing from the Colorado coaches until recently. At this point, he said he is comfortable taking his existing offers into his senior season and letting things play out.
To continue reading this article you must be an Insider