NCF On The Trail:

Tyler Byrd
March, 3, 2015
Mar 3
3:00
PM ET
Naples High has enjoyed tremendous success under head coach Bill Kramer. With two state titles and numerous deep playoff runs, the Southwest Florida 6A power has become a must stop for college coaches having produced a number of national recruited prospects over the past decade.
In the 2016 class, there are a trio of prospects who rank among the best in the area, state and country.
Fils-aime hot on the trail despite injury in 2014
Headed into the 2014 season, ESPNJr300 running back
Carlin Fils-aime
was a name known to college coaches, and had a handful of offers. After injuring his ankle in Game 4 caused him to miss the rest of the season, the quick and powerful back was unsure what would come of his recruitment.
That question was answered in February with offers from Ohio State, Alabama, Auburn, and Florida.
"After I got injured, I didn't really expect to get any more offers," Said Fils-aime. "When those schools offered me I was pretty shocked because of my injury."
The Gators are one of several schools the 5-foot-10, 175-pounder plans to visit in the coming weeks.
"For now, we are trying to go up to Florida during spring break, but if not will get up there in the summer. We also want to visit Georgia, North Carolina, N.C. State if we can this summer. I'll probably fly up to Ohio State, too. I was just at Miami, and had a great time. I was impressed with how they rotated their backs in practice, and the basketball game against North Carolina was fun."
If there is one program yet to offer that could be a game-changer in the physical back's recruitment, it would be Stanford.
"I'm a big Stanford fan. I have always liked them because they have a great law program, and if football doesn't work out for me, I want to go into law. That is one of the schools that I do love."
Naples High head coach Bill Kramer has had some really good backs through the years, including former Ohio State star Carlos Hyde. In Fils-aime, Kramer has a talented athlete who brings a lunch-pail mentality.
"I love his competitive DNA," Said Kramer. "He works in the classroom, and is already qualified. He's a guy that you can count on, and it matters to him every day. Our defensive players say hitting him is like hitting a light pole. He's can make plays in really small spaces, understands leverage, and is really explosive."
Byrd one of the nation's best
The Miami Hurricanes' 2016 class is the best in the nation in the early going. One of the 10 ESPNJr 300 verbals is former Florida pledge
Tyler Byrd
. The 5-foot-11, 195-pound versatile prospect is blessed with rare talent according to Kramer.
"I think he's a Top 50 wide receiver and Top 10 corner. He's really strong physically, he's almost 6-feet even, you are not going to outleap him, and if he gets his hands on you, you are negated. He'll do something about every day that is just spectacular."
Though Byrd is solid with his commitment to the Hurricanes due to the love that Al Golden and staff showed throughout the entire process, programs such as Florida, Georgia, Michigan, and others remain under consideration. On Monday, Byrd said he planned to make all five of his official visits.
Riley the best on defense at Naples High
While Fils-aime and Byrd are names known both regionally and nationally on the recruiting radar, Naples High is home to one of the top sleepers in the Sunshine State in safety
Chris Riley
.
According to Kramer, the 6-foot-3, 180-pound talented all-around athlete is the team's best defensive player, which is saying something considering Byrd is on that same unit.
"Our best defensive player, and that's saying something because we have some really good players. He was Southwest Florida Defensive Player of the Year for good reason. He has tremendous length, he's physical, knows all of his run fits, and is a great tackler. We can't count how many one-on-one tackles he's made in space against really good players. He can also cover man, is terrific in zone, and understands how it all works and fits together."
Riley is receiving interest from North Carolina, Boston College, and a growing list of others.
"I've heard from North Carolina, Boston College, Purdue, Georgia Tech, Harvard and Yale," Said Riley. "North Carolina and Boston College are two I really want [offers]."
Riley had 103 tackles and two interceptions as a junior, taking home area Defensive Player of the Year honors, as well as being an all-area punter. Riley's father, Chris Riley, played quarterback at Connecticut.
Defensive tackle Colton Strickland and kicker Jerry Nunez are also expected to receive offers in the 2016 class.
July, 8, 2014
7/08/14
11:42
AM ET
While recruiting remains a marathon and not a sprint, recent trends have shown that it is never too early to look ahead. With the release of the
ESPN Junior 300
it is a perfect time to see which programs are having early success. With roughly 10 percent of the prospects in the ESPN Junior 300 committed well over a year and a half before national signing day for the Class of 2016, plenty is still to be determined. Here are five programs, in alphabetical order, standing out early for the 2016 class:
May, 14, 2014
5/14/14
10:00
AM ET
The state of Florida has always been known for producing some of the top athletes in the country. The term "athlete" is sometimes looked at as a negative term, but it really means our scouts believe these talented prospects could play more than one position in college. Here is a closer look at some of the top athletes from the Sunshine State in the
2015 class
.
ESPN 300 athletes from Florida
No. 8 Torrance Gibson
: Gibson is a skilled athlete who can make plays on offense. The five-star athlete led his high school, Plantation American Heritage, to the state championship game. In the game, he had a touchdown run of 80 yards and also a long touchdown pass that was among the "SportsCenter" Top 10 plays. He wants to play quarterback on the next level, but he's the most talented wide receiver on his South Florida Express 7-on-7 team. Whatever position he chooses, Gibson has a bright future ahead of him.
To continue reading this article you must be an Insider
June, 20, 2013
6/20/13
2:40
PM ET
GAINESVILLE, Fla. -- Florida received it's first 2016 verbal commitment on Thursday as Naples (Fla.) High School athlete
Tyler Byrd
verbally committed to head coach Will Muschamp.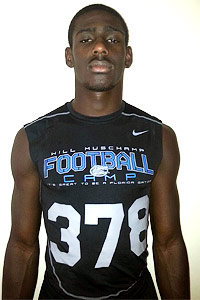 Derek Tyson/ESPNNaples, Fla., wide receiver Tyler Byrd committed to Florida after attending summer camp on campus last week.
The 5-foot-11, 185-pound athlete totaled 451 receiving yards and eight touchdowns as a freshman.
"Florida was my childhood favorite team," Byrd said. "So I grew up watching them all the time. Then I went up there and the campus was really nice and so were the coaches. I just knew that once I got an opportunity to play for the Gators, I didn't need to waste any time."
Byrd said the Florida coaches were excited to learn of his commitment.
"Coach [D.J.] Durkin is recruiting me, so I called him and he put me on the phone with Muschamp," Byrd said. "They were excited when I told them."
Byrd said Florida fans can rest easy about his commitment to the Gators.
"I mean, I might see a few other schools," he said, "but Florida is the school I grew up liking and that's where I want to go."
Florida has no 2015 commits, while Byrd is the first for 2016.